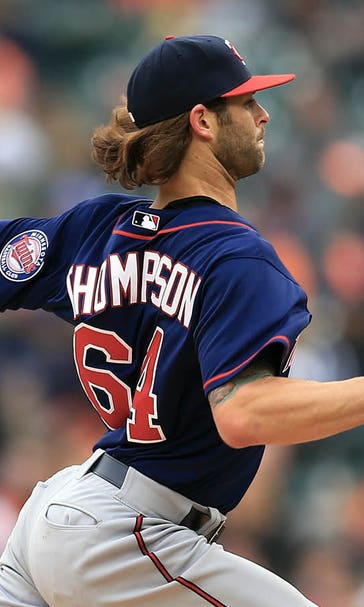 Thompson making most of unexpected roster spot
April 17, 2015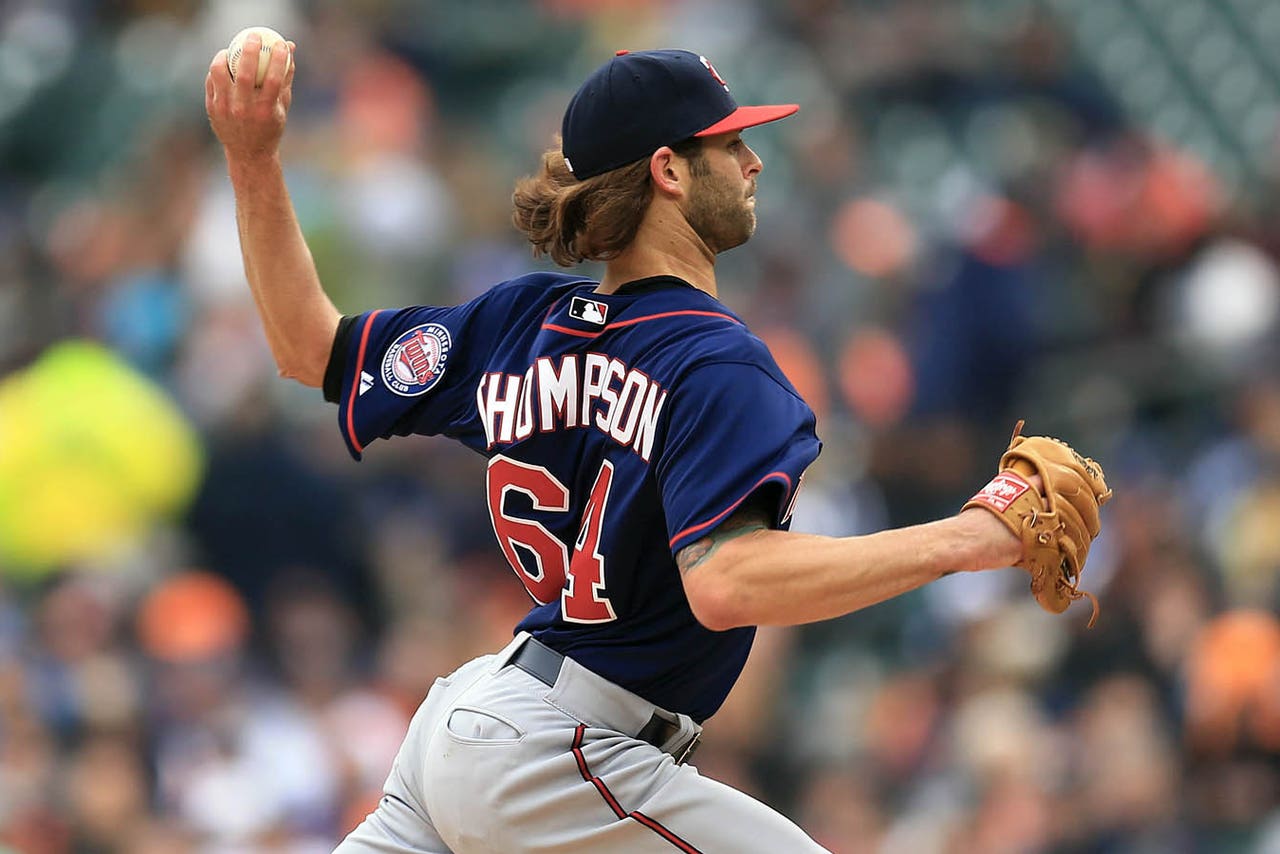 MINNEAPOLIS -- It wasn't that long ago that Aaron Thompson was in Ervin Santana's shoes.
Thompson, a left-handed reliever with the Twins, was suspended 50 games for testing positive for marijuana back in 2012. It was his first year in Minnesota's system after previously bouncing around a few different organizations. The suspension didn't exactly start his tenure with the Twins on the right foot.
Before the 2015 season started, Santana was hit with an 80-game suspension for taking stanozolol, an anabolic steroid. With Opening Day looming three days after the Santana news broke, the Twins had to scramble to adjust their roster.
That's where Thompson caught his break. He was all set to begin the year with Triple-A Rochester until he was told he'd be starting instead with Minnesota. A plane ride to Detroit meant Thompson made the first Opening Day roster of his 11-year professional career.
"It was definitely unexpected. A situation like that, I wasn't really given much information," Thompson said. "I was told, 'Get packed up. You're flying with the team. I can't tell you why. Don't tell anybody.' I've had enough experiences with teammates to know sometimes things fall through. I didn't really say anything until the next day it hit me. I'm on the plane, we're flying to Detroit. I'm like, 'OK, I'm flying. They can't send me back now.'"
If Thompson continues to pitch the way he has through the Twins' first nine games, it will be even harder for them to send him back. Pitching in a bullpen that has struggled in the early going, Thompson has been perhaps Minnesota's best reliever. In his five appearances so far, Thompson has allowed just one run in 6 1/3 innings. He's struck out three batters and has issued just one walk.
Though it's unfortunate for the Twins that Santana will miss half the season, someone else on the roster had to be the benefactor of an open roster spot. So far, Thompson has relished his chance.
"Thompson's been doing a nice job," said Twins manager Paul Molitor. "He got an opportunity early in the season for various reasons, but he's taken advantage."
A former first-round pick of the Marlins, Thompson joined the Twins as a minor-league free agent in December of 2011. Three months after that, he tested positive for marijuana. Instead of starting 2012 in the minors, Thompson began the year on the restricted list.
Several years removed from his own suspension, Thompson doesn't focus much on what happened back then. Instead, he continues to look forward.
"I think that it was one of those things where I was young," Thompson said of his suspension. "It's something that I told Terry (Ryan) this year, I said, 'You know, I think I'm done making excuses for that.' He said, 'More power to you.' That was never an issue for him or in my career at this point. It is what it is."
Thompson made his major-league debut with the Pittsburgh Pirates in 2011 but pitched in only four games, including one start. After getting a brief taste of the majors, Thompson spent the 2012 and 2013 seasons in the minors. His 2014 season was nearly the same, save for a late call-up at the end of the year by Minnesota. Thompson appeared in seven games at the end of 2014 and pitched well -- a 2.45 ERA, six strikeouts and two walks in 7 1/3 innings.
In spring training earlier this year, Thompson was hopeful of breaking north with the Twins but wasn't necessarily optimistic that there was a roster spot available for him. Minnesota had two left-handers penciled into the bullpen already in closer Glen Perkins and Brian Duensing. On top of that, lefty Caleb Thielbar spent most of 2014 in the majors and had a chance to retain his roster spot.
Instead, Minnesota initially left Fort Myers with just Perkins and Duensing, opting to send Thielbar to Triple-A Rochester. But when the time came to add an arm to the roster when Santana was suspended, it was Thompson who got the call.
"When you see something like that with Ervin and battling it out and I'm the guy that gets the nod, it's a lot of encouragement from people who have had good things to say about me but had never quite given me that shot," Thompson said. "I think this is that shot. I don't want to give it back this time, that's for sure."
Follow Tyler Mason on Twitter
---