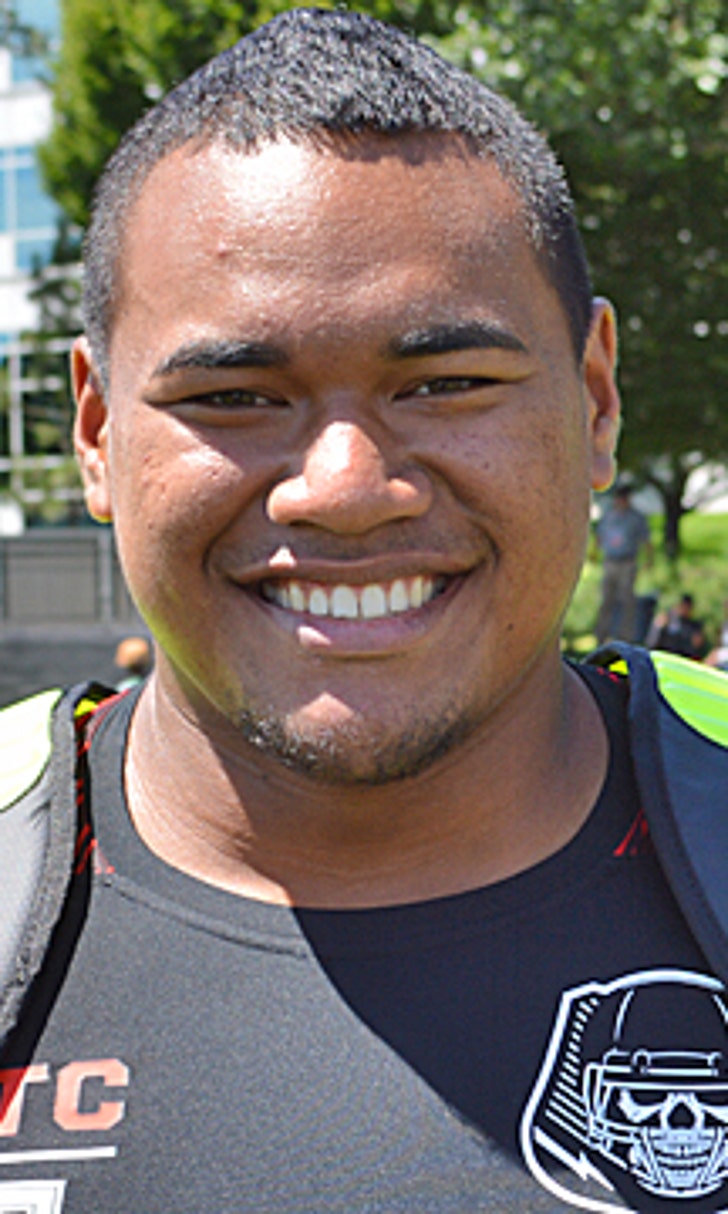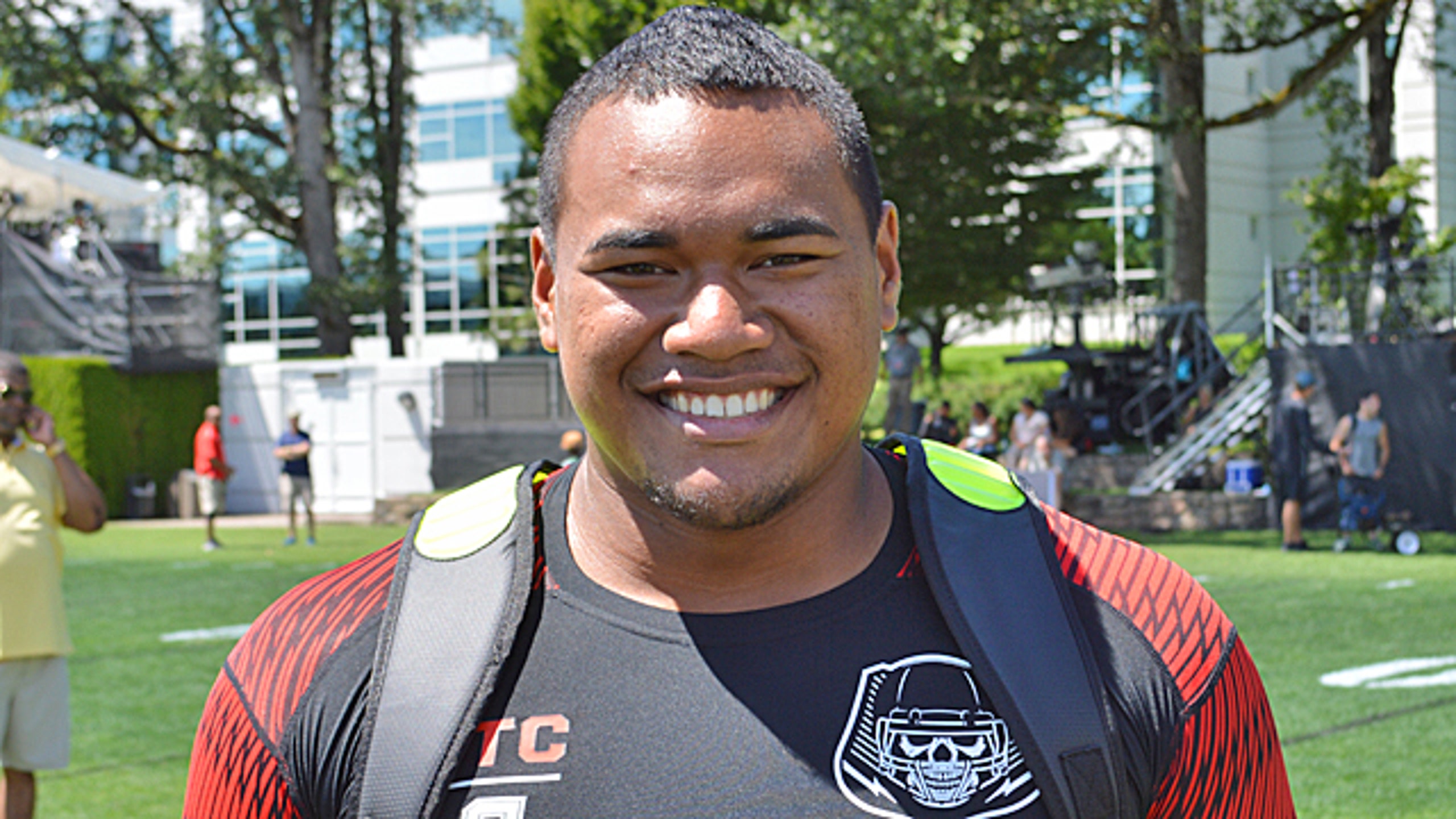 The Ultimate Mountain/Island Team
BY foxsports • August 7, 2014
The Ultimate Teams by Scout are a regional-based team and are based not just on high school production but also on college projection and includes prospects that have played at least one season of varsity football, from the 2015, 2016 and 2017 classes.
The Mountain/Island Team includes players from Hawaii, Utah, Wyoming and Montana.
QB- Austin Kafentzis, 6-0.5, 200, Sandy (Utah) Jordan- The Wisconsin commit was named 2nd team All-American as a sophomore, he has that "it" factor you are looking for from your QB.
RB- Lopini Katoa, 6-1, 190, American Fork (Utah)- Katoa is a versatile athlete, he can run you over or make you miss... he has great hands out of the backfield.
RB- Sione Heimuli-Lund (2017), 6-0, 220, Salt Lake City (Utah) Brighton- The 2017 athlete is going to be special down the road, he possesses great power with a good burst of speed.
WR- Simi Fehoko (2016), 6-4, 183, Salt Lake City (Utah) Brighton- The 2016 receiver is an early four-star and for good reason, he is an explosive athlete that can make big plays all over the field.
WR- Drew Kobayashi (2016), 6-2.5, 180, Honolulu (Hawaii) St. Louis- Kobayashi (2016) has a great blend of speed and size, he could be one of the best receivers from Hawaii in a long time.
OL- Semisi Uluave, 6-5, 320, Honolulu (Hawaii) Punahou- Semisi can do it all upfront, ranging from tackle to center, there aren't too many linemen out there with more potential than Uluave.
OL- Fred Ulu-Perry, 6-2.5, 295, Honolulu (Hawaii) St. Louis- Ulu-Perry is a pit bull up front, the UCLA commit won't lose many battles in the trenches.
OL- James Empey, 6-3.5, 265, American Fork (Utah)- Empey is one of the most skilled linemen I have ever seen at this level, he should have a very successful college career.
OL- Andre James, 6-5, 270, Herriman (Utah)- James is a tremendous athlete with the perfect frame and skill set to dominate in a high-tempo offense.
OL- Branden Bowen, 6-7, 315, Draper (Utah) Corner Canyon- Bowen has the size and ability to be an all-conference kind of guy, if he can develop the nastiness, look out.
DE- Porter Gustin, 6-4, 238, Salem Hills (Utah)- There isn't much of anything Gustin can't do at a high level, but his money maker will be hunting down quarterbacks.
DE- Mika Tafua, 6-3, 230, Honolulu (Hawaii) Kamehameha- Tafua played all of last year with torn ligaments and still dominated, now that he is healthy, he should take it to the next level.
DT- Breiden Fehoko, 6-2.5, 290, Honolulu (Hawaii) Farrington- Fehoko is the most powerful football player in high school right now, he is going to be an interior linemen's worst nightmare for the next few years in the Big12.
DT- Rex Manu, 6-3, 270, Mililani (Hawaii)- Manu is relentless in the trenches and uses his hands extremely well, Stanford has a good one here.
LB- Gabe Reid, 6-2, 240, Provo (Utah) Timpview- Reid is a natural pass rusher, that is completely unblockable at the high school level.
LB- Christian Folau, 6-1, Salt Lake City (Utah) East- Folau was born to play linebacker, he has elite instincts and a motor that never stops.
LB- Osa Masina, 6-4, 235, Salt Lake City (Utah) Brighton- Masina is a great football player right now, with the potential to become a household name.
CB- Dayan Lake, 5-10, 185, Layton (Utah) Northridge- Lake is a great athlete who has all the tools necessary to become a lockdown cornerback.
CB- Dylan Kane, 6-3, 185, Honolulu (Hawaii) Kamehameha Kane is a safety, but has the length and speed to be a lockdown corner for Team Mountain/Island.
S- Tevis Bartlett, 6-3, 215, Cheyenne (Wyo.) East,- Bartlett can play a number of positions, but Stanford and Oregon are looking at him to play safety, and so is Team Mountain/Island.
S- Quinn Fabrizio, 6-3, 208, Sandy (Utah) Alta- Fabrizio is another jumbo-sized defensive back with a lot of potential, making this secondary as big as the Seattle Seahawks.
ATH- Britain Covey, 5-9, 170, Provo (Utah) Timpview- Covey compiled 49 touchdowns as a junior and can do it all on the football field, with 4.5 speed and blazing quickness, Covey is lethal in the return game.
K- Chayden Johnston, 6-0, 160, South Jordan (Utah) Bingham- Johnston is one of the best kickers in the country, he has a big leg and a ton of accuracy on his kicks.
P- Skylar Southam, 6-1, 180, Heber City (Utah) Wasatch- Southam has potential to be the #1 kicker/punter in the class of 2016, the rising junior has already made a kick from 55 yards.
LS- Harrison Goebel, 6-6, 240, St. George (Utah) Pine View- Goebel is a D1 long snapper that possesses the size and strength of a D1 tight end, can't do much better than that.
---