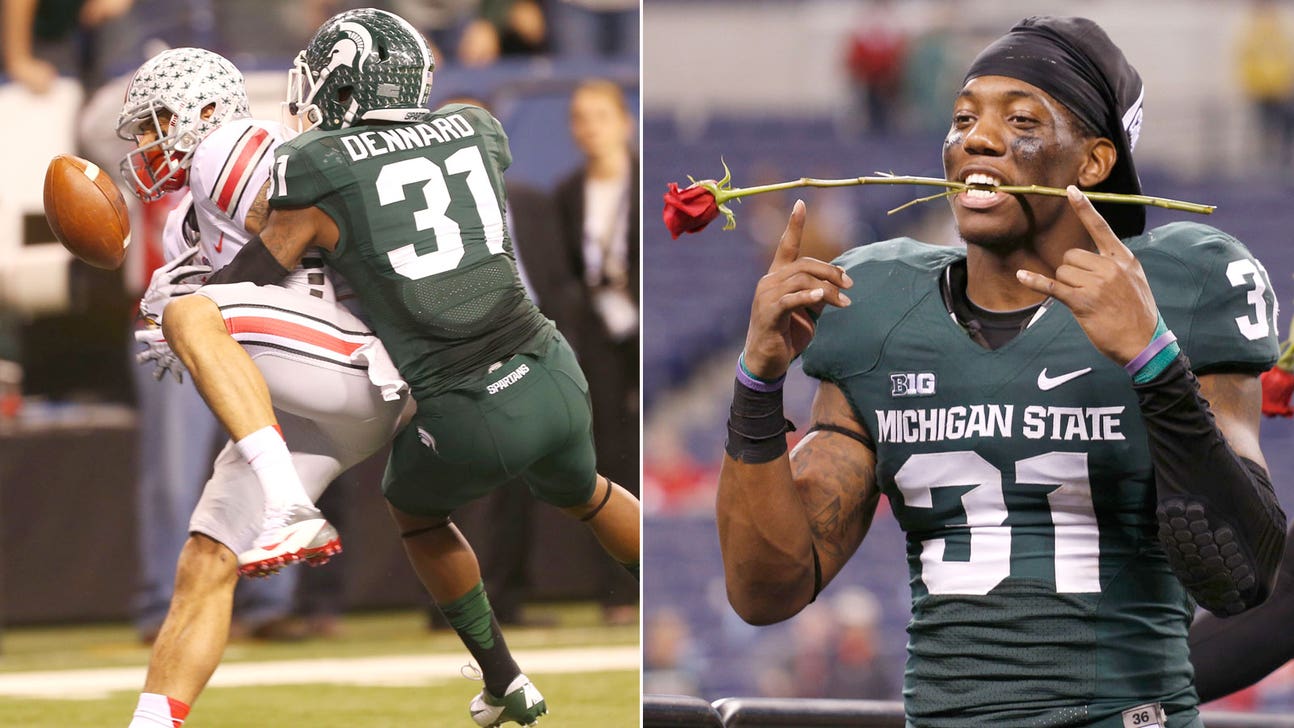 'The Panel' feature: Michigan State CB Darqueze Dennard
Published
Mar. 20, 2014 8:22 p.m. ET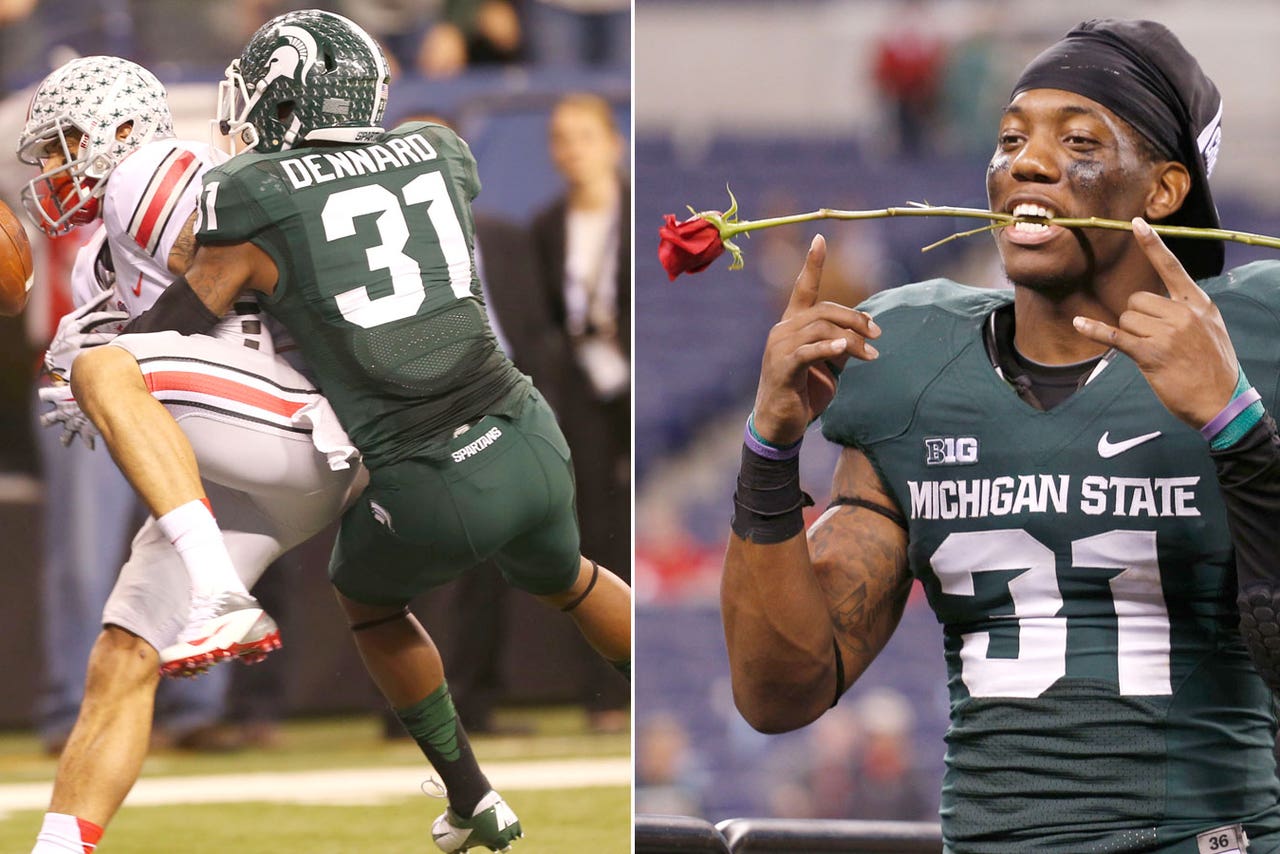 The following feature runs in advance of Fox Sports South's TV special, "The Panel," as three former NFL players (Tim Couch, Julian Peterson, Takeo Spikes) and current Carolina Panthers tight end Greg Olsen break down NFL prospects in great detail, leading up to the May draft. The series airs soon on Fox Sports South. Today's feature: Michigan State cornerback Darqueze Dennard.
ATLANTA -- In the middle of Darqueze Dennard's senior year in high school, Middle Tennessee State pulled his only scholarship offer.
College football did not appear to be on the horizon for the cornerback from rural Twiggs County (Ga.) High School.
"He was really hurt," said Dennard's grandmother Peggie Curry, who helped raise him. "We kept telling him pray and believe. 'God's going to work it out,' and that's what happened."
Curry said it's possible Dennard might have attended nearby Fort Valley State and tried to walk on to its Division II program or worked at the nearby chalk mine, like his retired grandfather, Claude Curry.
Dennard, himself, is not so sure.
"Well, my family don't have enough funds for me to walk on anywhere," he said. "So, I don't know what I would probably be doing if they wouldn't have gave me the call. Honestly."
"They" would be Michigan State University. As fate would have it, a member of the Spartans coaching staff came to Dennard's final regular season game against Dooly County High to scout a player, Keith Mumphery, who had already committed to the Big Ten program.
Michigan State ended up offering Dennard a scholarship, and Mumphery became his roommate. The rest ... is history.
In 2013, the senior Dennard won the Jim Thorpe Award as the nation's best defensive back. Mock drafts have Dennard early in Round 1 -- possibly in the top 10.
Not bad for a player from tiny Dry Branch, Ga., who almost didn't make it to college.
"A lot of guys, a lot of people, a lot of kids just grow up wishing they could be in the shoes I am in, so I'm grateful," Dennard said. "I'm truly grateful for all the opportunities Michigan State has allowed me. Just all the doors got open for me. I'm just having fun with (the draft process) because I am a blessed individual."
The transition from Twiggs County High (Dennard's senior class had 35 students) to the East Lansing, Mich., campus, one of the nation's largest public universities, was not an easy one. Dennard said it snowed during his recruiting visit -- he had never seen snow nor traveled much further than the 90-minute drive to Atlanta -- and did not think weather would be much of an issue.
He had a different viewpoint during that freshman campaign.
"It was brutal," he said. "I'm not even going to lie. I had to adjust. I definitely had to adjust. I didn't want to go outside. I didn't want to do anything but stay inside the dorms."
He also suffered from culture shock. During that time, Curry said her grandson, who is very quiet, stayed even quieter.
"Like I say, I graduated with 30 (plus) people in my class," he said. "It was pretty much high school and middle school. It was a total of like 500 people there, the whole school. I go sit in the classroom (at Michigan State), there's 500 people in the classroom; so it was very different and just watching around campus you see a new person every day.
"It's 50,000 students on the campus, three times, four times the people in my county. ... It was fun. I adjusted to it well. Had to grow up."
While Dennard was adjusting socially, on the field he excelled. During fall camp as a true freshman, he made an impression with his tackling, interceptions and pass break-ups. He eventually played six games, starting out on special teams.
Dennard earned two starts, but missed the last five games with a knee injury.
As a sophomore, Dennard was an honorable mention all-Big Ten selection; and then the next year, he tied for the team lead with three interceptions, starting all 13 games and making the all-league team.
The accolades kept coming as a senior: He became Michigan State's first cornerback selected as a unanimous first-team all-American and won the Thorpe Award. Dennard had four interceptions and 10 pass break-ups.
Peggie Curry, 60 and a lifelong resident of Dry Branch, said her church is a big part of the family's lives. They attend Chance Hill Baptist Church, a congregation of between 100 and 200 people.
"My grandparents were hard workers," Dennard said. "My granddad was tough on me. So was my grandmom. I always had to go to church on Sunday. Be in Sunday school. My granddad made me cut the grass when it's time to do that and do whatever else was needed outside. My grandmamma basically made me do all my homework. Had to do all my homework before I went outside and played."
Dennard said his mother, Alisa Curry, also was active in his life. She gave birth when she was 19 and a single mother, so the decision was made for his grandparents to raise him.
"He needed to be with two people," Peggie Curry said of a father and mother figure.
Dennard grew up with his two aunts, who are 12 and 13 years older than him, respectively, but Dennard said they are like sisters to him. His mother raised his two younger sisters in Macon, about a half-hour away, and visited him on a daily basis.
One of Dennard's aunts is friends with Tony Hollings, the former Georgia Tech running back out of Twiggs County who played three seasons in the NFL (Houston). Dennard considers Hollings a friend.
In terms of preparing for the draft, Dennard has sought counsel from his cousin, New England Patriots cornerback Alfonzo Dennard, who attended high school at Georgia's Wilcox County High.
At 5-foot-11, 197 pounds, Dennard brings the experience to the NFL of having played man-press coverage. At the NFL Scouting Combine, Dennard was officially clocked at 4.51 seconds in the 40-yard dash -- a relatively slow time for his position. His agent, Chafie Fields, said the time is under review.
Fields also noted that most scouts use their own stopwatches to track 40 times.
"I mean, I know I'm faster than what the official time said," said Dennard, who did not run the 40 at his pro day (hamstring tightness). "Also, I play a lot faster than that. My game tape speaks a whole lot, so I think that's really something they go off of as well."
Dennard said he can play other types of coverages besides man-press. He can play the nickel corner and safety. He touted his football intelligence, as well. One would have to in order to start as a true freshman in a major conference.
"I pick up the playbook well," he said. "I think teams also just like the way I play the game. How smart I am. How I can tackle. I'm just an overall football player. I didn't just play man at Michigan State, but we also played zone. We also play man-free, two-man. In our defensive scheme we added every possible coverage we can. So that's another reason why I think I'm more diversified anywhere I go."
Dennard said preparing for the draft has been a grind, but he's counting his blessings. He remains in East Lansing, continually training as the draft awaits in May.
Back in Dry Branch, where his grandmother said she knows almost everyone, the community is filled with anticipation. Dennard will soon be a millionaire pro football player, which is a lot different than working in a chalk mine.
"The whole community is excited," Curry said. "They are overwhelmed."
---