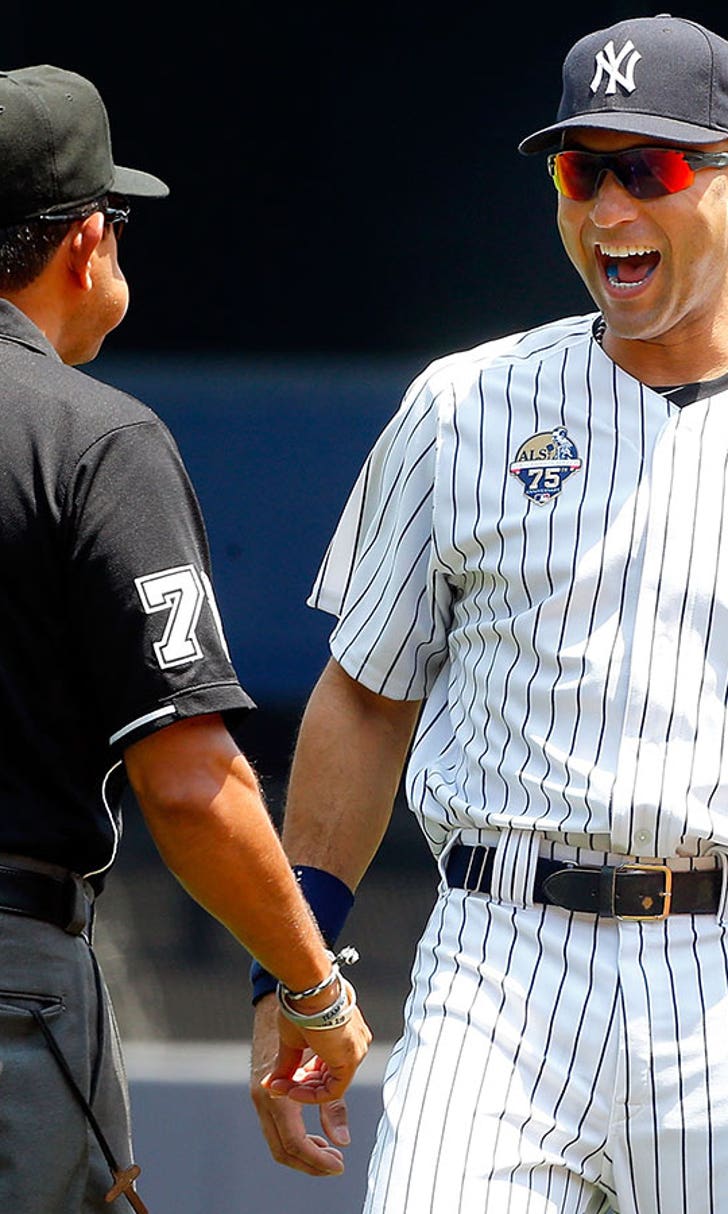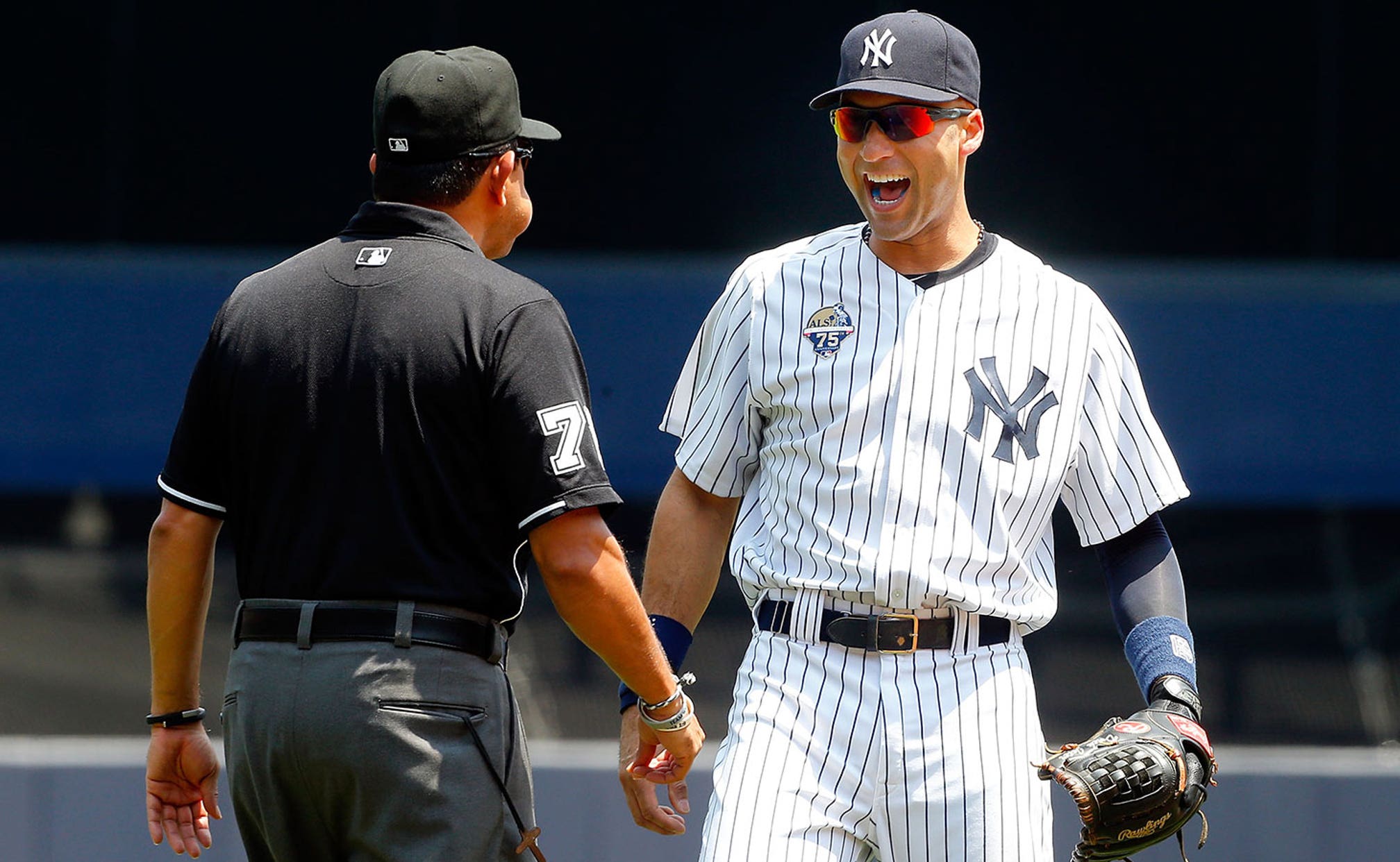 The one thing missing from Jeter's career
BY foxsports • September 25, 2014
This week, baseball is celebrating all that Derek Jeter has accomplished over his two decades in the major leagues.
One glaring O-fer on his résumé, though: He's never been ejected.
And here we thought Jeter's character and professionalism were unquantifiable. Turns out, they are: Jeter's 2,744 games without being ejected rank sixth all-time, according to research through retrosheet.org.
The full list:
Stan Musial — 3,026
Willie Mays — 2,992
Brooks Robinson — 2,896
Robin Yount — 2,856
Tony Perez — 2,777 (ejected once as a manager in 2001)
Derek Jeter — 2,744
Of course, the five players ahead of Jeter are enshrined in the Hall of Fame.
Jeter's place in that company confirms much of what we believe about him anecdotally: Even during an era in which HD television replays intensified the second-guessing of umpires and strained their relationships with managers and players, Jeter perpetually kept his cool.
And despite being hit by 170 pitches in his career, Jeter never was tossed for an aggressive reaction toward the mound. Composure was woven into his pinstripes.
So perhaps the umpires themselves are best qualified to speak about Jeter's class.
Tim McClelland has been behind the plate for 53 of Jeter's games — the most of any active or retired umpire, according to STATS LLC. McClelland, 62, joined the major-league umpiring staff in 1983 but is out this season due to a back injury.
When asked about his interactions with Jeter over the years, McClelland wrote in an email to FOX Sports: "I have a lot of admiration for Derek and what he has accomplished both on and off the field. I would say that Derek is the one player that I respect most for the way he plays the game and carries himself, again, on and off the field. He has represented himself, the Yankees, and the game of baseball with honor, admiration, and dignity."
Jeter's closest brush with an ejection might have come in a 7-6 loss to the Blue Jays on July 6, 2009, during The Captain's final world championship season. Even that "incident" — if we'd be so bold to describe it as such — revealed Jeter's integrity and the deep respect umpires have for him.
He was caught trying to steal third base with none out in the first inning — surprising on its own, since Jeter violated baseball's bromide never to make the first out of an inning at third base. On replays, it appeared possible that he slid around Scott Rolen's tag. But Jeter's issue seemed not to be with the call itself, but rather the explanation third-base umpire Marty Foster offered for it.
From Bryan Hoch's story on MLB.com:
... It wasn't the call that rankled the captain. It was the reasoning he received from third-base umpire Marty Foster, who said that Jeter was out simply because the ball had beaten him.

"I was just baffled by the explanation," Jeter said. "I was told I was out, because the ball beat me, and he didn't have to tag me. I was unaware they had changed the rules . . . I've seen everybody make mistakes on calls before, but I was baffled by the explanation."
Yankees manager Joe Girardi was ejected for arguing with Foster after the play. Hoch's account noted that an interview request for Foster was referred to crew chief John Hirschbeck.
Surprisingly — under the circumstances — Hirschbeck complimented Jeter during the interview.
"In my 27 years in the big leagues, he's probably the classiest person I've been around," Hirschbeck said, according to Hoch. "It would make his actions seem appropriate if that's what he was told."
See? Derek Jeter truly is as universally respected as you've always heard.
---
---