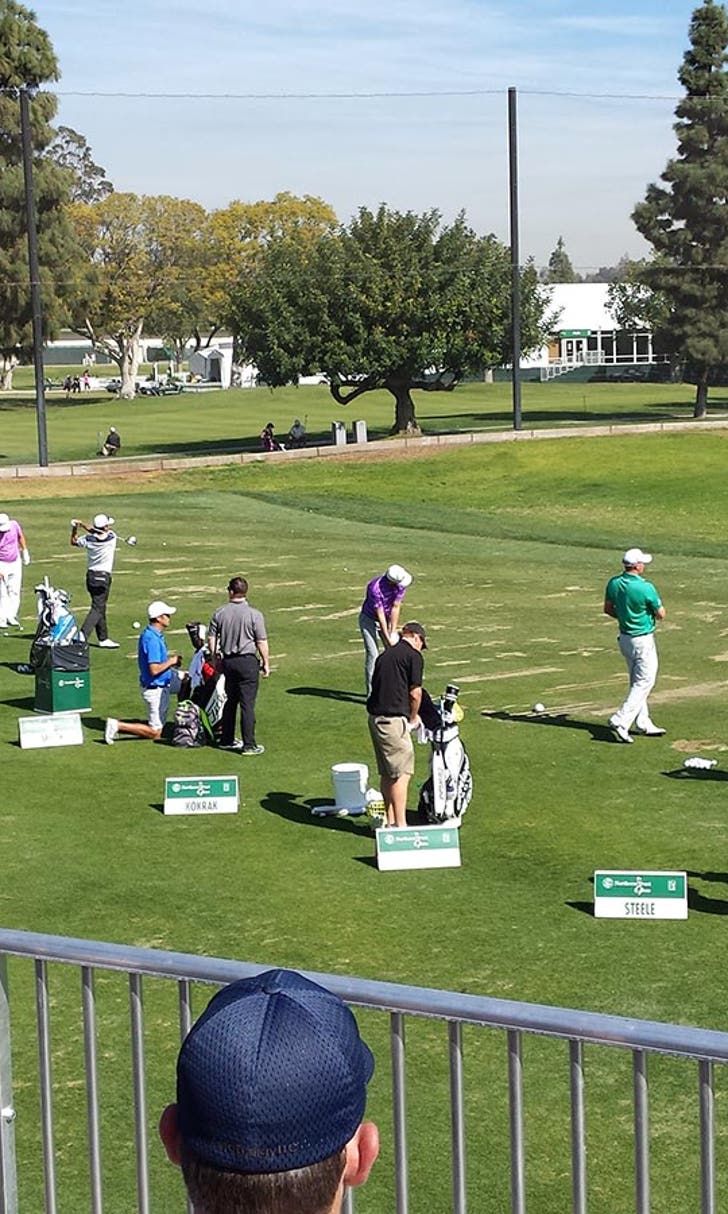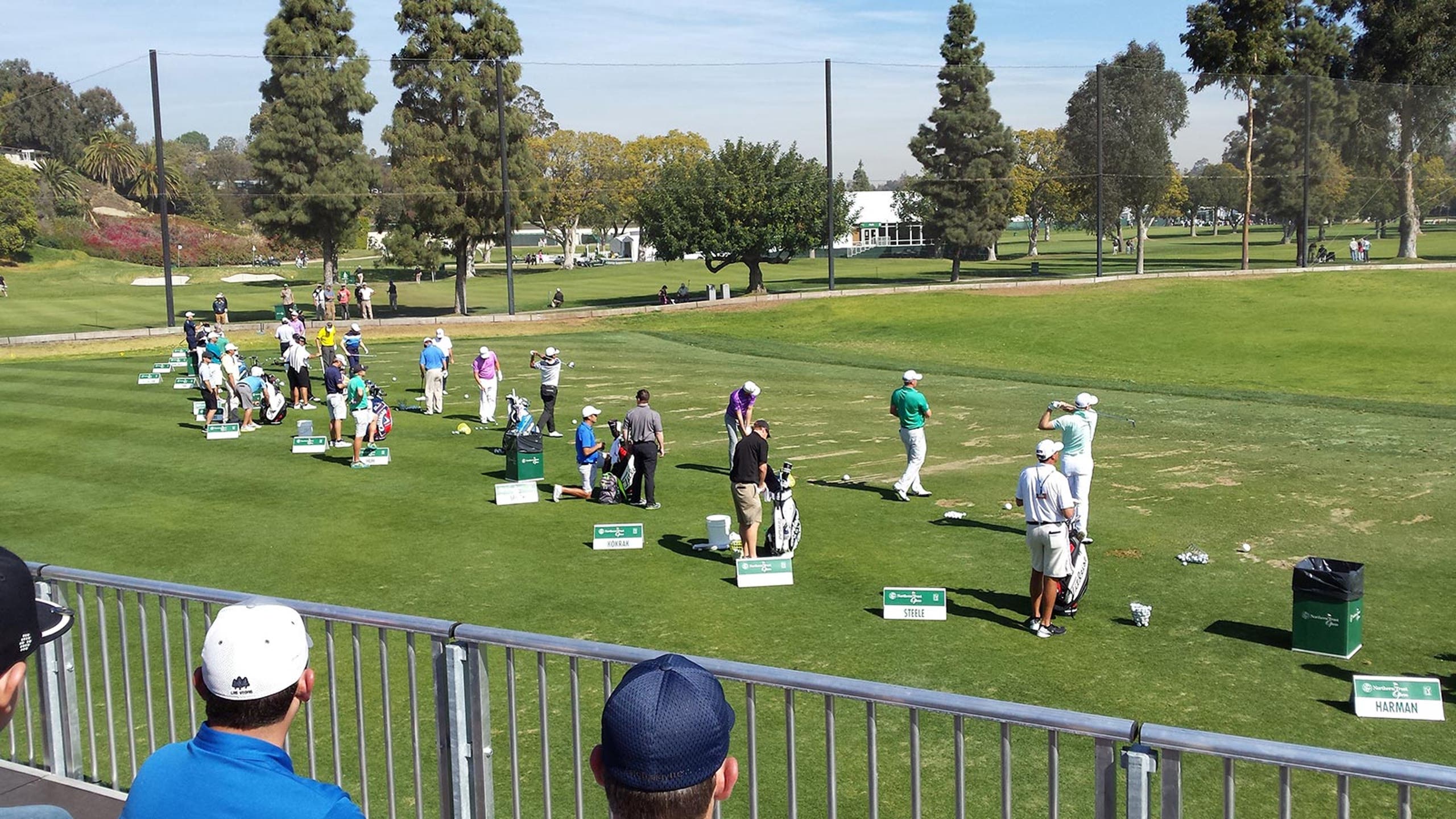 The great spectator: Exploring the merits of live golf at Riviera
BY foxsports • February 18, 2014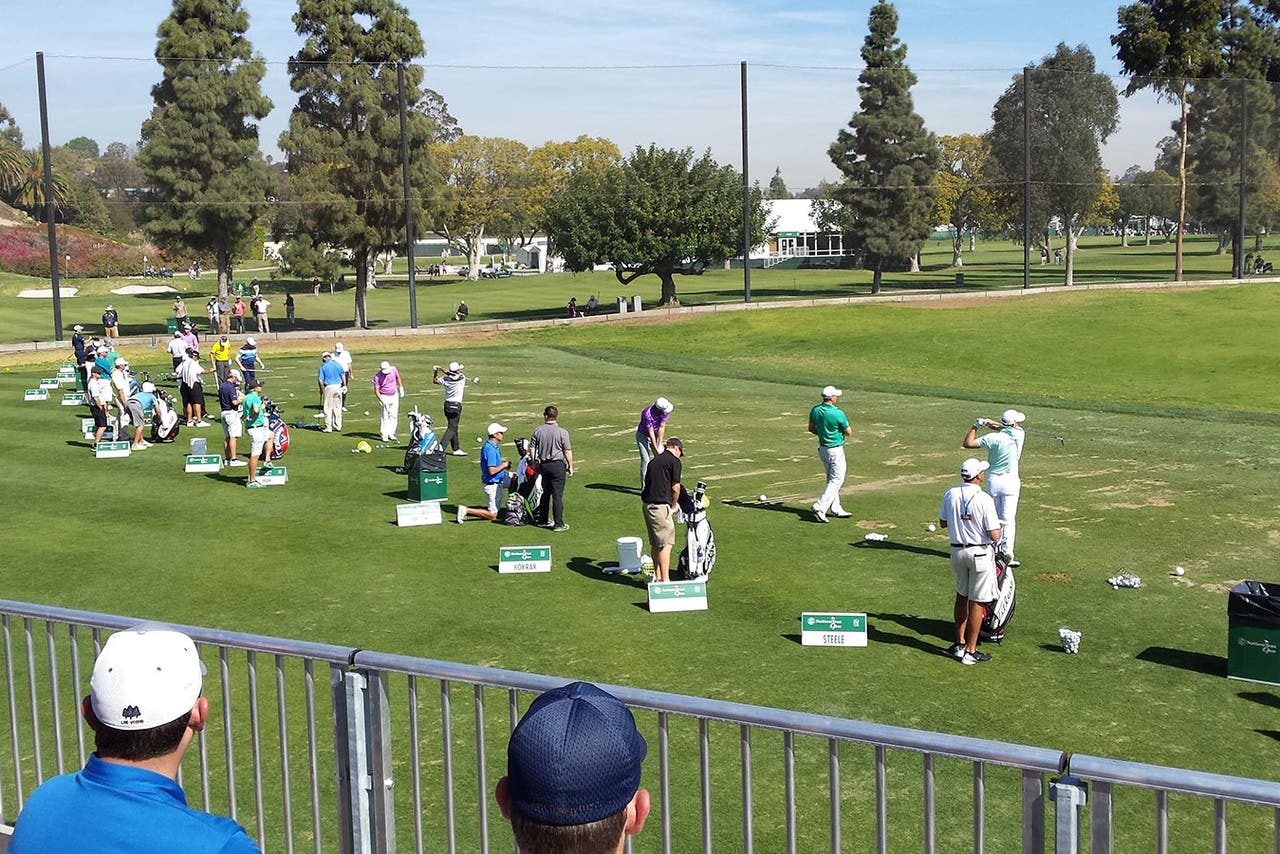 I had one goal in mind -- to figure out the best way to attend a live professional golf tournament.
Unlike any other sporting event, golf tournaments allow spectators to move freely about the grounds.
The only restriction is a series of thin ropes connected by iron rods that are stuck in the ground and that outline the area of play. Other than that, you're on the field. You've got 18 end zones, 18 50-yard lines, and 18 lines of scrimmage to choose from. You're close enough to touch these guys, and some do, though most don't live to tell about it.
With so few rules and so many options, how do you navigate these things?
I'm glad you asked, because otherwise I wouldn't have anything to write about.
Like anything impressive, navigating a golf course requires skill and an advanced knowledge of how to walk a great deal while managing increasing pains in the feet and lower back. This requires lots of water, stretching up against trees, and a good pair of sturdy women to carry you should you be unable to go any farther.
Additionally, there are two basic tools you'll need to guide your way: 1) Knowledge of the course layout and 2) knowledge of the player groupings.
These are typically handed to you in a pamphlet when you arrive at the golf course entrance. So as long as you show up, you'll have what you need to be a huge success.
Because of this free-wheeling, no-holds-barred atmosphere, there are myriad ways to spend a day at a live golf event -- which brings me to my point.
I took the opportunity to test the four top ways to take in a golf event, all spread over the four days of the Northern Trust Open at the lush Riviera Country Club in Pacific Palisades (a portion of the greater Los Angeles area).
This was a completely selfless act of hardcore, guerrilla journalism.
Am I a golf fan? Of course I am. Probably the biggest I've ever known.
Have I attended this event before? Yes, I never miss it.
Have I played this course before? Yes, once. Until the first tee shot, I was making quite a run at Ted Tryba's famous 61, a course record.
Would I say that I have a superior knowledge of the course and the game of golf? You bet. I brought this exact piece of information up in every conversation I had during my three days at Riviera.
Which brings me to …
Day One: Spieth watching
The goal for spectating the first day was to follow one group of players throughout their entire round. Start to finish.
This was an approach I had never taken before in the handful of golf tournaments I've attended, and it was the method I was most excited about. I was hoping to get a sense of what an entire round of professional golf felt and looked like. Not just how well the players scored, but how they behaved in between shots and how they managed the course.
The group I chose to follow included 20-year-old phenom Jordan Spieth, crowd favorite Freddy Couples, and 2012 US Open winner Webb Simpson. This was a popular grouping for Thursday, but I was really just there to follow Spieth around. Couples and Simpson were bonuses.
My day began on the range roughly 50 minutes before the group's tee time.
For amateur golfers and weekend players, it can be a great learning experience to watch the pros practice before a round. You'll find that these guys aren't out there bombing driver after driver, which is so often the case with casual golfers. Typically, pros will start by taking half-swings with a wedge, then three-quarter swings and so on. They'll move their way up through the irons. Once they get to the driver, they'll have already hit everything else in the bag. Then it is on to the short-game area and putting green.
I highly recommend this progression for all golfers, but refuse to elaborate any further.
I made a few notable observations while on the range.
    1.) Nobody on the damn planet hits the ball like Freddy Couples. The sound of his iron shots is magnificent.
It's like hearing a "swish" for the first time in your life. Even next to all the rest of these pros, Couples stands out. His shots sound like the swiftest breeze, blowing through a rice field -- gone the instant it arrives.
    2.) The other is that nobody enters a driving range like Angel Cabrera. He commands attention. Not for any particular reason. Maybe it's confidence; maybe charisma; or maybe he just knows he's a bigger man than most.     
The round got underway and my group walked down the first hole. The first thing I heard was Couples asking Simpson, "What's going on at home?"
"Eight inches," Simpson answered. Presumably this wasn't a euphemism and he was actually referring to the snowfall in his hometown of Charlotte, NC -- though with the players all in the middle of the fairway, outside of earshot, I couldn't be too certain.
On the second hole, I noticed I was walking only steps ahead of Simpson's wife, Taylor. Her belly was visibly filled up with the couple's third child. From the gallery, she asked for and received a big smooch from Couples. It's surely not the first woman he's laid one on during a round.
It's these sorts of things that make the experience of attending a golf tournament special.
To be clear, seeing Webb Simpson's pregnant wife ask Freddy Couples, "Are you coming to give me a kiss like Webb does?" and then to see said kiss is what makes attending a golf tournament special.
That's just not something you get on TV. There are plenty of little nuggets like this that would entertain anybody, regardless of their interest in golf.
Seeing Couples battle an insect on the green as he lined up his putt was wildly entertaining. It took him eight tries with his putter and two with his feet before he picked it up and cast it aside. He then promptly missed his birdie putt.
That's gold!
Or on the sixth green (a par 3) where, after Couples' ball landed 10 feet past the pin and on a bank that should have funneled his ball closer to the hole, a spectator shouted the obvious: "That should have come back off the bank." To which Couples responded, "No sh*t," and then missed yet another birdie putt.
You can't write this stuff!   
After that, I jumped ahead to the seventh green since the tee is back behind the sixth green -- off limits for spectators. And it was a good thing I did, because through some divine power or my superior knowledge of the game (I've mentioned this already), I was treated for my know-how by witnessing the best shot of the tournament up close.
On TV this would have been cool. In person, with all of the maneuvering involved, a triumph like this is what spectators live for. I could have left the tournament right then and there.
How could I leave now, though? I was a part of this round. At least that's how I felt.
Highlights of the back nine included Couples' ball getting swallowed by a eucalyptus tree on the 11th hole and noticing that Spieth's putter cover says, "Cash is King."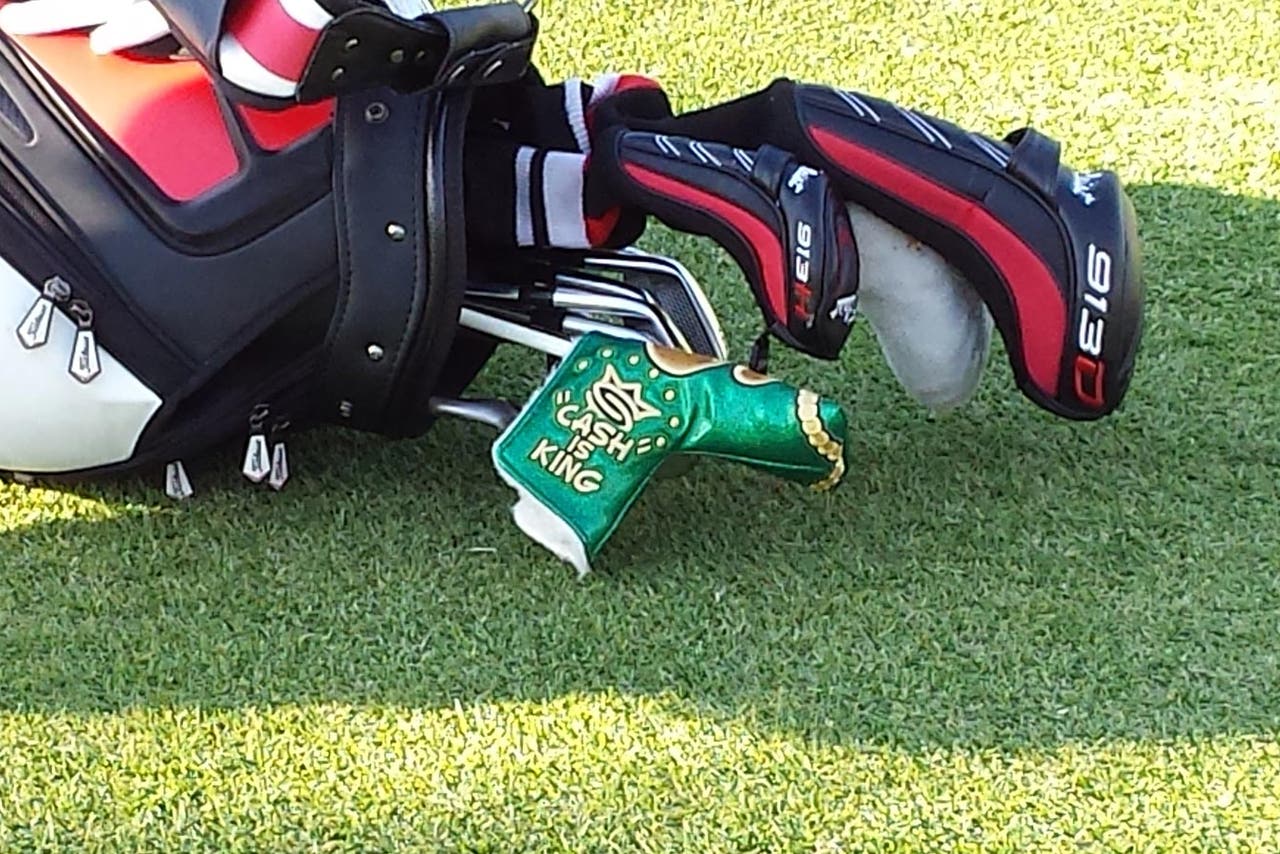 Also, Spieth spent a lot of time talking to himself.
Upon discovering that his drive on 13 was nestled deep down in the rough, Spieth said simply, "Holy crap."
After missing a putt on the low side of the cup on 16, he asked himself, "What're you doing, Jordan? There's a giant hill there. Why you doing that?"
And finally, after deliberating with his caddie on how to play his difficult approach into 18 that was made considerably more difficult given that his ball was behind the massive trunk of a tree, he decided on an impossible shot -- a cut hybrid with no follow-through.
After hitting that shot into some more trees, he asked, "How about that decision? Why am I trying to hit a cut hybrid with no follow-through?"
I wanted to answer, but thought better of it.
After the round was over, I felt a great sense of satisfaction with the day. It felt like I had played an integral role in each of the players' rounds. And even though none of them burned it up on Thursday (70-72-72), I felt I learned a great deal about how the pros play a round of golf. I felt I knew more about them as players than I could ever know by watching from my living room. And lastly, I felt mildly disappointed that I wouldn't be back the next day to follow them again.
I would be back the next day, however, to try out a different method of spectating.  
Day Two: Chasing Tryba
My plan the second day was to have no plan at all -- to treat it like I was there for only one day and had to take in as much as I could.  
I arrive at 11 a.m., right after the first wave of tee times are finishing their day. I catch up with my group from yesterday as they play their final hole. I want to show my face in case they're upset that I didn't follow them again. They look disappointed, but I might be reading too much into it.
After watching my new best friends finish up, I decide to stick around for the group behind them -- another marquee grouping of Keegan Bradley, Jason Dufner and Jimmy Walker.
Bradley hits his drive right toward me in the left rough, which gives me a front-row seat for his awkward pre-shot fidgeting routine. He comes under the ropes and walks right past me to examine his shot. It's just him and me standing there. Look at us, I thought, a couple of golfers who really know how to … "Clear some room, please," his caddie interrupts.  
I still get to see Bradley's spitting, rocking, club-twisting ticks from a few steps back, but the caddie had ruined a really nice moment.
After they finish up, my plan is to catch an intriguing couple of groups about to tee off. Matt Kuchar, Ian Poulter, Hunter Mahan & Dustin Johnson, Justin Rose, Jim Furyk were going off the first tee back to back.
It's at this point I notice some guy named Jason Allred is 8-under through 13 holes.
I think to myself, could he really challenge the great Ted Tryba's course record of 61?
Knowing that Tryba's 23-year reign as Riviera's low man is about to come crashing down, I opt instead to run out and find this potential giant slayer.
Allred is all the way out on 15, which is as far away as it could possibly be from where I am standing. Once I arrive, he is 9-under.
Take that, Tryba! Only two more birdies to tie.
Up on the 15th green, he makes a deflating bogey.  
After another bogey on the 16th hole, I'm beginning to curse the day I ever thought the mighty Tryba would fall. My presence must be affecting Allred's play, I thought. After all, a player of his caliber is not used to the sort of shadow that is cast when a major member of the media races toward him scribbling notes and muttering things about Ted Tryba.
Allred is a 33-year-old who's been cut 40 times in the 57 PGA Tour events he's played. The only reason he's playing this week is because he won the Monday qualifier with a 66.
Despite the two bogeys, he turns in an admirable round of 64, the lowest score of the tournament so far.
Hot off Allred's failure, all I'm thinking about is bringing down this course record. Luckily, after Allred leaves the 18th green, I notice that Hideki Matsuyama is putting on the 2nd green. He's a young player I hoped to see at some point during the week, so I hop on board.
Matsuyama gets hot. He makes three birdies through five holes. Interesting. While Allred crumbled upon my arrival, young Hideki seems to be relishing it. He repeatedly stuffs it on every hole to within five feet and moves to 4-under through six holes.
He is approaching Tryba territory, I think.
Unfortunately it was a short-lived run at history as Matsuyama would go on to make three straight pars. Yet another contender thwarted.
The great part about not having a plan is the freedom to bounce around. The great part about this golf course is that you are never too far from any other hole, which allows this method to flourish.
After bailing on Matsuyama's failed attempt at breaking Tryba's record, I catch the wave of groups I had thought about following earlier in the day on the 13th green.
I sneak up into a small grandstand just in time to see Fred Funk chip-in for birdie and ham it up with the crowd.
Two seats away from me sits a spectator who brought his own rangefinder with him.
For those who don't know, a rangefinder is a handy little tool that tells you how far away things are in yards.
This man takes great pride in announcing to the rest of the grandstand how far each and every golfer is from the hole.
I don't last long here. According to the man who was sitting two seats away from me, I'm already 200 yards away.
Eventually the day ends. Ted Tryba's record is safe again and the only thing broken is the lens of a man's rangefinder.
I saw a lot of what I set out to see on Day Two and felt that if this was my one day at the tournament, I would be satisfied.
Luckily, it wasn't.
Day Three: A seat with a view
Saturday was one I planned to spend sitting on one hole the entire day.
Many people use this method as there are certain holes that generate more action than others -- the 16s and 18s of the world.
This method is good (supposedly) because you can watch every single player in the tournament for one hole, or at least a portion of that hole. For this tournament, I choose the 10th green.
The 10th hole at Riviera is a famous one. It's a short par-4 that entices players to go for the green from the tee. It can be risky as the green is tiny and narrow and surrounded by devastating bunkers and undulations and palm trees that you'll wish had never been introduced to mainland soil.
Some players opt to lay-up; they hit an iron off the tee to set up their second shot into the tricky green complex. Others go for it and risk the possibility of landing in one of those devastating bunkers or in an equally unfortunate position.
It's the perfect risk/reward hole to analyze the merits of going for the glory.
I decide to keep track of the players' choices and how it affects their score on the hole.
By no means did I watch the entire field do this, but I did so for the final nine groups of the day -- and roughly two and a half hours.
Of the 27 golfers I watch, only seven of them lay up. Of those seven, two make birdies and the rest pars. For the other 20 players who go for it, three make birdies, two make bogeys and the other 15 pars.
The results were not as conclusive as I would have liked, although nearly 30 percent of those who laid up made birdie and zero percent made bogey or worse. For those who went for it, 15 percent made birdie and 10 percent made bogey or worse.
I guess all this means is you are just as likely to make birdie laying up as you are going for it, but less likely to screw up in the process. This is not a revolutionary concept, but I was bored just sitting on one hole, so give me a break.
What hilarity did ensue on the 10th hole took place in the grandstands.
Most frequently, it was the sheer amazement of the spectators at the simplest of golf shots. But also the incredible amount of misinformation exchanged among spectators -- some of which was just inexcusable. For instance, a man insisted that Bryce Molder was in fact "Bruce" Molder, even though all of the literature including the digital leaderboard in front of the 10th green clearly read "Bryce." Also the fact that his name is Bryce and not Bruce.
Another highlight was a conversation I overheard between an elderly man and woman centered on the anchored putter ban which culminated in the old woman asking, "Why don't they just tie it to their head?"
This was my least favorite day.
I am not a fan of sitting on one hole to watch brief moments in every player's round. It doesn't feel like you're part of the action. Unless, of course, you are set up in a corporate tent. Whatever is in their water (it's liquor) works wonders for the overall excitement of sitting stationary while watching others golf for hours on end.
Day Four: Not Bubba
Sunday is spent watching the tournament on TV and writing this thing you are reading right now.
Watching on TV is probably the best way to understand how the tournament is unfolding.
Out on the course, it is impossible to get a sense of what's happening with every group.
You won't necessarily know who's making a charge or who's falling apart. Even now that smartphones and digital leaderboards are part of the tournament experience, nothing is quite the same as watching it unfold on live TV.
However, what you lose by staying home is that sense of satisfaction I described after Day One -- that sense that you were with these guys for five hours and had a stake in how they performed.  
Maybe it's just me.
After all, some people in attendance are just out there for a good time and couldn't care less about what is going on all around them. You're in beautiful Southern California, outside on somebody else's lush country club grass. You can't fault those people who sit under the shade of one of the massive eucalyptus trees all day puffing on cigars.
Others just treat it like the world's biggest bar.
In fact, there are actually bars out on the course for just this type of person. You can just watch it on TV and suck a few back.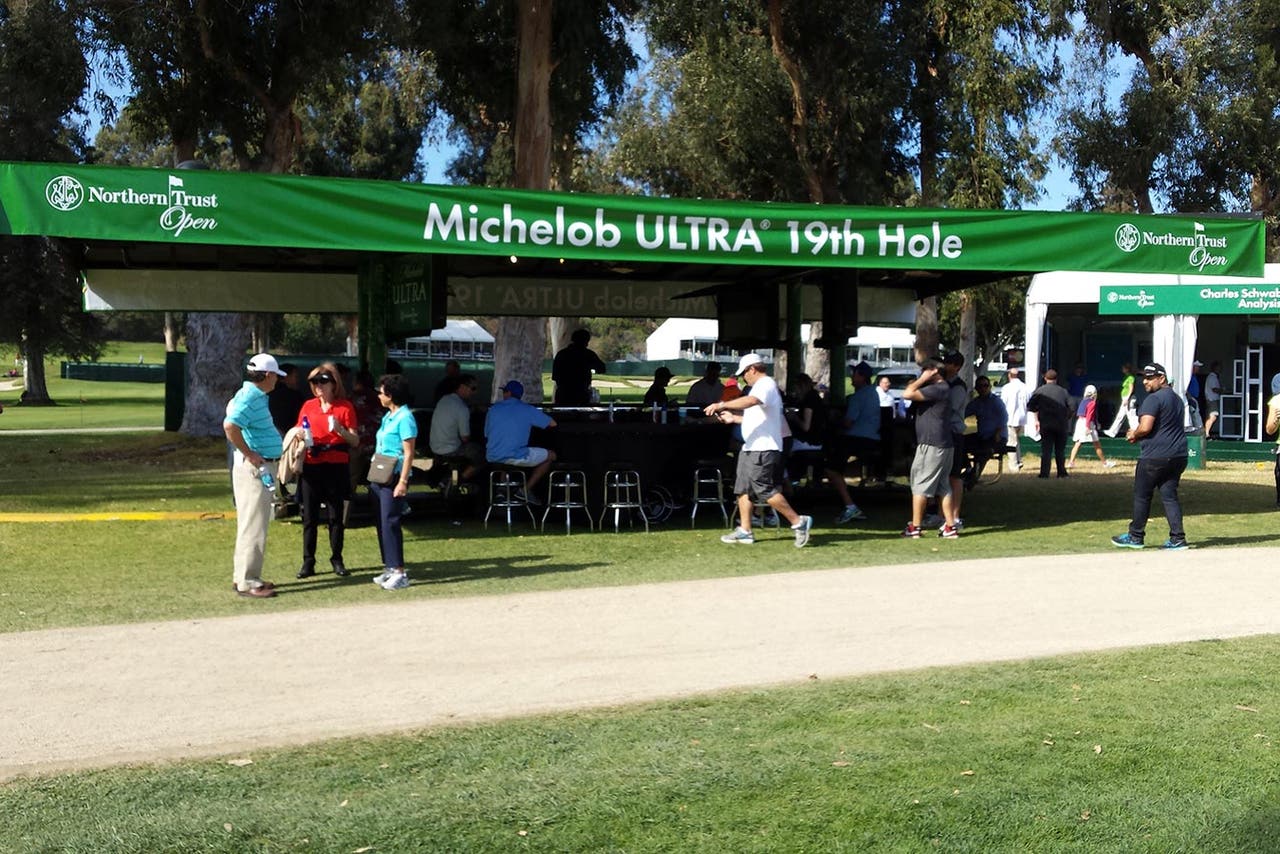 Anyway, Bubba Watson won with two magnificent weekend rounds (64-64) and matched the low round of the tournament two times over. The only shot I saw Bubba hit in person was his hole-out from a bunker on the first hole. I was actually watching Spieth, Couples  and Simpson on 11, which backs right up to the first green.
Just another situation you can't really experience on TV, in real time at least.
I guess when it comes down to it …
There is no best way to attend one of these things.
For an avid golfer who wants to see how the pros manage a course or has an interest in a specific player, there is no better way than to follow them throughout an entire round.
If you have only one day to see all that you can, something along the lines of my Day Two approach should work just fine.
And if you are looking to catch some rays and throw a few back while not working too hard, by all means go sit in the grandstands on one hole and watch the whole field come through.
The point is just get out there.
If you live anywhere near a course that hosts pro tournaments, you should go at least one day. Then one of the other days watch it on TV and see how all the holes look different. All the undulations appear less extreme and the amazing shots, less amazing.
It'll change the way you look at golf, I'm sure of it.
But please don't bring a rangefinder.
---