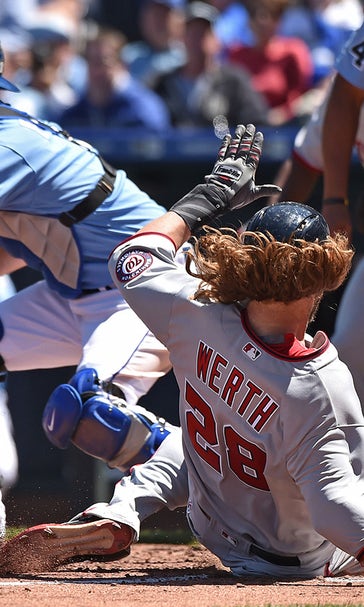 The day after: Royals suffer 13-2 beatdown by Nationals
May 4, 2016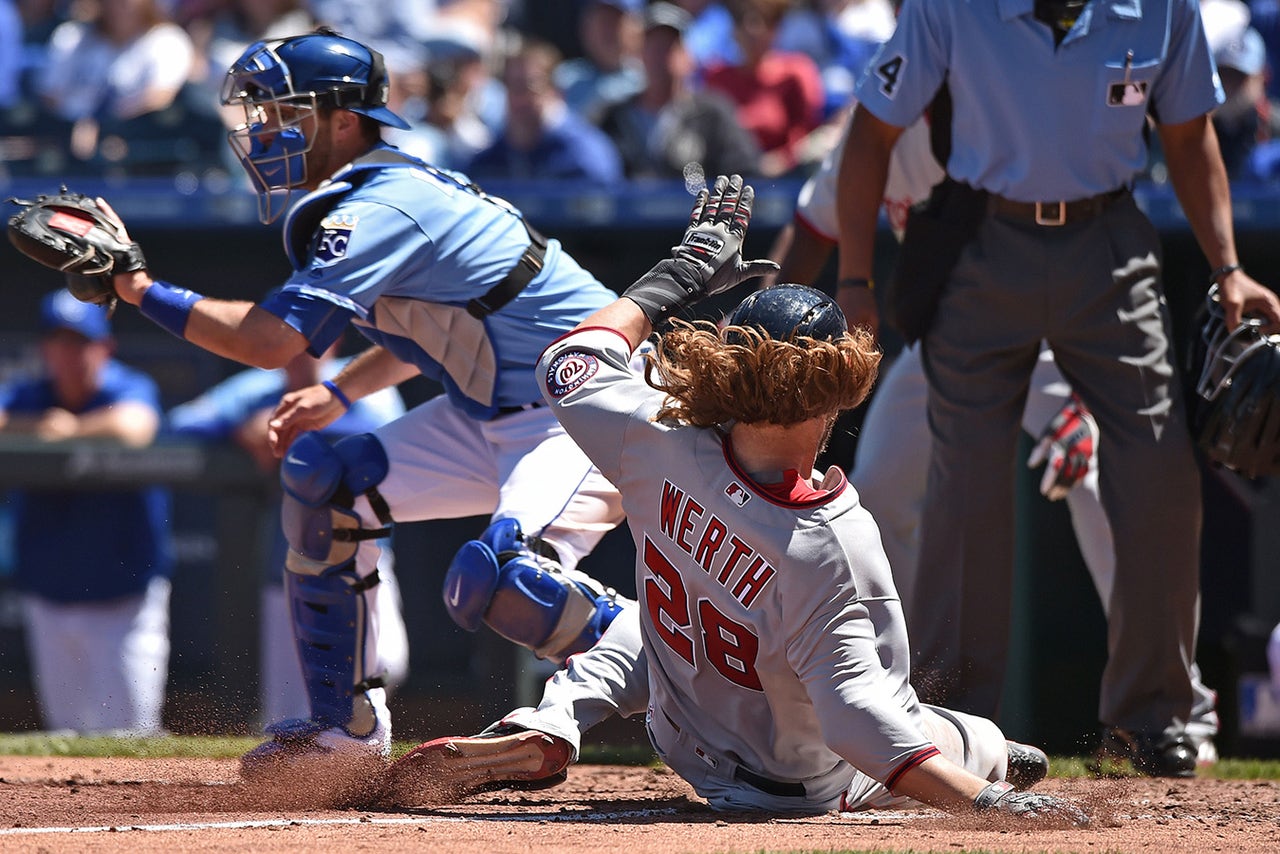 KANSAS CITY, Mo. -- Kris Medlen got pounded off the mound in the third inning. Eric Hosmer got tossed in the sixth.
The rest of the Kansas City Royals were probably jealous of them.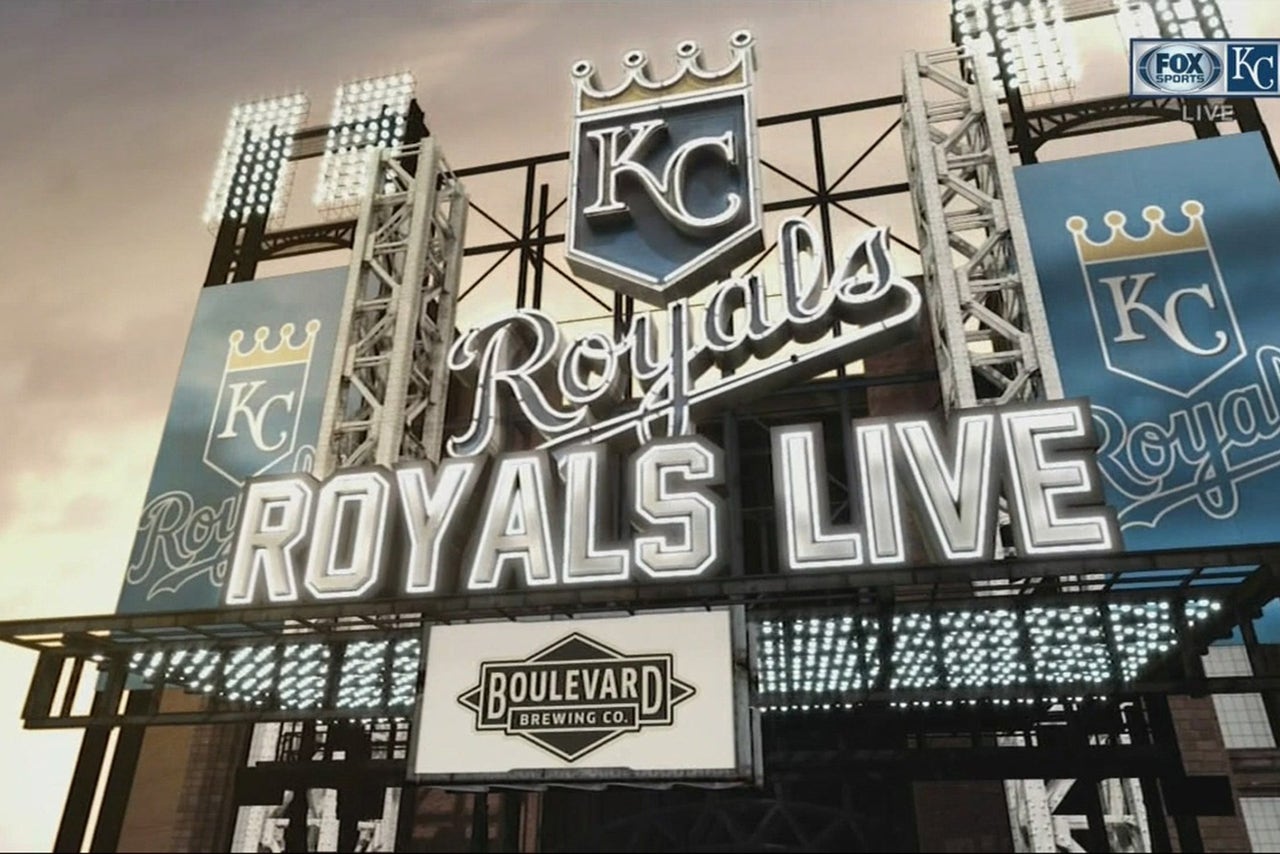 Watch the Royals Live pregame and postgame shows before and after every Kansas City Royals game on FOX Sports Kansas City.

At least their starting pitcher and star first baseman didn't have to suffer through all nine innings of a 13-2 loss to the Washington Nationals on Wednesday, one that sent the spiraling World Series champions -- who had enjoyed an exciting walk-off win the night before -- to their seventh loss in nine games.
"I feel like I let us down and didn't give us a chance to win, obviously, looking at the score," Medlen said. "They hit mistakes. They hit good pitches. It was just kind of a snowball effect."
Daniel Murphy finished a triple shy of the cycle, and slumping slugger Bryce Harper also went deep as the Nationals pounded out 16 hits. Murphy and Clint Robinson drove in three runs apiece, and nearly everyone else in a gray jersey did something at the plate to help pace the rout.
Medlen (1-3) allowed nine runs, six of them earned, and six hits in two-plus innings for Kansas City. His home ERA rose to 20.65 in two starts at Kauffman Stadium this season.
"It just wasn't Medlen's day," Royals manager Ned Yost said. "He just couldn't get it going and the defense didn't help him. Three errors in the first inning didn't help him. It was just a struggle."
Strasburg (5-0) allowed two runs and five hits in six innings for Washington.
"It might sound strange, but it made it a little more difficult," said Strasburg, who is off to the best start record-wise of his career. "You have to trick your mind into thinking it's a 0-0 game."
Things got so bad for the Royals that the mild-mannered Hosmer, their hottest hitter, got ejected for the first time in his six-year big-league career. Hosmer struck out and took umbrage with plate umpire C.B. Bucknor, who gestured for him to head to the showers in the bottom of the sixth inning.
"I realize it's a tough job back there and I realize it's not easy calling balls and strikes, but when something occurred before the inning and he decided to continue on with the conversation with the catcher, I just felt like his focus wasn't in there," Hosmer said. "As a hitter, as a competitor, you don't appreciate that. That's why I felt the need to speak my piece."
The Royals used every player on their bench, including catcher Salvador Perez, who had to take over for Hosmer at first base. They also used six pitchers with closer Wade Davis working the ninth.
The tone was set with the first two batters of the game -- and it sounded a whole lot like nails on a chalkboard to the thousands of kids in the stands for "School Day at the K."
Mike Moustakas allowed a hopper to get past him for a leadoff error, and Omar Infante bobbled an easy grounder for another one. The Nationals proceeded to string together four straight hits, three of them for extra bases, before Medlen finally recorded his first out on his 39th pitch.
"They helped us out in that first inning and that doesn't happen very often," Nationals manager Dusty Baker said. "They're a very good defensive team."
Washington added a sacrifice fly to take a 6-0 lead before Strasburg finally got to pitch.
He gave up a couple runs in the second, but the Nationals proceeded to score four more runs on five hits and a walk in the third inning. Medlen was lifted with the bases loaded and no outs, but reliever Danny Duffy did little to slow the Nationals' offensive onslaught.
Murphy went deep in the fourth inning. Harper hit his 10th of the season in the fifth.
"To tell you the truth, it was a terrible swing," Harper said, "but it hit my barrel. I'll take it."
GORE OPTIONED
The Royals optioned OF Terrance Gore to Double A Northwest Arkansas after the game. They will make a corresponding roster move before Friday night's game at Cleveland.
TRAINER'S ROOM
OF Ben Revere (right oblique strain) will join the Nationals in Chicago on Thursday and be evaluated before being activated. He played nine innings in center field for Triple A Syracuse in his fifth rehab game on Tuesday. ... Moustakas was back in the starting lineup after dealing with swelling in his thumb.
UP NEXT
The Royals take a day off before beginning a three-game set Friday night in Cleveland.
---
---