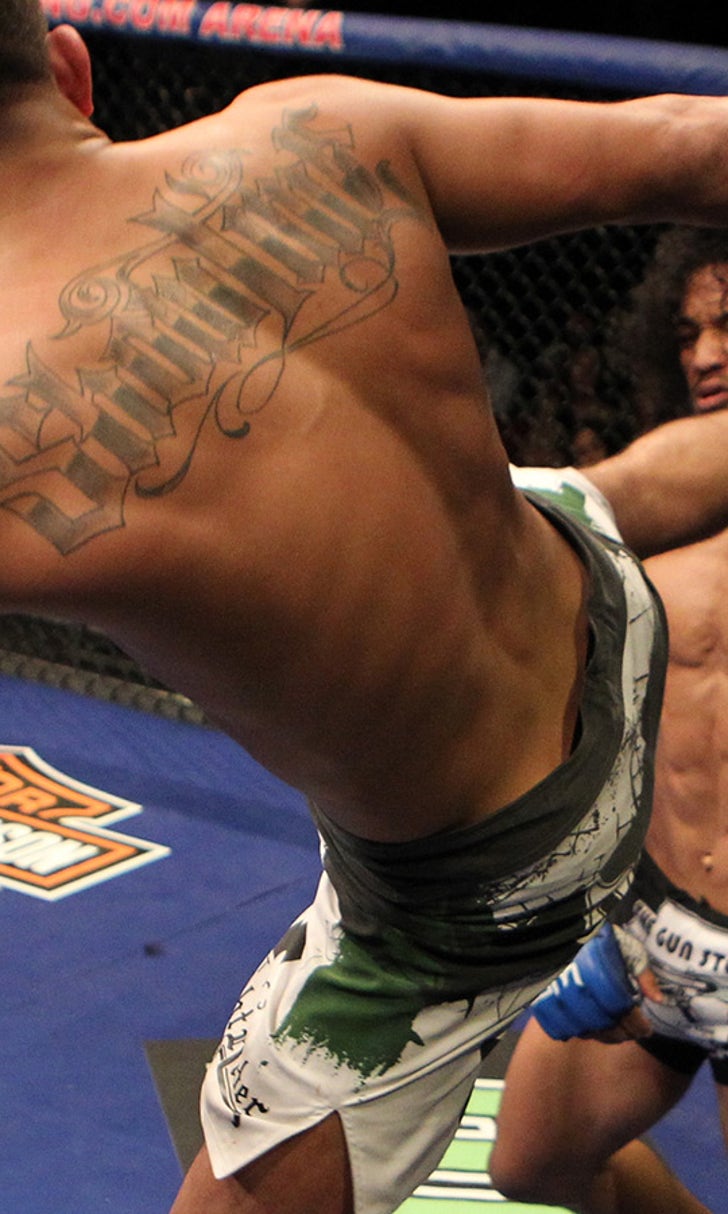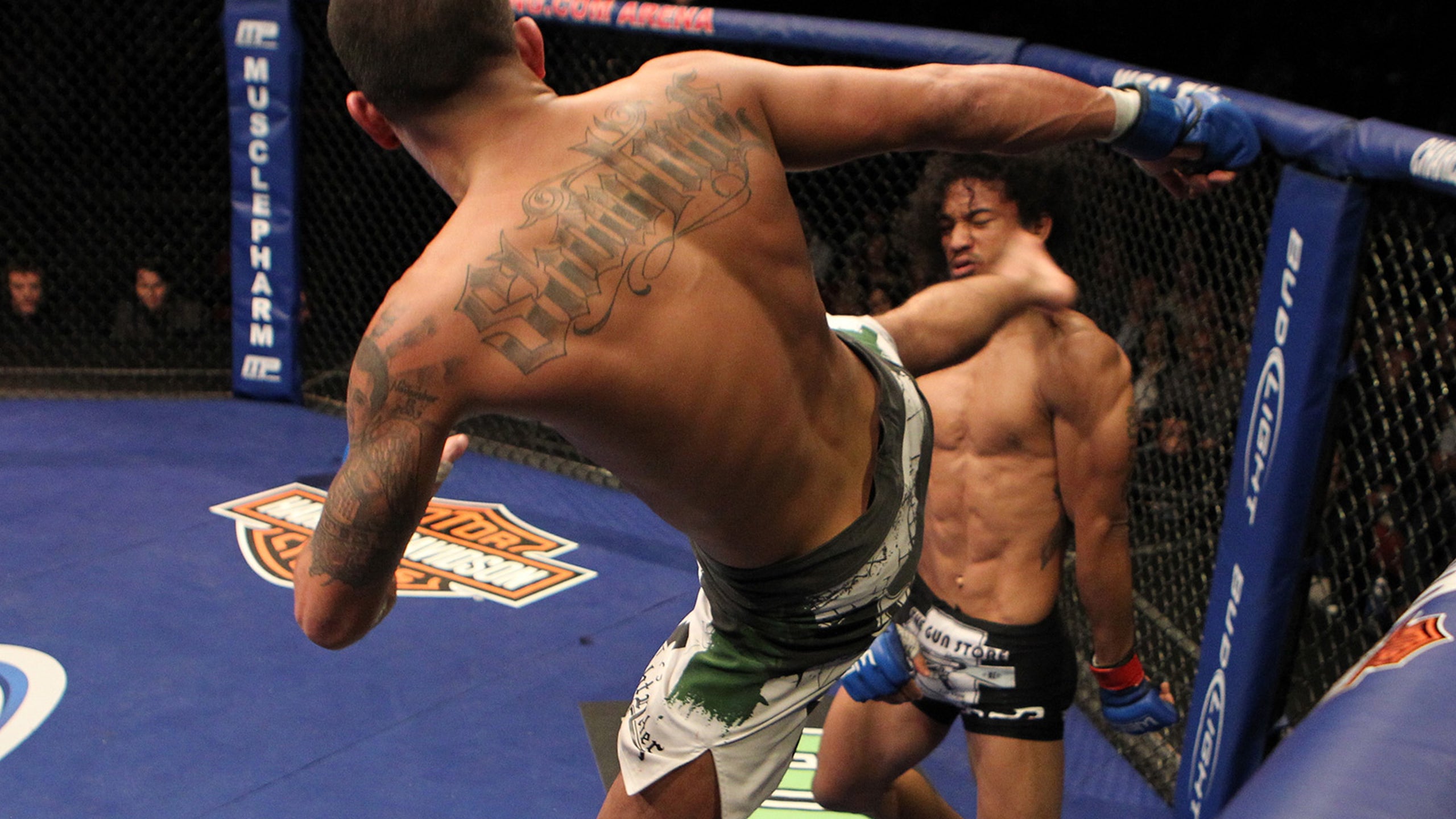 The 10 most successful transitions from the WEC to the UFC
BY foxsports • March 13, 2014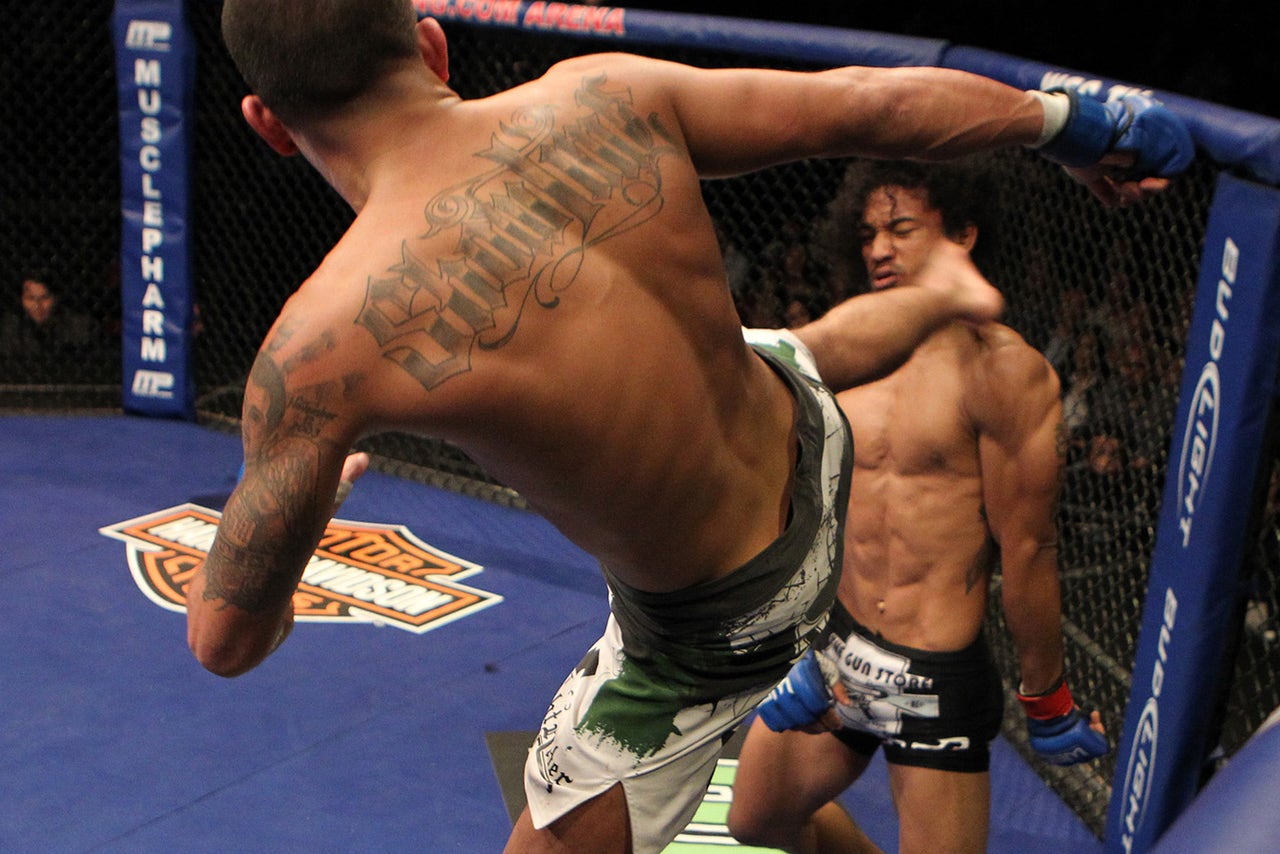 Since being absorbed by the UFC in 2010, the fighters of the WEC (World Extreme Cagefighting) have seen their fair share of crossover success. In fact, it would be hard to claim that the stars of the WEC have done anything less than dominate the landscape of the UFC's lighter weight divisions. The WEC is, after all, the organization that helped mold two current UFC champs, two former UFC champs, an interim champ, and four title challengers among other notable fighters.
Last week, it was announced that Fox Sports 1 would be launching "The Best of WEC," a six-part series that hihglights some of the greatest fights in the organization's history, starting on March 19th. So to celebrate this occasion, we decided to pay tribute to some of the WEC's finest fighters via a list that you will likely disagree with. YAY INTERNET!
#10 – Donald "Cowboy" Cerrone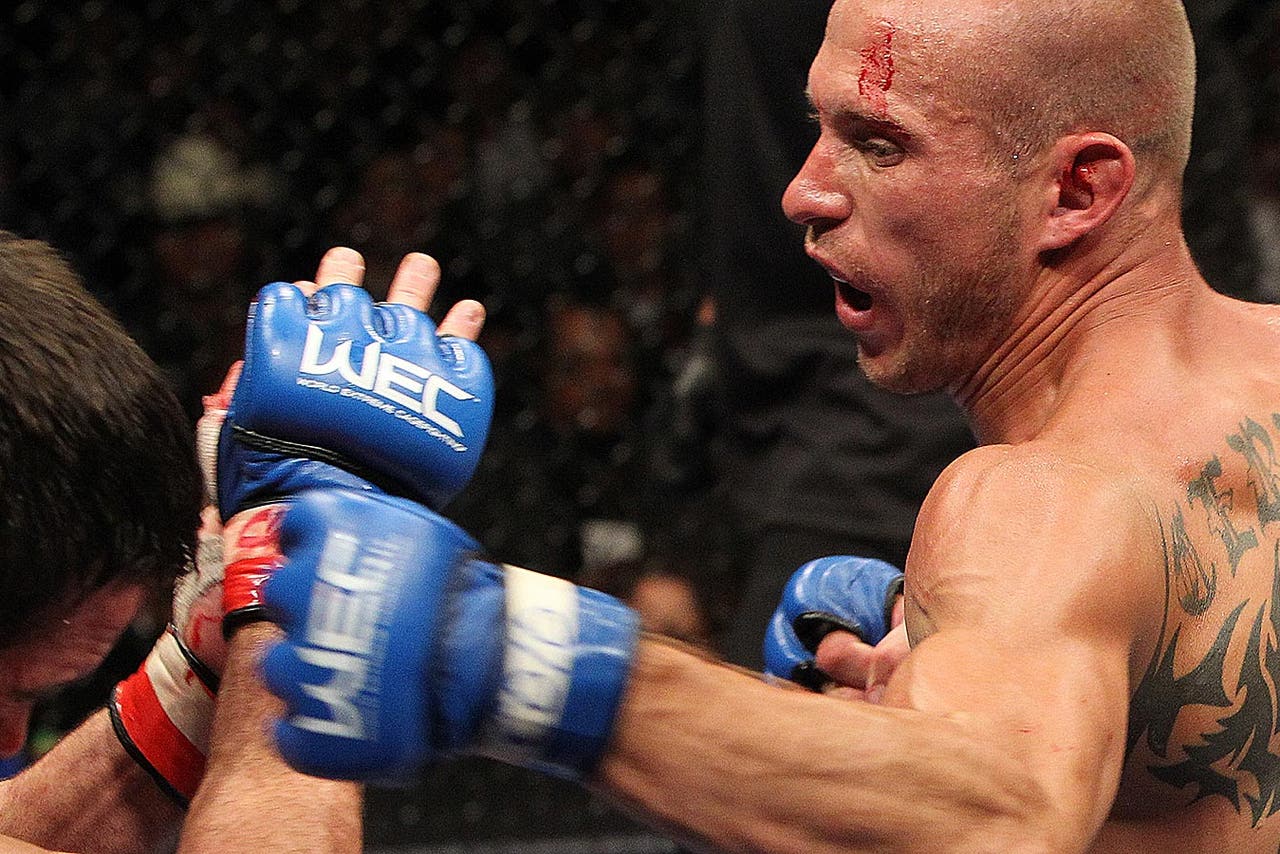 It says a lot that a three-time WEC title challenger and seven-time UFC performance bonus winner like Donald Cerrone is ranked lowest on our list. Cerrone, who fought 10 times for the California-based promotion (going 6-3 w/1 NC) before making the jump to the UFC, was arguably the WEC's biggest star who never won a title. Of course, with five performance bonuses and a 2009, Sherdog "Fight of the Year"-earning effort with Benson Henderson at WEC 43, it's not hard to see why "Cowboy" has and always will be a fan favorite.
#9 – Gilbert "El Nino" Melendez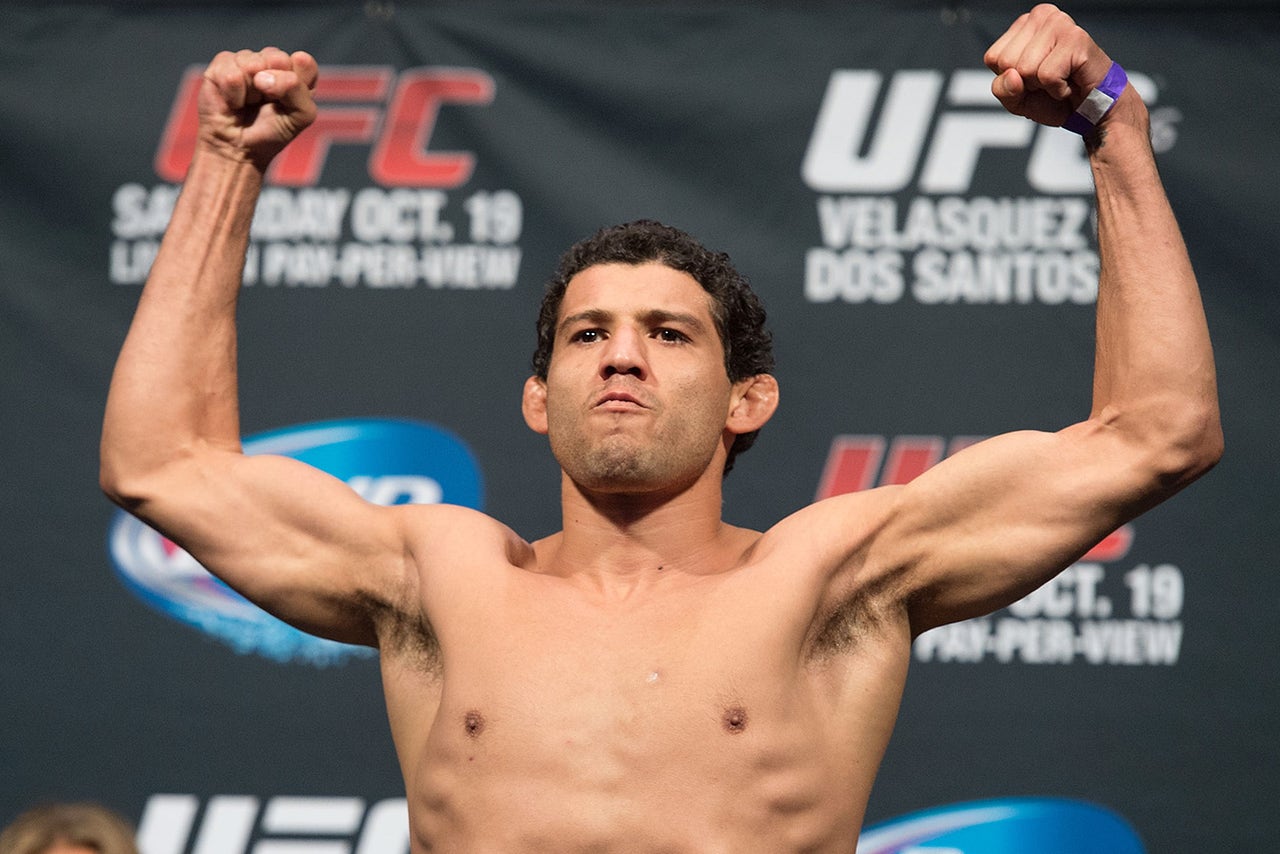 Although "El Nino" built his name as the Strikeforce lightweight champion, it is often overlooked that he was actually the inaugural WEC lightweight champion as well. After scoring back-to-back knockouts of Greg Quan and Jeff Houghland at WEC 5 and 6, respectively, Melendez faced off with Olaf Alfonzo at WEC with the title on the line, emerging victorious by way of, you guess it, KO.
Melendez would carry his undefeated record into Strikeforce, where he would defeat future UFC contender Clay Guida to win *that* organization's lightweight belt. He would not taste defeat as a champion until his fight with Josh Thomson and 2008, but would eventually reclaim his belt and defend it four times before Strikeforce was absorbed by the UFC in January of 2012. A failed title bid against Ben Henderson would follow, but Melendez would once again rebound from defeat by putting on a "fight of the Year" contender with Diego Sanchez at UFC 166, which he would walk away from with his first UFC win under his belt.
#8 – Carlos "The Natural Born Killer" Condit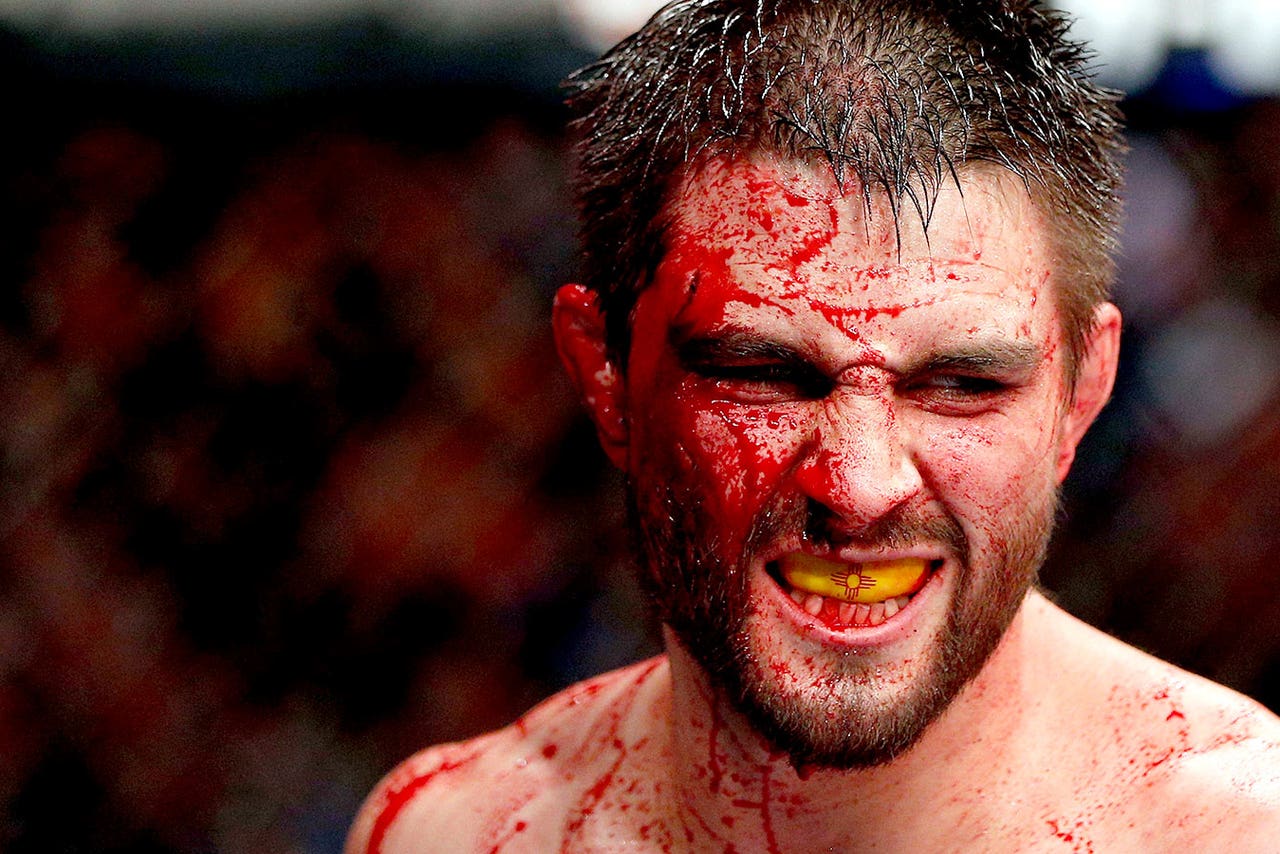 Again, this is the final WEC welterweight champion and a former UFC interim champion, ranked third to last. While Condit took a lot of heat (and continues to because the Internet) for his "safe" and "strategic" performance against Nick Diaz at UFC 143, he has also secured performance bonuses in every other fight he's had in the UFC. His knockouts of Dan Hardy and Dong Hyun Kim? The things of legend. His gritty performances in defeat against Georges St. Pierre and Johny Hendricks? Legen…wait for it…DARY.
Carlos Condit is the very definition of a warrior, one of those rare fighters who actually lives up to his nickname, and a guy who likely has a long UFC career ahead of him.
#7 – Urijah "The California Kid" Faber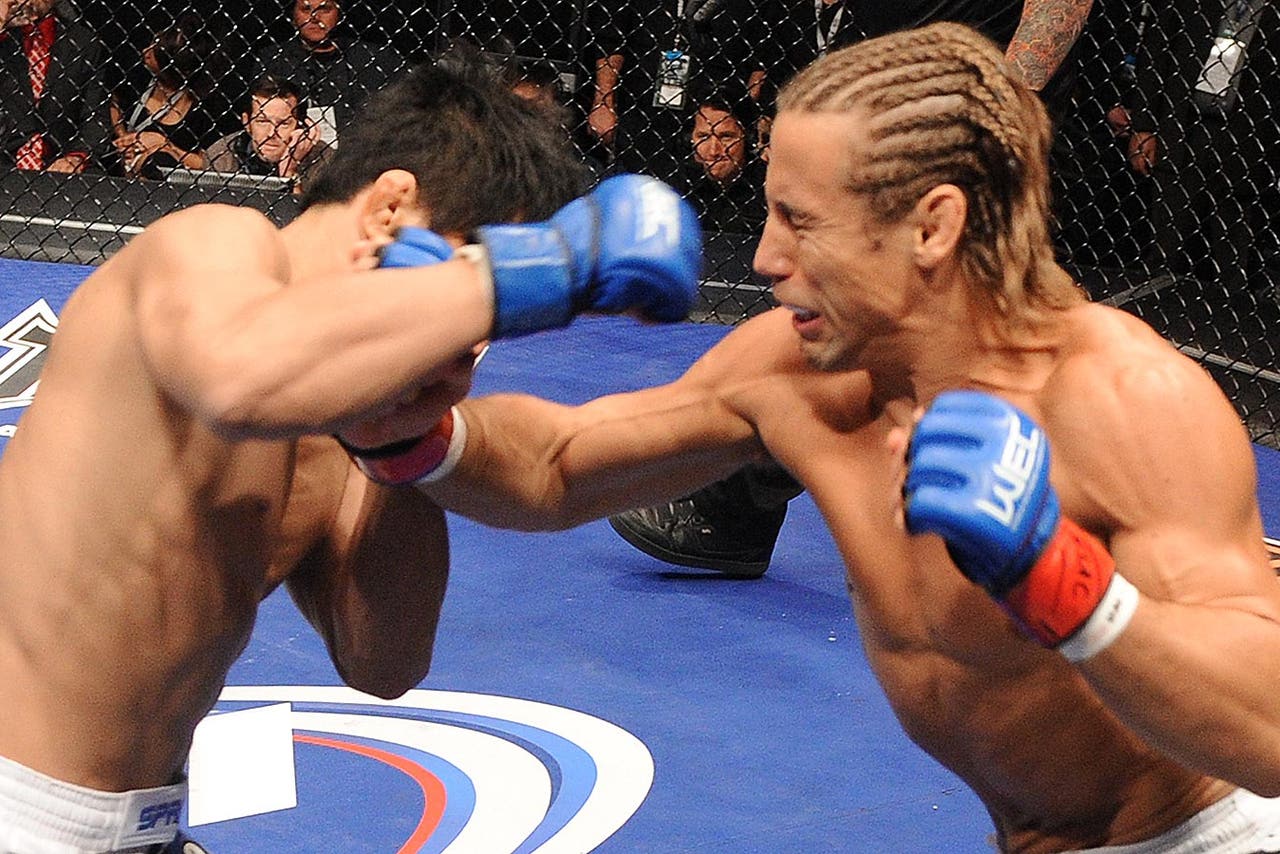 Easily the biggest WEC star of them all, Urijah Faber may never be able to reach the championship levels he did in his former promotion (he has actually gone 0-6 in title fights since losing his featherweight title to Mike Brown at WEC 36), but that doesn't change the fact that he is easily one of the most successful WEC fighters competing in the UFC today. Faber's UFC record stands at an impressive 6-3, with his only losses coming against former bantamweight champion Dominick Cruz and current bantamweight champion Renan Barao. Although he may have been shutout by Barao in their title clash at UFC 169, his previous win over phenom Michael McDonald proves that he still has a lot of gas left in the tank. Speaking of Cruz…
#6 – Dominick "The Dominator" Cruz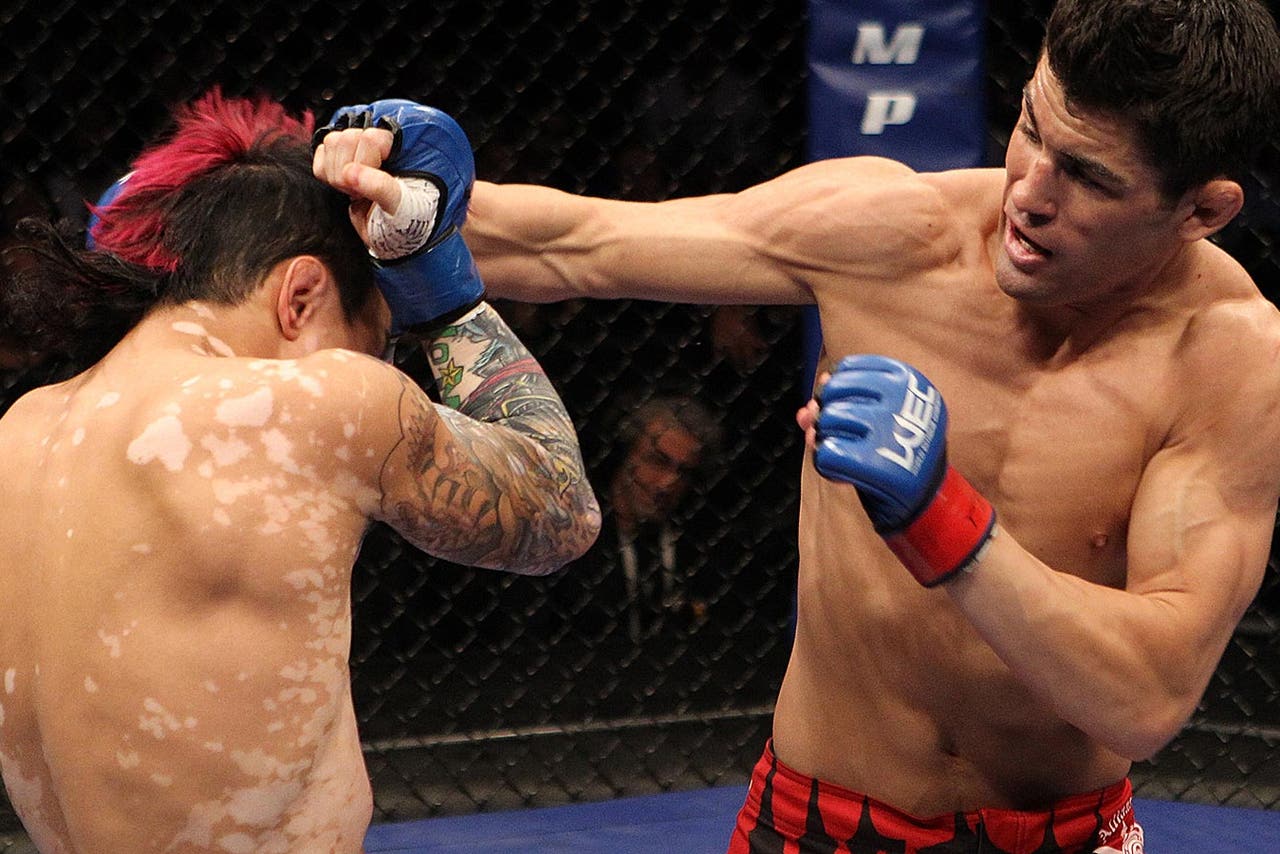 Woe is you, Dominick Cruz. After stringing together nine straight victories from 2008-2011, which included three WEC title defense and two in the UFC, "The Dominator" has been battling injuries for over two years now. Most recently, the final WEC bantamweight champion fell down a flight of subway stairs (unconfirmed) and tore his groin, all but forcing him to vacate his title just weeks prior to UFC 169. Cruz has yet to set a date for his return, but we truly hope that we'll be able to see him square off with Renan Barao before he accepts that his bones are made of glass.
#5 – Ben "Smooth" Henderson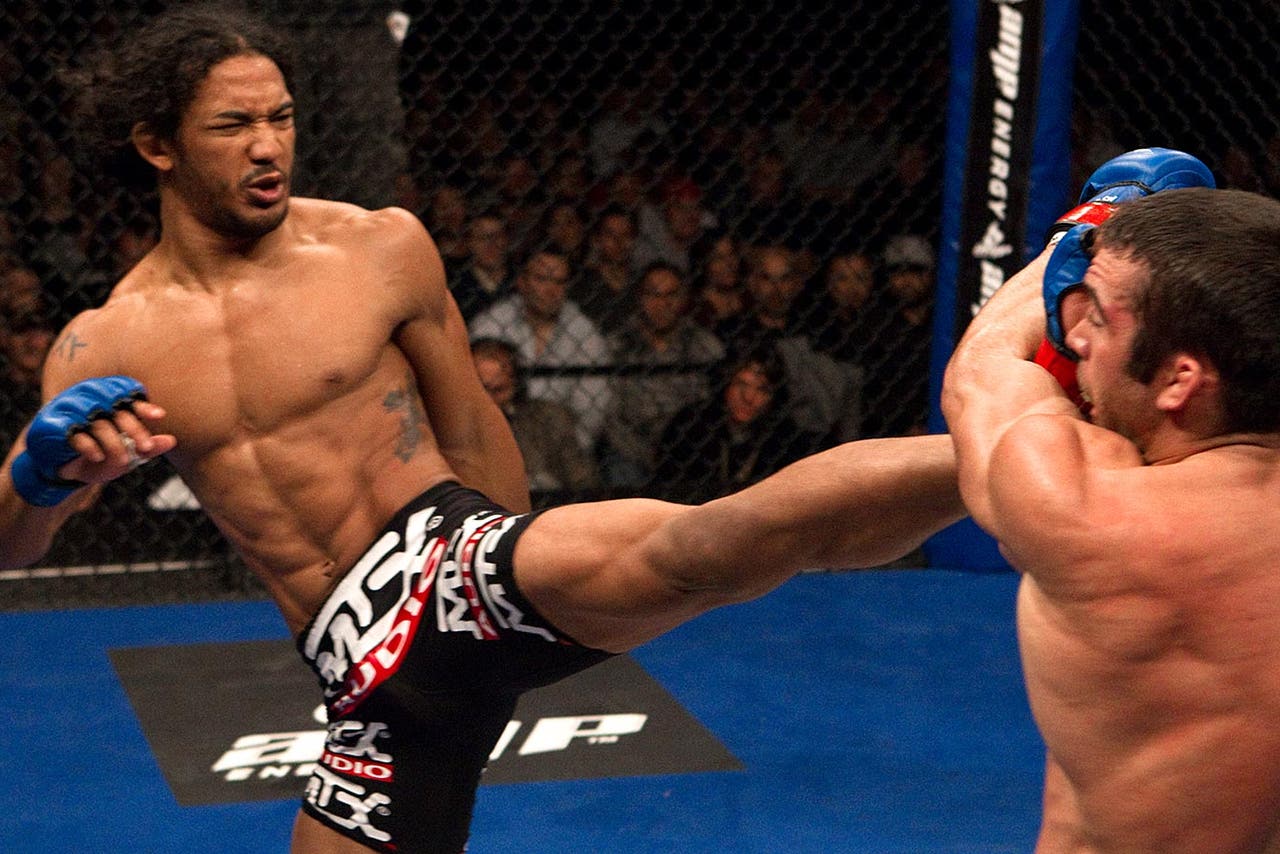 Ah, Ben Henderson, the former UFC lightweight champion and zzzzzzzzz….
I'm sorry; I was just waking up from Henderson's fight with [insert fighter's name here].
While Henderson's grinding style may be growing increasingly frustrating to watch (it's not aided by the fact that he has been on the right side of many a questionable decision), there's no denying the run of dominance he had as the UFC's lightweight champion. Unless you count the second Frankie Edgar fight. Or the Melendez fight. Or the Thomson fight.
What was I talking about again?
#4 – Demetrious "Mighty Mouse" Johnson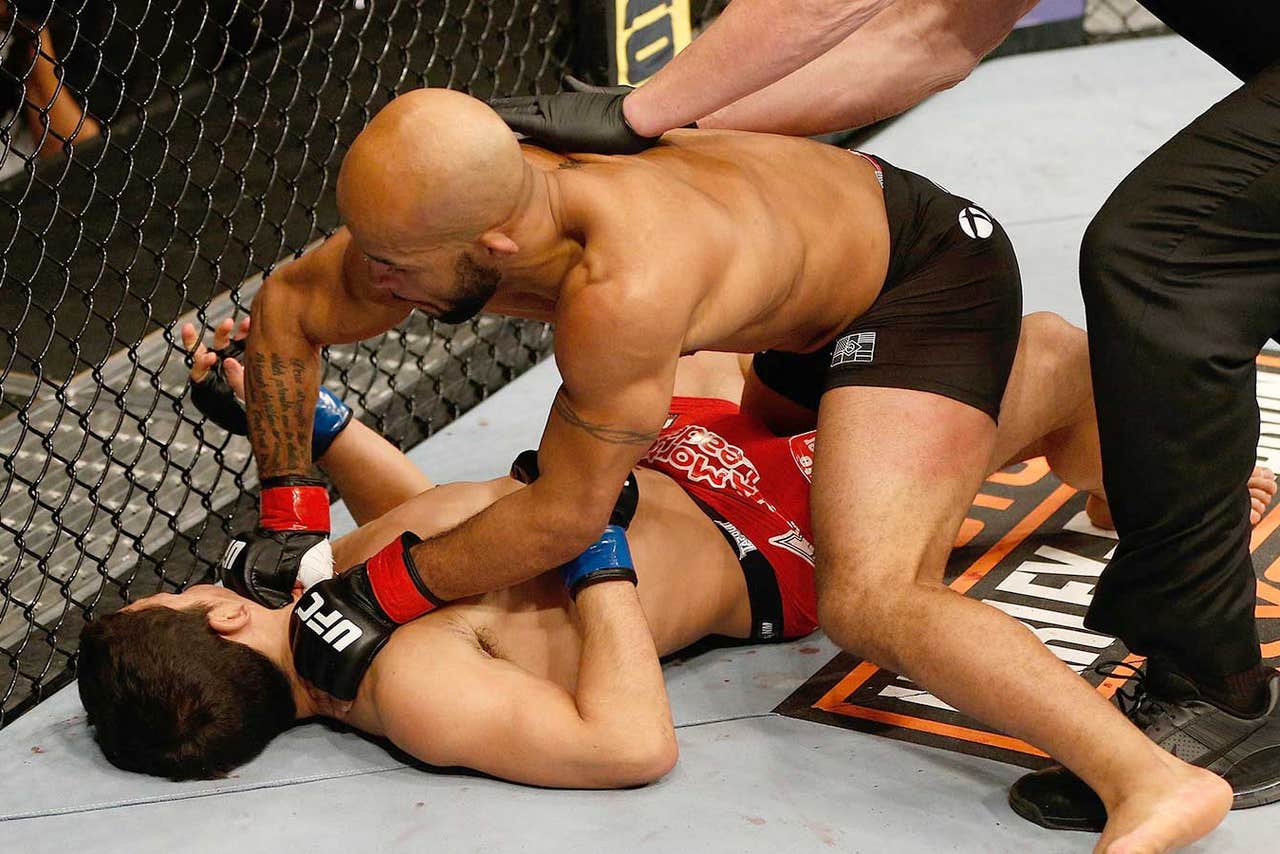 Before you launch into a vitriol-filled comment rife with insults and absent of punctuation, know that I am aware of the fact that Johnson dropped a fight to Dominick Cruz in 2011. But he arguably gave Cruz his toughest test, and with the greatest size disadvantages of them all no less. Since dropping to flyweight, "Mighty Mo" has been nothing shy of spectacular.
 A once criticized "point fighter" (a real Ben Henderson, you might say) who kicked off his UFC career with 7 straight decisions, Johnson has even rounded out that area of his already world class game, submitting John Moraga at UFC on FOX 8 before KO'ing Joseph Benavidez in their rematch at UFC on FOX 9 last December. I only wish he had flipped off/called out Michael Bisping in his post-fight interview that night, but the world is an imperfect place.
#3 – Anthony Pettis
There's a lot I could praise about the current UFC lightweight (and final WEC lightweight) champion, but instead, I'd rather just tell you about the time Anthony Pettis used the cage as a springboard to kick his opponent in the face.
The night was December 16th, 2010. In the fifth round of his lightweight title fight with Ben Henderson, Anthony Pettis used the cage, as a springboard, to kick his opponent in the face. Here's a video of it:
Fin.
#2 – Jose Aldo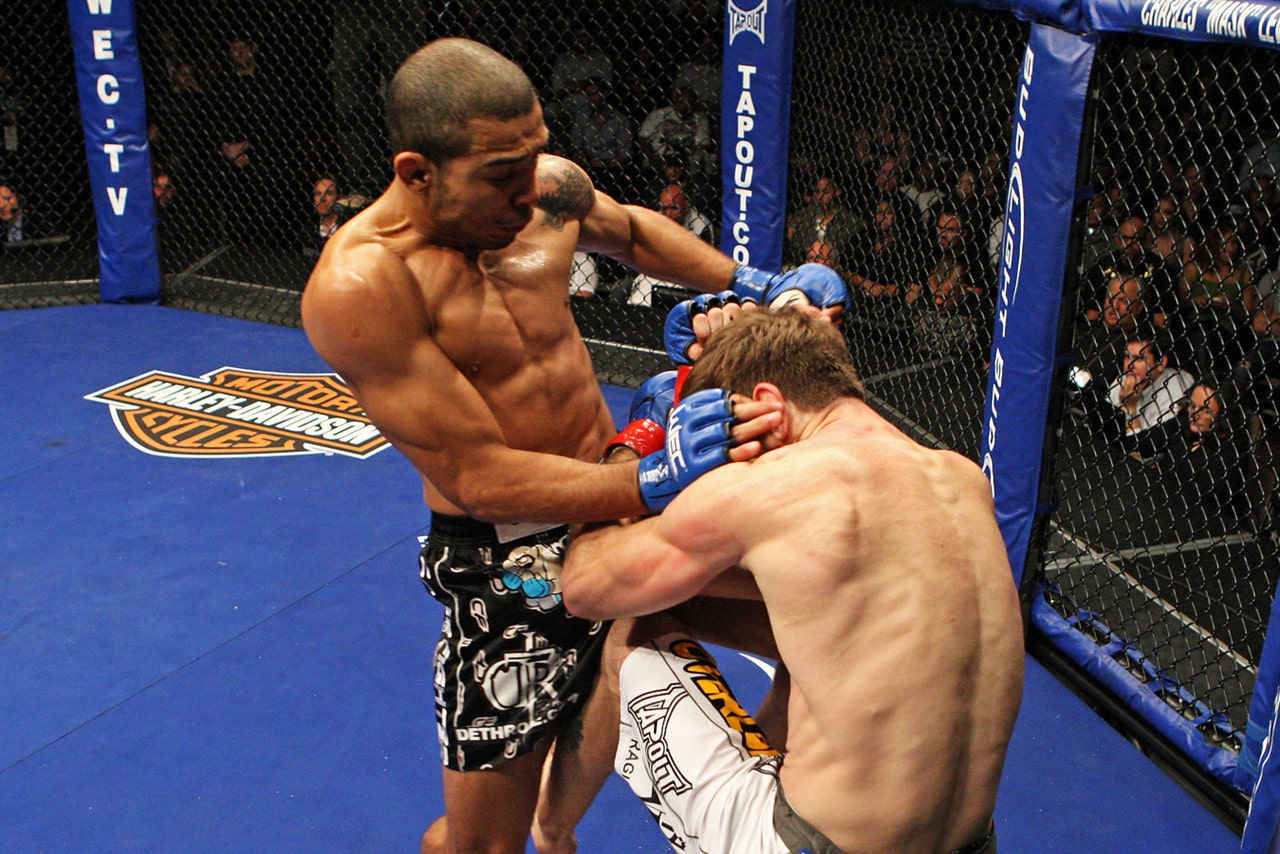 Without using too much hyperbole, I will say that Jose Aldo might be the most dangerous person on Earth that you can fit in your pocket. He is a 145-pound, Tazmanian Devil-esque whirlwind of violence who could chop a California redwood down with a handful of leg kicks.
Fact: Jose Aldo has not lost a fight since 2005.
Fact: Since joining the WEC in 2008, Aldo has strung together 14 straight victories including two WEC featherweight title defenses and *six* UFC title defenses.
Fact: Death once had a near-Jose Aldo experience.
But if the scariest fighter in the UFC is number 2 on this list, who could be #1?
#1 – Brittney Palmer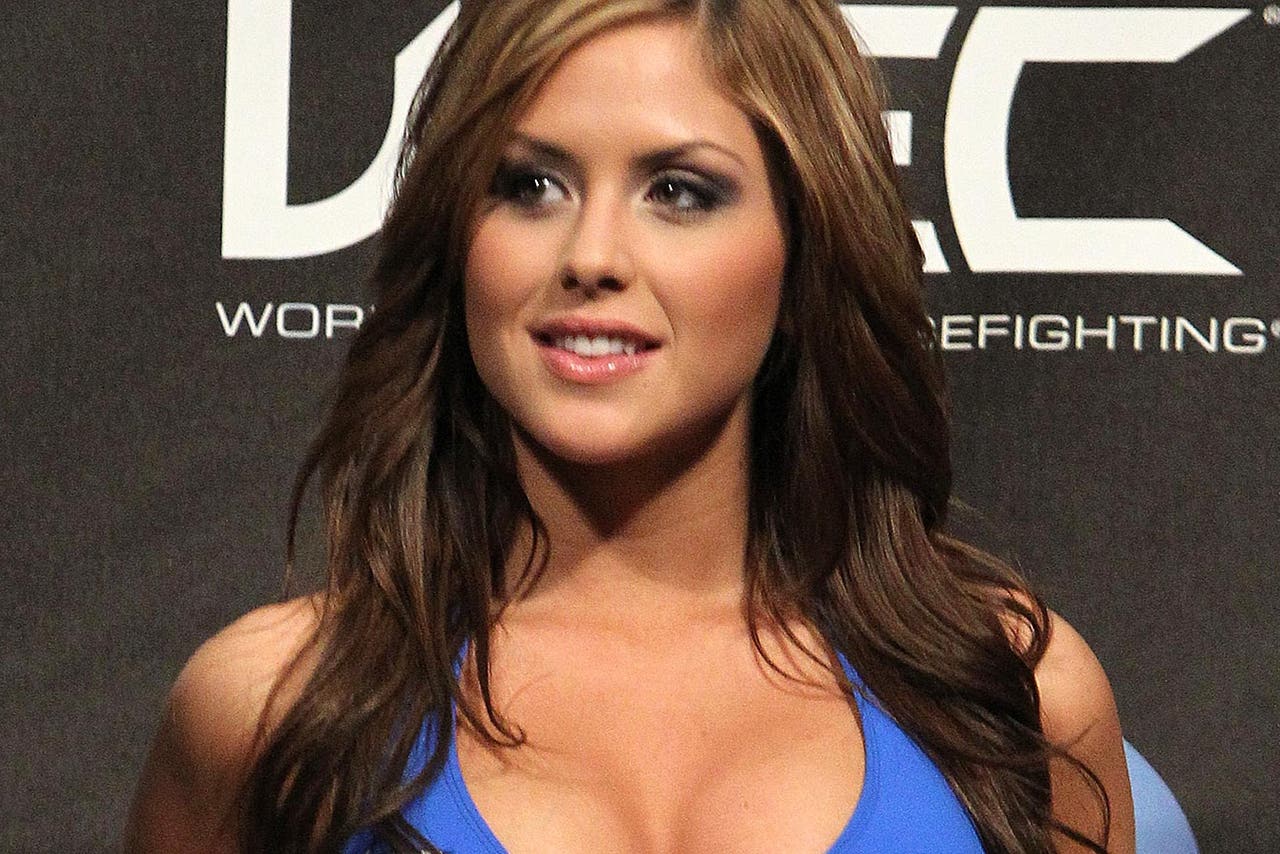 That's right, beloved UFC ring girl and "Slow & Hot" host Brittney Palmer was once just a humble WEC ring girl with lofty aspirations of one day being hot enough to make a living being hot and/or slow. Now, she's a Playboy playmate and aspiring artist who has been strutting her stuff for the UFC for nearly half a decade. It's the American dream, gosh darn it (*wipes away tears*). There are many who say that ring girls are an unnecessary part of the MMA landscape, but I ask unto those people, really? Like, really really?
God bless you, Brittney Palmer. And God Bless you, World Extreme Cagefighting, for having the good judgment to bring her on.
---
---