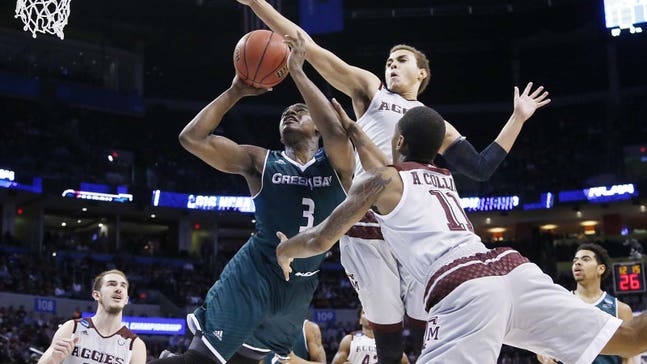 Texas A&M routs Green Bay in first round of NCAA Tournament
Published
Mar. 18, 2016 10:00 p.m. ET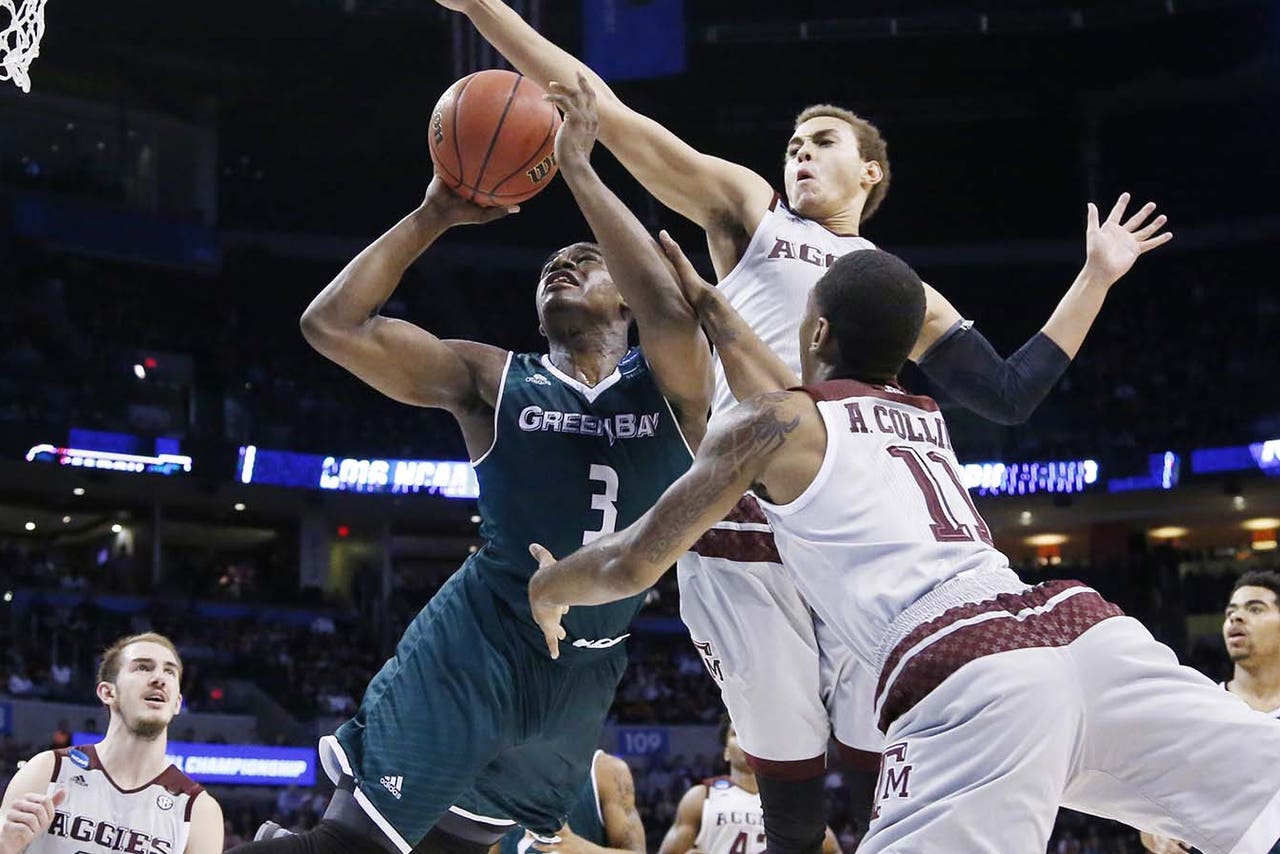 OKLAHOMA CITY -- Danuel House wanted the world to know Texas A&M felt disrespected entering the NCAA Tournament.
Or, at the very least, he wanted to send a message to Kentucky coach John Calipari.
House and his teammates took their point to the court on Friday, showing they deserved every bit of their No. 3 seed in a dominating 92-65 opening-round win over 14th-seeded Green Bay.
The Aggies (27-8) played like they had plenty to prove following Calipari's comments that the fourth-seeded Wildcats deserved to be seeded higher after a Southeastern Conference Tournament championship game victory last week.
They came on strong after falling behind by eight points early, with House scoring 20 points as Texas A&M won for the ninth time in its last 10 games.
"There is still more respect to be earned," House said. "People were really upset about (Calipari's comments), and it really bothered us. But then at the same time, we knew we just had to stay together as a team, as a unit and focus on the goal that we talked about."
The tournament victory was the first since 2010 for the Aggies, who shot 56.1 percent (32 of 57) from the field -- with House finishing 8 of 12 and hitting a pair of 3-pointers. Tonny Trocha-Morelos added 15 points for Texas A&M, while Tyler Davis had 12 and Jalen Jones and Admon Gilder 11 each.
For a team making its first NCAA Tournament appearance since 2011, the Aggies appeared quite comfortable in the national spotlight -- a position they expected to be in all along this season in the fifth year under coach Billy Kennedy.
"Whatever motivates Danuel, if that motivates him, I'm all for it," Kennedy said.
Green Bay (23-13) entered the game fueled by the up-tempo style of first-year coach Linc Darner, whose motto of "RP40" -- Relentless Pressure for 40 minutes -- helped the Phoenix to a school-record 344 steals for the season entering Friday.
That pressure gave Texas A&M all kinds of fits early, with Green Bay forcing nine turnovers by the Aggies in less than eight minutes to open the game. The Phoenix turned those miscues into 10 points and took a 22-14 lead after Tevin Findlay's putback capped a 12-0 run before the Aggies responded.
And respond they did, closing the first half on a 27-11 run and then pushing their lead to 22 points early in the second half.
"I thought they made a run, and in the second half they just got on a roll that we couldn't stop," Darner said.
Khalil Small scored a career-high 22 points to lead the Horizon League Tournament champion Phoenix, who were making their first tournament appearance in 20 years, but they had no answers for Texas A&M's strong frontcourt.
Led by Davis, the Aggies -- who won a tournament game for the first time since defeating Utah State in the first round in 2010 -- outrebounded Green Bay 45-25 and scored 46 points in the paint.
TIP-INS
Green Bay: Phoenix forward Kerem Kanter likely had insider knowledge about playing inside Oklahoma City's Chesapeake Arena on Friday, given that his older brother, Enes, plays for the Thunder. The 6-foot-9 sophomore finished with five points in 11 minutes.
Texas A&M: Aggies senior Anthony Collins was the lone player in the game with previous NCAA Tournament experience, having played for South Florida in 2012. The guard played 25 minutes on Friday and had two points, three assists and three steals.
BENCH HELP
The 15 points for Morelos matched a career high for the sophomore, who came off the bench and played 21 minutes. He last scored 15 in a win over Texas A&M-Corpus Christi last November, and he led the way for an Aggies bench that outscored the Phoenix reserves 44-26.
UP NEXT
Texas A&M faces Northern Iowa on Sunday night.
---