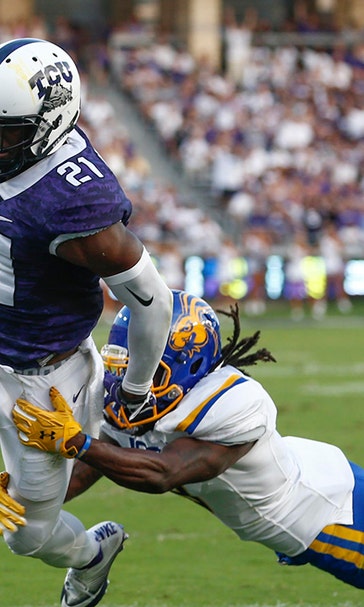 TCU struggles to put away FCS South Dakota State
BY foxsports • September 4, 2016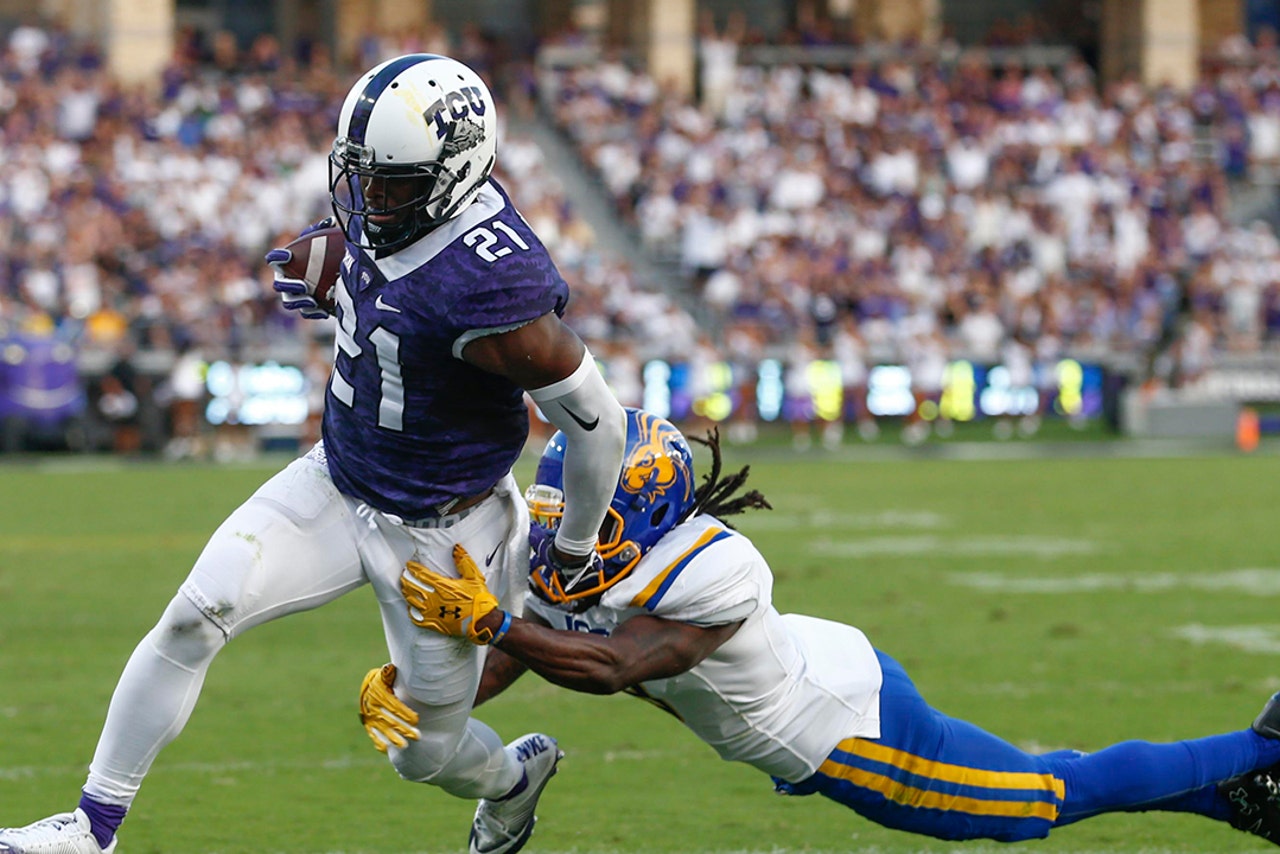 FORT WORTH, Texas (AP) -- Kenny Hill accounted for five touchdowns after a shaky start in his TCU debut, KaVontae Turpin returned a punt 81 yards for a score and the 13th-ranked Horned Frogs pulled away late in a 59-41 victory over South Dakota State on Saturday night.
Playing his first game since a 59-0 loss to Alabama that cost Hill the starting job at Texas A&M two years ago, the junior transfer bounced back from interceptions on consecutive passes that led to a 10-point lead for the lower-division Jackrabbits.
Turpin started the recovery from the surprising second-quarter deficit with his return, sparking the Frogs to their 15th straight win in a home opener since losing to Northwestern State in Gary Patterson's first season as head coach. The 5-foot-9 speedster added a 33-yard run and finished with 177 all-purpose yards.
Hill was 33 of 49 for 439 yards with two touchdown passes, ran for three scores and converted a critical third down with a 13-yard scramble in the fourth quarter. That drive ended on a 46-yard scoring pass to Taj Williams for a 52-41 lead.
"Just played better," Patterson said. "We didn't change the offense. Just didn't throw it to them."
Williams, who had 11 catches for 158 yards, made the grab after the ball deflected several yards forward into his arms off the hands of TCU receiver Desmon White and South Dakota State linebacker Dallas Brown.
Taryn Christion threw for 333 yards and three touchdowns -- two to Jake Wieneke, who had eight catches for 196 yards.
Isaac Wallace had an 87-yard touchdown run after Makiah Slade intercepted Hill at the South Dakota State 1. Wallace finished with 112 yards rushing. Christion's 12-yard run put the Jackrabbits ahead 17-7 after Hill's second interception.
"I told you on Tuesday they were good players. Now they're still good players," Patterson said of the Jackrabbits. "We didn't do a very good job."
Kyle Hicks ran for two touchdowns, including a 3-yarder that put TCU ahead for good in the third quarter.
THE TAKEAWAY
SOUTH DAKOTA STATE: The Jackrabbits have to feel pretty good about a fifth straight trip the Football Championship Subdivision playoffs. A year after getting its first win over an FBS opponent (41-38 at Kansas), South Dakota State kept making big plays after TCU went ahead by two scores for the first time at 45-31 in the third quarter.
TCU: The fiery Patterson built his reputation on defense, and that took a hit with South Dakota State rolling up 461 yards. The Frogs sacked Christion four times, but he still had time to drop perfect passes into coverage several times. Practice won't be fun for the Frogs this week. Still, the offense looked good without Trevone Boykin, finishing with 662 yards.
UP NEXT
SOUTH DAKOTA STATE: The Jackrabbits open their newly renovated stadium against Drake in the first of three straight home games. The rest of the South Dakota State schedule is FCS teams.
TCU: Perhaps Arkansas was guilty of the same thing as the Frogs -- peeking ahead at Week 2 as a heavy favorite in the home opener. The Razorbacks visit Fort Worth coming off a 21-20 win over Louisiana Tech. It's the first meeting of the former Southwest Conference rivals since 1991, when Arkansas was an independent for a season after leaving the SWC for the SEC.
---