Tar Heels aiming for Coastal Division title, other breakthroughs
Published
Aug. 2, 2014 7:14 p.m. ET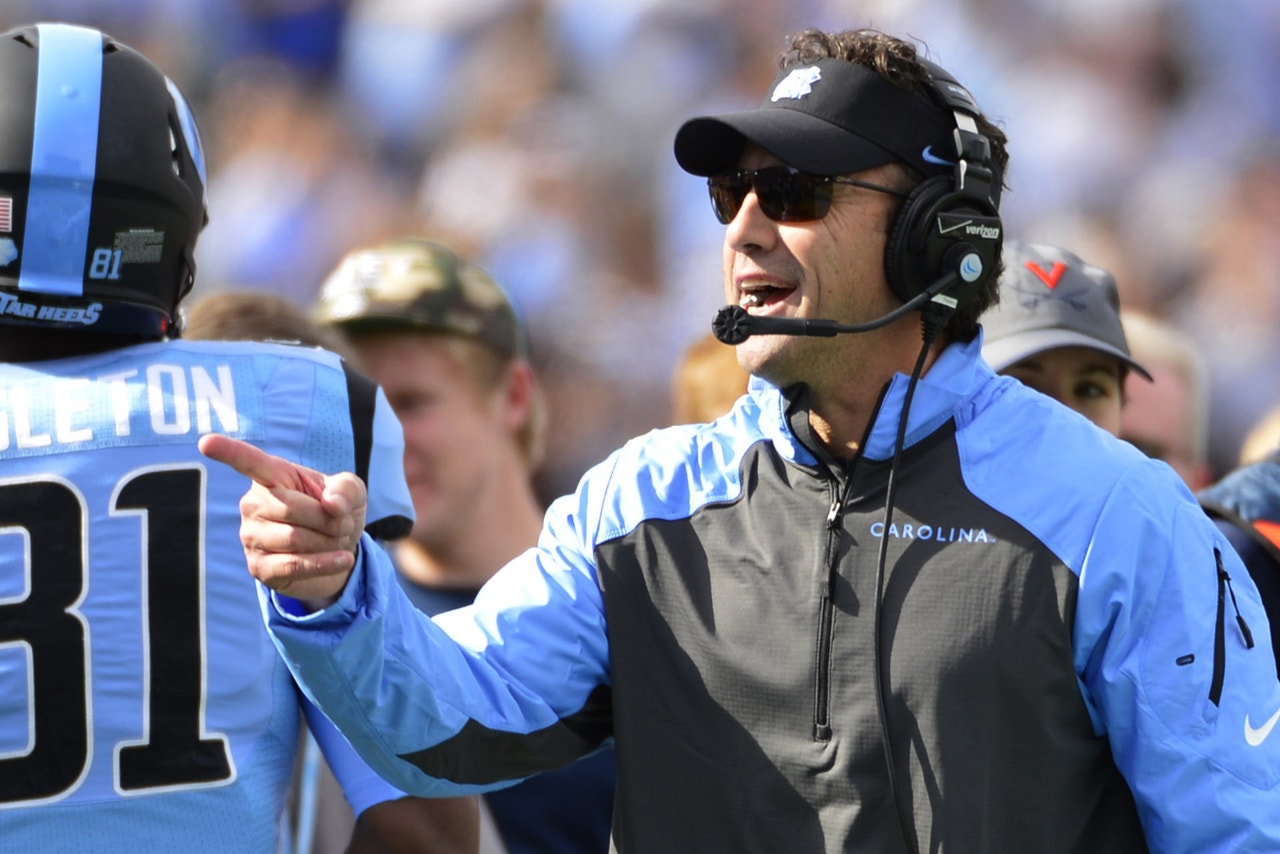 CHAPEL HILL, N.C. -- There aren't a lot of constants in college football, except change. But since the ACC went to divisional play, either the Atlantic or the Coastal has been filled with self-cannibalization. Right now, it's the Coastal Division's turn. 
And North Carolina, voted the No. 23 team nationally in the preseason USA TODAY Coaches' Poll, aims to take advantage.
The Tar Heels were picked fourth in the division by the ACC media in the preseason poll, in which all but one of the seven Coastal teams received a first-place vote. UNC claimed several top picks, but they were low enough on enough ballots that they finished fourth overall.
Ultimately, though, it's all meaningless. The Tar Heels know what people think. Since 2008, the ceiling for UNC has been 8-5, and the floor has been 7-6, so the expectations are for constant mediocrity -- good, but not great. They know that every year, supposedly, it could be the year for the Tar Heels. They've boasted NFL talent. They've had winnable ACC schedules.
It just hasn't happened.
After winning five of their final six games of last season, though, the UNC players believe that this year could be different. They want it to be.
"A lot of people don't look at us as a football school. We're known as a basketball school," quarterback Marquise Williams said. "In the (division), it's wide open. It could have been anybody's, but Duke took it last year. Nobody thought Duke would take it last year. I love it that it's wide open, because that gives us a little spark and gives us a lot of confidence. We're going to go try to take that."
Those two dirty words, basketball school, have haunted the program as it has attempted to make the leap from good to very good, or even great.
Obviously, Duke has the same problem, and even worse. But Duke broke through. North Carolina is still waiting.
Sophomore Ryan Switzer, who set all kinds of punt return records as a freshman last year, understands the way the team is perceived. But he also understands the way his teammates feel -- about each other, about North Carolina and about what they're capable of doing.
"The people of Chapel Hill and the Carolina community deserve a lot better than the 8-4, 7-6 type seasons, and they haven't had it," Switzer said. "They've had the talent. They've had the hype. The hype's always been around Carolina football, but they haven't been able to break through.
"The guys are aware of that. They're aware that we've been embarrassed. They're aware that we've been called a basketball school. They're starting to take notice of it. It's definitely been a point of emphasis this offseason. We're going to do our best to make sure that doesn't happen again -- any lack of effort, anything like that, that results in a mediocre season."
But it's one thing for the Tar Heels to talk about a wide-open Coastal. It's another thing entirely for the Tar Heels to finally do something about it.
It will be especially difficult with a young roster. There aren't many seniors on the team, although that's somewhat deceptive as a lot of now-sophomores saw significant playing time last year. Still, UNC lost quite a bit of talent, particularly along the offensive and defensive lines, as well as in the secondary.
Junior linebacker Jeff Schoettmer has been around the program long enough to see the difference, and he's seen a big one this offseason, he said. And it's not what you'd think.
"Camaraderie. That's the No. 1 thing," Schoettmer said. "This team is closer than any other team I've ever been around. Guys are going out and working out with each other, trying to get better with each other. Even though we're competing for positions, guys are pushing each other more than in years past. We're closer in the locker room. Maybe in years past, the D-line didn't hang out with the receivers, things like that. Guys are really coming together and we're finally becoming a team."
Switzer only has one offseason to compare, but he thinks another factor has been bigger than anything else.
"The difference is the time that the guys put in over the summer. It's a cliché: Hard work pays off. I don't believe that it's 100 percent sure, but I believe that hard work gives you a great chance," Switzer said. "A lot of that depends on the summer, and we had a great summer. I'm talking from the specialists to the defense to whatever. Everybody was here. Everybody was here on Wednesdays, on Saturdays, on off days. We just had a terrific summer. That's going to put us where we need to be, and that's going to give us a great shot to have one of those 10-, 11-win seasons."
A lot of the players said that the strong finish to last season gave the team all the positive momentum it needed to have a strong, lively and hard-working offseason. But there's still plenty more to do.
As Switzer said, hard work is no sure thing. One of the only seniors on the team, tight end Jack Tabb, said that has to carry over into training camp (which, for the Tar Heels, began on Thursday).
But Tabb added that this team has heard the talk. They feel that they were a few plays away from having a much better record a season ago, and they want to make sure they do everything in their control to put themselves in the best possible position. A dumb penalty here, a missed assignment there and potentially close wins turn into close losses.
"We want to be the best we can be. We want to be known as one of the best teams in the ACC," Tabb said. "We want to beat all the teams in the state, beat all the teams in the Coastal and that'll take care of itself."
If you're still in "wait-and-see" mode on the Tar Heels, it's hard to blame you. Their schedule isn't that great this year, but the good news is that none of the other Coastal teams -- save Duke, of course, and Switzer admitted the road to a title runs through Durham -- have been particularly impressive.
"I personally believe that we've got all the tools to win the Coastal. Right now, it runs through Durham. Fortunately enough for us, that's (eight) miles down the road so we can go get it at any time," Switzer said. "We've got some tough Coastal road games this year, going down to Miami and going over to Durham. But if you look at some games last year, we don't make a couple stupid mistakes, we're right there.
"So we feel pretty confident in what we've got and we're going to roll with that."
---