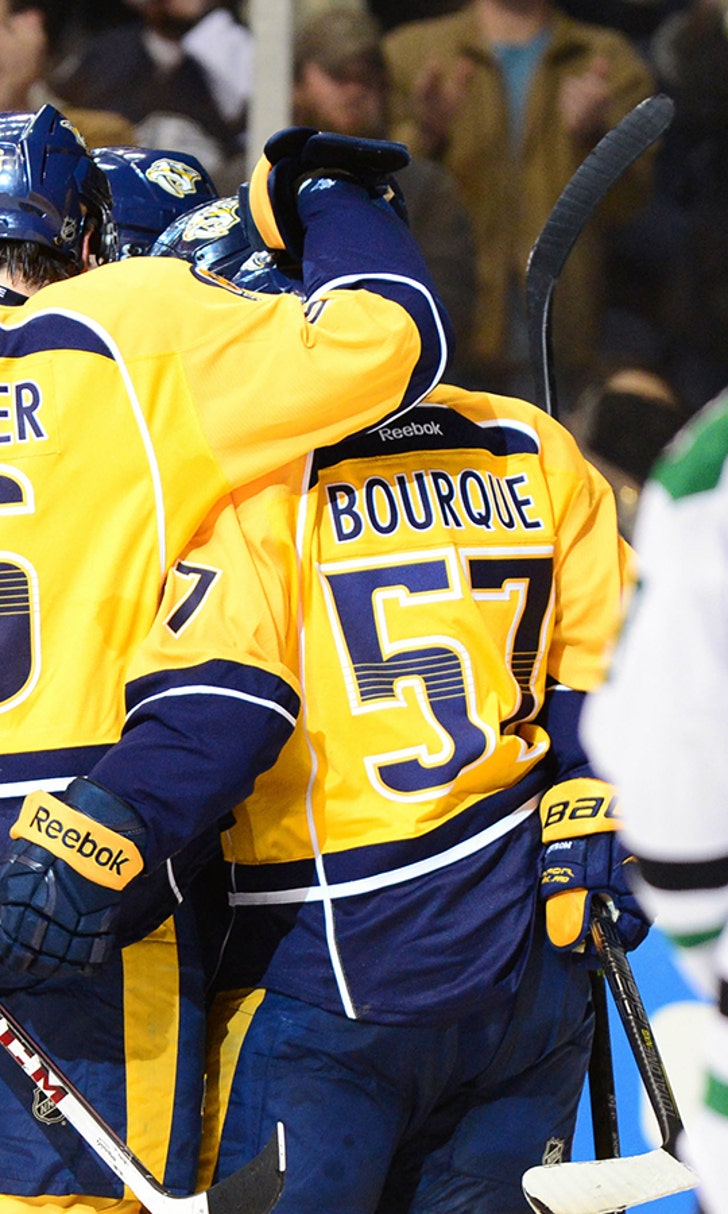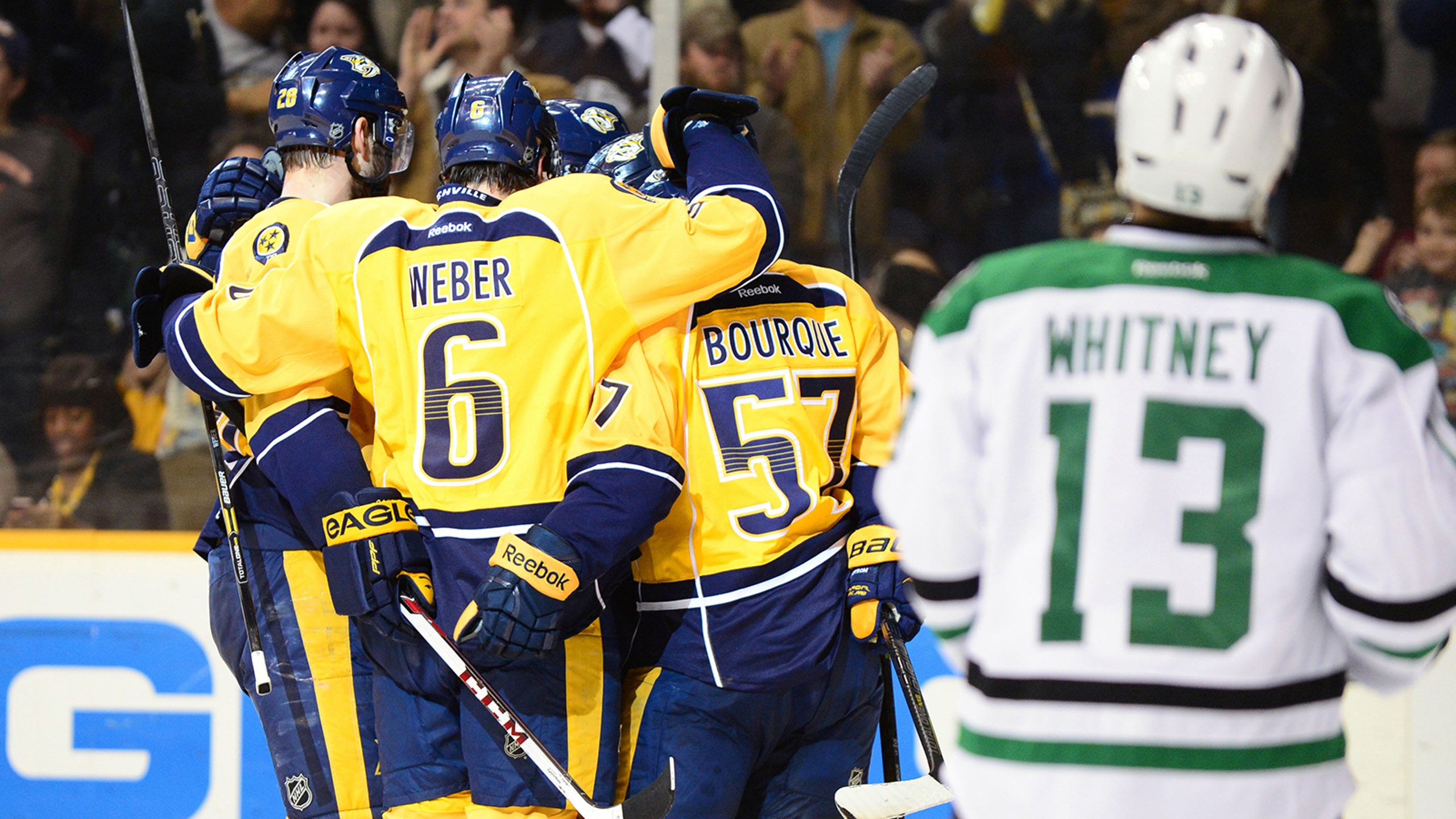 Stars 2014 malaise continues in 4-1 loss to Preds
BY foxsports • January 20, 2014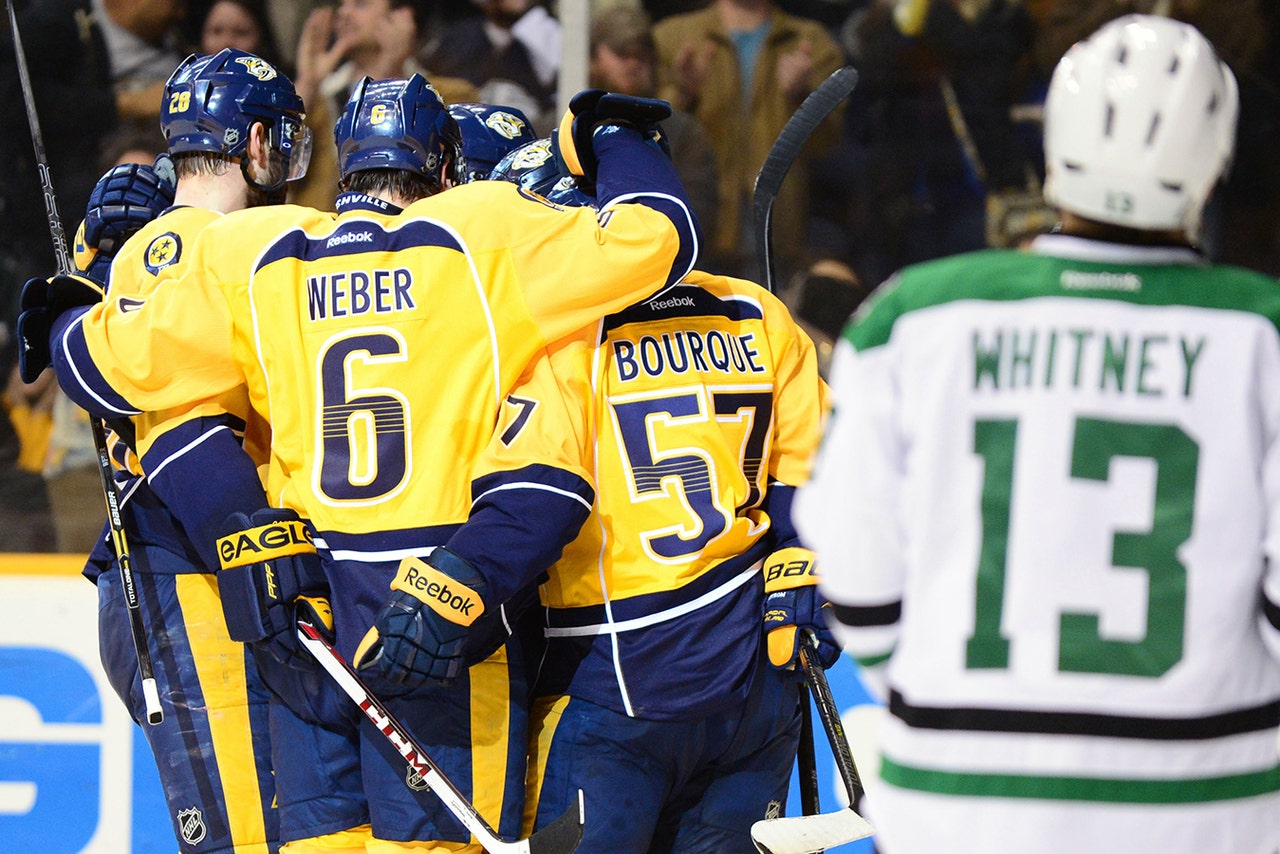 What is it with the Dallas Stars and the seemingly ongoing theme of history continuing to repeat itself? For the second time this season, the Stars took an early lead on the Nashville Predators in the Music City only to not score the rest of the way, losing 4-1 to the Predators on Monday night at Bridgestone Arena.
Dallas had struck first in the opening frame when Cody Eakin scored on the power play. But after Nashville got goals from Nick Spaling and Shea Weber, the Preds headed into the first intermission with a 2-1 lead.
And after a brutal stretch in second period where Stars TV color man Daryl "Razor" Reaugh aptly called the game constipated, the Stars continued another disturbing trend when Roman Josi scored 31 seconds before the second intermission to make it a 3-1 game.
The Preds added a fourth goal in the final period to prevail 4-1, a very similar result to Dallas' last trip to Nashville on Dec. 12, 2013, a game where after Erik Cole gave the Stars a first-period lead, the Preds got goals from Patric Hornqvist and David Legwand to lead 2-1 after one. A second-period goal by Paul Gaustad made it a 3-1 final.
Dallas lost its fifth straight on the road and fell to just 1-8-1 in 2014 and with the Stars finishing the back-to-back on Tuesday night against Minnesota at American Airlines Center, there's obviously little time to dwell on their second loss of the season to the Predators.
Stars first-year head coach Lindy Ruff laments the fact that turnovers continue to be a big story for his team during their current malaise.
"That's tough because it isn't the same guy that's doing it every night. It's a different guy. Tonight unfortunately, a couple of our top guys turned a couple over," Ruff said. "It's not like we're making the opposition earn opportunities. We're handing them some beauties and creating energy for the other team."
One of those top guys Ruff is talking about is Stars captain Jamie Benn, who like a true leader, fell on the sword for the two first-period goals Dallas conceded to trail 2-1 after 20 minutes.
"Yeah, I'll take the blame for that. I had three (turnovers) in the first period there," Benn said. "They scored on two of them. When your leader and captain's doing that it's unacceptable and I've definitely got to clean it up."
But the death knell for the Stars came in the waning moments of the middle frame, when Josi's goal with 31.2 seconds remaining before the second intermission made it a 3-1 game, a debilitating goal for any team to give up, especially one that has done that so often this season like the Stars.
"It's deflating. There's nothing you can do, but you've got to push through it," Ruff said. This is on me to get the team through this. I look at myself first. We've got to perform a little better."
Veteran center Shawn Horcoff summed up the Stars' current struggles in basic terms.
"It's tough right now we seem to be a little bit of a fragile team," Horcoff said. That's just kind of the way it seems for us right now, every little mistake we make in our zone is ending up in the back of our net. It's making it tough."
Horcoff later seemed to nail down exactly what the underlying issue currently is for him and his teammates.
"I think right now we're just thinking a little bit too much and it's slowing our game down a little bit," Horcoff said.
As a veteran head coach who before jumping behind the bench spent a number of years playing in the NHL, Ruff has seen his share of losing streaks both as a player and coach. So he knows exactly what it's going to take for the Stars to pull out of this tailspin and start winning some games so they can stay in the playoff race before the Olympic break.
"It's really hard but we've got to stick together through this. We've got to battle this together. We've got to be a little bit more resilient. It's got to harden us," Ruff said.
"It's a serious gut check and you've really got to hunker down and trust your teammates."
---