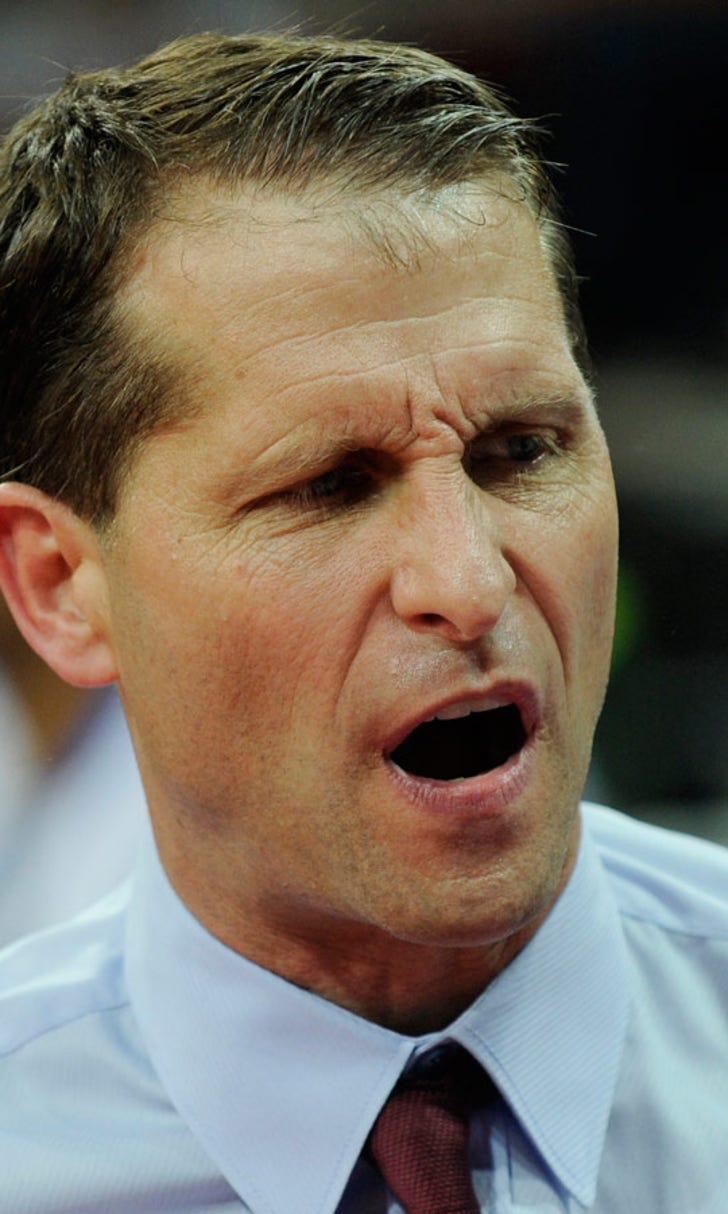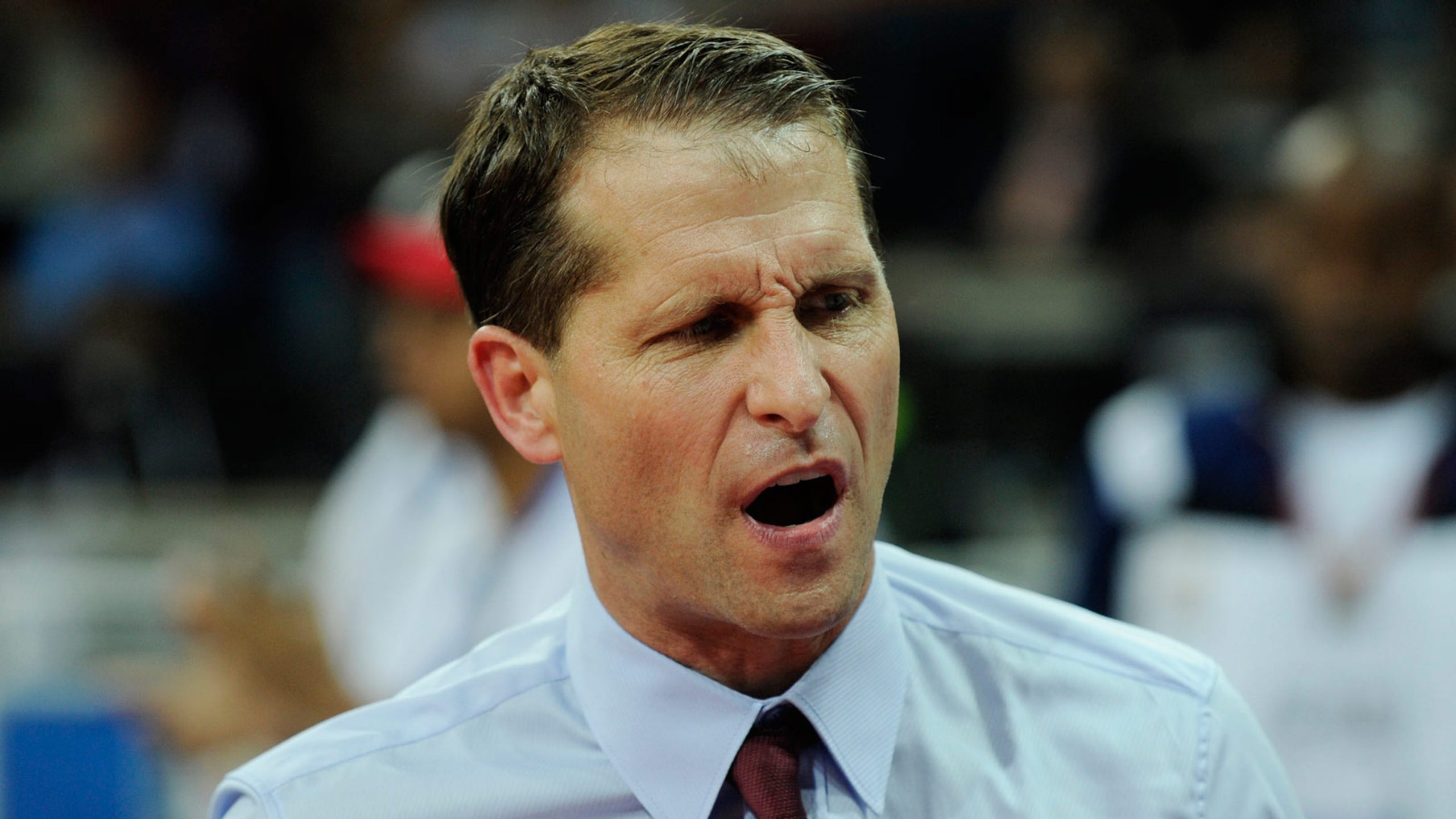 Son of first Wolves coach, Eric Musselman hopes to be a head coach again
BY foxsports • February 28, 2014
After games, late basketball coaching legend Chuck Daly used to ask his assistants to raise their arms and take a good look at their armpits.
So skyward Eric Musselman's hands would go, revealing little, if any, perspiration on his sport coat.
Then Daly would put his own arms in the air.
"They were completely soaked," said Musselman, an assistant under Daly in Orlando from 1998 till 2000. "An assistant coach gets to go to sleep at night after a loss a heck of a lot easier than you do as a head coach."
That's especially true in the case of Musselman, currently in his second year as an assistant at Arizona State. The son of inaugural Timberwolves coach Bill Musselman is also the only current college aide with NBA head coaching experience, according to the Sun Devils' athletics website.
And while the pressure may pale in comparison to that experience during professional head-coaching stints in Golden State and Sacramento, Musselman hopes this latest stop on the road is temporary.
"I would like to be a head coach," said Musselman, hired by Arizona State's Herb Sendek in August 2012. "My dad had a great run at Minnesota and South Alabama, and I would like an opportunity to have my own program. Having said that, I love coaching -- I'd coach anywhere."
Already has.
The man that got Flip Saunders his coaching start only spent one season -- the franchise's second, 1990-91 -- in Minneapolis. Bill Musselman and his staff were fired that April, but Eric and his late father shared mostly fond memories of their time here, he told FOXSportsNorth.com.
That 29-53 campaign helped jumpstart a coaching journey fraught with as many twists and turns as that of his dad. In addition to leading the Warriors from 2002-04 and the Kings in 2006-07, Eric Musselman proved a highly successful minor-league coach in the CBA, USBL and NBA Developmental League, and helmed both the Dominican Republic and Venezuela's national teams.
But before last season, he'd never tackled the college game, as his father did. Bill Musselman oversaw the Gophers from 1970-75 and served as head coach at Ashland University and South Alabama during his career's infancy and twilight, respectively.
So before delving into it late two summers ago, Eric sought in-person advice from Kansas' Bill Self and Southern Miss' Larry Eustachy, attended shootarounds at Saint Mary's and California -- near his home at the time -- and even coached an AAU team at one point.
He met Sendek when Arizona State played at Cal, eventually leading to his spot on the Sun Devils staff.
The first year required a handful of adjustments from the pro side of hoops -- more practice time, less travel time, more interactions with players and conversing with parents instead of agents when building a roster. Promoted to associate head coach in the offseason, Musselman had a better idea of what to expect in 2013-14.
"That first year was a learning experience," said Musselman, whose team sits in third place in the Pac-12 standings and is in position to earn an NCAA tournament berth. "Obviously, this year, I've gone through the recruiting aspect. . . . To go through a year makes it a lot easier the second time around."
But there's been some sacrifice involved. Musselman's wife, sportscaster Danyelle Sargent, quit her job at the NFL Network to move to Tempe, Ariz., with him. His two high-school-age sons from a previous marriage remain in the Bay Area, making it tougher for him to attend their games.
If he realizes his dream of overseeing a collegiate program, he'll likely have to pick up and move his wife and their daughter again.
"I can't even describe how lucky I am to have someone that's willing to flip that switch and say 'you do that,'" Musselman said. "I know for me, if the roles were reversed, it'd be hard to give up coaching. I'd probably say 'I'm not gonna do that at all.' I feel really lucky to have a partner who's willing to do that and who was successful in what their endeavors were."
With some down time in the middle of their current five-game road trip, the Timberwolves have spent most of the week in Phoenix. Musselman wasn't able to attend their victory over the Suns on Wednesday but has connected with Saunders, whom Bill Musselman recruited to the University of Minnesota in the 1970s.
Minnesota's president of basketball operations did some scouting at both Arizona State and the University of Arizona in Tuscon. The Wolves play Saturday at Sacramento.
Musselman will take on a California team that day, too, as the Golden Bears of Berkeley travel to Tempe. The Sun Devils have three more regular-season contests and the Pac-12 tournament to try and improve their NCAA standing.
After that, Musselman's ride will continue. Sweaty underarms or not.
"I love coaching, no matter what type it is," Musselman said. "I love trying to help players develop, and I love the camaraderie of being part of a team."
Follow Phil Ervin on Twitter
---