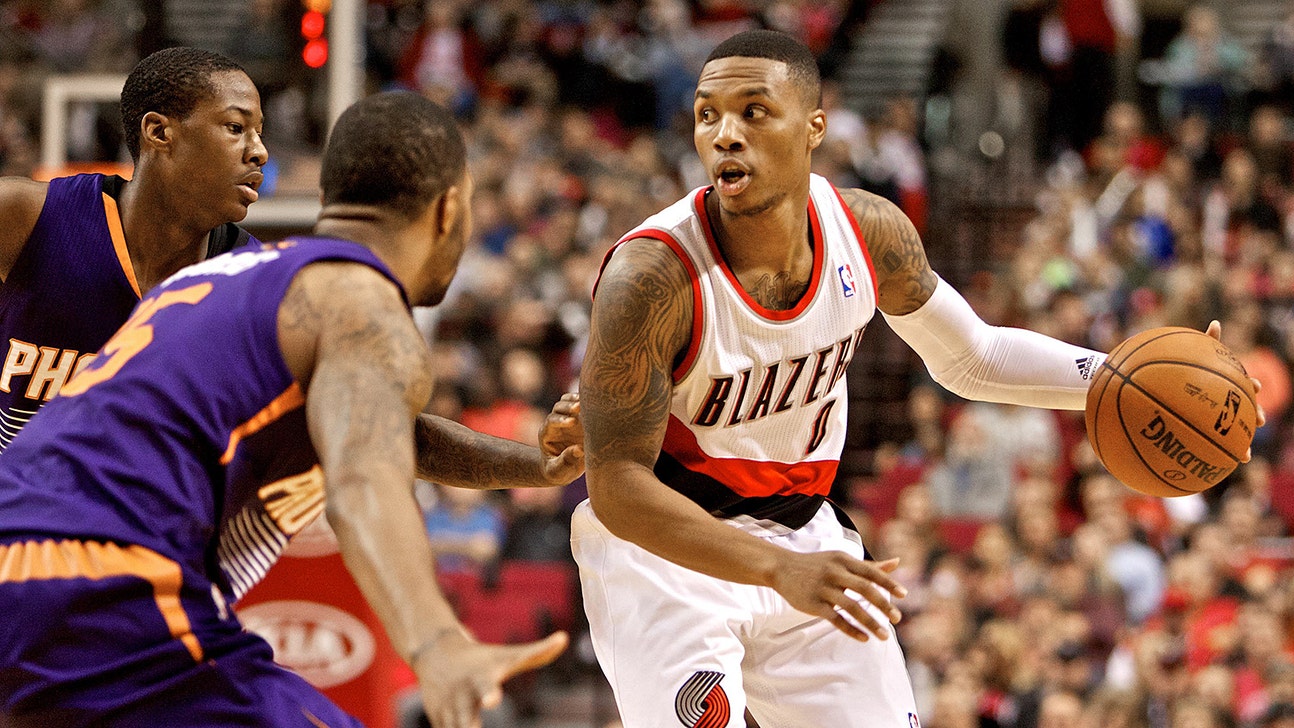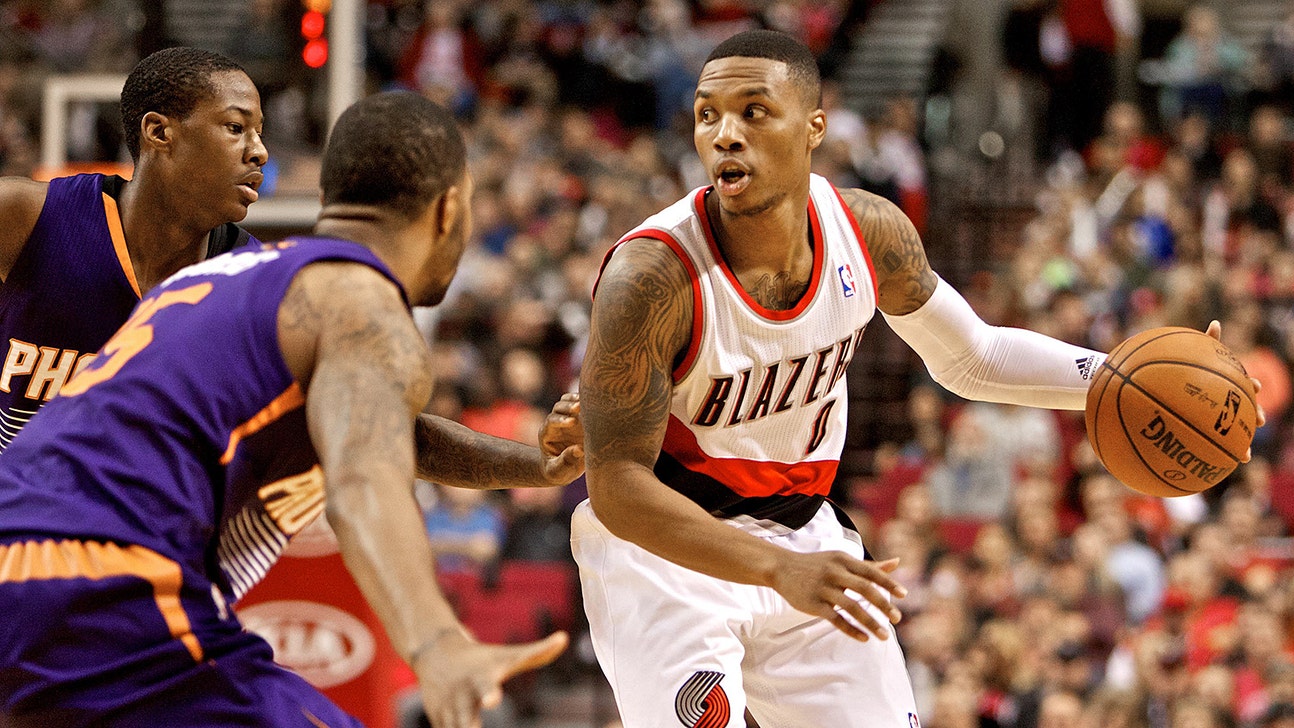 Slowing Lillard important to Suns' success vs. Blazers
Published
Feb. 4, 2015 2:43 p.m. ET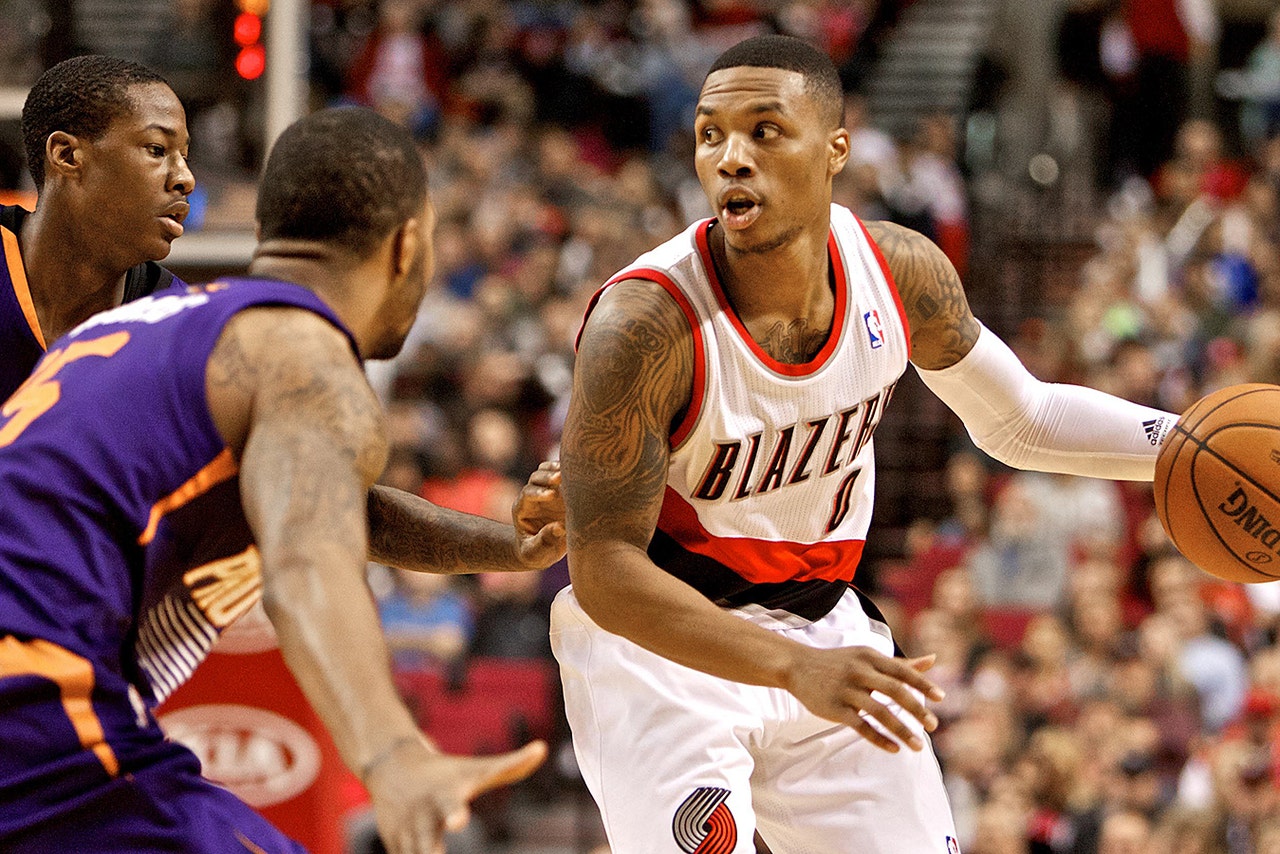 PHOENIX -- Just in time for Thursday's visit from the Suns, Trail Blazers point guard Damian Lillard may have rediscovered the key to his shooting stroke.
Lillard's 25-point effort in Tuesday's triumph over the Jazz included a 10-of-17 performance from the field. That certainly is an upgrade from the Blazers' previous eight games, during which Lillard made 50 shots in 161 attempts (31 percent).
His run of ice-cold shooting made a stop in Phoenix, where Damian missed 16 of 22 attempts during a 118-113 loss to the Suns.
Lillard, who through an extended tweet thanked everyone involved for his snub in recent selections for the All-Star Game, hasn't exactly been lighting up the Suns the past couple of seasons.
After making half of his 20 shots in a loss to open last season in Phoenix, the former Rookie of the Year made 14 of 38 field goal attempts during three more games against Phoenix. The Suns won two of those games and lost 90-89 on the road to the Blazers in the other.
Aside from using Eric Bledsoe and his pals to keep Lillard at least relatively in check, the Suns' effort on Thursday also should focus on Blazers power forward LaMarcus Aldridge.
Thanks to an injury to his left thumb, Aldridge didn't play in the Blazers' loss to the Suns here last month. Since then, however, the 6-foot-10 veteran has played through the discomfort in Portland's last five games (three of those were losses), giving his team 28 points per game.
During that 1-3 series against the Suns last year, Aldridge was limited to a relatively-pedestrian 20.5 points per game (3 below his average), making 45.5 percent of his field-goal attempts.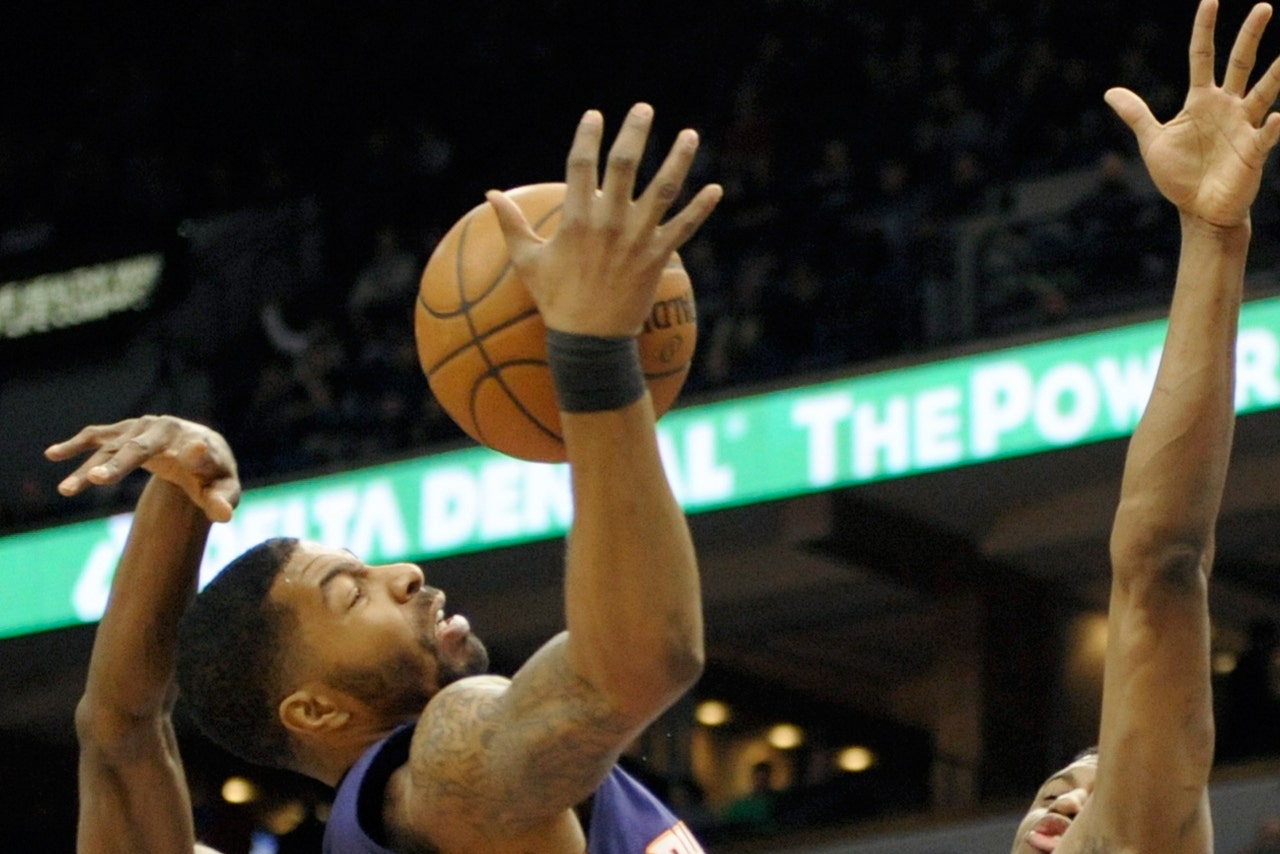 Markieff Morris had just three rebounds last game, after he grabbed 14 and 11 the previous two games.
During a recent discussion regarding Markieff Morris, Hornacek reminded us the power forward could help the Suns even more with an increased rebounding prowess.
A short time later, Morris sort of erupted with strong efforts in back-to-back games. The 6-10, fourth-year player grabbed a career-high 14 rebounds against the big, bad Chicago Bulls then added another 11 against the Golden State Warriors.
"I think he's gone after 'em more," Hornacek said when asked if Markieff had increased his rebounding focus or simply was the beneficiary of some kind bounces. "He realizes -- especially the last two games -- we really needed the rebounds."
These sentiments were expressed two hours before the Suns lined up against Zach Randolph and the Memphis Grizzlies.
"We're going to need 'em again tonight," Hornacek said. "Now tonight's going to be a little different. He's got to try to box out Zach and that's easier said than done."
Hornacek said that while putting a body on Randolph, Morris may be too busy keeping contact to track down rebounds. Collection duty would, in theory, be embraced by his otherwise unoccupied teammates.
When it was over, Morris, indeed, had gathered a measly three rebounds. Randolph tripled that total, his number including two offensive rebounds. Memphis sub Kosta Koufas assisted the Grizzlies' 46-38 board advantage with 11, including five on the offensive glass.
Jeff Green had four offensive rebounds, including the one that led to the Grizzlies' game-winning basket.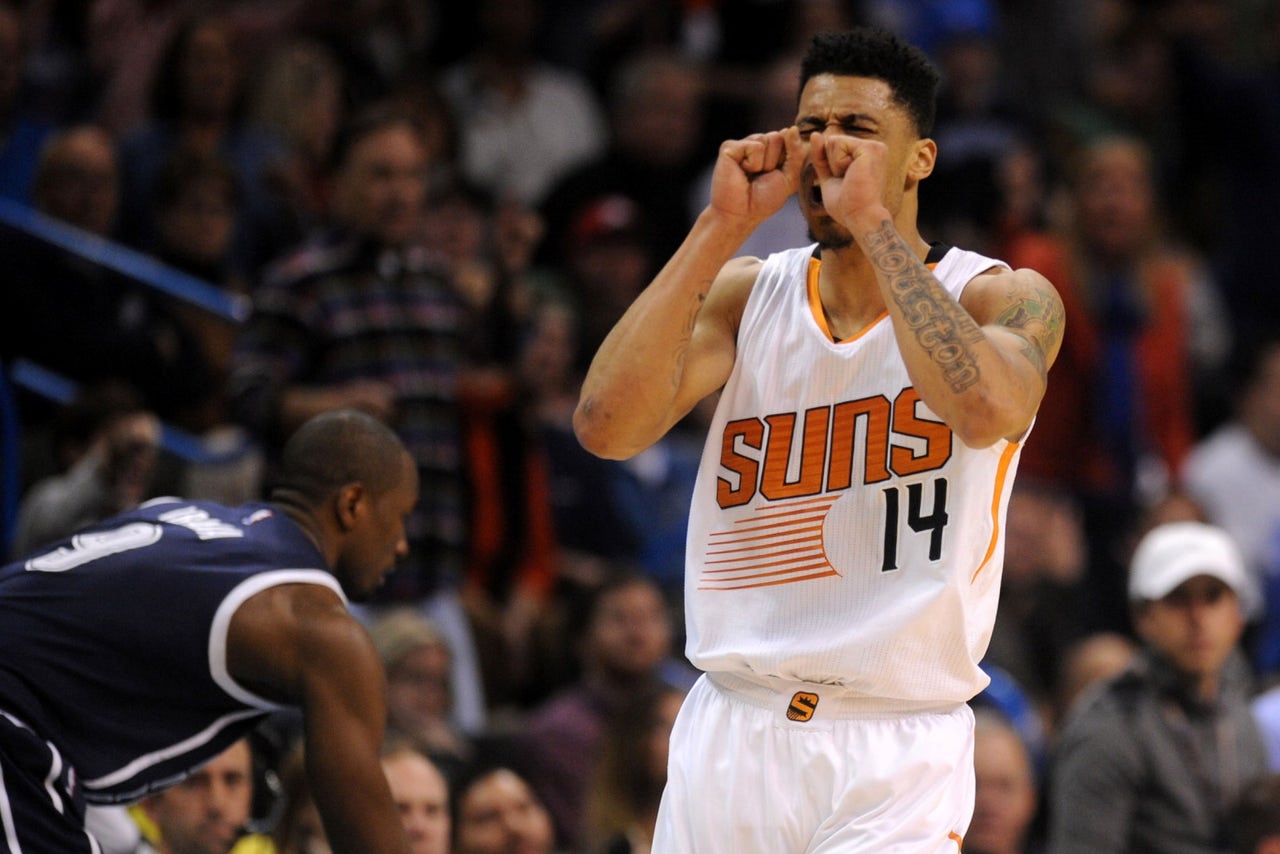 Gerald Green played a combined 16 minutes, 40 seconds the past three games.

Fueled by one DNP (did not play), followed by cameos of 13:14 and 3:26, Gerald Green reached the top tier of players rumored (through Internet gossip) to be on the NBA trade block.
His benching in last Friday's home victory over the Chicago Bulls was characterized by Hornacek as nothing more than a matchup issue. Hornacek said he liked the way the players the Suns were using defended Bulls swingman Jimmy Butler. It should be noted Green didn't reach the court for pre-game warmups until slightly less than six minutes remained before tip-off. He spent the rest of his work shift rooting for his teammates.
It also should be mentioned Green played the aforementioned 13:14 one night later when the Suns had to deal with the scoring prowess of Golden State swingman Klay Thompson.
There are quite a few difficult wing matchups that haven't precluded Green from playing, so the seeming phase-out from the Suns' rotation of the 6-8 veteran provoked those pesky trade rumors.
For the season, Green -- who averaged 15.8 points in 28.4 minutes per game a year ago -- is giving the Suns 13 points in 20.9 minutes per game. His shooting percentages have fallen from 44.5 overall and 40 from 3-point range to 41.6 and 37.3, respectively.
---