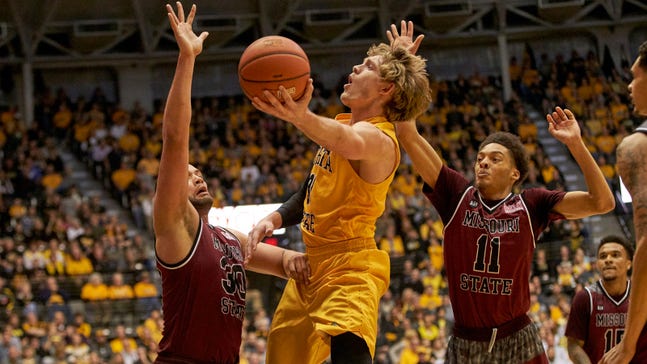 Shockers rout Bears 99-68, lead conference by two games
Published
Feb. 19, 2016 12:15 a.m. ET

WICHITA, Kan. -- Zach Brown scored 16 points and Wichita State routed Missouri State 99-68 on Thursday night to push its lead in the Missouri Valley Conference to two games over Illinois State.
The Shockers raced to a 51-27 lead at intermission and went 10 players deep into their bench before the dust settled. A dozen players figured in the scoring for Wichita State.
The Bears tied the game at 8-8 on Obediah Church's jumper four minutes into the contest. Wichita State then kicked into another gear, taking a 10-point lead with nine minutes left in the half and doubling the advantage with five minutes left.
Fred VanVleet and Ron Baker each had 15 points for Wichita State (20-7, 13-2). The Shockers were 39 of 66 from the field (59.1 percent) and collected 13 steals.
Church had 14 points and Dequon Miller added another 12 for Missouri State (11-16, 7-8).
---
---