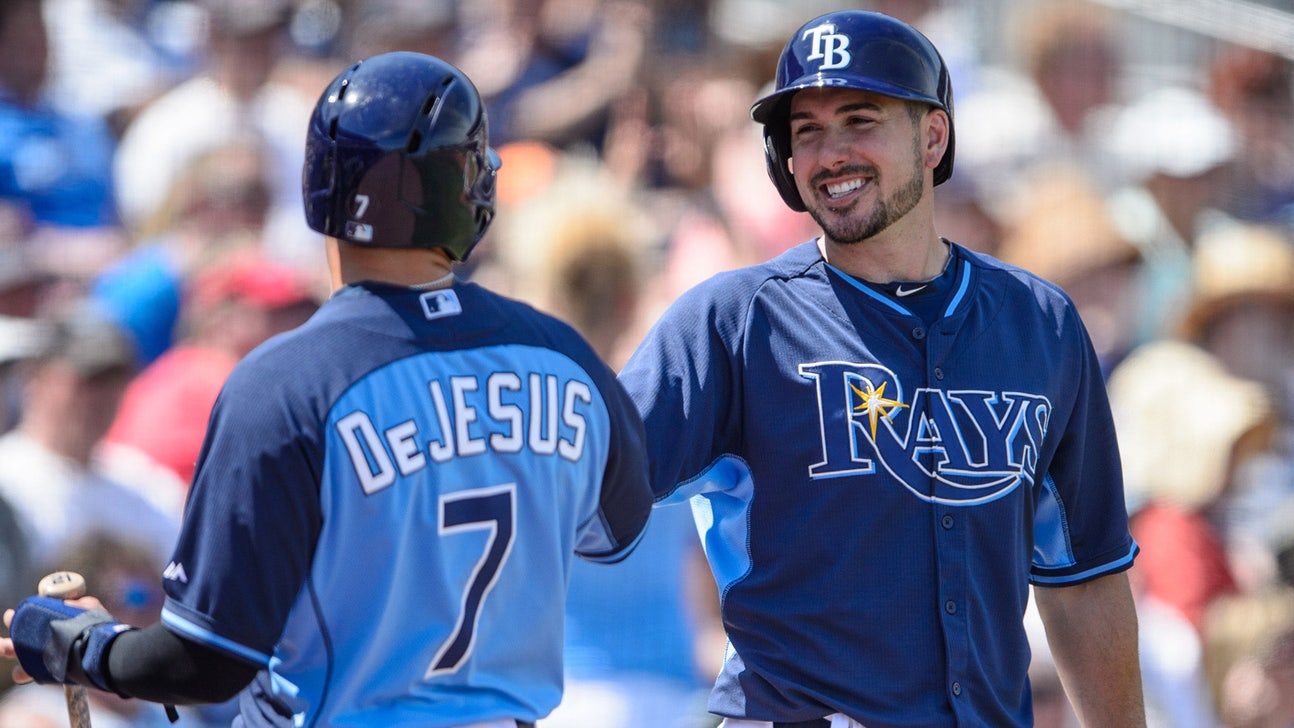 Shaved heads, generosity create buzz around Rays spring training
Updated
Mar. 4, 2020 3:36 p.m. ET

PORT CHARLOTTE, Fla. -- For a third consecutive spring, members of the Tampa Bay Rays gathered and hair fell, their generosity heard in the hum of razors and candid words spoken.
"I'm feeling pretty special right now," said bench coach Dave Martinez, his locks falling to the boardwalk below.
For a third consecutive spring, they gathered and good times were had, their generosity heard in the cracks delivered among friends and colleagues.
"You just dropped 10 years, Stu," manager Joe Maddon said, when seeing a freshly cut Stu Sternberg, the club's principal owner.
On Sunday morning, 30 Rays players and coaches -- plus 41 additional team staff members -- were shaved at Charlotte Sports Park in the third consecutive Fortune Favors the Bald event, which raises funds and awareness for the Pediatric Cancer Foundation. The sight was part of the fifth annual Cut for a Cure Charity Challenge, a fundraising campaign in which more than 200 men, women and kids will go bald to assist select nonprofit organizations. Fundraising continues through May 2.
Rays players and coaches, of course, were the largest draw as they received a close, clean buzz cut. But there was opportunity for a larger impact. For a $100 donation, fans could shave their heads with the Rays and receive a dark-blue "Fortune Favors the Bald" T-shirt, plus feelings of goodwill that they had contributed to research to help beat childhood cancer.
That pay-it-forward satisfaction was the greatest reward of all -- beyond the laughs, cracks and new 'dos. Last year, more than $400,000 was raised, and Nancy Crane, the Pediatric Cancer Foundation's executive director, hopes for more this time around.
"It's great," Sternberg said. "I was walking up, and usually I'm one of the first ones to do it. And this year, a group had had it (done) already. So it was nice to walk up and see a lot of the front-office people and the ballplayers had already had it, and everybody is smiling and feeling like it's really a part of the Rays culture."
Some of the Rays' biggest names met a razor: Sternberg, Maddon, team president Matt Silverman, executive vice president of baseball operations Andrew Friedman, first baseman James Loney and second baseman Ben Zobrist. One of the most heart-warming scenes: A 5-year-old girl named Ava, primed with delicate hands, helped to lighten Maddon's bundle of white hair.
Even Tampa Bay's most famous collection of locks -- outfielder Wil Myers -- played a part by donating $500 for onlookers to become acquainted with the clips.
(Yes, Myers kept a safe distance from those cutters.)
"When you have little Ava cutting your hair, it really hits home at that point," Maddon said.
"Then you get to meet the parents and the grandparents, and then you understand how these moments impact a lot of people. Anything we can do as an organization to help, we're very happy to be able to do so."
The generosity, shown through equal parts hair and heart, will live beyond this day.
That's reason enough to feel special.
For more information about the Cut for a Cure Charity Challenge, please visit http://www.pcfcutforacure.org.
You can follow Andrew Astleford on Twitter @aastleford or email him at aastleford@gmail.com.
---