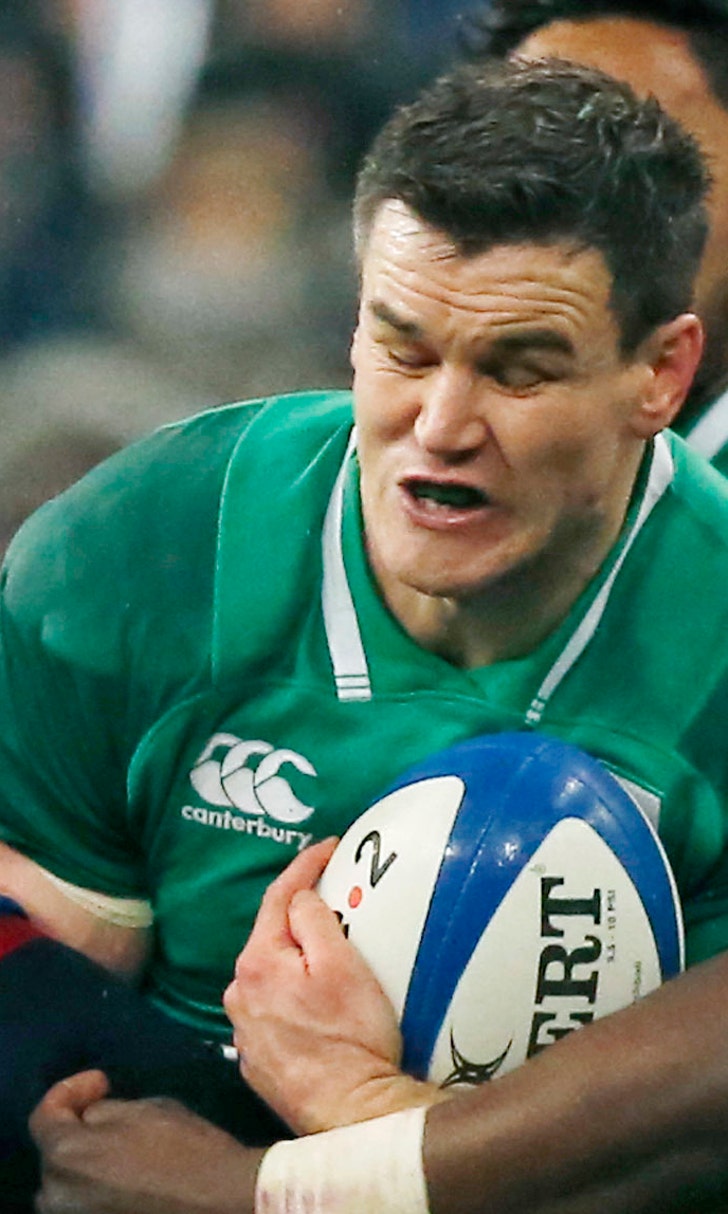 Sexton backs Murray missing All Blacks match
November 12, 2018
DUBLIN (AP) — Jonathan Sexton supports Conor Murray's "smart" call not to make Ireland's showdown with the All Blacks this weekend his first match in five months.
Murray has not played since June, when he damaged his neck during Ireland's tour of Australia. He's been training, and coach Joe Schmidt said on Saturday after beating Argentina that he'd let Murray decide on his availability. On Monday, the scrumhalf was released from the squad for the rest of the month with center Robbie Henshaw, who injured a hamstring in the warmup and had to withdraw from the Pumas test.
"I obviously stayed in touch with Conor a lot over the injury to see how he has been getting on, and all the time (he's been) improving, but I suppose he's just trying to make sure he can get it right from now, and (it) not be an issue going forward," Sexton said of his long-time halves partner.
"It's probably a smart thing. It's a big ask. If you're out for a few weeks and you're asked to play the All Blacks, that's tough enough. But if you're out for the period of time he has been out for, it would be a big step up."
Kieran Marmion started at No. 9 last Saturday and Luke McGrath was the reserve, and they should be the scrumhalves again against New Zealand on Saturday at Lansdowne Road.
Losing Henshaw was a bigger blow, and puts pressure on Garry Ringrose to recover from the hip knock which ruled him out of the Argentina match. Will Addison stepped in to make his first start and didn't let Ireland down, but Ireland will want to restore Ringrose with Bundee Aki. They were the midfield when Ireland beat England in March for the Six Nations Grand Slam.
Sexton, up for world player of the year with two All Blacks, wanted Ireland's best on the field on Saturday.
"You can't lie about it and say it's just another game," he said. "We've had it on our radar for a while, definitely."
Sexton helped Ireland beat New Zealand in 2016 in Chicago to end a 111-year drought, and said they want to add a first win at home, too.
"It has been two years since we've played them last but there has been a lot of changeover from our team," he said. "We're looking forward to seeing how far we've come in two years and where we are in the world really."
Ireland is ranked No. 2, and has a chance to be No. 1 for the first time.
"These are the big games that you do all the work for, you do all the practice for," Sexton said. "You don't get a chance, you know, they've been No. 1 team in the world for nine years, you've got a small chance to change that.
"Over the years we've ticked off a little bit of history along the way with winning in Argentina, winning in South Africa for the first time, beating New Zealand for the first time, so to beat them in Ireland for the first time would be another little bit of history that this group can create, and it's one you don't want to let pass you by."
Sexton has two wins and a draw in 11 matches against the All Blacks for Ireland and the British and Irish Lions and has a healthy respect for the challenge they pose.
"You do get a sort of feel for what you have to do to beat them but then you've got to go and do it. That's the hardest part.
"So we'll have a great plan, we'll have some experiences of what's worked against them in the past, what hasn't worked, and where they are the most dangerous. But then you've got to go out and implement it. Hopefully, that gets you close at the end and then dog it out."
He expects New Zealand to hit a purple patch, and then it's how well Ireland adapts.
"I've never played against a team that would capitalize on a mistake (so well). You look through the Rugby Championship, the amount of times you think Australia and South Africa have them under the pump and next thing they're underneath their own posts.
"In Pretoria, when they came from behind, (the Springboks) are on New Zealand's line, they're 12 points up with 10 minutes to go and you think 'Game over.' They turn it over, go the length of the pitch and score. Then they score again.
"They really expose you when you're loose with the ball and so everything is a bit more important this week."
---
---