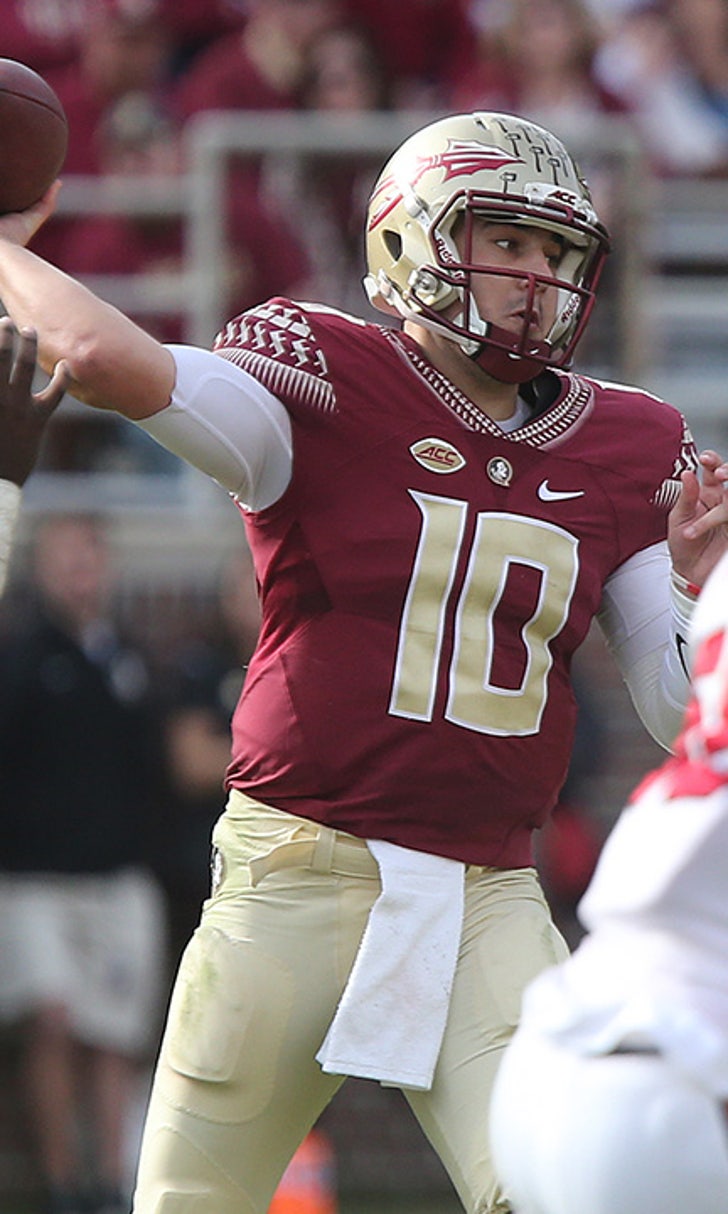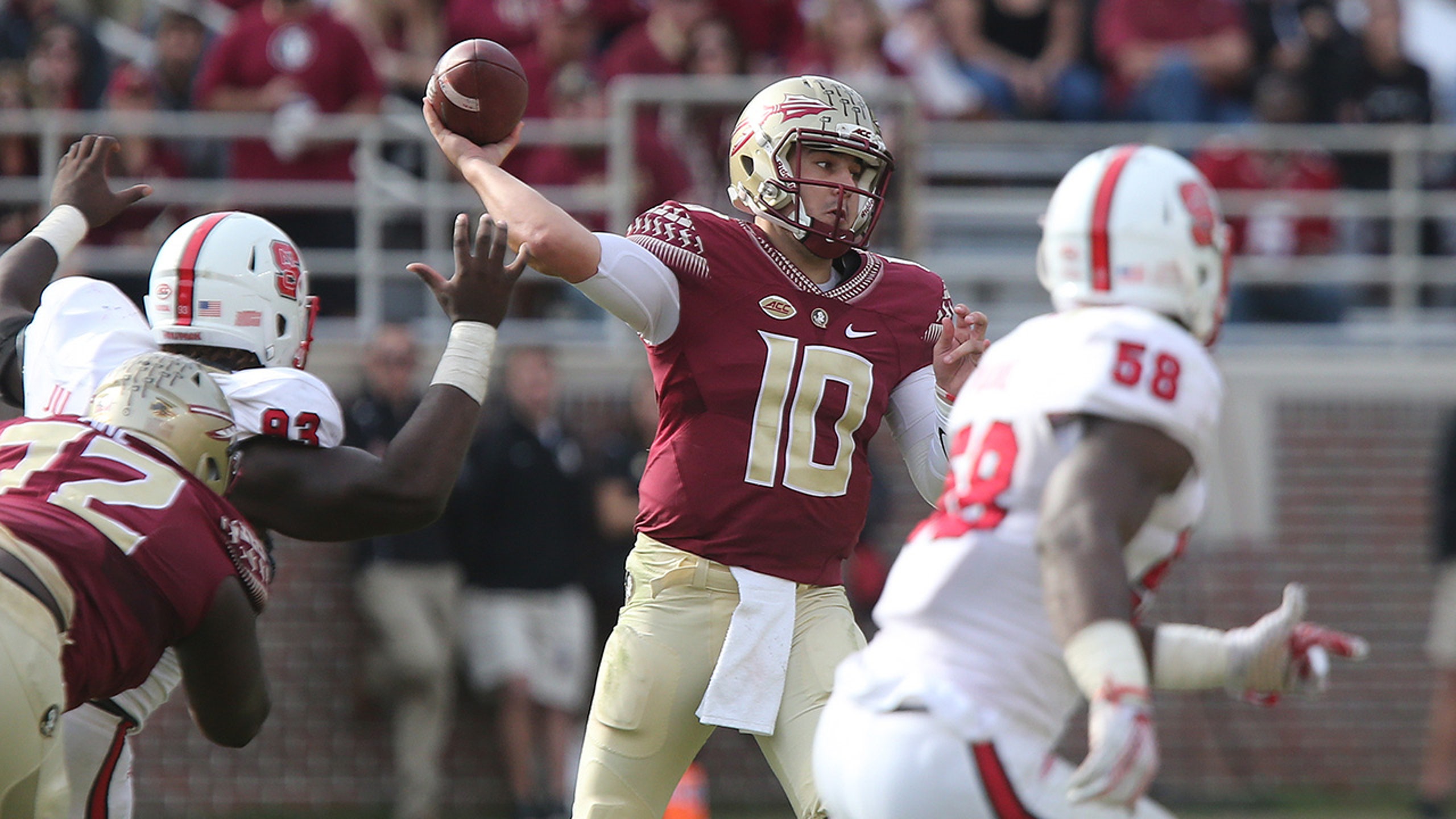 Sean Maguire named FSU starting QB against Chattanooga
BY foxsports • November 16, 2015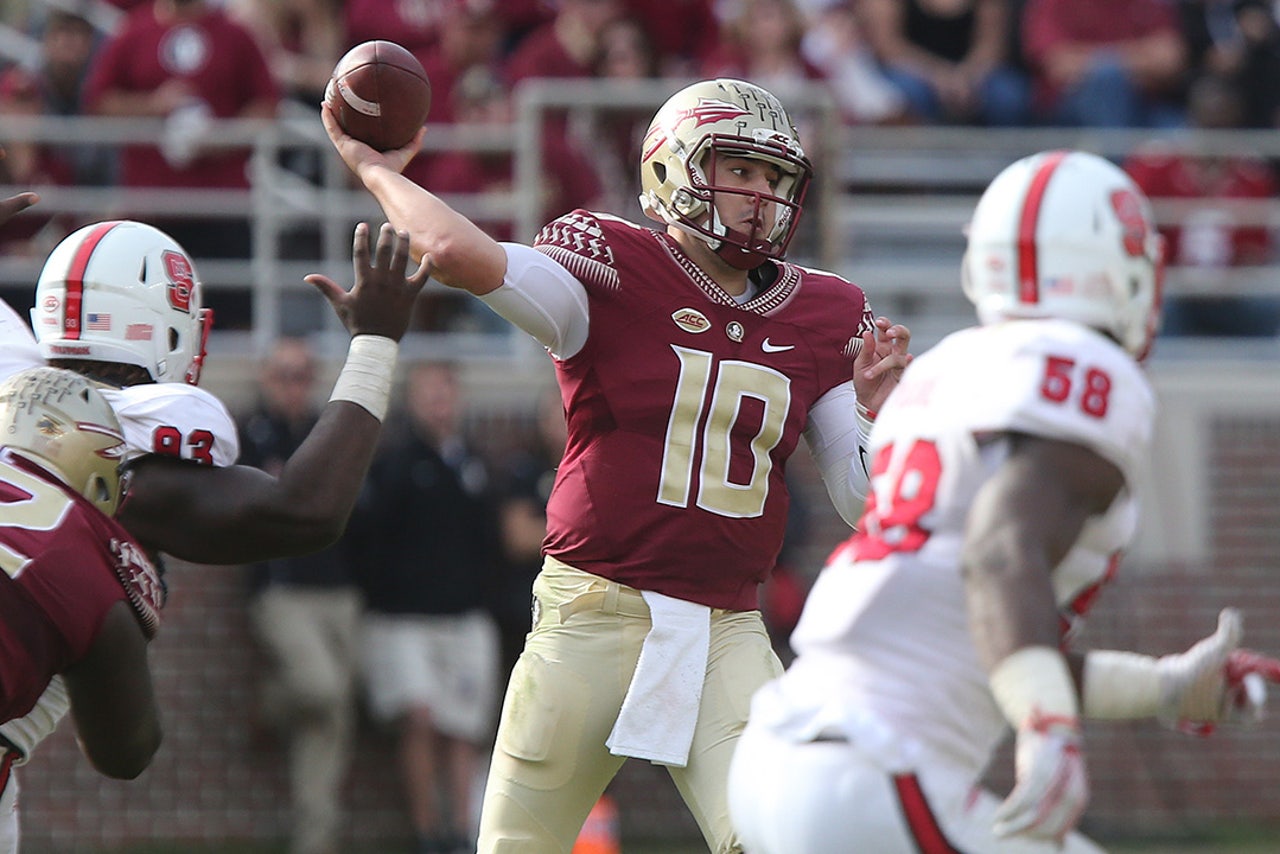 TALLAHASSEE, Fla. (AP) -- For the first time this season, the Florida State quarterback job is Sean Maguire's to lose.
Coach Jimbo Fisher announced on Monday that Maguire will start Saturday's game against Chattanooga. The junior replaced Everett Golson during the second quarter of last Saturday's 34-17 win over North Carolina State and directed four straight scoring drives.
"Hopefully he'll continue to play well and we won't have to relive that," Fisher said of flip-flopping QBs. "He made plays, he stood in there and really delivered the ball. He got us in a rhythm."
It will be Maguire's third start of the season and fourth of his career. He threw for 348 yards and three touchdowns on Oct. 31 against Syracuse but was 16 of 29 for 164 yards and an interception the following week at Clemson.
In five games this season, Maguire has completed 64 percent of his passes with six touchdowns and two interceptions.
During practices last week heading into the North Carolina State game, Maguire and Golson split reps with the first team but Fisher decided to go back to Golson, who started the first seven games. The graduate transfer from Notre Dame missed the Syracuse game due to a concussion and was benched at Clemson.
A big reason why Golson had the edge was his mobility. Florida State's offensive line has struggled in pass protection as they have had nine different starters throughout the season.
But Golson's penchant for turnovers has come back to haunt him. After not throwing an interception in 210 attempts dating back to last season, Golson has three in his past 17. He also has committed turnovers on four of his past seven drives, starting with the fourth quarter of the Oct. 24 loss at Georgia Tech.
Golson has completed 66.7 percent of his passes which is second in the ACC and 14th nationally along with 11 touchdowns and two interceptions. He has not thrown a touchdown in his past two starts.
Many NFL scouts had been impressed with Golson's early season success at Florida State, but the recent struggles might have put his draft prospects in doubt again. Fisher though saw Golson's problems as a function of the offense instead of blaming it totally on him.
"I've been very pleased with Everett's performances," Fisher said. "He had one tough quarter, quarter and a half all year really. Some of the situations he was put in were self-inflicted wounds by our offense and the football team around him. I've been very pleased with him, very happy with him."
Maguire is not only trying to hold on to the job for the rest of this season but next year as well.
Freshman Deondres Francois, who has impressed the coaching staff in running the scout teams in practice, is expected to be redshirted and contend for the job next season. It would be a path similar to Jameis Winston, who was redshirted in 2012 and led the Seminoles to a national championship the following season en route to winning the Heisman Trophy. Winston was the top overall pick by Tampa Bay in the NFL draft in April.
After facing Chattanooga (8-2), the Seminoles (8-2, 6-2 ACC, No. 16 CFP) will face No. 8 Florida on Nov. 28. Should Florida State win out, it could be in line for one of the New Year's Six bowl games, especially if North Carolina drops two its final three.
---
---