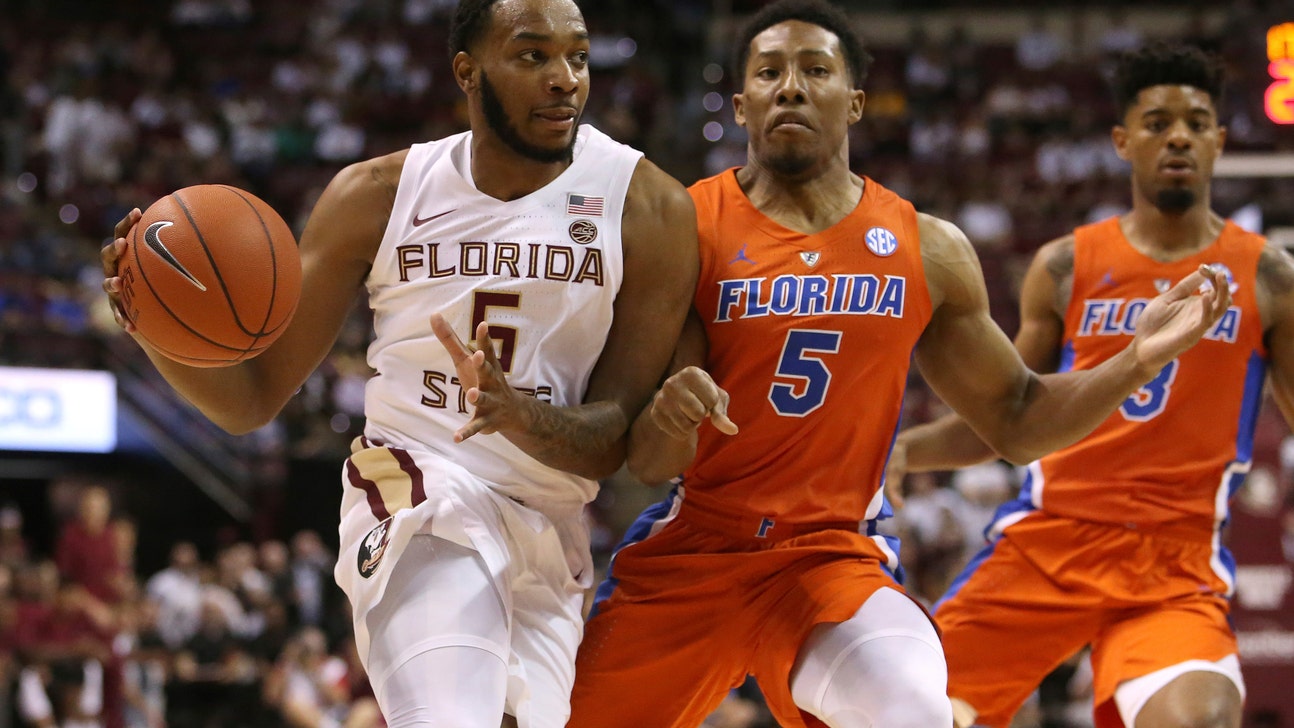 Savoy helps No. 17 Florida State beat Florida 81-60
Updated
Mar. 4, 2020 10:12 p.m. ET
TALLAHASSEE, Fla. (AP) — Florida State reached the Elite Eight in March with a tenacious defense. The Seminoles opened the season with more of the same, frustrating their in-state rival from the opening tip.
P.J. Savoy scored 20 points with five 3-pointers, Trent Forrest added 13 points and five assists, and No. 17 Florida State opened with an 81-60 win over Florida on Tuesday night.
Terance Mann had nine points and a team-high nine rebounds for the Seminoles, who won their fifth straight game against Florida. They led 31-20 at the half and never looked back, leading by as many as 35 points and using an aggressive defense to stifle the Gators.
"It starts with the Seminole defense," Florida coach Mike White said. "These guys are tough and long. Unbelievably long, of course, with (7-foot-4 Christ) Koumadje on the court. And disciplined. It's no wonder that they had the year that they had last year."
Florida State dominated by making 23 of 48 shots from the floor and 11 of 23 3-pointers. But the Seminoles also had nine steals and held Florida to just 19 of 53 from the floor.
It was just one game in what is a long season, but it was an impressive debut for a Florida State squad that is deep but was without star forward Phil Cofer.
"We're just starting to figure out who we are," Florida State coach Leonard Hamilton said. "We played a good basketball game tonight against a good basketball team. But we still have a long way to go. We don't want to get too far ahead of ourselves."
Florida State nearly secured the most lopsided victory in a rivalry that dates to 1951. The largest prior rout for the Seminoles was an 88-63 win in December 1969.
Deaundrae Ballard scored 13 points off the bench and freshman Andrew Nembhard had 12 points for Florida. The Gators also made just 6 of 24 3-pointers.
Florida had won 27 straight season openers but was outmatched from the start. Florida State led by as many as 35 points, 74-39, after Koumadje's jumper with 5:31 left.
"A little bit shell-shocked," White said. "I did not see that coming. . I don't think I've taken a bigger butt-whipping than that. I certainly hope we're not that bad. Just not a very good performance by us, starting with me."
POLL IMPLICATIONS
The Seminoles' opening night was impressive, especially considering they were without their top forward. Florida State could move up a few spots depending on how the first week of the season shakes out.
PROTECTING HOME COURT
Florida State has won 32 of its last 34 home games. The Seminoles have been tough to beat at the Donald L. Tucker Center, with one of their two losses in 2017-18 coming to No. 1 Virginia on Feb. 7.
LEARNING ON THE JOB
Nembhard, a heralded freshman, played 34 minutes and scored 12 points on 4-of-8 shooting for the Gators. He made a pair of 3-pointers but also had four turnovers and four assists. Known for his passing, Nembhard instead was part of a Gators team that had more turnovers (16) than assists (nine).
"We just put a lot of pressure on the ball, gave him a lot of problems," Mann said. "Kind of took him out of the stuff that they run."
BIG PICTURE
Florida: The Gators never found an offensive rhythm early, committing eight turnovers and scoring just 20 first-half points on 6 of 25 shooting (24 percent). Hudson (eight points) and Nembhard (six points) provided the majority of the early scoring. Florida senior guard KeVaughn Allen, who was 0 for 4 and didn't score a point in 23 minutes, had one of his worst career nights.
Florida State: The Seminoles played four guards most of the night as they began the season without Cofer, who led the team in scoring at 12.8 points per game but is out indefinitely with a foot injury. Every other scholarship player scored as Florida State emptied the bench in the rout.
UP NEXT
The Gators look to pick up their first win when they play host to Charleston Southern on Friday.
The Seminoles travel to play at Tulane on Sunday.
---