Sam and everyone else: Rams draft recap
Published
May. 10, 2014 8:34 p.m. ET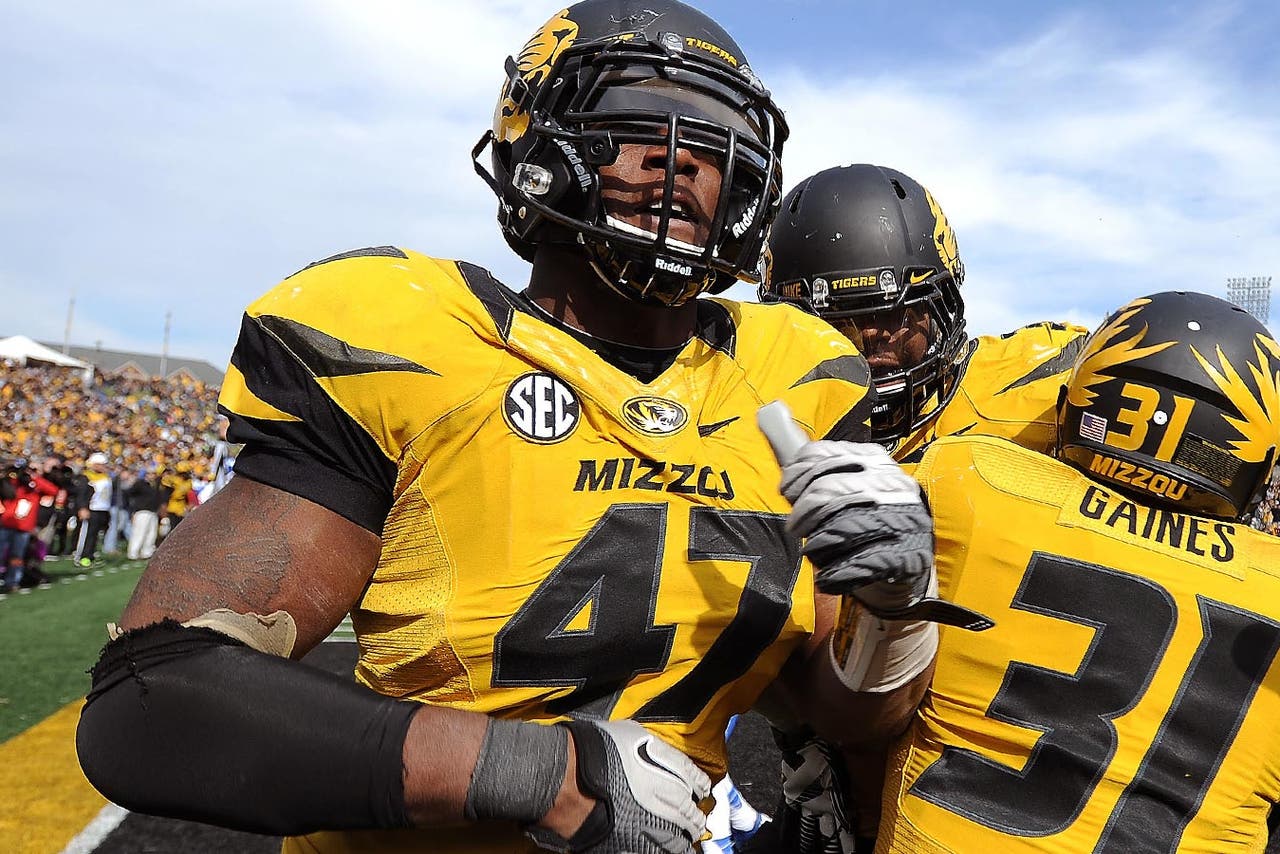 ST. LOUIS -- The St. Louis Rams were certainly busy, even before picking Michael Sam.
The other 11 players selected by the Rams got immediately overshadowed when the team used the 249th overall pick Saturday on Sam, the defensive end who starred down the road at Missouri and became the first openly gay player drafted in the NFL.
But St. Louis filled some needs before all the hoopla.
The Rams addressed shortcomings on both lines in the first round, taking offensive tackle Greg Robinson and defensive tackle Aaron Donald. They traded their fifth-round pick to move up three spots and snag Florida State All-American cornerback Lamarcus Joyner.
And that was before Saturday, when the Rams had seven picks.
The Rams took one of Sam's teammates, cornerback E.J. Gaines, in the sixth round. They also took Utah State safety Maurice Alexander, SMU quarterback Garrett Gilbert, Portland State offensive lineman Mitchell Van Dyk, Ohio State safety Christian Bryant and then Sam.
The Rams picked again after taking Sam, adding Tennessee State center Demetrius Rhaney.
"Michael Sam, he's like a brother now," Rhaney said. "That's my teammate, I can't wait to meet him, and let's get the ball rolling."
Rhaney said it would be no problem having an openly gay player as a teammate.
"No, not at all. He's still a person, that's my teammate. We're ready to play some football."
Alexander certainly is. It wasn't long ago when he was working as a janitor at the Edward Jones Dome after Rams games, his college career on hold. He kept his hopes alive.
"I always stood at the end of that field and I just looked at it," Alexander said after the Rams drafted him in the fourth round. "This could be my dream spot. Look where I'm at now."
More than most, the Utah State safety will savor trotting onto the field for the first time in uniform instead of holding a broom after everyone's gone home.
"Oh man, it was some work," said Alexander, who went to high school in nearby Eureka, Missouri. "I'm not going to lie, there's a lot of cleaning up to do in that stadium."
Alexander got kicked off the Utah State team for one season and was sentenced to a year in jail after punching a teammate, running back Joey DiMartino, in the face after a party. He pleaded guilty to a reduced charge of aggravated assault resulting in body injury and all but 45 days of the sentence was suspended.
DeMartino needed surgery for broken bones in his left eye socket and a fractured cheekbone. The incident was reported to police a month after the fight. Alexander said the two remain "great friends."
"It was a mistake," Alexander said. "It made me a better man today. Utah State believed in me, they brought me back. I'm a great guy, I'm a great friend, I'm a great person to be around and I'm good in the locker room."
Repeatedly, Alexander thanked everyone that helped make his career rebound possible.
"That year off, it taught me a lot," he said. "I know it could be over quick."
The Rams brought the 6-foot-1, 220-pound Alexander in for a workout a few weeks ago. Coach Jeff Fisher anticipates Alexander could provide immediate help in a depleted secondary and on special teams.
"Obviously, we're going to do our research to follow up and make sure all stories are correlating and on the same page, and they were," general manager Les Snead said. "This is a good dude."
Alexander was reinstated by the school last year and started 13 games, finishing with 80 tackles, six pass breakups, an interception and 3 1-2 sacks. He began his college career as a linebacker.
"That's adversity that you've got to have some grit to get through," Snead said. "I think he's really, really jacked to be a Ram."
---