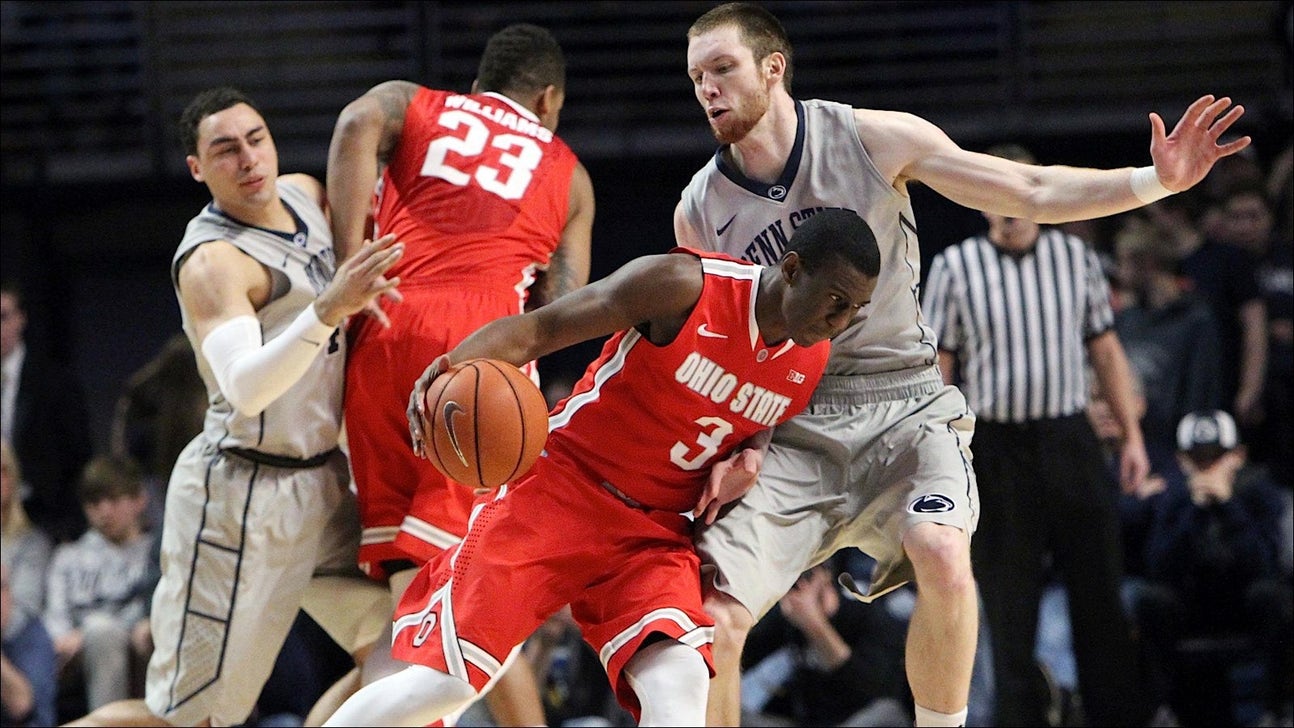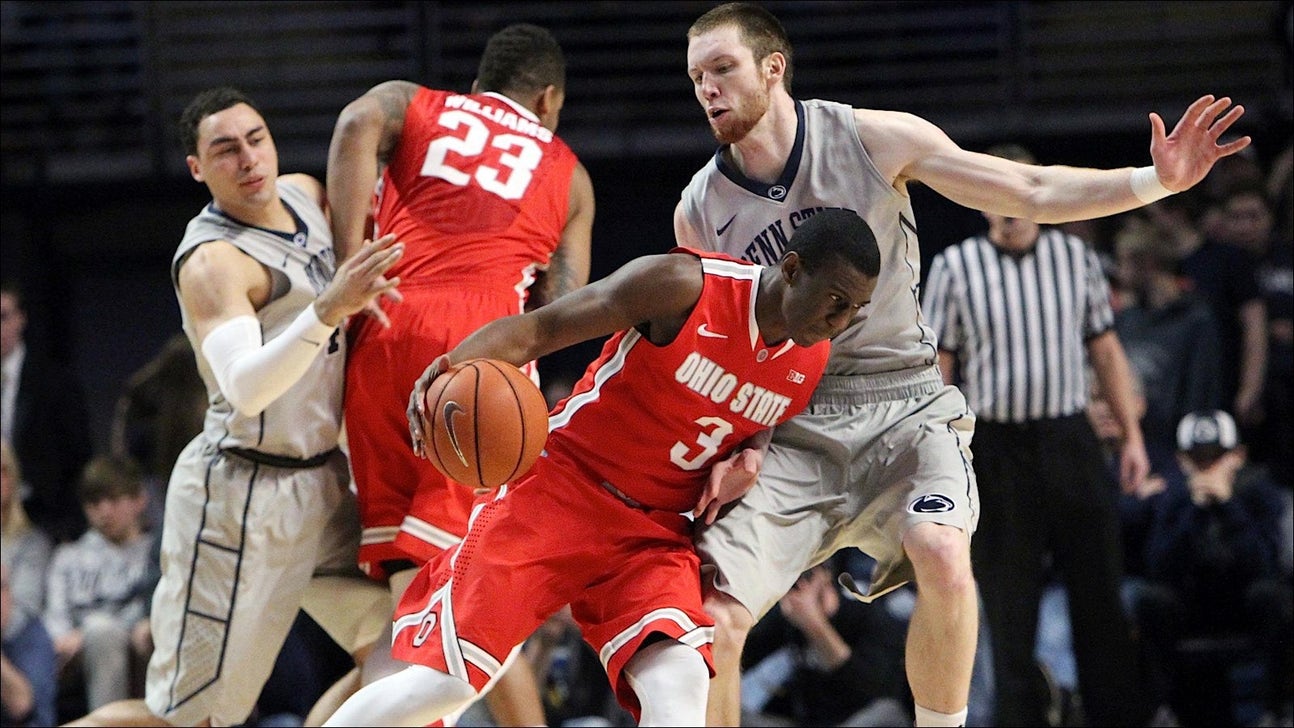 Russell leads Buckeyes past Nittany Lions
Published
Mar. 4, 2015 8:39 p.m. ET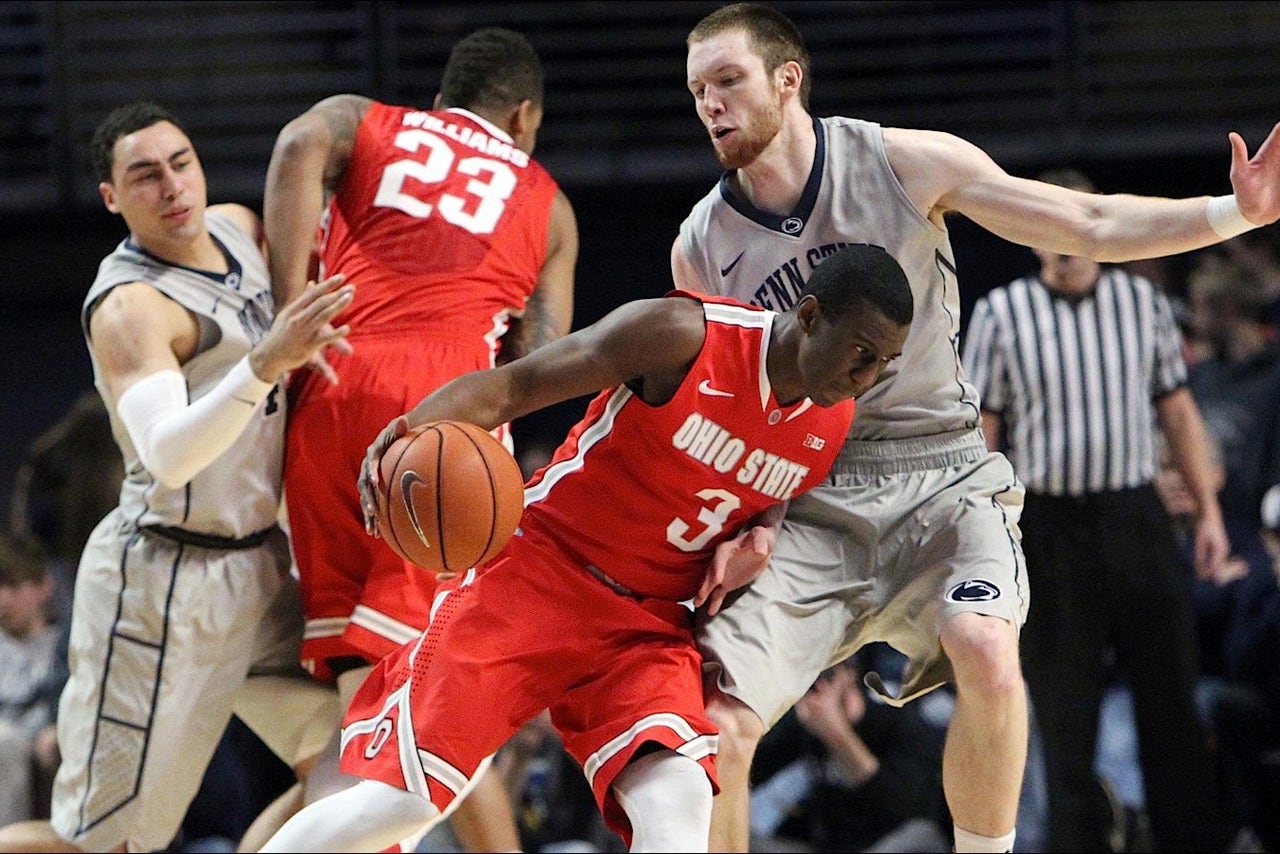 STATE COLLEGE, Pa. (AP) -- D'Angelo Russell scored 28 points and coach Thad Matta tied the school record for wins in No. 23 Ohio State's 77-67 victory over Penn State on Wednesday night.
Matta is 297-91 in 11 seasons at Ohio State, tied with Fred Taylor. Matta's next win would give him the Buckeyes mark as well as his 400th career victory overall.
Jae'Sean Tate and Shannon Scott each added 13 points for the Buckeyes (22-8, 11-6 Big Ten). Russell was 5 of 8 from 3-point range.
Seniors D.J. Newbill (17 points) and Ross Travis (14) led Penn State (15-15, 3-14) during their final home game for the Nittany Lions. Newbill eclipsed the 2,000-point mark for his career; he has 2,011 points.
Penn State jumped out to a 12-1 start in the nonconference portion of its schedule, but has lost 14 of 17 conference games.
Ohio State owned a 38-31 rebounding edge, but shot 6 of 17 from 3-point range and just 23 of 36 from the foul line. The Buckeyes held Penn State to 3 of 17 from long distance.
The Buckeyes didn't pull away until the final 10 minutes. Penn State led 38-29 early in the second half but Ohio State's 39-16 scoring run over the next 12 minutes provided the Buckeyes with a safe margin.
Geno Thorpe opened the second half for Penn State with back-to-back layups, Ross Travis followed with another and Jordan Dickerson added a slam for eight quick points and a nine-point lead.
Tate picked up his third foul with 15:35 remaining. His pair of layups prior to 11 straight points from Russell -- three 3s and two foul shots -- enabled the Buckeyes to charge to a 46-42 advantage. Penn State was held to two points in a four-minute span.
Russell stole the ball from Newbill and took off for a fast-break layup. Thorpe committed his fourth foul on the play and Russell gave the Buckeyes an eight-point lead.
The Buckeyes remained patient with crisp passing and good ball-handling, many times not shooting until only a few seconds remained on the shot clock. Scott's 3-pointer from the corner put Ohio State up 55-44 and forced a Penn State timeout with under 10 minutes to play.
Russell followed that with another long ball for a 14-point Buckeyes lead.
Tate scored eight of Ohio State's first 13 points as the Buckeyes opened an early 15-8 lead. Penn State's Travis and Newbill combined for 14 points during a 21-5 run that gave Penn State a 29-20 advantage.
But Penn State inbounds pass that deflected off the hands of Ohio State's Sam Thompson and caromed in was followed by four points from Trey McDonald to bring the Buckeyes to 30-29 at the half.
TIP-INS:
Ohio State: The Buckeyes didn't arrive in State College until 1:30 a.m. Wednesday, about six hours after their scheduled arrival. Their team plane was forced to land two hours away in Latrobe because of a Tuesday night ice storm that shut down the Penn State campus on Wednesday. The Buckeyes bused in from Latrobe. ... Matta's 11 Ohio State teams have averaged 26.9 victories. Matta is 153-65 against Big Ten teams during his Ohio State tenure; his Ohio State teams are 58-16 during games played in March. ... Russell is the country's freshman scoring leader. ... The Buckeyes are ranked second in the Big Ten in scoring offense (70.1) and second in defense (63.1).
Penn State: Newbill is fourth on Penn State's career scoring list and is just the third player to score 600 points or more in back-to-back seasons and only the second Penn State player with three straight seasons of scoring 500 or more. ... Newbill and Ross Travis are Penn State's only senior starters. Travis leaves in the No. 3 spot in career rebounds for Penn State. Two seniors who typically don't get many minutes -- Alan Wisnewski and Kevin Montminy -- started on Senior Night. They also played the final 1:17 of the game. ... Penn State has lost 11 games by single digits; 10 of its conference losses have been by an average of 5.2 points.
UP NEXT:
Ohio State: The Buckeyes are at home Sunday against No. 6 Wisconsin.
Penn State: The Nittany Lions conclude their regular season at Minnesota on Sunday.
---