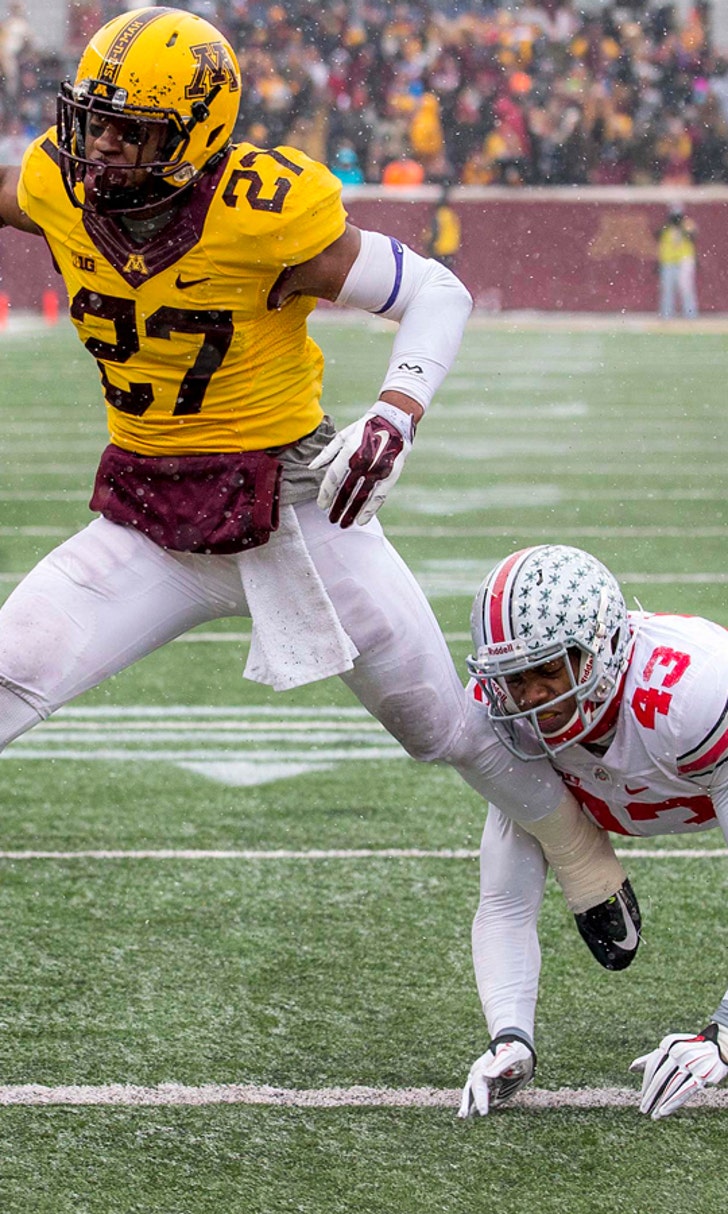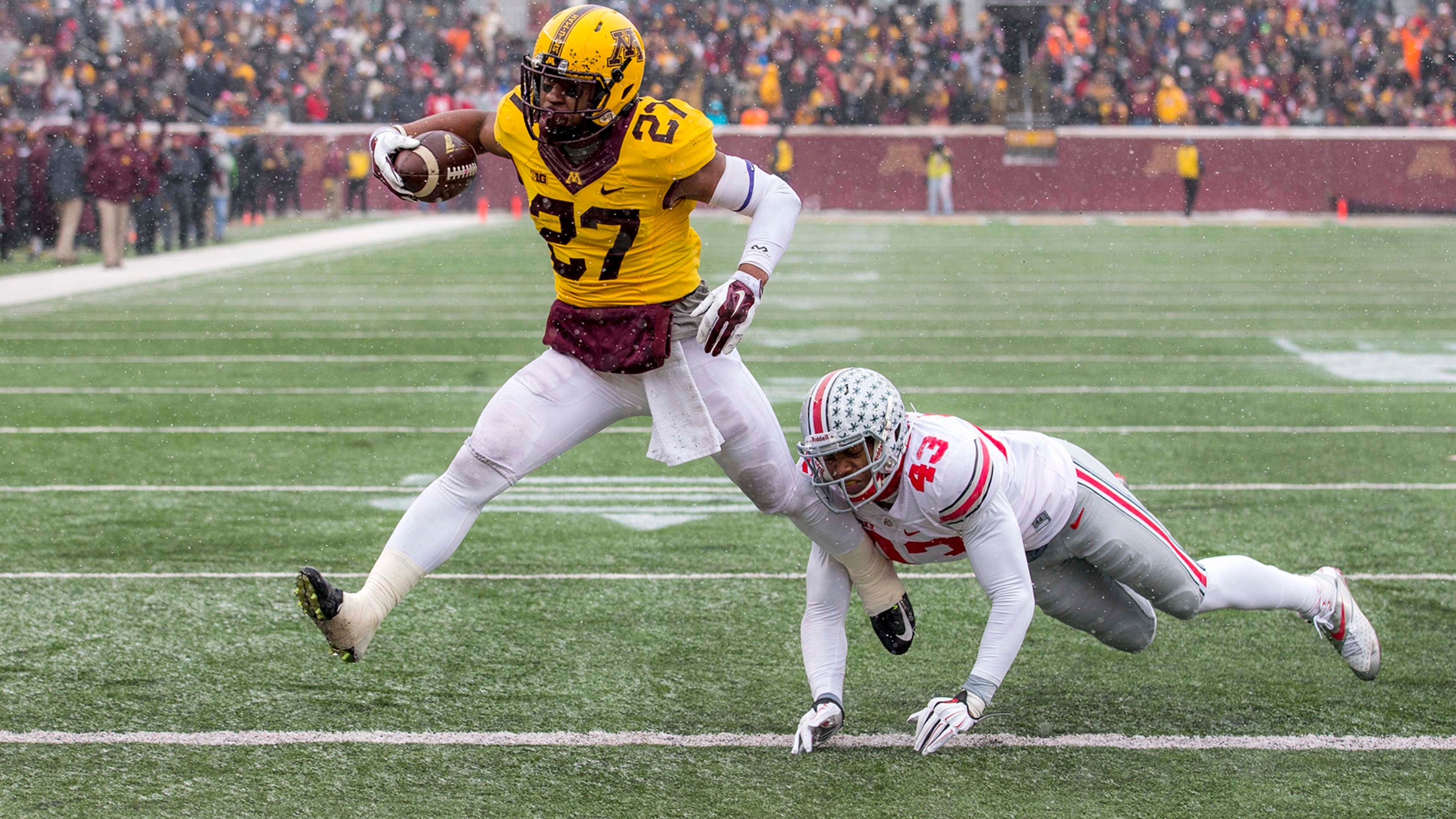 Run 'D' in focus as Buckeyes bear down on Big Ten title game berth
BY Marcus Hartman • November 17, 2014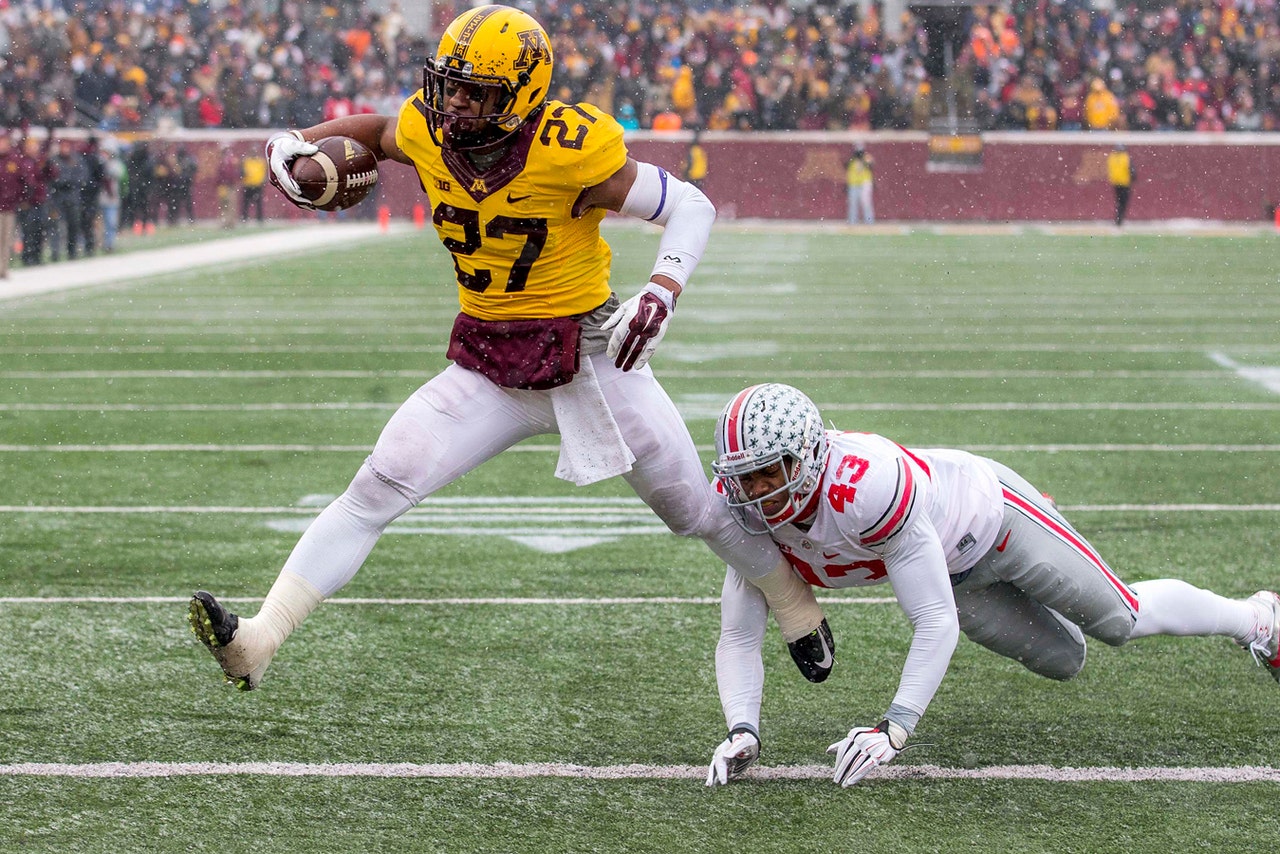 As Ohio State learned last year, winning a national championship is tough to do without first taking care of business in the Big Ten Championship Game.
This week the Buckeyes are on the cusp of realizing one of their season goals of returning to Indianapolis, but an issue has crept up for the defense as the offense has taken off under freshman quarterback J.T. Barrett.
That would be stopping the run. Last week, Minnesota's David Cobb became the third player this year to go over the 100-yard mark in a game this season and the second in as many weeks. Jeremy Langford did the same for Michigan State in a 49-37 OSU victory Nov. 8. The Gophers totaled 218 yards on the ground one week after the Spartans had 178. Navy's Ryan Williams-Jenkins ran for 118 of the Midshipmen's 370 yards in the season opener, although Navy's triple-option offense presented a different kind of challenge than any of the Buckeyes' other foes.
Urban Meyer acknowledged his team might have a problem slowing down opposing run games, but he thought the Buckeyes looked better in his film review than they did live in Minneapolis.
"We had some missed tackles," Meyer said Monday. "Safety position missed a few tackles, bad ones, and we have to work on that. But I thought our defensive front... Mike Bennett played one of his best games as a Buckeye, Joey Bosa was ridiculous, Steve Miller was going hard, and Adolphus (Washington) didn't do bad. We just got to make sure we're gap sound, be very smart, and we're facing one of the best rush teams certainly in the Big Ten.
"I think we're comfortable with the style of defense we're planning to go play Indiana and stop that run -- limit that run offense."
The Hoosiers come to town with a record of only 3-7, but feature one of the best running backs not only in the Big Ten but the nation. Only Wisconsin's Melvin Gordon has run for more yards this season than Tevin Coleman of Indiana, who has 1,678 yards on 214 carries in 10 games.
Coleman's importance for the Hoosiers has grown through the season as injuries have decimated the quarterback position in Bloomington, although freshman Zander Diamont will enter the Horseshoe coming off his best game. He completed 15 of 31 passes for 179 yards with a touchdown and an interception as the Hoosiers lost 45-23 at Rutgers.
Ohio State defensive line coach Larry Johnson sounded as if he had the same impression of his unit's performance as the head coach after taking a second look via the eye in the sky, but he acknowledged improvement is going to be necessary if the Buckeyes want to continue their rise in the College Football Playoff standings.
"That's the biggest key -- being fundamentally sound and stopping the run," Johnson said. "You can't jump gaps. You can't just try to go make a play. Getting our guys to do that and understand the importance of playing gap football is really critical in stopping the run game. And it's the front seven -- we've got to do a great job of doing that. We've got great running backs coming up but this guy we're facing Saturday is a really good running back."
With a win Saturday or a Michigan State loss, the Buckeyes will clinch their third straight divisional crown and a trip to the conference title game for the second consecutive year. They will also hope to continue rising up the CFP rankings, where they were eighth last week. Though two teams ahead of them lost, few are projecting that to be enough for Ohio State to jump into the top four.
"That's not even going to be addressed," Meyer said. "We wake up every November or we wake up every day to compete for championships in November. It's at the doorstep now. They've done a good job getting us there. If you'd have told us after week two that this would all start to materialize, I think we just keep doing what we're doing, and that's get better, get better each week. We are lights‑out a much better football team than we were at the beginning of the season, and that's a credit to the players and the assistant coaches for getting them there."
**If media displays don't appear immediately, please click refresh**
Follow on Twitter @marcushartman
---