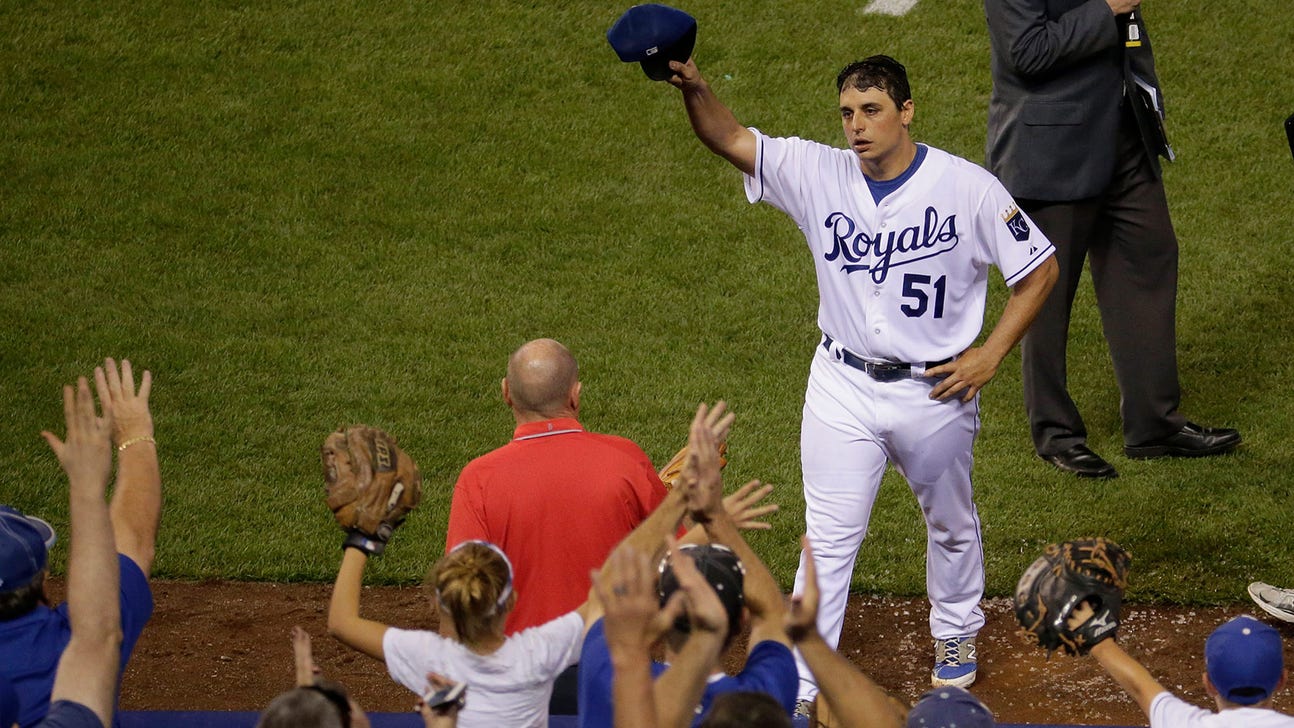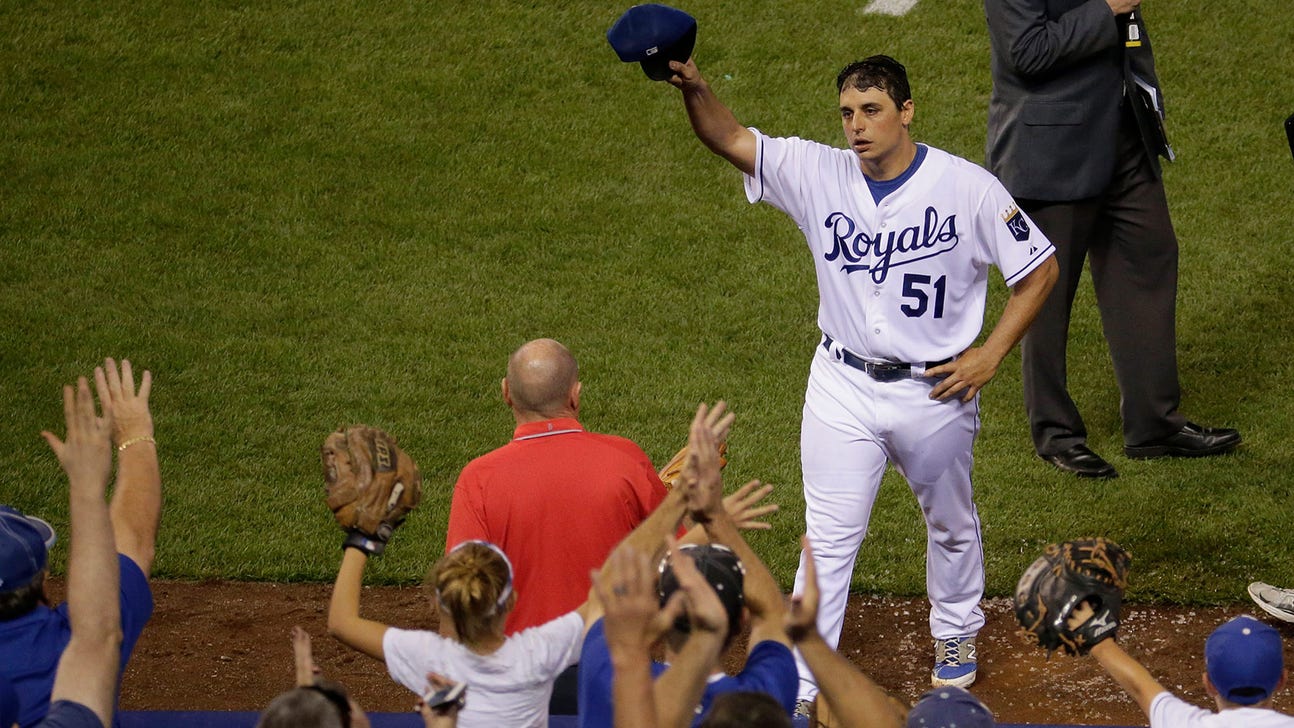 Royals ride a 'very, very, very good' Vargas to shutout victory over A's
Published
Aug. 13, 2014 11:21 p.m. ET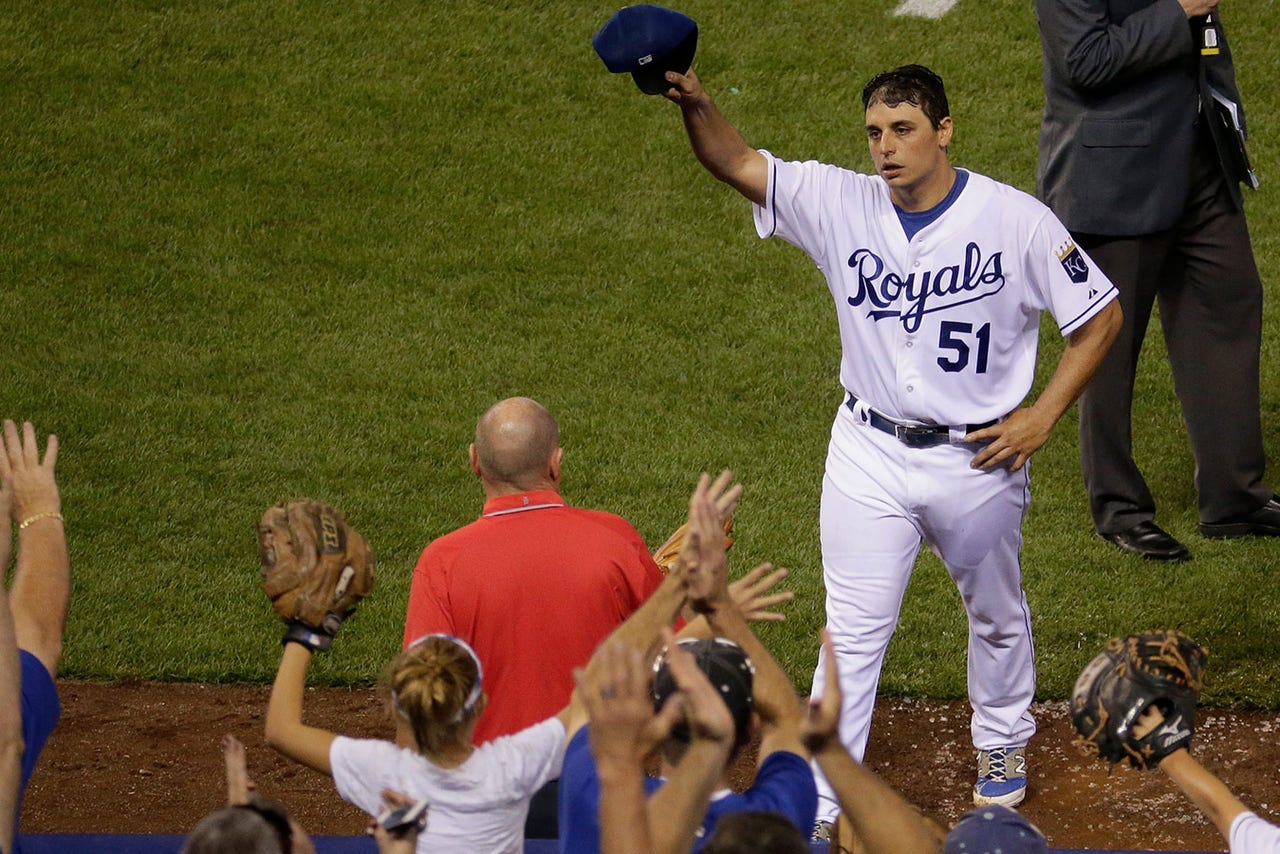 KANSAS CITY, Mo. -- Back in the saddle.
A day after getting thrashed by the A's, 11-3, the Royals bounced back with one of their finest -- and tidiest -- wins of the season, a snappy 3-0 triumph Wednesday night in front of 21,099 fans. The win kept the Royals in first place in the AL Central.
Starter Jason Vargas, in his third start back from having an appendectomy, was nothing short of brilliant. He authored the Royals' third complete game of the week -- that's not a misprint.
Vargas gave up just three hits, walked none, struck out four and lowered his ERA to 3.27.
"He was very, very, very good," catcher Sal Perez said, beaming.
The victory came immediately after the Royals had an eight-game winning streak snapped. Royals fans perhaps were concerned that the Royals might fall back into a similar funk they experienced after they had won 10 in a row in June.
That was then, this is now, said manager Ned Yost.
"I can't explain it," Yost said, "but this just feels different. The guys seem way more confident."
The Royals got all the offense they needed when Omar Infante cracked his sixth homer of the year and first since June 27, a two-run shot in the third.
3 UP
-- Vargy pitched a great game. The famous Moose line from earlier in the year certainly applied again. Vargas was sensational, retiring the final 23 hitters he faced. He gave up two hits in the first and another in the second, but then dominated the A's, who now have lost four of six to the Royals and have to win Thursday to avoid their second series loss to KC.
Watch the Royals Live pregame and postgame shows before and after every Kansas City Royals game on FOX Sports Kansas City.
"We came back from (Wednesday's) loss, which is a good thing," Vargas said. "You don't want to defeat yourself by following up one loss with another, not if you want to keep playing meaningful games down the way."
Vargas did his part, making a nice adjustment of throwing more fastballs after the second inning, according to Perez.
"They were sitting on his changeup," Perez said. "So we mixed it up."
-- Omar goes deep. Infante admits he has been scuffling a bit lately, so the two-run homer was big for his confidence.
"I got a 2-0 fastball up in the zone," he said. "I've been missing the fastball lately and I'm a fastball hitter. I've been trying to be more aggressive. It felt good tonight."
-- Colon is everywhere. Christian Colon got a rare start at third base as Mike Moustakas sat against tough lefty Scott Kazmir. And he took advantage.
Colon made a great snare of a one-hop liner and started a 5-4-3 double play in the second. Then Colon started a rally in the fifth with a bunt single.
"My job is to get on base however I can," he said. "They were playing back a little."
Colon got to second on a sacrifice bunt and alertly moved to third on a slow roller that Infante beat out. He then scored on a sacrifice fly from Perez.
"That third run was pretty big," Yost noted. "It allowed us more cushion for Vargy to go deeper."
3 DOWN
-- Missed chance. Lorenzo Cain had a chance to get the Royals another run with just a fly ball in the fourth. Newcomer Josh Willingham singled with one out, stole second (yes, he stole second) and went to third on a wild pickoff attempt. But with the infield in, Cain could hit only a weak grounder to shortstop and Willingham had to hold.
-- Esky's tough day at the plate. Hey, Alcides Escobar was the offensive hero a couple of nights ago, so we're being a little picky here. But he did bounce into a double play in the second to short-circuit a rally. And in the fourth, he also left Willingham stranded at third by grounding out.
-- Gordo's tough day at the plate. Let's face it: Kazmir is tough on lefties. And Alex Gordon will confirm that. Gordo when 0 for 3, striking out twice and looking bad doing it. Good news is that a right-hander is going for the A's on Thursday.
You can follow Jeffrey Flanagan on Twitter at @jflanagankc or email him at jeffreyflanagan6@gmail.com.
---