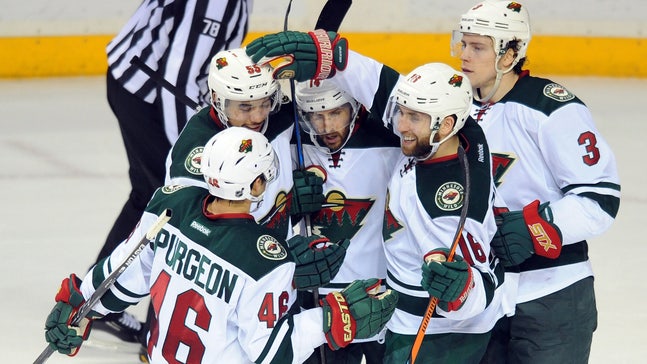 Road Reaction: Wild 4, Predators 2
Published
Apr. 9, 2015 11:43 p.m. ET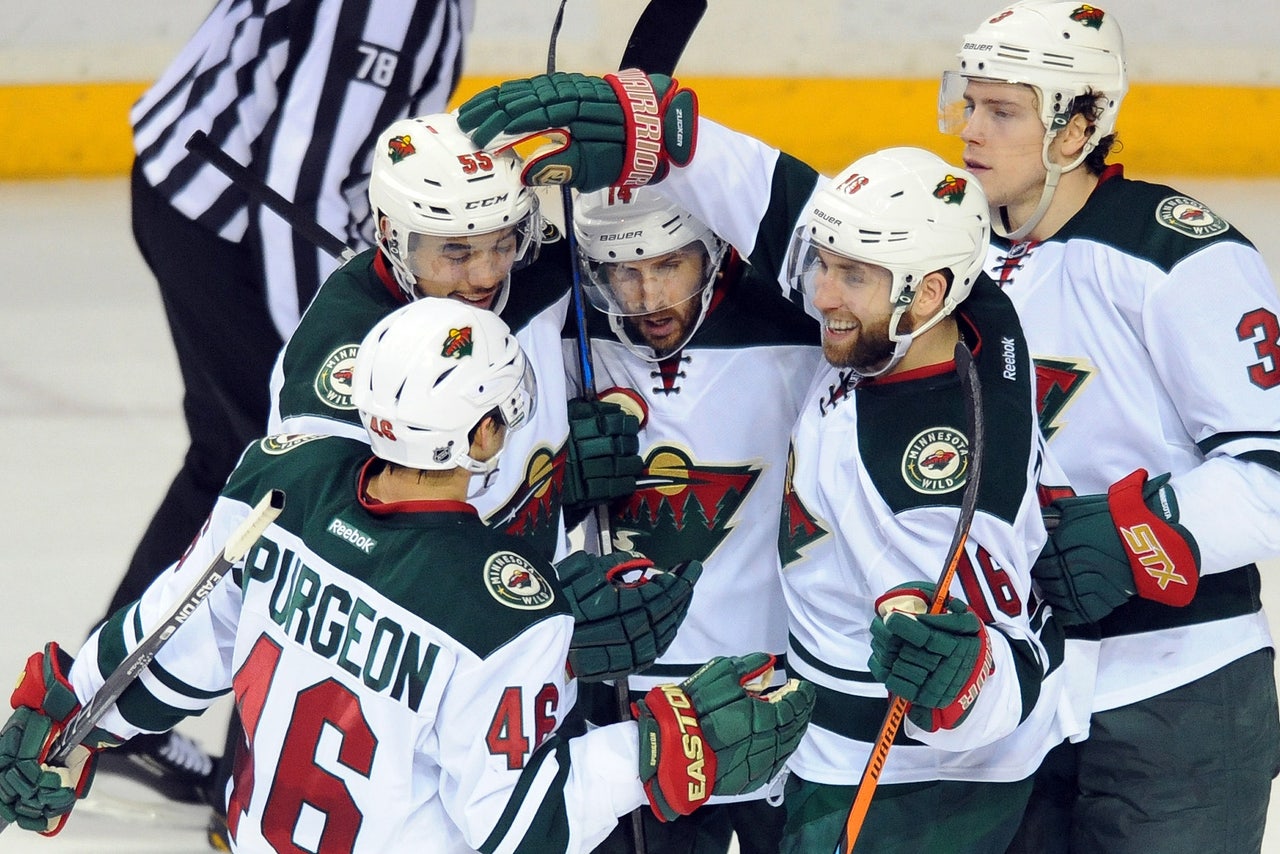 The streak continues.
The Minnesota Wild had clinched their third straight playoff berth with two games left in the regular season. Minnesota decided to rest goaltender Devan Dubnyk and its three leading goal scorers -- Zach Parise, Nino Niederreiter and Thomas Vanek -- on Thursday at Nashville.
The short-handed squad didn't matter.
The Wild, behind two goals by Jason Zucker and 32 saves for Darcy Kuemper, tied the NHL record with their 12th consecutive road win. Jason Pominville scored the game-winner in the third period as Minnesota won 4-2, overcoming an early 2-0 deficit to equal the 2005-06 Detroit Red Wings for the longest road winning streak in NHL history, according to the Elias Sports Bureau.
Already having established franchise records for road wins and points, the Wild reached 100 points for just the second time in franchise history and lead the NHL with a 26-7-2 record since the All-Star break. Minnesota is 24-14-2 on the road this season and can set the NHL record in the regular-season finale Saturday at St. Louis.
Dubnyk had started 38 straight games for the Wild since being acquired in mid-January, and he keyed their NHL-best, second-half run. After clinching the playoffs, Minnesota head coach Mike Yeo decided to rest his No. 1 goaltender and go to Kuemper, who made his first start since Jan. 6 and saw his first NHL action since Jan. 20.
Kuemper allowed a goal to rookie sensation Filip Forsberg on the second shot he faced, and Seth Jones scored for Nashville just over 10 minutes into the game. The Predators were trying to stay in the race for the Central Division title.
Kuemper was perfect the rest of the way, and Zucker -- in his first game back after missing 27 because of a broken clavicle -- scored in the second on the power play. Marco Scandella scored his 10th of the season 31 seconds later. Pominville scored on a big slap shot 2 minutes, 3 seconds later, and Zucker finished the scoring with an empty-net goal.
Zucker is now tied with Vanek for third on the Wild with 21 goals this season, despite playing just 50 games. With two goals in the third, Minnesota leads the NHL with 34 third-period goals since Feb. 22, a span of 23 games. The Wild's goal differential is plus-25 in the third during that span. 
THREE STARS
1. Zucker, F, Wild: Zucker has demonstrated just what Minnesota was missing in his absence. His speed makes a difference and he was second on the team in goals to Parise when he was injured in February. Zucker has three goals in two games in his return and he jumpstarted the Wild on Thursday.
Zucker got free in the slot on the power play, and went to his knees while one-timing a shot past Predators goaltender Pekka Rinne.
Zucker further deepens Minnesota's lineup and scoring and adds another goal scorer on the left side to go with Parise, Vanek and Niederreiter in the playoffs. Zucker is also dangerous on the power play, which has been a weak spot for the Wild this season.
2. Kuemper, G, Wild: Kuemper's performance has to be comforting for himself and the team. A bit of rust at the beginning perhaps was to be expected with Kuemper out of game action for so long. But after struggling for about month before Dubnyk was acquired, Kuemper was strong Thursday.
A 32-save effort in the win can go a long way to returning confidence for Kuemper. He also held Nashville off the board in the third, as the Predators pressured with 17 shots in the period. Minnesota was outshot 17-6 in the third and 34-27 for the game, but Kuemper kept the Wild in the game.
3. Scandella, D, Wild: Scandella is rounding back into form, as well, after an injury of his own. His breakout season, like Zucker's, had been interrupted by missing 14 games with an upper-body injury. Scandella was among the league leaders in goal scoring among defensemen when he was hurt.
He had gone 32 games without a goal before scoring his 10th of the season on Thursday with a nifty individual play, spinning around a defensemen and then lifting a shot high past Rinne.
Scandella really makes his presence felt on the defensive end with his steady play. He skated 19:32 on Thursday, with three hits, two blocked shots and one takeaway.
Seen: More changes as Parise, Vanek and Niederreiter sat out. The defensive corps didn't change as Yeo kept his defense intact in front of Kuemper.
Along the forward lines, Yeo kept Zucker, Mikko Koivu and Chris Stewart together for the second straight game. The three could be kept together going forward, so they earned more time to develop some chemistry.
Matt Cooke made his return after missing 31 games because of sports hernia surgery and he assisted on Scandella's goal. Cooke took Niederreiter's place at left wing with Charlie Coyle and Jordan Schroeder. Sean Bergenheim subbed in for Parise on the first line with Mikael Granlund and Pominville. Ryan Carter re-entered the lineup, skating on the left with Kyle Brodziak and Justin Fontaine.
Said: "I think we're playing with confidence. Anytime we're going on the road, we feel good about our game, we feel good about the way we've been playing lately. Obviously didn't get the start we wanted, but I thought we were better as the game went on. That's why you play 60 minutes. We found a way and stuck with it and were better as the game went on." -- Pominville
Next: Dubnyk is expected to be back in net as Minnesota finishes the regular season with a matinee game at St. Louis. The Wild will likely return to their regular lineup to tune up for the playoffs, which start next week.
The Blues clinched the Central Division crown Thursday with a win and Nashville's loss. Minnesota, of course, will have a chance to set the NHL record for consecutive road wins.
Follow Brian Hall on Twitter
---