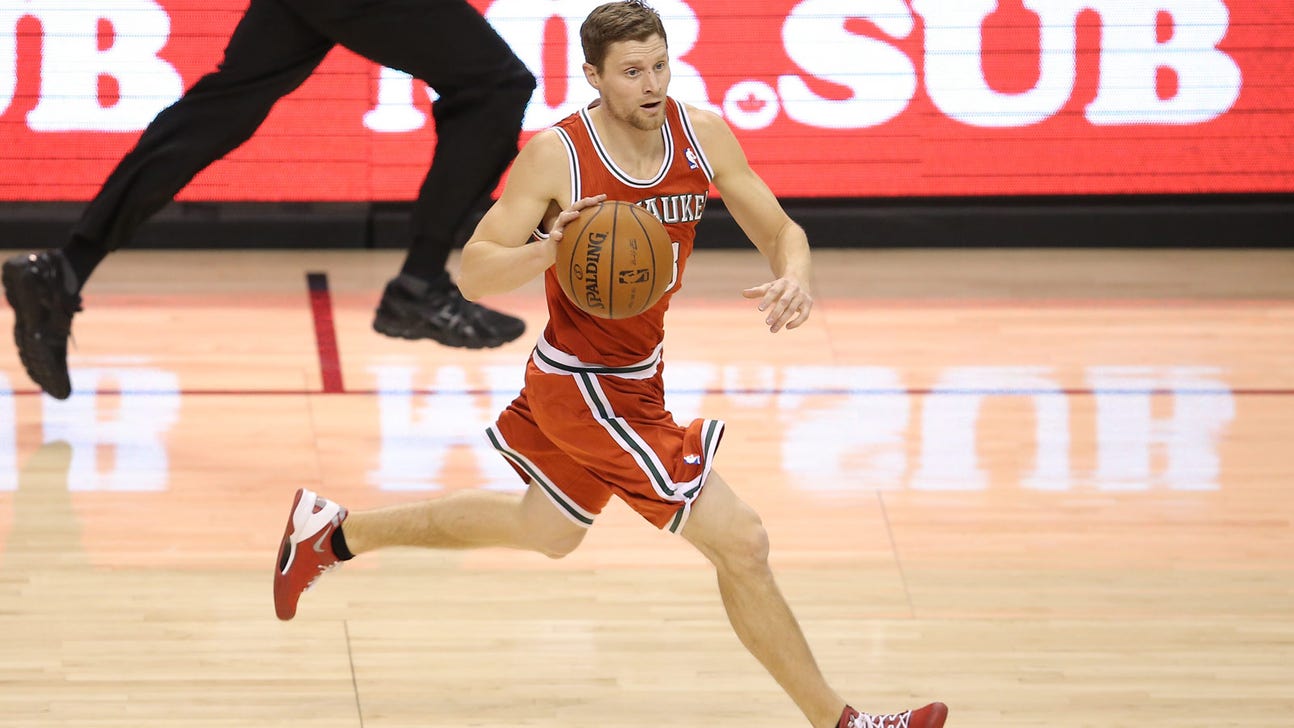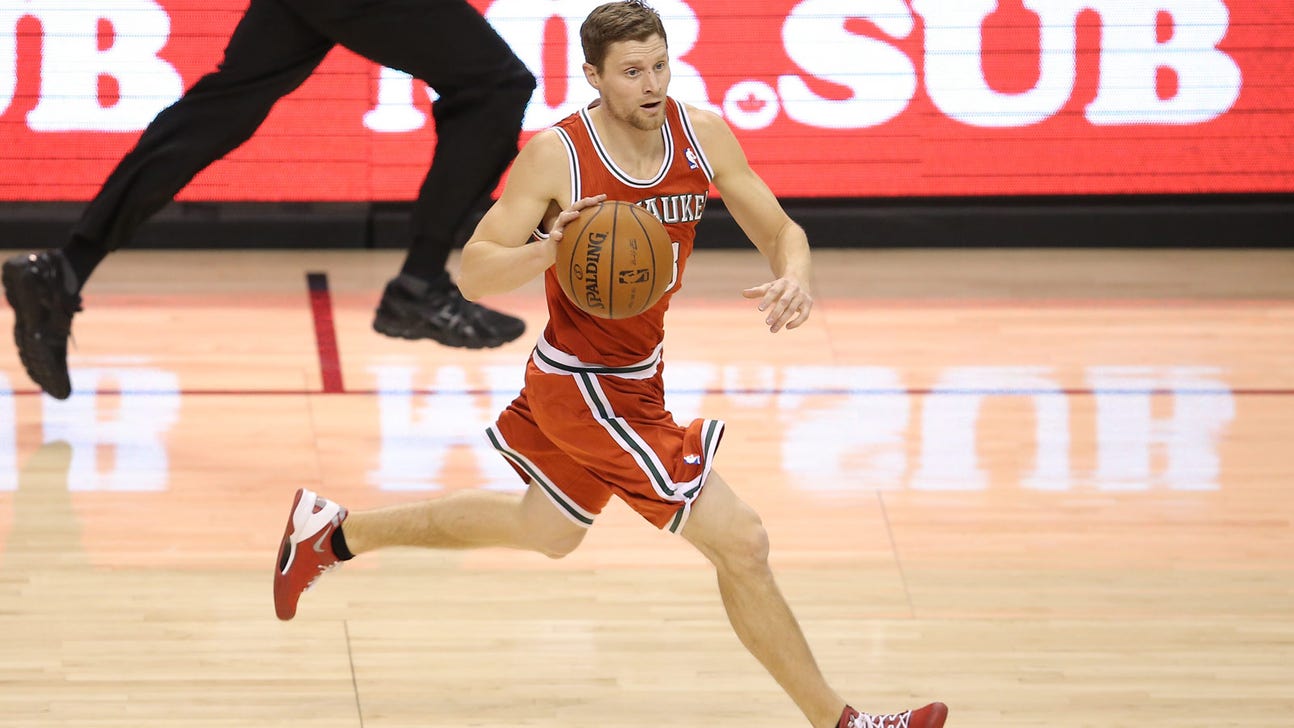 Ridnour says wrist is OK, 'nothing' going to stop him from playing
Published
Jan. 21, 2014 3:23 p.m. ET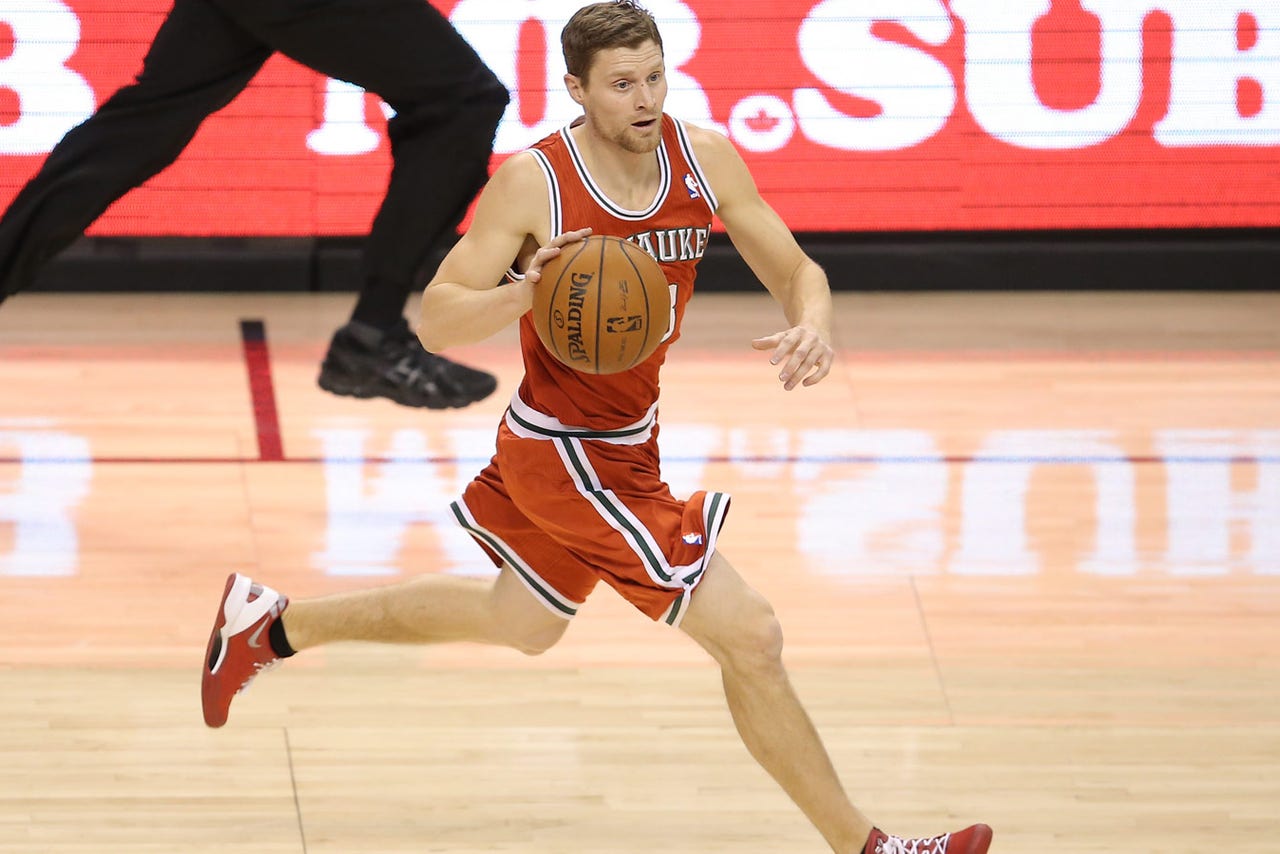 ST. FRANCIS, Wis. -- First feared serious, Bucks guard Luke Ridnour's sprained right wrist likely won't cause him to miss a game.
An MRI came back negative and Ridnour practiced fully Tuesday. He expects to play when the Bucks try to snap their nine-game losing streak against the Pistons on Wednesday at the BMO Harris Bradley Center.
"I feel all right," Ridnour said after practice Tuesday at the Cousins Center. "Nothing is going to stop me from playing, so I should be good.
"I'm pretty thankful nothing is broken. It's nothing I can't play with."
Ridnour was injured when his right wrist became pinned between Ekpe Udoh and Spurs guard Patty Mills late in the first quarter of Sunday's loss in San Antonio. He went to the bench at the end of the quarter and did not return.
"When he did it, he looked down at it and motioned to the bench," Bucks coach Larry Drew said. "I didn't think it was good news at that point. I'm glad it was just a sprain and he's able to hopefully play."
Ridnour has started eight of Milwaukee's last 10 games and is shooting the ball much better recently. He's averaged 10.9 points per game in that stretch, hitting 49.3 percent of his field goals and 50.0 percent of his 3-point attempts.
The veteran has played a much more prominent role lately after being buried on the bench earlier in the season.
"I just want to win some games, more than anything," Ridnour said when asked about his improved play. "It's more about the team stuff than me."
While Ridnour practiced Tuesday, the Bucks were without guard O.J. Mayo and center Larry Sanders due to an illness going around the team. Both were scheduled to see the doctor later Tuesday afternoon and are questionable for the game against the Pistons.
Pistons test the frontline: Although Detroit is just 17-24, the Pistons present a difficult challenge for a Bucks team that has consistently struggled with physical frontlines.
The last time the two teams met, Pistons big men Andre Drummond and Greg Monroe combined for 42 points and 36 rebounds in a 105-98 Detroit victory at the Bradley Center. The Pistons outrebounded the Bucks 55-43, including 21 on the offensive end.
"We have to bring a much more physical presence against those guys," Drew said. "That's how they play, that's who they are. You can't bring a finesse game against those type of guys or they will just gobble you up.
"Our first couple of games against them, we have not played them with physicality. They have just physically manhandled us. We have to be better in that area. I know we give up size and strength at those positions, but still. We have to put up a fight. We have to make it a war. It's all about the physicality and can we match it."
Can the Bucks' longer, more athletic frontline keep up with the pure strength and power of Detroit's big men?
"I think they can," Drew said. "People think of big-time rebounders (as) guys who can really elevate around the rim. Some of your best rebounders are guys who can barely get off the ground. I think it's the same way. The mentality is similar playing against a big, physical guy. If you stay between him in the basket and keeping your body on him, I think you can have success."
The Bucks entered this season with just five double-digit-game losing streaks in franchise history. A loss to Detroit on Wednesday would give them two this season alone.
Milwaukee plays four of its next five at home, but Drew isn't looking at this as a stretch to gain ground, rather looking just at Wednesday's game.
"I will not look beyond Detroit," Drew said. "It's the next game. That's all I can do at this point."
Follow Andrew Gruman on Twitter
---