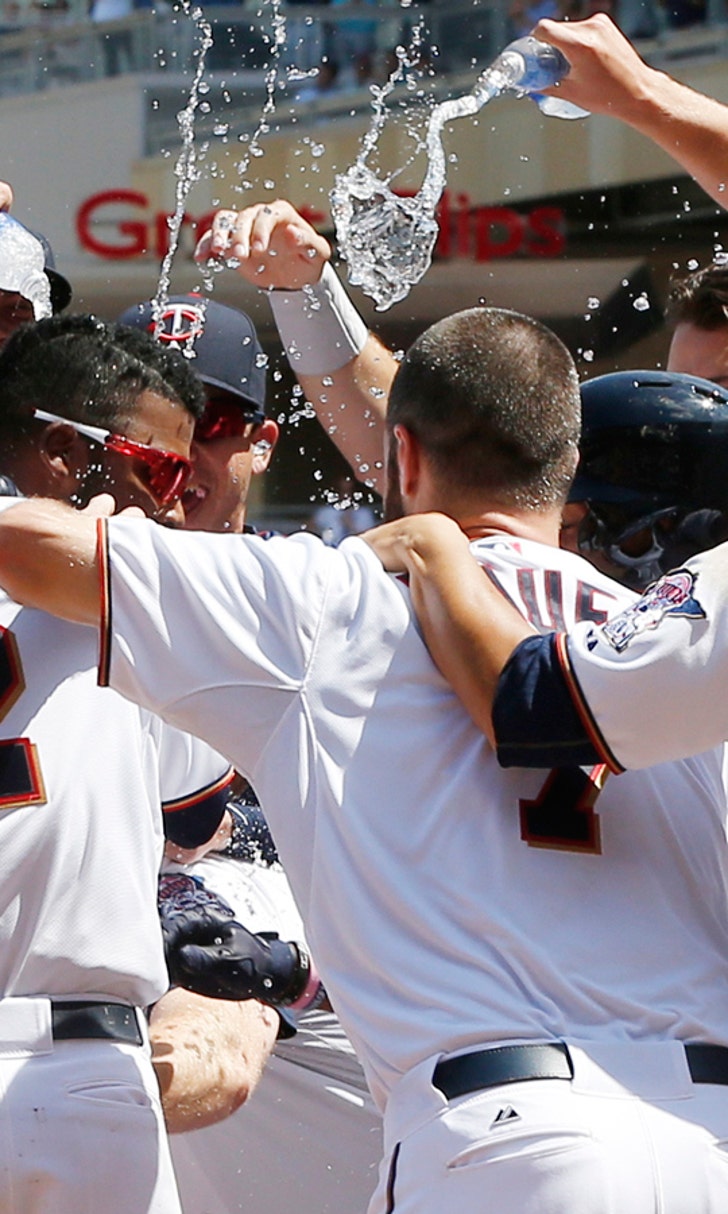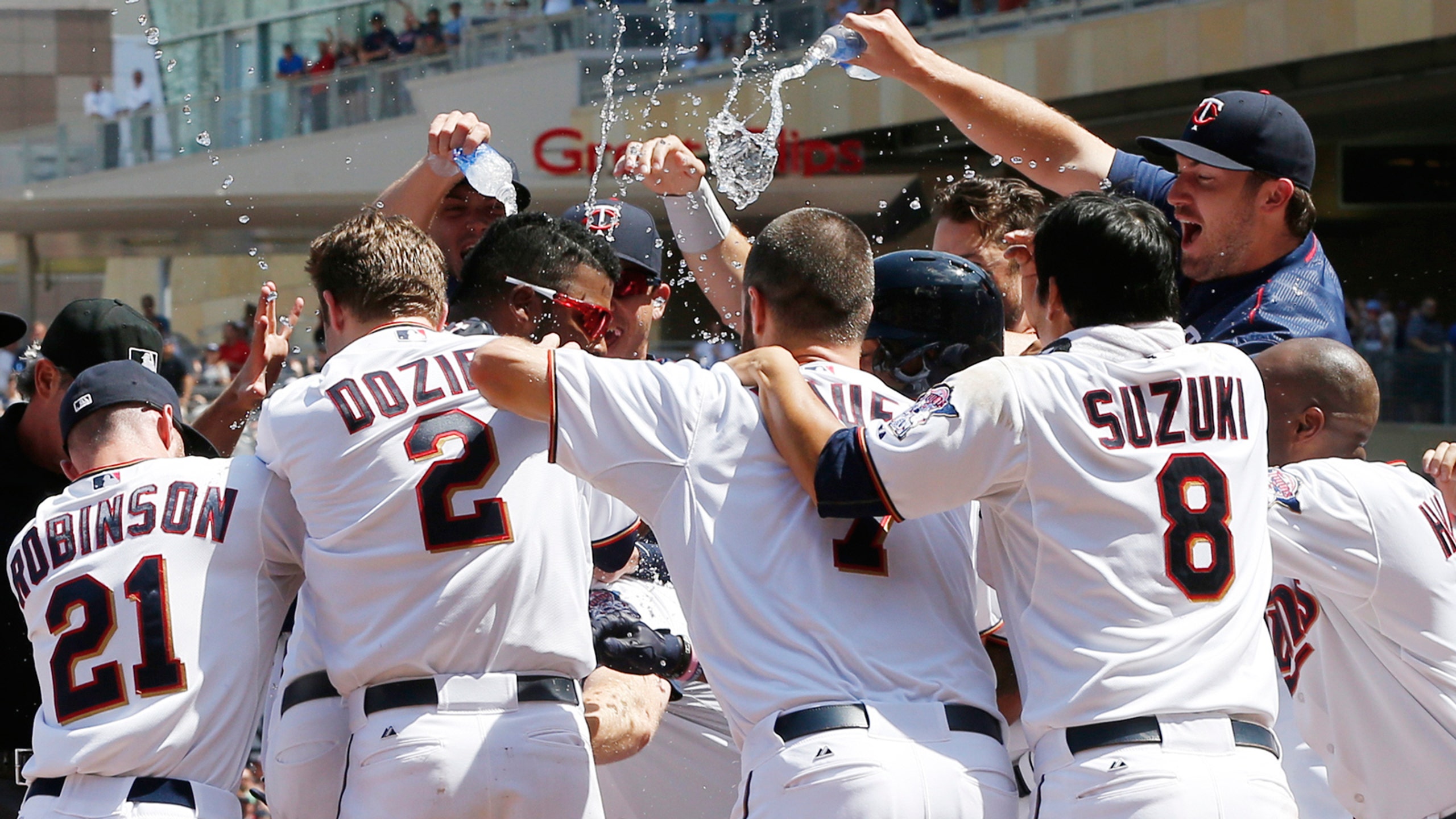 Redemption! Mauer, Vargas homers key Twins walk-off win
BY foxsports • June 18, 2015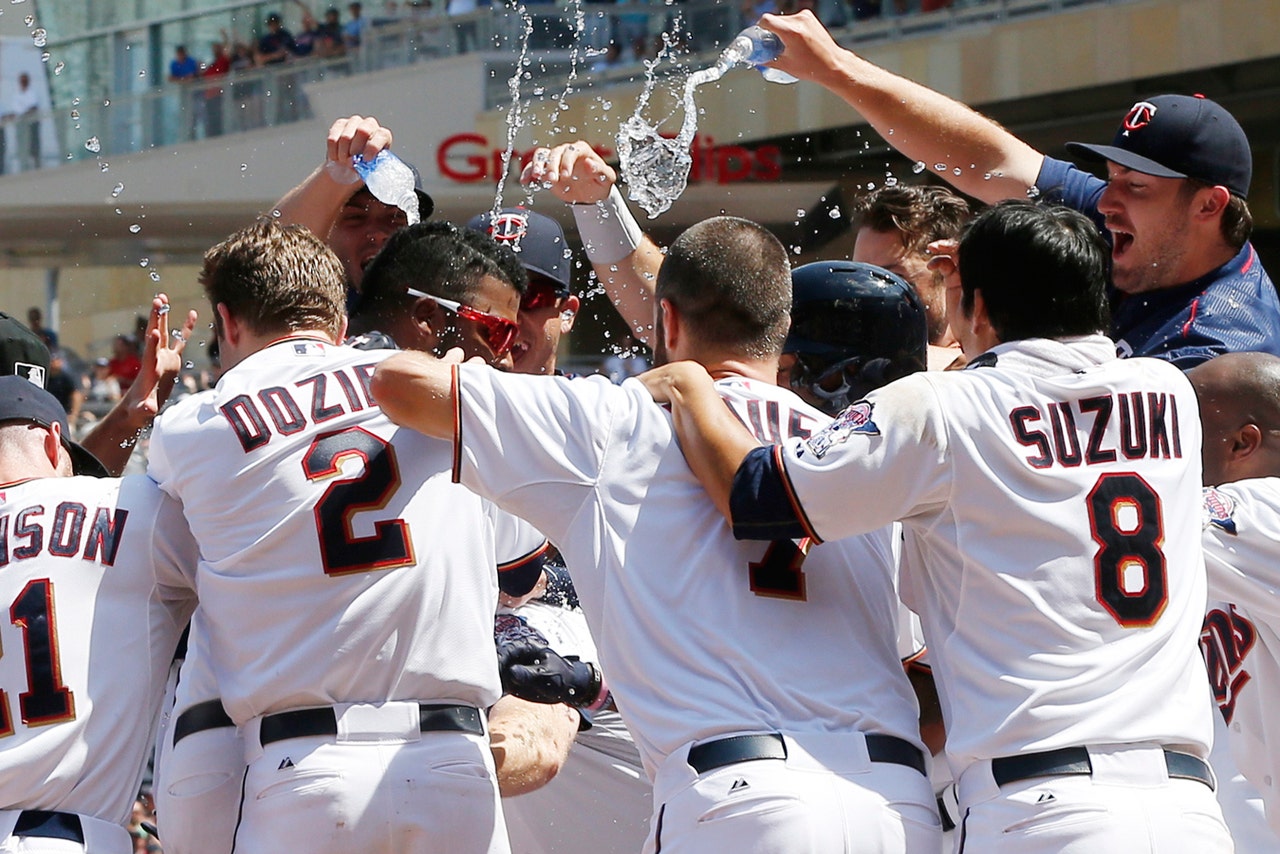 MINNEAPOLIS -- Two Twins who needed big hits got them in very big spots Thursday.
Minnesota's Joe Mauer and Kennys Vargas, two players who had been slumping offensively, both hit solo homers late in Thursday's game at Target Field to help the Twins top the Cardinals 2-1. Vargas' solo homer was of the walk-off variety, giving the Twins fans something to cheer about as their team topped the best team in baseball for the second straight day.
As Vargas neared home plate follow his walk-off -- the first of his career at any level -- his Twins teammates pelted him with bubble gum and sprayed water on him. For a team and a player that had both been slumping, that one swing of the bat was a big weight lifted.
"I'm having fun here," Vargas said after the win.
That was a message that Twins manager Paul Molitor tried to relay to the young Vargas before Thursday's game. Entering the second game of the series, Vargas was batting just .227 and had a mere six extra-base hits in 36 games this year. He had already experienced a demotion to Triple-A Rochester before a more recent call-up.
When Vargas was sent down earlier in the year, it had to do with the fact that he was hitting too many singles and not making hard enough contact. He certainly hit the 1-1 curveball from St. Louis' Carlos Villanueva plenty hard in the ninth inning.
"Before the at-bat, I was talking to (hitting coach Tom Brunansky) about what he's going to throw me and what I have to wait for," Vargas said. "I hit it hard, and home run."
That big blast for Vargas helped him atone for his last at-bat two innings earlier. With the Cardinals holding a 1-0 lead, Vargas and the Twins had a chance to tie the game or take the lead in the bottom of the seventh. He came to the plate with the bases loaded and just one out after St. Louis opted to walk Kurt Suzuki to get to Vargas.
On the third pitch of the at-bat, Vargas grounded to the shortstop for an inning-ending -- and rally-killing -- double play. It remained to be seen if Vargas would have a shot at redemption before the game was over.
Sure enough, a home run by another candidate who very much needed one kept the game alive. Mauer's solo shot to left field in the bottom of the eighth tied the game at 1-1. With a full count and two outs in the eighth, Mauer took Cardinals reliever Kevin Siegrist deep to left for just his third home run of the season.
Mauer hasn't hit many homers, but those he has hit have been big. His first of the season was a go-ahead blast in the 13th inning against Pittsburgh. His second, a three-run shot, tied the game against Milwaukee. And Thursday's also resulted in tying the game, this time in the eighth inning.
"I try to make them count when I do hit them," Mauer said. "It's a lot of fun running those bases and seeing how excited your teammates are. I was happy I was able to do it."
That set the stage for Vargas' heroics -- and his chance at redemption. Vargas came to the plate with two outs in the ninth after Eduardo Nunez and Suzuki were retired. On a 1-1 pitch, Vargas swung and delivered a 386-foot blast that pushed the Twins back to six games above .500.
That same swing gave Vargas a boost of confidence when he needed one. Things haven't been going great for most of Minnesota's offense, but Vargas had struggled since being recalled. If he has more swings like that one Thursday, he might not have to worry about a trip back to Rochester.
"This game, I just go to the field to try to have fun, because I haven't been having fun a lot," Vargas said. "This morning, I was talking to Molitor, and he told me, 'Just have fun.' . . . I think that's the key for this game."
If having fun means production for Vargas, days like Thursday are a good thing for both he and the Twins. He could hardly contain his smile when talking about his first walk-off homer, as well as when he celebrated it with his teammates at home plate.
And of course, he was one of several Twins who had to dance in the clubhouse after the game, as has become tradition for Minnesota after home wins.
Said Vargas: "My first walk-off home run in my career, I can't explain because it's for me something special that I'm going to remember all my life."
Follow Tyler Mason on Twitter
---