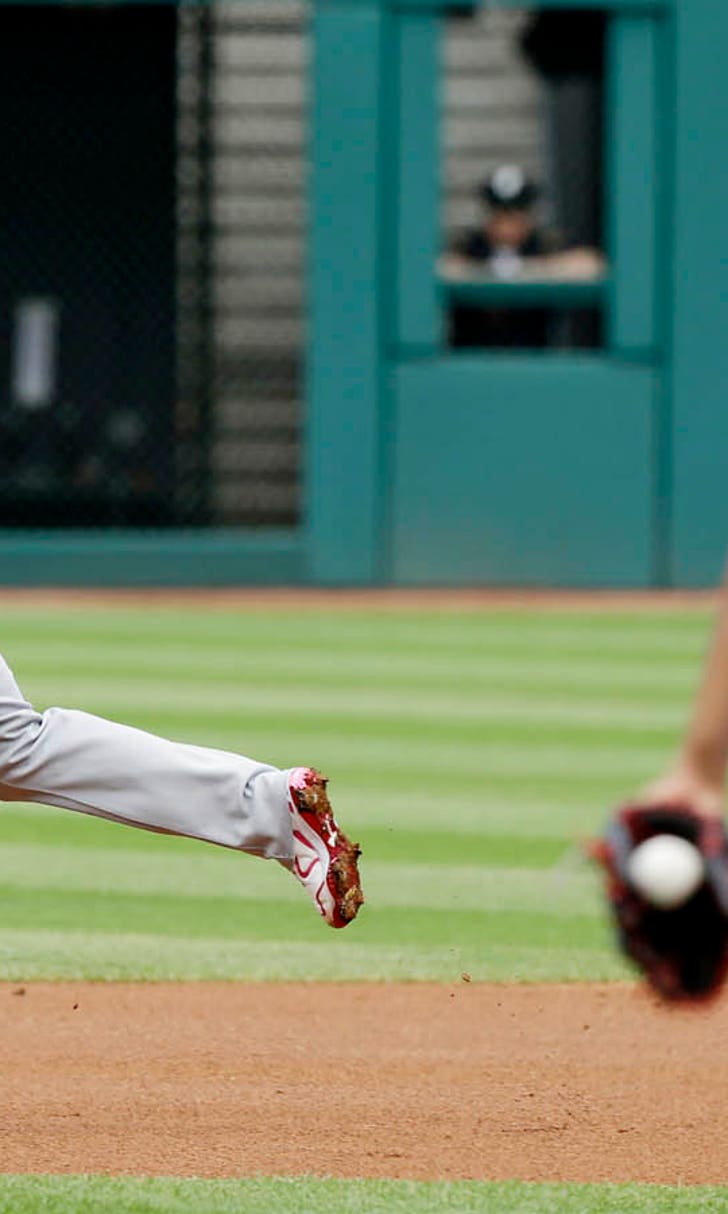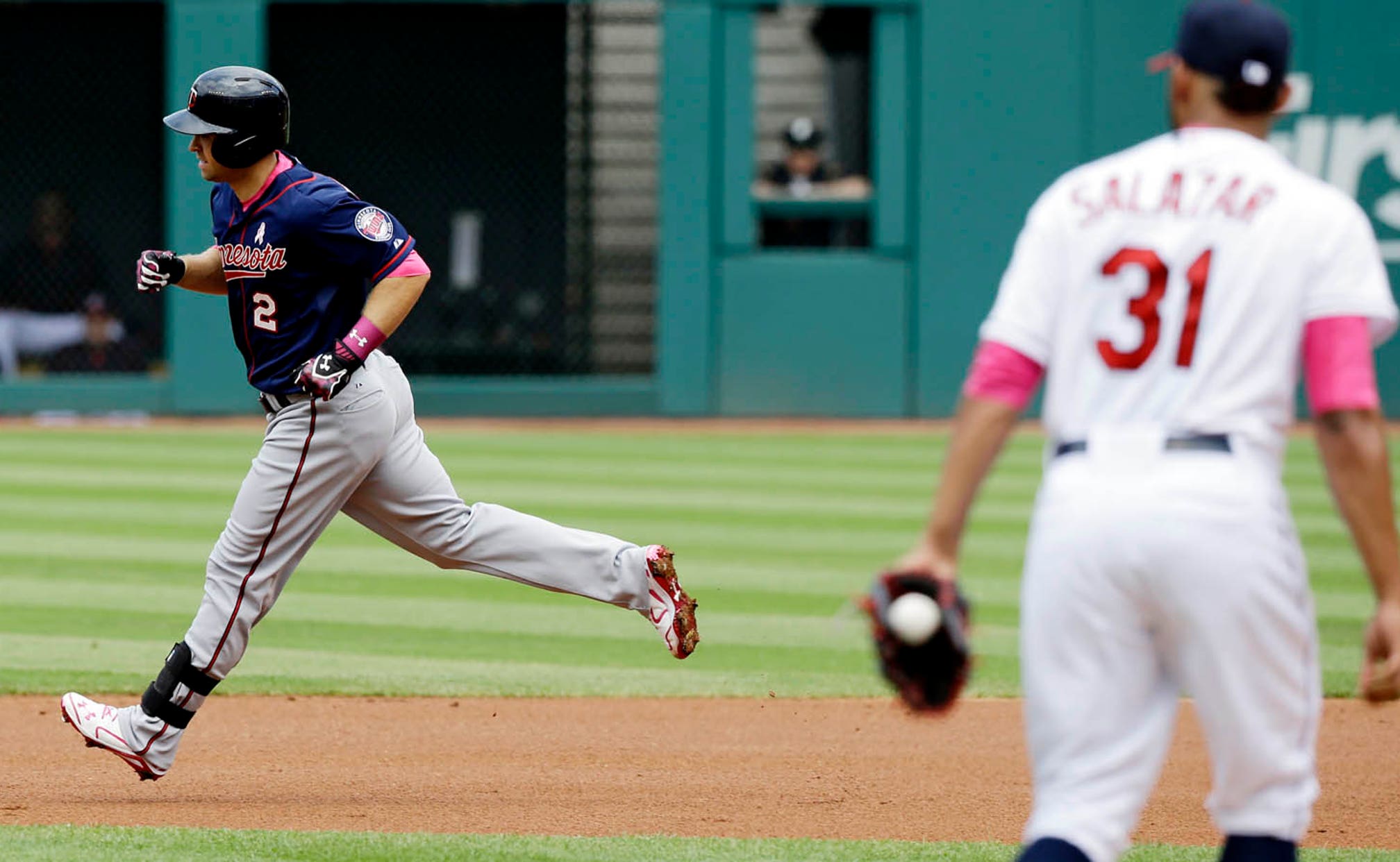 Red-hot Twins suffer complete breakdown against Indians
BY foxsports • May 10, 2015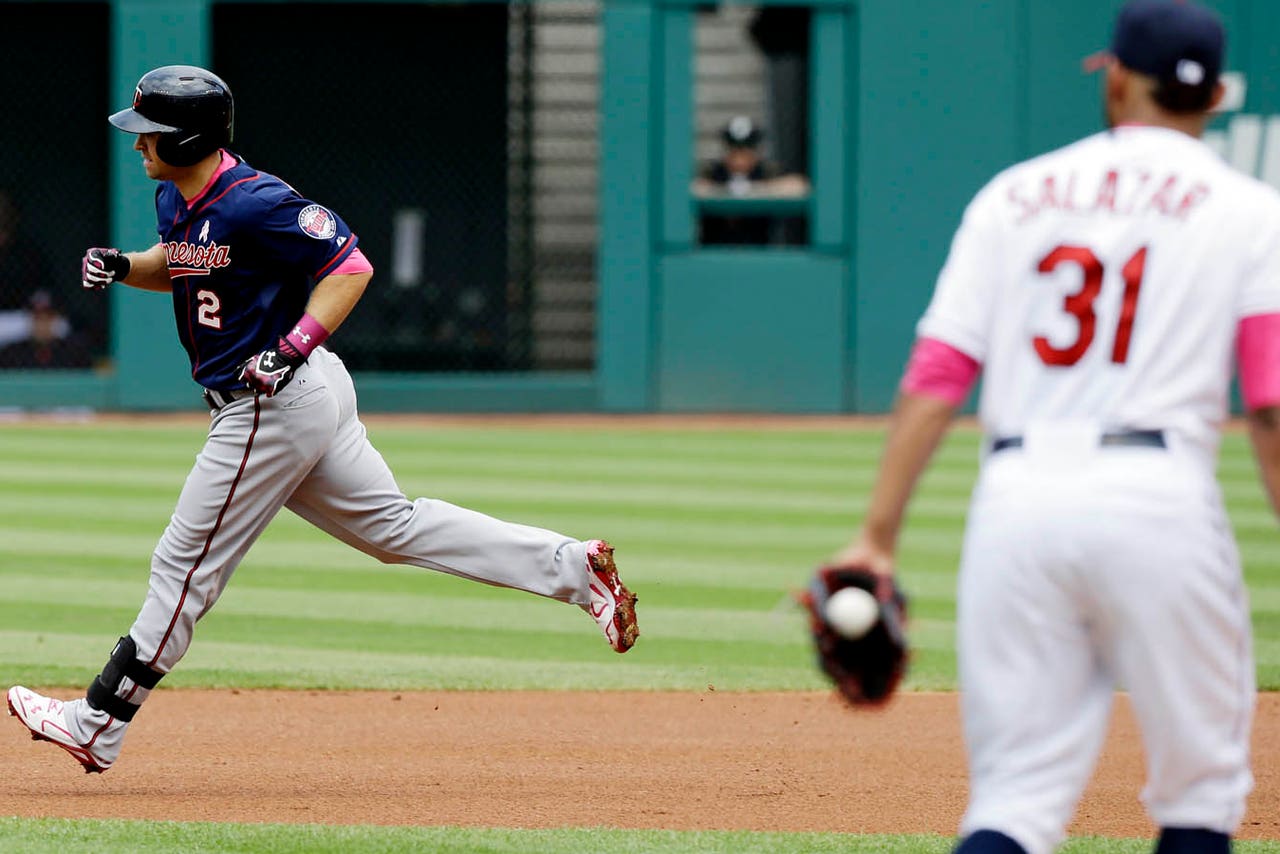 Perhaps the Minnesota Twins were due for a game like this.
The Twins had been one of the hottest teams in baseball as of late, entering Sunday's series finale against Cleveland the winners of four straight and nine of their last 10. Minnesota had climbed to five games above .500 following Saturday's victory.
During the Twins' recent string of success, everything was clicking. The starting pitching was sharp, the defense was sound, the bullpen held its own, and the lineup was red-hot.
In Sunday's 8-2 loss to the Indians, nothing went right.
Aside from a leadoff home run by Brian Dozier in the first inning, the Twins didn't manage anything against Cleveland starter Danny Salazar. In fact, that solo shot by Dozier was Minnesota's only hit in seven innings against Salazar as he and the Indians' bullpen stymied the Twins' previously-hot bats. Minnesota tallied 29 hits in the first two games of the series -- 13 on Friday and 16 on Saturday -- before being held to just two in Sunday's loss. The other, a RBI single by Joe Mauer, came in the ninth inning after the game was well out of hand.
Minnesota had faced Salazar once earlier in the year and he fanned 10 Twins hitters. Salazar topped that Sunday by racking up 11 strikeouts in seven innings. The Twins struck out five more times against Cleveland's bullpen for a grand total of 16, the most strikeouts by Minnesota's hitters this year. The previous high of 14 strikeouts came in the Twins' other outing against Salazar.
"He kind of cruised," Twins manager Paul Molitor said of Salazar. "He's obviously throwing the ball well. The numbers back that up. He just kind of continued what he's been doing."
Twins starter Trevor May had put together a recent string of solid outings heading into the series finale. In each of his last two starts he allowed just two runs in 5 2/3 innings of work. Sunday, though, May couldn't get the third out in what turned out to be a five-run fourth inning for Cleveland. All five runs came with two outs, capped by a three-run home run by Lonnie Chisenhall. May finished the game after just four innings and gave up a season-high six runs, an out-of-character game for a Twins rotation that had otherwise been steady as of late.
May served up a RBI triple to Jason Kipnis with two outs in the fourth that started Cleveland's rally. Minnesota right fielder Eddie Rosario appeared to have the ball in his glove to end the inning, but the ball popped out as the go-ahead run scored. That opened the floodgates for the Indians. Carlos Santana drove in Kipnis with a base hit, and Chisenhall drove in Santana and Michael Brantley with a three-run blast to right field for a 6-1 Indians lead.
"I just thought he struggled with commands of his pitches," Molitor said of May. "The fastball really wasn't particularly hitting spots, even when it was strikes.  . . . He couldn't finish."The Twins now continue their road trip with three games in Detroit, a place where Minnesota really struggled in the opening series of the year. Molitor's club managed just one run in three games as the Twins fell to 0-3 in their first series of the year. But Minnesota has played much better baseball since the first time it faced Detroit.
During that early rough patch, Molitor preached to his team the concept of not getting too high or too low after any given game. He lived by that mantra when his team was winning big, and that likely won't change after one loss -- even a lopsided one like Sunday's game.
FOX Sports North's Marney Gellner contributed to this report.
Follow Tyler Mason on Twitter
---