RECAP: LA Kings finish season with 4-1 win over Sharks
April 11, 2015

The Kings and Sharks hadn't played such a meaningless game in April for more than a half-decade.
With their playoff aspirations crushed in the past week, the defending Stanley Cup champions and their perennially successful rivals found themselves skating with nothing at stake on a sunny Saturday afternoon.
Before waving farewell to their fans, the Kings ended their reign with one last workmanlike win.
Brayden McNabb and Marian Gaborik scored third-period goals, and Los Angeles wrapped up the season with a 4-1 victory over San Jose.
Tyler Toffoli and Andy Andreoff also scored and Jonathan Quick made 20 saves for the Kings, who will get a lengthy summer after the longest three-year postseason stretch in NHL history. Los Angeles played 64 playoff games and won 10 postseason series on the way to two Cups, but just couldn't stretch that run into another summer.
"It's never a game you want to play in, but if you're in this situation, we're all competitors," Kings captain Dustin Brown said. "It means nothing in the standings, but it means a lot for the room."
The Kings are the first champs to miss the ensuing postseason since Carolina in 2007, finishing ninth in the Western Conference after a winless three-game road trip to Canada earlier in the week.
"I don't think I'm going to go out of my way to watch the playoffs," said Anze Kopitar, the Kings' leading scorer for the eighth consecutive year.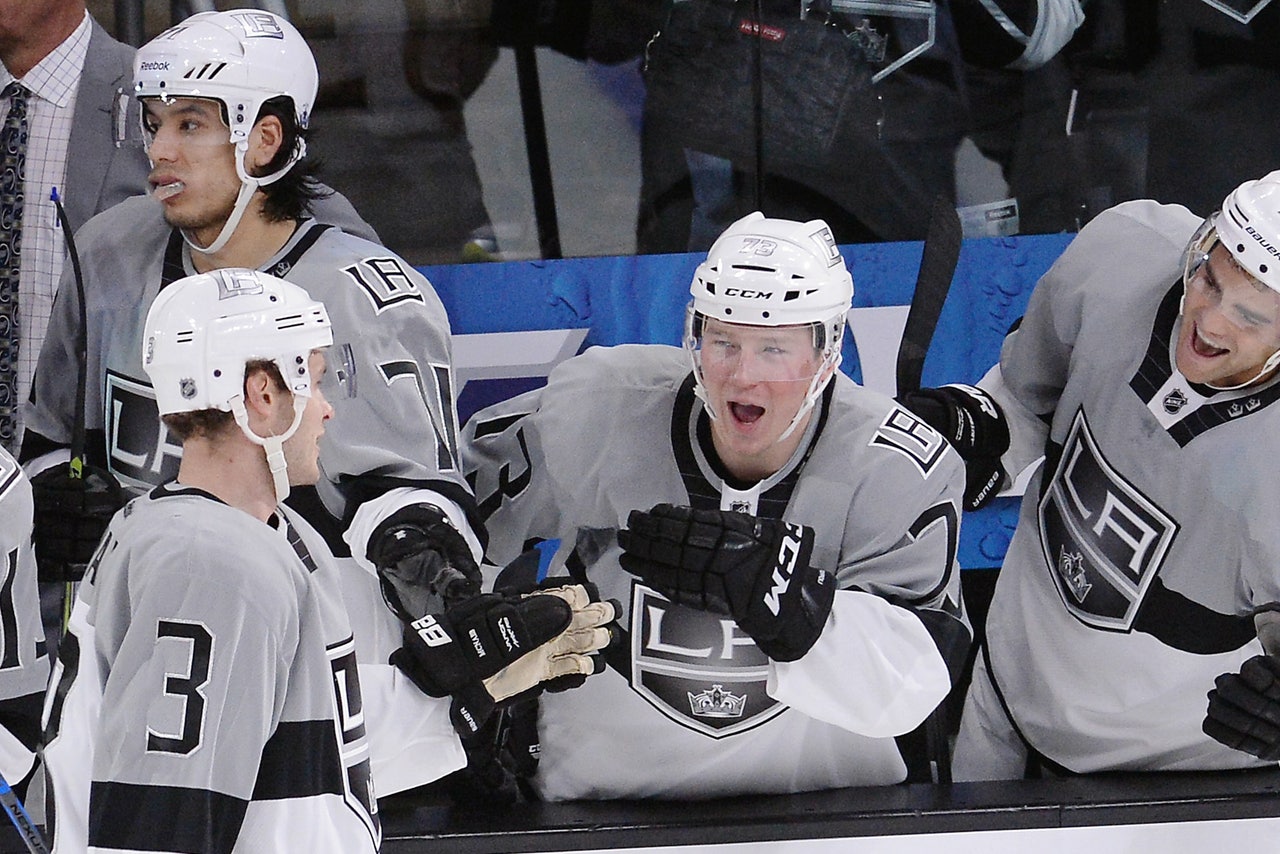 Kings face summer of uncertainty after failing to reach Stanley Cup Playoffs
Los Angeles' 3-1 loss in Calgary on Thursday ensured the end of the greatest stretch in this Second Six franchise's history. Despite finishing with the same record they posted in 2012 before rolling to the franchise's first title (40-27-15), the Kings will miss the postseason for the first time since 2009.
The dressing room had the feel of inevitable change for a salary cap-strapped team. Defenseman Robyn Regehr said he plans to retire, and Conn Smythe Trophy winner Justin Williams leads its list of unrestricted free agents.
The Kings knocked San Jose out of the past two postseasons, including their historic rally from a 3-0 deficit in the first round last season, but a rivalry game that usually boils with emotion seemed rather routine. Both California rivals are missing the playoffs in the same season for the first time since 2003.
"It's disappointing, especially this year, not even having a chance in the playoffs," San Jose forward Joe Pavelski said. "As players, you want to give yourselves a chance, and we didn't do that by any means."
Brent Burns scored a power-play goal and Alex Stalock stopped 32 shots for the Sharks, who wrapped up their own disappointing season before what seems likely to be a summer of major upheaval.
The Sharks had been in every Stanley Cup tournament since 2003, but their record declined by 22 points from last season. San Jose also allowed 32 more goals than last year during a rancorous winter that included a public dispute between veteran star Joe Thornton and general manager Doug Wilson.
"We expected to be better than we were this year," said Sharks coach Todd McLellan, whose future also is in question. "I'm disappointed that we're not going to play from this point on."
Burns scored just 1:38 in on Pavelski's pass on a power play. The versatile defenseman hadn't scored a goal since these teams' outdoor game in Santa Clara in February, ending a 20-game drought.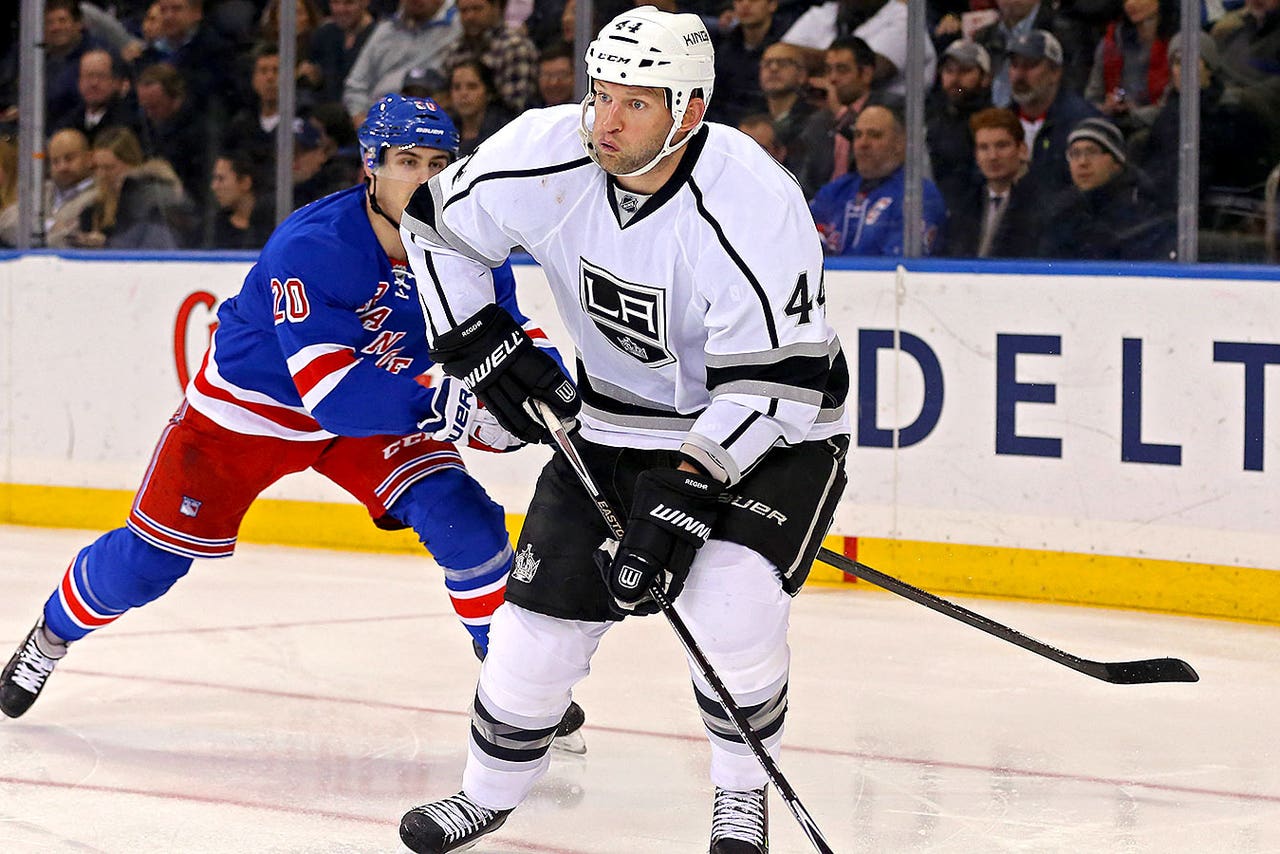 Kings D Robyn Regehr hangs up his skates after 15 years in NHL
Toffoli tied it midway through the second period, following a loose puck into the crease for the 23rd goal of his standout season.
A few minutes after McNabb put the Kings ahead with a bouncing one-timer for just his second goal in 71 games, Gaborik drove the slot and scored his 27th goal.
Andreoff's empty-net goal completed the first multipoint game of his career.
NOTES: Sharks associate coach Larry Robinson spent his final game behind the bench before moving to Florida to take a player development role. The 63-year-old Robinson, the Hall of Fame defenseman and former Kings coach, won the Stanley Cup behind New Jersey's bench in 2000. ... The Kings recalled F Jordan Weal from the AHL before the game, but then scratched him. Weal still hasn't made his NHL debut. ... Los Angeles wore its gray-and-white jerseys and white pants from the Bay Area outdoor game.
---