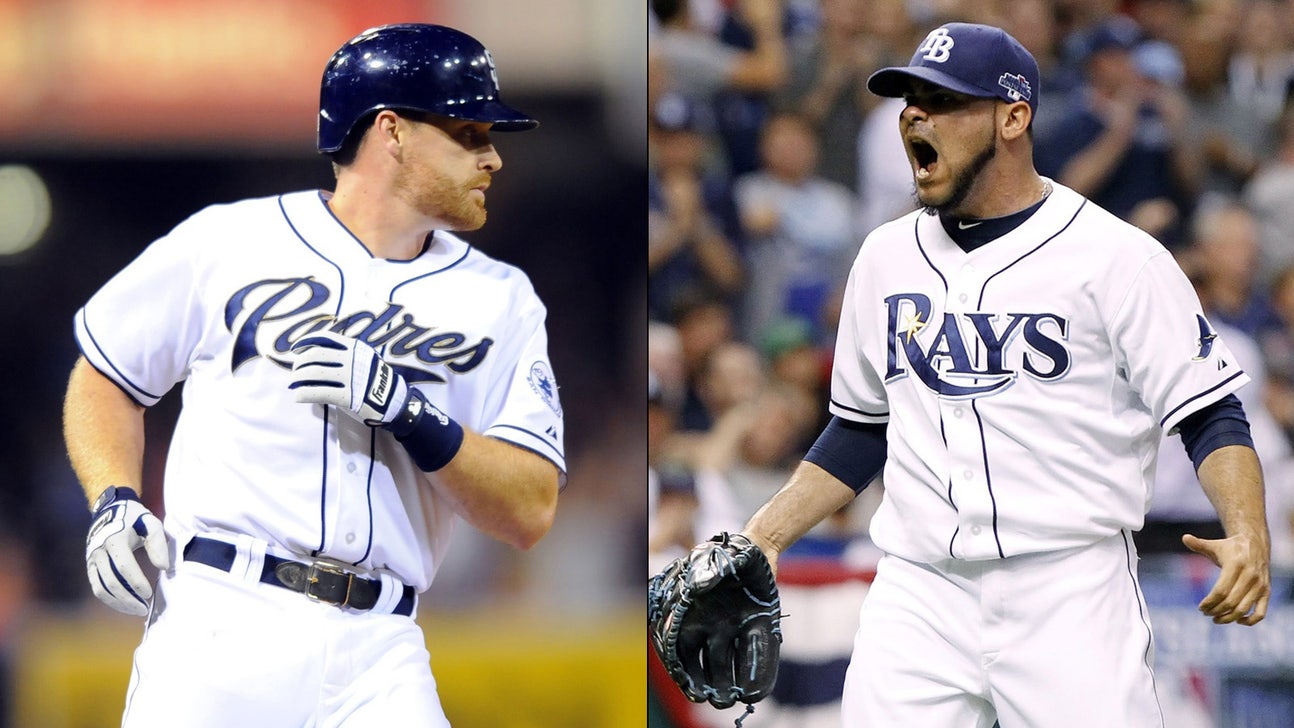 Rays trade Alex Torres to Padres for Logan Forsythe
Published
Jan. 22, 2014 10:19 a.m. ET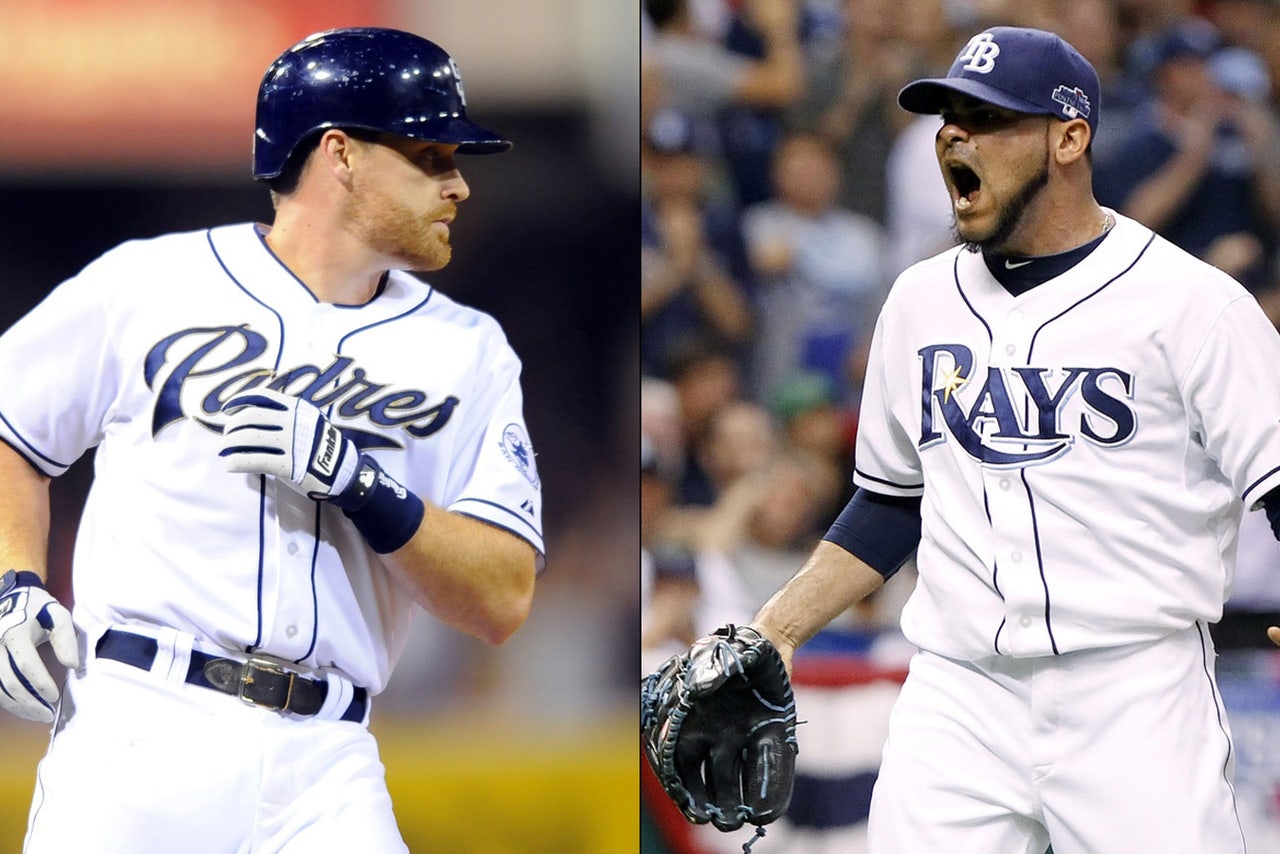 Reliever Alex Torres is on his way out of Tampa Bay in a seven-player trade finalized between the Tampa Bay Rays and San Diego Padres on Wednesday.
The Rays sent Torres, one of their most dependable bullpen options last season, to the Padres in a deal that saw them also part ways with right-handed pitching prospect Jesse Hahn in exchange for infielder Logan Forsythe, right-hander Brad Boxberger and three minor league players: infielder Maxx Tissenbaum, plus right-handers Matt Andriese and Matt Lollis.
"Torres was obviously phenomenal for us last season," said Andrew Friedman, the Rays executive vice president of baseball operations. "As the calendar turned to January, we really started focusing on areas of weakness that we wanted to be aggressive. ... Forsythe is a guy that we had tried to get previously and a guy that was very high on our target list."
Through Friedman praised Torres' contributions, he characterized the trade as dealing from "an area of depth to address an area of weakness." Friedman cited some of the Rays current left-handed bullpen options -- Cesar Ramos, plus minor leaguers C.J. Riefenhauser and Jeff Beliveau -- as a few who could develop into sound players in Torres' absence.
Still, Torres offered Tampa Bay plenty last season. The 26-year-old went 4-2 with a 1.71 ERA in 58 innings pitched over 39 appearances during two stints with them in 2013. He ranked third among AL relievers with a .159 opponents' batting average and led major league relievers with a .224 opponents' slugging percentage. He struck out 62 batters.
Hahn, 24, went 2-1 with a 2.15 ERA in 19 starts in High-A Charlotte last season. He has a career 2.38 ERA and 122 strikeouts in 121 innings pitched in two minor league campaigns.
Meanwhile, the 27-year-old Forsythe hit .214 in 75 games with San Diego last season, a year in which he struggled with plantar fasciitis in his right foot, an issue he says is behind him as he approaches spring training. A three-year veteran, he's a career .241 hitter with 12 home runs and 57 RBI.
The Rays are receiving a versatile player. Forsythe said he's comfortable appearing in each infield slot and the corner outfield spots. He said he has never played center field in the major leagues, though he'll likely be used in infield situations during most of his time with Tampa Bay.
"Knowing around the league, too, how fun and enjoyable those guys have it in the clubhouse, I guess that's the thing I'm kind of excited about -- to get over there and, hopefully, get in the mix," Forsythe said.
Friedman said the Rays have had conversations about acquiring Forsythe periodically "for a few years," as recently as last July. He said Forsythe's potential impresses him and that health concerns -- most notably the plantar fasciitis issue -- had hampered the player's ability to show his full potential.
"It has just kind of trickled into the offseason and has taken on a lot of different lifetimes," Friedman said of talks about Forsythe.
"Within the last week, we were able to create some real momentum."
Beyond Forsythe, Boxberger, 25, had a 2.86 ERA with 24 strikeouts in 18 appearances with the Padres last season. In parts of two campaigns in the majors, he's 0-1 with a 2.72 ERA and 57 strikeouts in 49 2/3 innings.
Andriese, 24, went a combined 11-7 with a 3.27 ERA in 15 starts for Double-A San Antonio and 10 starts (two relief appearances) for Triple-A Tucson last season. In three minor league seasons, he's 26-16 with a 3.18 ERA and 278 strikeouts to 77 walks.
Lollis, 23, went 3-8 with a 4.62 ERA over 74 innings in 58 appearances in Class-A Lake Elsinore, Tucson and San Antonio last season. He's a career 15-33 with a 4.79 ERA over five minor league seasons.
Tissenbaum, 22, hit .277 with a .365 on-base percentage in 111 games last season with Class-A Fort Wayne. In two minor league seasons, he has hit .282 with a .375 on-base percentage.
As with all moves, there are answers to be learned about this trade. On the surface, Torres' departure seems like a blow to the Rays' bullpen. However, Forsythe offers solid hitting against left-handed pitching, with a .290 average with a .363 on-base percentage. The skill is one Tampa Bay leadership values.
In addition, if the new pitching talent develops the way the Rays hope, the team could have more options to offer what Torres did so well late last year: Shut down opponents in crucial moments to preserve leads in the middle innings. Friedman is banking on prospects like Riefenhauser to grow in a healthy way, a vision that includes an unknown outcome for now.
Time will show how well this deal was done.
"The challenges of fine-tuning the roster never end, and there's no calendar for it," Rays president Matt Silverman told FOX Sports Florida on Wednesday morning. "We're always looking to make sure that we have the optimal mix of players on the 25-man roster, the 40-man roster. ... It's a balancing act. It's one that Andrew (Friedman) and the entire baseball operations department have done an admirable job for the past six years. Expect that going forward. But to do that, sometimes you do have to make trades."
You can follow Andrew Astleford on Twitter @aastleford or email him at aastleford@gmail.com.
---