Corey Dickerson
Corey Dickerson
Rays shut down by Zack Greinke in loss to Diamondbacks
Published
Jun. 8, 2016 12:11 a.m. ET

PHOENIX (AP) -- This was the Zack Greinke the Arizona Diamondbacks have been waiting to see.
Greinke threw a three-hitter and the Diamondbacks beat the Tampa Bay Rays 5-0 on Tuesday night.
"It was just good location. Balls were hit toward guys and there was good defense," Greinke said. "Everything was working tonight."
Greinke (8-3) struck out two and walked two in his fifth career shutout and first since July 13, 2013, against Colorado at Dodger Stadium. Greinke faced only four hitters over the minimum and didn't allow a runner to get into scoring position.
Greinke's complete game was his first since June 13 of last season at San Diego, also for Los Angeles. He has won his last five starts, though none in such dominating fashion.
"He's been rolling," said Arizona manager Chip Hale. "I think it's pretty simple. His stuff is good down in the zone. Early on he was overthrowing pitches,"
Hale didn't see Greinke's final several innings, having been ejected in the fourth. Asked if there was any question Greinke would throw the ninth, Hale said, "I wasn't there but I didn't disagree with it from my office."
The victory was the 150th of Greinke's career.
Paul Goldschmidt and Jake Lamb homered and drove in all five runs for the Diamondbacks, who have won two of three.
Rays starter Matt Moore (2-4) went seven innings, allowing five runs on seven hits with a walk and three strikeouts. It was the first time Moore had completed seven since a 3-1 loss to Baltimore on April 27.
"There is a lot to be positive about," said Rays manager Kevin Cash. "I know the longball beat him up a little bit, but you can argue that the stuff coming out of his hands and the way he attacked hitters were as good as any game he had."
Lamb's home run came two pitches following a lengthy delay during which Hale was ejected for arguing Brandon Drury's swinging strikeout on a pitch in the dirt.
Goldschmidt hit a one-out double and Wellington Castillo singled to left ahead of Drury. Lamb then drove an 0-1 pitch to left, the ball bouncing on the yellow padding at the top of the wall, just above the outstretched glove of Corey Dickerson, and into the stands for a 3-0 lead.
Goldschmidt made it a 5-0 lead in the sixth, following Michael Bourn's walk with a drive a half-dozen rows deep into the left-field stands.
"That was probably the biggest mistake of the inning," Moore said of the walk to Bourn. "That was a really bad mistake. You don't want to put people on with Goldschmidt coming up."
HALE TOSSED
Home plate umpire Mark Ripperger originally put both hands in the air to signal a foul ball on Drury's strikeout, causing Cash to ask Ripperger to ask for help. After the umpires conferenced, Drury was called out on strikes. Hale came out to argue first with Ripperger and then with both the plate umpire and crew chief Kerwin Danley and eventually was ejected, his first of the season and third of his career.
"They're trying to get it right," Hale said. "I said I'm not going to leave, so he threw me out."
BULLPEN RELIEF
A night after Cash talked about how thin his bullpen had been stretched, Moore managed to give the relievers a relatively quiet night. Moore remained in the game despite allowing the two homers in large part because he only needed 89 pitches to get through seven innings, with 63 of those pitches thrown for strikes. Dana Eveland and Ryan Garton combined to pitch the eighth for the Rays.
"Matt Moore was so super-efficient. That helps," Cash said. "That was outstanding."
LAMB VS. LEFTIES
Last season, Lamb had one home run in 45 at-bats against left-handed pitchers. This season, he has three homers against southpaws in 34 at-bats.
RAYS RESTING
Rays 3B Evan Longoria and C Curt Casali were given the night off by Cash. Longoria is riding a 10-game hitting streak, batting .447 (17 for 38) with 14 RBIs during that span.
MILESTONE FOR GOLDY
Goldschmidt moved into third place on the franchise's career RBIs list at 449, passing Miguel Montero, who had 448. Next up for Goldschmidt is Steve Finley, who had 479 RBIs in Arizona. Luis Gonzalez is the club's leader with 774 runs driven in.
UP NEXT
Rays RHP Jake Odorizzi (2-3, 3.33 ERA) will face Arizona RHP Archie Bradley (2-1, 4.94) in Wednesday afternoon's series finale. Odorizzi has seven no-decisions this season, the second-highest total in the majors.
---
---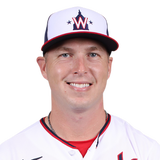 Get more from Corey Dickerson
Follow your favorites to get information about games, news and more
---