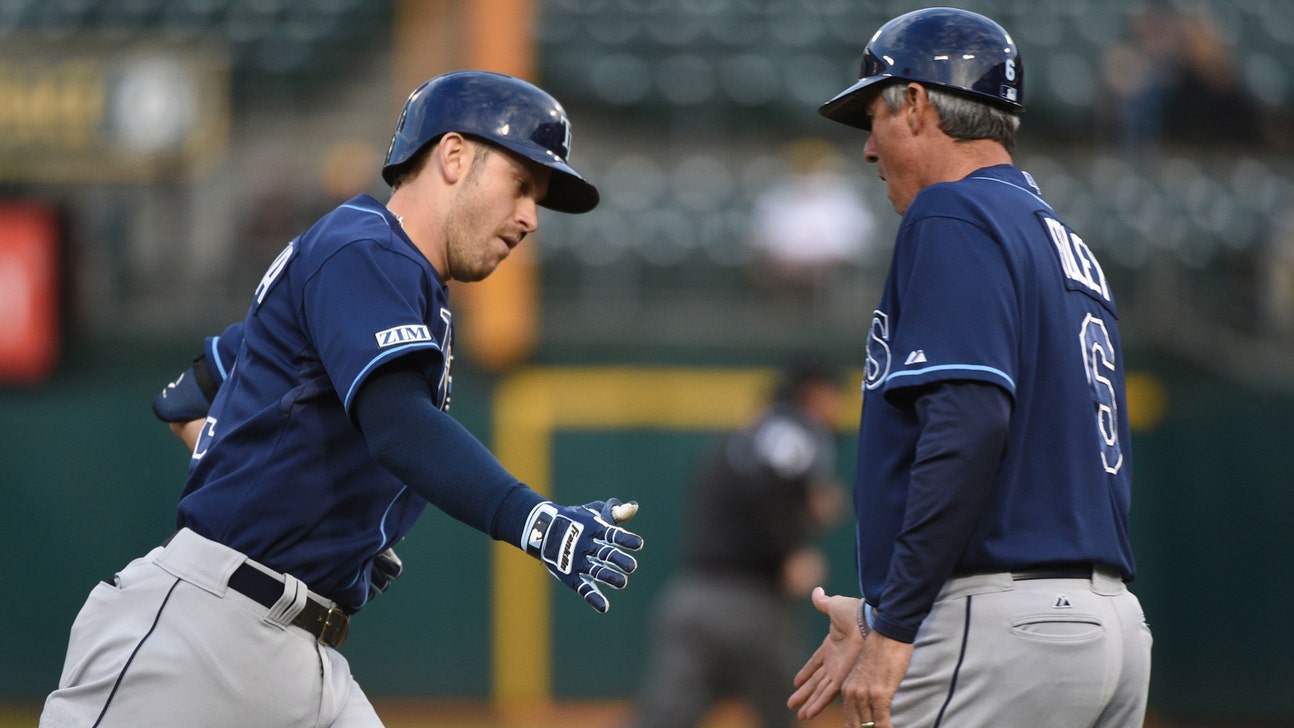 Rays open road trip with extra-innings loss to Athletics
Published
Aug. 5, 2014 2:06 a.m. ET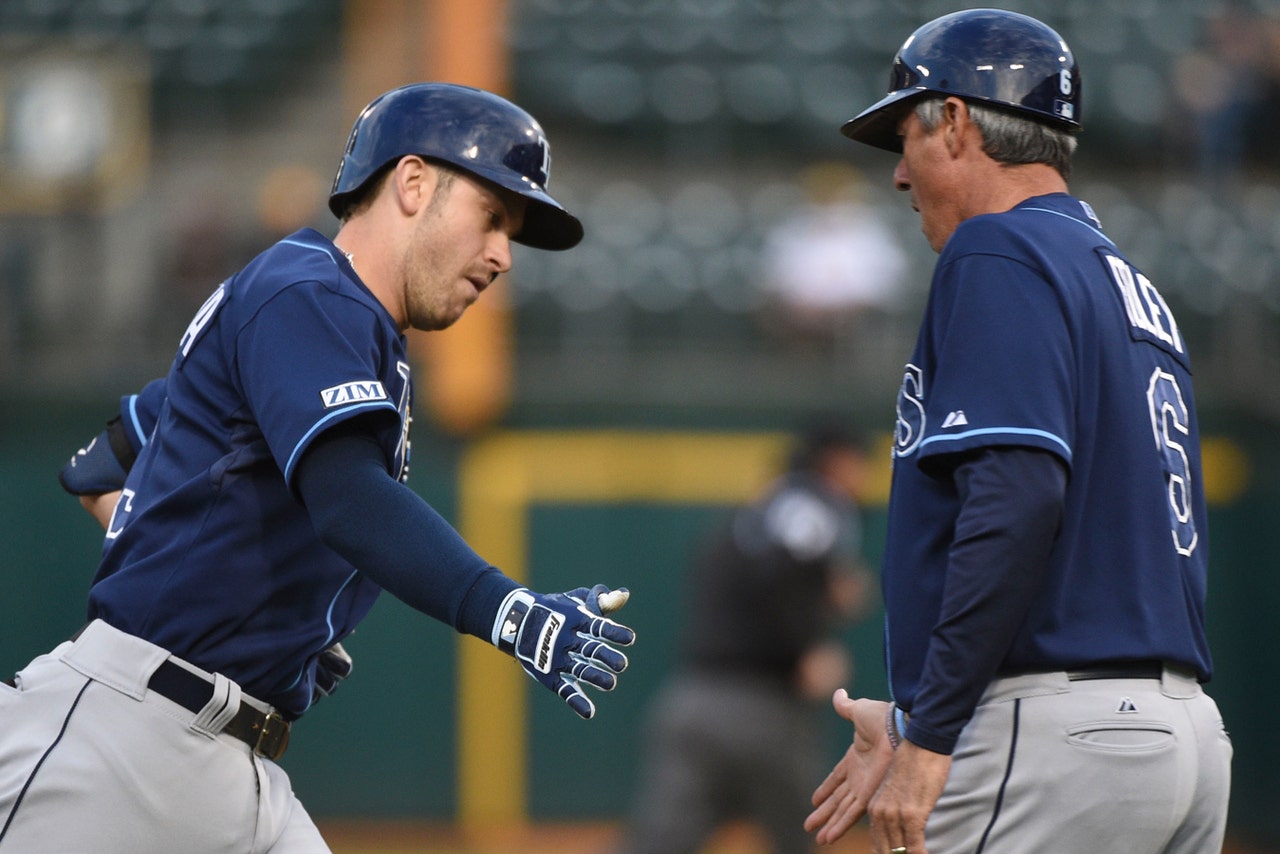 OAKLAND, Calif. (AP) -- Grant Balfour knows all about Oakland's flair for the dramatic in extra innings or close games. He was part of it only a year ago.
On Monday night, Tampa Bay's closer took a beating from his old pals, surrendering a game-ending single to Derek Norris in the 10th inning of a 3-2 loss to the Athletics.
"I just got beat by a good team tonight, plain and simple," Balfour said. "It's tough when you have to get five outs."
Derek Norris singled up the middle with two outs and the bases loaded in the 10th inning.
Rays manager Joe Maddon was ejected earlier in the inning by first base umpire Quinn Wolcott on a non-strike call during Josh Donaldson's walk. Maddon rushed the field to argue once more.
"An absolutely blown call. It was not borderline, it was egregious," Maddon said. "My patience ran out, the call was inappropriate."
Tampa Bay had its eight-game road winning streak snapped, which matched the longest in club history, to kick off a 10-game trip. The Rays lost away from Tropicana Field for the first time since July 3 at Detroit and dropped to 23-10 overall since June 25.
Norris notched his second career game-ending RBI while facing Balfour (1-4) in Oakland's eighth walkoff win. The AL West-leading A's remained one game ahead of the Los Angeles Angels and avoided losing consecutive home games for just the second time this season.
The A's loaded the bases against Balfour, who received a mound visit before Brandon Moss stepped in with a chance at a fourth grand slam but struck out. Norris delivered with his first game-ending RBI since June 24, 2012, against the Giants.
Ryan Cook (1-1) earned the win on a night the A's stranded a season-high 18 runners.
The A's won their 11th extra-inning game, second-most in the majors behind Baltimore.
In the ninth, reliever Sean Doolittle fielded Brandon Guyer's bouncing safety squeeze bunt and tossed about 10 feet to catcher Norris to tag out James Loney and save the go-ahead run. Doolittle then struck out Kevin Kiermaier.
"We didn't execute offensively, whether it was a bunt or advancing a runner," Maddon said. "We're as good as they are and I'm not backing down from that. I don't care what the records are."
Until Norris came through, Oakland had missed key chances with runners in scoring position. The A's loaded the bases with two outs in the seventh against Joel Peralta.
Evan Longoria homered and Kiermaier hit a two-out triple to set up Desmond Jennings' fifth-inning RBI single against Jeff Samardzija.
With six ex-Rays on Oakland's roster, Maddon has taken to calling them the "Ra-A's."
FURRY FRIEND
An opossum wandered into left field to watch during extra innings, right before John Jaso stepped in. He's no stranger to little creatures, having batted with a squirrel in the infield and a pigeon near the plate this year, too.
Samardzija says it's about time to make it the mascot.
"He's been out here before," the pitcher said. "We're going to have to give him a name, get him a jersey. We've got to keep feeding him."
TRAINER'S ROOM
Rays: Outfielder Wil Myers, on the 60-day disabled list recovering from a broken right wrist, went through an extensive workout and drills in Port Charlotte, Florida. He will likely do a similar session Tuesday and Maddon said the Rays could decide by the end of the week when to begin his rehab assignment.
Athletics: Center fielder Coco Crisp took batting practice and came off the bench as a pinch-hitter in the seventh after missing seven games with a strained neck. He will be back in the starting lineup Tuesday. ... Right-hander Jarrod Parker played catch out to 45 feet for his first throwing session since Tommy John surgery in the spring.
ON DECK
Rays: Drew Smyly (6-9, 3.93 ERA) makes his Tampa Bay debut after being traded from Detroit for David Price last Thursday. "I don't look at it as I'm replacing David," he said. "You're not going to replace David Price."
Athletics: Right-hander Jason Hammel (0-4) tries again for his first victory in five starts since being traded from the Chicago Cubs on July 4. He is one of three pitchers in Oakland history to lose each of their first four starts. AL Pitcher of the Month Sonny Gray goes in Wednesday's finale.
---