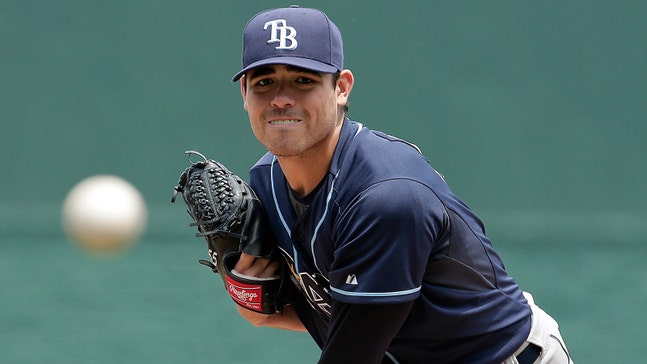 Rays downed by Royals' walk-off grand slam in opener of doubleheader
Published
Jul. 7, 2015 5:34 p.m. ET

KANSAS CITY, Mo. (AP) -- Good thing Brad Boxberger had already gotten his All-Star nod from Royals manager Ned Yost.
The Rays closer was summoned in the ninth inning of a tie game Tuesday, promptly loaded the bases, and then served up Paulo Orlando's first career grand slam to give Kansas City a 9-5 win over Tampa Bay in the opener of a day-night doubleheader.
The flop came less than 24 hours after Yost, who will serve as the AL manager in Cincinnati, picked Boxberger as one of the relievers to fill out his pitching staff.
"Just one of those days when I couldn't make a pitch when I needed to," he said.
Boxberger (4-5) gave up one-out singles to Eric Hosmer and Alex Rios before walking Omar Infante to load the bases. He followed with a changeup to Orlando, who had recently been recalled from Triple-A, and watched it soar into the bullpen in left field.
"I wouldn't expect him to be sitting on it," Boxberger said, "but it looked like he was."
The Rays had just tied the game off Royals closer Greg Holland (3-0), who allowed a leadoff triple to Kevin Kiermaier in the ninth but looked as if he may get bailed out.
Kiermaier slid over the bag and was tagged, but umpire Chris Segal ruled he got back in time. The call stood after a review of 4 minutes, 12 seconds. Holland then walked Curt Casali and struck out Grady Sizemore before a wild pitch allowed Kiermaier to score the tying run.
That all came after the Royals' Kelvin Herrera struck out Sizemore and Joey Butler to leave runners on the corners in the seventh, Infante drove in the go-ahead run in the bottom half, and Wade Davis left runners on first and third in the eighth.
Alex Gordon homered and Kendrys Morales drove in a pair of runs for the Royals, who won despite playing an unorthodox lineup due to injuries and other circumstances.
All-Star center fielder Lorenzo Cain got the game off due to an ailing hamstring. Third baseman Mike Moustakas missed another game on the bereavement list. And All-Star catcher Salvador Perez got the opener off because he was due to start the nightcap.
James Loney and Evan Longoria each homered for Tampa Bay, which lost for the eighth time in nine games. Jake Elmore drove in the Rays other run.
The doubleheader was caused by a massive storm that caused numerous tornado warnings in the Kansas City area Monday night. While several inches of rain turned right field into a small lake, the field was in pristine shape by the first pitch Tuesday.
Royals starter Chris Young and Rays counterpart Matt Moore, making his second start in his return from Tommy John surgery, each allowed four runs while pitching under duress all afternoon.
The Royals loaded the bases on three consecutive singles to start the game, then had Hosmer pop out and Rios ground into a double play. Rios was also eliminated on a double play in the third inning, then got thrown out at third when he hesitated tagging up on a fly ball.
Of course, Orlando's grand slam will make everyone forget about the missed opportunities.
"We just needed a sacrifice fly there," Yost said. "Your first thought is, `Boom! He's hit it in the air.' Your second thought is, `It's out of there!'"
WALK THIS WAY
The Royals' past three wins have each featured game-ending hits, while the Rays have lost four of their past five games in the same walk-off fashion. Orlando's game-winning slam was the fifth in franchise history and first since Justin Maxwell's two years ago.
MOORE PLEASED
After throwing 85 pitches, Moore said he was pleased with the progress he's made in his return from surgery. "They're an aggressive squad and falling behind is probably the last thing you want to do and that's what I did," he said. "I was behind too much."
TRAINER'S ROOM
Rays: RHP Jake Odorizzi (strained left oblique) made his second rehab start Monday at Triple-A Charlotte: He allowed two hits and a walk in 5 2-3 scoreless innings.
Royals: LHP Jason Vargas (left flexor strain) was supposed to throw 60 pitches in a simulated game Tuesday. That will happen Wednesday because of the doubleheader.
UP NEXT
Rays: RHP Matt Andriese was recalled to start Game 2 as the Rays' 26th man.
Royals: RHP Edinson Volquez faces Tampa Bay for the fourth time in his career.
---
---