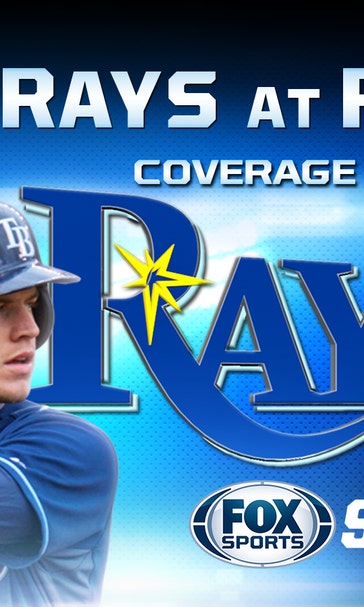 Rays at Red Sox game preview
June 1, 2014

A week ago, the Boston Red Sox were in the midst of their worst losing streak in 20 years and about to be swept at Tampa Bay.
They're now in position to return the favor against the reeling Rays and extend their longest winning stretch of the season.
While the collective tempers among both clubs has apparently simmered, the Red Sox look for a seventh straight victory and three-game sweep of the visiting Rays on Sunday.
Boston (26-29) hit .212 and scored 26 runs during a 10-game slide that culminated with three days of frustration at Tropicana Field. Since then, they've batted .295 and scored 32 runs during the win streak.
The Red Sox won seven straight once during last year's World Series run.
A.J. Pierzynski had two hits with one RBI and Rubby De Le Rosa tossed seven scoreless innings in his season debut during Saturday's 7-1 victory. There was no drama a day after the teams' second benches-clearing scrum in less than a week in the Red Sox's 3-2, 10-inning win.
"It was really nice to go out there and not be concerned with a bunch of garbage and just play the game," Rays manager Joe Maddon said.
Pierzynski is batting .409 with seven RBI during a 10-game hitting streak.
Jonathan Herrera had three hits with one RBI while starting in place of Dustin Pedroia, who sat with a right hand injury suffered Friday. Pedroia is hitting .320 in his last six games, but it's uncertain if he can play even after an MRI showed no structural damage.
"Hopefully this is just a day-to-day situation," manager John Farrell told the Red Sox's official website.
Losers of a season-high five straight since sweeping the Red Sox, the Rays (23-33) could be without injured outfielder Wil Myers (hand) and shortstop Yunel Escobar (quad) for a second straight game.
Myers is batting .227, but he's 2 for 3 with a home run and a double during the regular season against Jon Lester (5-6, 3.45 ERA). Including the playoffs, the left-hander went 2-0 with a 2.14 ERA in three home starts against the Rays in 2013.
Though Lester is 1-4 with a 3.73 ERA in five this season at Fenway Park, the Red Sox have totaled 10 runs with him on the mound. He gave up seven runs and 10 hits in 6 1/3 innings of a 7-2 home loss to Toronto on May 22, then yielded three runs in six innings of a 6-3 victory at Atlanta on Tuesday.
"He really, really fought himself, but comes away with a win," catcher David Ross said. "That's what true aces do."
David DeJesus is 7 for 21 in his last six games versus Boston, but he's 1 for 17 against Lester.
Tampa Bay's Erik Bedard took a 2.63 ERA into his start Monday, then allowed season highs of eight runs and 13 hits in four innings of a 10-5 loss at Toronto.
"Yeah, that's always the frustrating part, when the team scores some runs for you and you can't limit the damage, I guess," Bedard (2-3, 4.10) told the Rays' official website.
The left-hander, who went 1-2 with a 4.03 ERA in eight starts for Boston in 2011, gave up one run, four hits and three walks while throwing 104 pitches in five innings and not factoring in the decision of a 7-4 loss at Fenway on April 29.
Pierzynski is 3 for his last 12 with a homer versus Bedard, while David Ortiz is hitless with four strikeouts in his last seven against him.
---