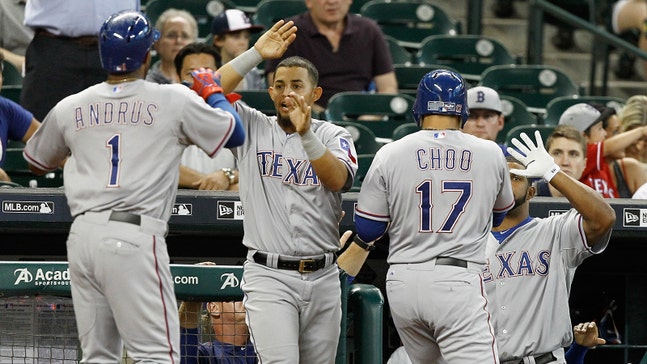 Rangers offense picks up masterful Rodriguez, clinch first series win
Published
May. 5, 2015 11:54 p.m. ET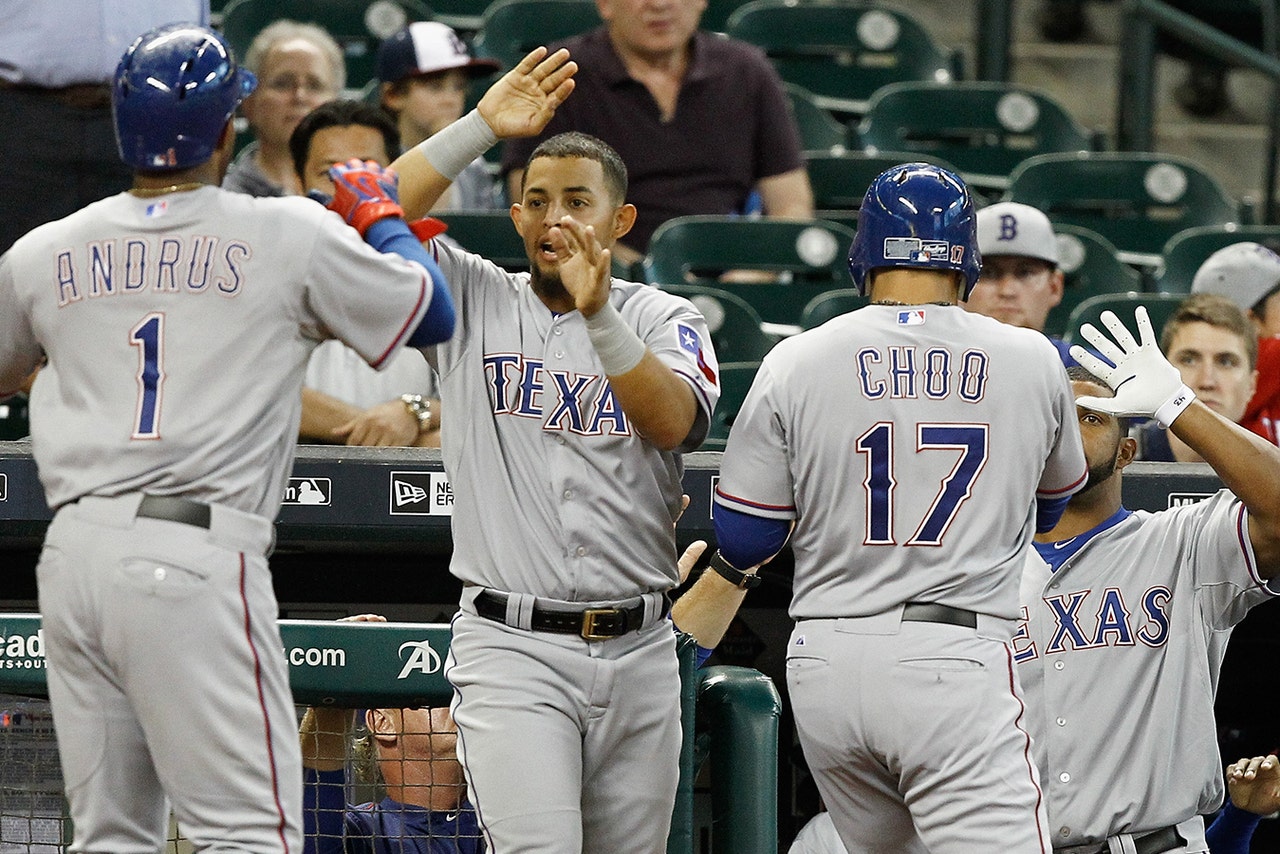 Lack of production has often plagued the Texas Rangers so far this season. 
But that wasn't the case Tuesday night in Houston as the Rangers secured their first series win of the season in a 7-1 win over the Astros. 
"We knew we weren't going to go all year without putting back-to-back wins together," Banister said. "These guys have been battling, they've been working, grinding towards this part of the season. You'd like to have it happen earlier, but hey, we'll take it anytime we can get it."
Getting off to a quick start against former Rangers pitcher Scott Feldman, Shin-Soo Choo lead off the game with a hard-hit double to right-center, followed by a bunt for a single by Elvis Andrus. Prince Fielder, batting third, hit a double of his own to score both runners, but was tagged out at home plate by Astros catcher Jason Castro after a strong throw from centerfielder Jake Marisnick off a Kyle Blanks single. One batter later, Carlos Peguero hit his first homer of the season, a two-run shot, to cap the opening inning. 
"You do the little things, everything else comes together," Andrus said about his first inning bunt for a single that advanced Choo to third base to get the offense started. 
The Rangers chased Feldman from the game early after adding another two runs off three hits in the third inning. Left-hander Kevin Chapman replaced Feldman for the Astros at the top of the fourth inning, giving up a solo home run to Blanks in the fifth inning.  
"It was nice to see the big bats show up, few of those go out of the ball park tonight, Peguero and Blanks," Banister said. "More than anything, creating for us there, with Elvis early with the base-hit bunt, kind of staring things off, and Choo with the double. We were able to capitalize, something we weren't able to do last night very well was capitalize after a double."
Opposite of Feldman was former Astros lefty starter Wandy Rodriguez pitching for Texas. While his pitching counterpart for Houston couldn't contain the Rangers' offense, Rodriguez did a masterful job of holding the hot-hitting Astros, who entered the game with a plus-36 run differential, to just one run - a first-inning solo home run to Luis Valbuena - and three hits over eight innings while not walking a single batter. 
"I feel very, very comfortable on this mound," Wandy said about playing back in Houston. "I pitched here for a long time. Seven and half years."
Right-hander Shawn Tolleson entered the game in the ninth inning, after Rodriguez threw 104 pitches, taking care of Valbuena, Jonathan Villar and Evan Gattis in order to end the game. 
While Rodriguez got all the run support he needed early in the game, Banister wants the Rangers to work on keeping up the intensity throughout the entire game. 
"One thing we need to make sure of is we stay hungry throughout the end of the game," Banister said. "One thing we will look back on is the 14 consecutive retired batters there late. One of the things we want to pride ourselves on is completing the game, finish it all the way out. Continue to stay focused, continue to battle and don't let up until the last out is made."
With the Rangers' stringing together back-to-back wins for the first time in 2015, the Astros have now lost two-straight since their 10-game win streak was snapped by Texas Monday night. According to Andrus, it was only a matter of time before the Rangers would get the break they needed to get things going. 
"It feels good," Andrus said about getting back-to-back wins. "We knew that sooner or later the hit to make the team relax was coming. We were having a lot of good at-bats, we were creating a lot of opportunities, we were just able to get that hit to get the offense going on."
While winning two consecutive games for the first time this season seems like a small obstacle to overcome, Banister downplayed the Rangers having extra motivation to take out arguably the hottest team in baseball in the Astros.
"It speaks to the grit that these guys have. It is a belief system they have in each other," Banister said. "They're not going to look at it as the hottest team in baseball, they're going to look that it's an opponent, and it's a night to play. They're going to show up and play whoever is in front of them, whatever jersey it is. It's not the matter of that it's the hottest team in baseball. It's cliche, it's one game at a time. It just happens to be who we are playing right now. "
Follow Shawn Ramsey on Twitter: @ShawnPRamsey
MORE FROM FOX SPORTS SOUTHWEST: 
- Predicting awards and winners of the 2015 MLB season
- Ranking NFL quarterback salaries
- 21 Fun Facts about the NCAA tournament
- Highest paid player of each NBA team
- College football's highest paid coaches in 2014
- Highest paid player on every MLB roster
---