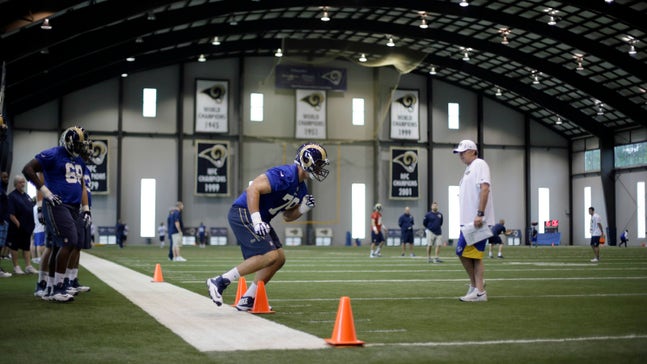 Rams' rookies taking things slow -- well, three-quarter speed -- as orientation rolls on
Published
May. 9, 2015 3:34 p.m. EDT

ST. LOUIS -- The Rams take an interesting mindset into their version of rookie minicamp, which started Friday at Rams Park. 
For starters, they don't actually call it rookie minicamp.
"We call it 'orientation,'" coach Jeff Fisher explained Saturday. "We've talked to them about this. It's not their fault. They are not in the same condition that the vets are, because the vets -- many of them were in before the start of the offseason program. They got a three-week head start. And so our job is to get them caught up. So that's what we're doing."
After two days on the field, the newcomers didn't have a single soft tissue issue, according to Fisher. He said the Rams had a "long lecture" with the rookies Friday about not going faster than three-quarters speed, and added that the rookies won't be allowed to lift with the veterans this week. The first time they go on the field with the veterans will be Thursday, and the focus will be on skill development.
The team's cautious approach might help prevent what happened Friday to the Jacksonville Jaguars' Dante Fowler, the No. 3 selection overall in the 2015 draft, who suffered a season-ending ACL injury during minicamp. 
"It's very, very unfortunate. I didn't look at it. I just heard," Fisher said of the situation. "I heard he was in an 11-on-11 full-speed pass rush and he had a problem. Our philosophy is not to put them in that position for a couple of weeks until we know where they're at."
The Rams' tactic is something Fisher admitted they stumbled upon.
"We've done this for years. Now, our first year here, our numbers were larger so we were able to do a little bit more work," he said. "Just because of the current roster, the active roster size, our numbers aren't where you're able to do more. And so we kind of fell into this."
O-Line standouts
Despite it being only the second day of "orientation," Fisher admitted it's hard not to notice the group of offensive linemen the team drafted -- second-round pick Rob Havenstein (321 pounds), third-round pick Jamon Brown (323 pounds), fourth-round pick Andrew Donnal (316 pounds) and sixth-round pick Cody Wichmann (319 pounds). 
"Somebody said yesterday, 'They look like refrigerators with legs,'" Fisher said. "It's a good-looking group, and they're moving around pretty good."
Fisher also confirmed that the Rams had been interested in offensive lineman La'el Collins, a top prospect who went undrafted because of legal issues before ultimately signing with the Dallas Cowboys.
"We still had some unanswered questions at the time at which he made his decision, but we were involved," Fisher said. "We were told by them that we were in the final four, which is not necessarily a consolation, but we were involved, yes. But again, had we not had the success we had in the draft, we probably would have been more involved."
You can follow Elisabeth Meinecke on Twitter at @lismeinecke or email her at ecmeinecke@gmail.com.
---