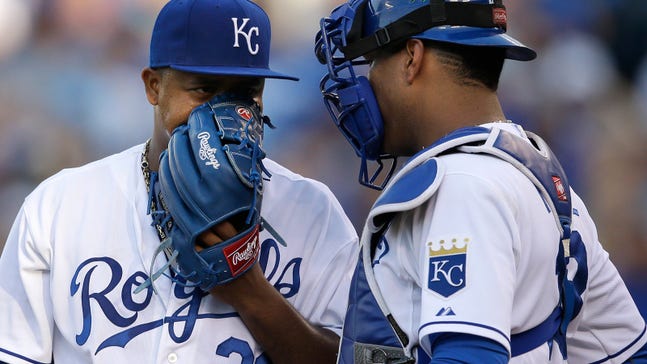 Price throws 5-hitter as Tigers top Royals
Published
May. 2, 2015 10:33 p.m. ET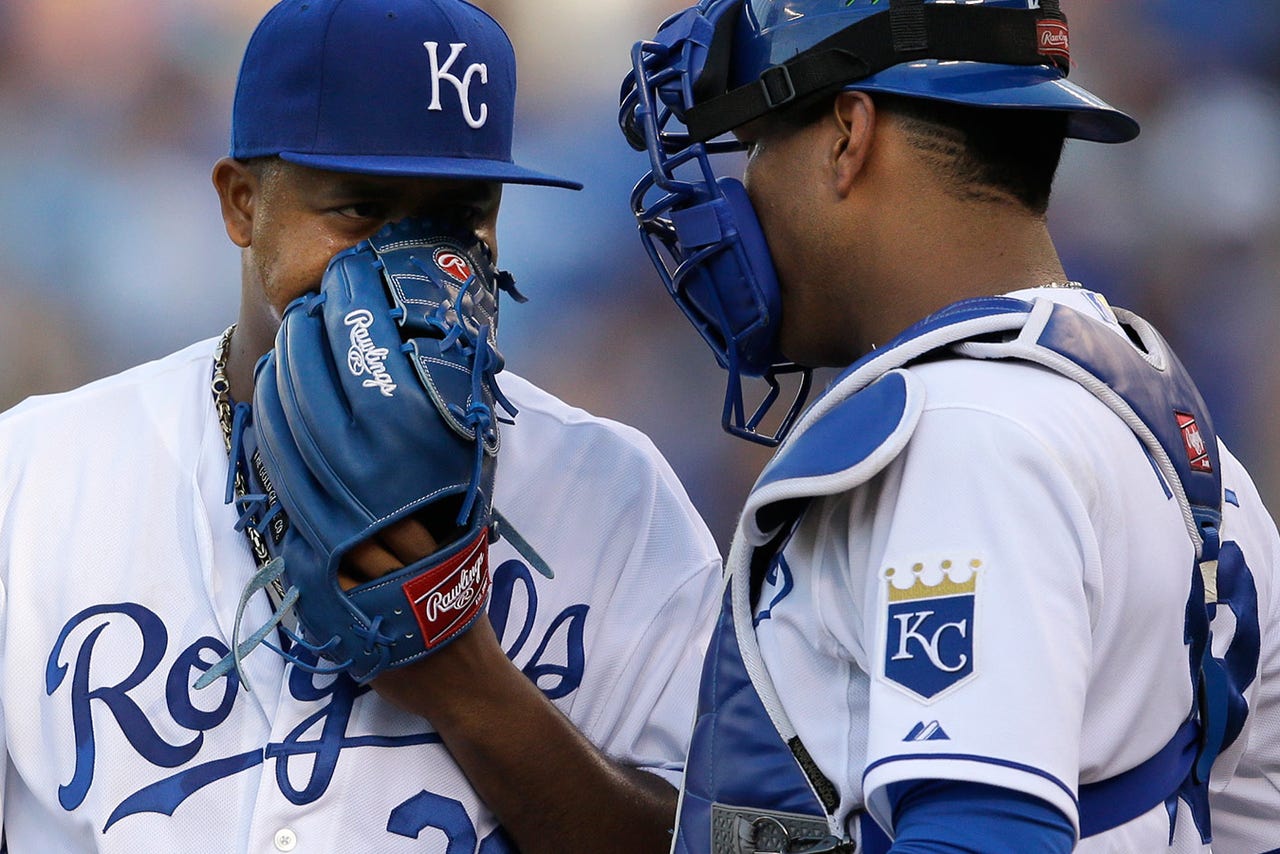 KANSAS CITY, Mo. -- David Price lost his shutout bid in the ninth inning, but still had enough to finish off the Kansas City Royals.
Price threw a five hitter for his 12th career complete game -- the first by Detroit this season -- in the Tigers' 2-1 victory over the Royals on Saturday night.
Price (3-1) limited the Royals to four singles until Lorenzo Cain's homer with two out in the ninth spoiled his bid for his second career shutout.
"I've done that before where I get two outs in the ninth (but not finish the shutout)," Price said. "That was a really good pitch to Cain. He's turned himself into a star, not because he hit a homer off me. He's one of the top players in baseball. It's tough to get that guy out four times."
Price struck out three and walked none. His only shutout was April 24, 2012, against the Los Angeles Angels.
He threw 106 pitches, 75 for strikes, retiring 16 on three pitches or fewer.
"I always want to get 27 outs," Price said. "I want that every fifth day."
The Royals had only one runner reach second base before Cain's home run and that was after Price committed a fielding error in the sixth inning. He quickly got out of that by coaxing Mike Moustakas to ground into a double play.
"I guess I thought it was hit a little bit harder and didn't take the hop I expected it to take," Price said of Alex Gordon's comebacker he failed to pick up. "That's a play I've got to make."
Other than that and Cain's home run, Price was nearly flawless.
Watch the Royals Live pregame and postgame shows before and after every Kansas City Royals game on FOX Sports Kansas City.
"Price just pitched a fantastic game," Royals manager Ned Yost said. "He was really on top of his game with a 96 miles per hour fastball and command. He had a 2-to-1 strikeout-to-ball ratio."
Anthony Gose, who was 1 for 10 on this trip, had three of the Tigers' seven hits, including a double in the fifth. He scored on Ian Kinsler's RBI single to make it 2-0.
"When he gets on base in a leadoff position he can take a little pressure off the guys behind him," Tigers manager Brad Ausmus said.
Kinsler and Yoenis Cespedes each had two hits.
The Tigers took the lead in the third on Christian Colon's throwing error. Rajai Davis, who led off the inning with a walk and moved to second on a Gose single, score on the miscue.
Royals right-hander Edinson Volquez (2-3) returned to the rotation after serving a five-game suspension and gave up the two runs and five hits, while walking three and striking out four in six innings.
"He (Price) was better than me," Volquez said. "We all know what he can do. It's not a surprise."
Price had a rough outing against the Yankees on April 22, when he gave up eight runs and 10 hits in 2 1/3 innings. Other than that, he has allowed eight runs and 24 hits over 37 2/3 innings (1.91 ERA) spanning five starts.
SPA DAY
OF J.D. Martinez, who is on a 1-for-13 slide with eight strikeouts, was not in Tigers lineup for the first time. "Just sit back for a day and watch the game until you are called upon," Tigers manager Brad Ausmus said. "It's almost like going to a spa for a day. It's mentally relaxing."
TIGERS LOSE CHALLENGE
The Tigers challenged Gose's out call in the seventh inning on a double play. After a 3:21 review delay, the call was not reversed. "My last move was towards third base and I needed to go back and touch second," Gose said was the umpires explanation to him.
TRAINER'S ROOM
Tigers: RHP Justin Verlander (right triceps strain) will get his third MRI this week in Chicago to learn if inflammation is subsiding enough to increase his throwing program.
Royals: RHP Greg Holland said he felt no discomfort after throwing 25 pitches in a simulated game Saturday. "I felt sharp especially after not throwing to live hitters in almost two weeks," Holland said. "I'm really glad the way it went." Manager Ned Yost said Holland would come off the disabled list "hopefully Tuesday."
UP NEXT
Tigers: RHP Anibal Sanchez is 5-2 with a 1.07 ERA in seven career starts against the Royals.
Royals: RHP Jeremy Guthrie is 9-7 with a 4.63 ERA in 22 appearances against the Tigers.
---