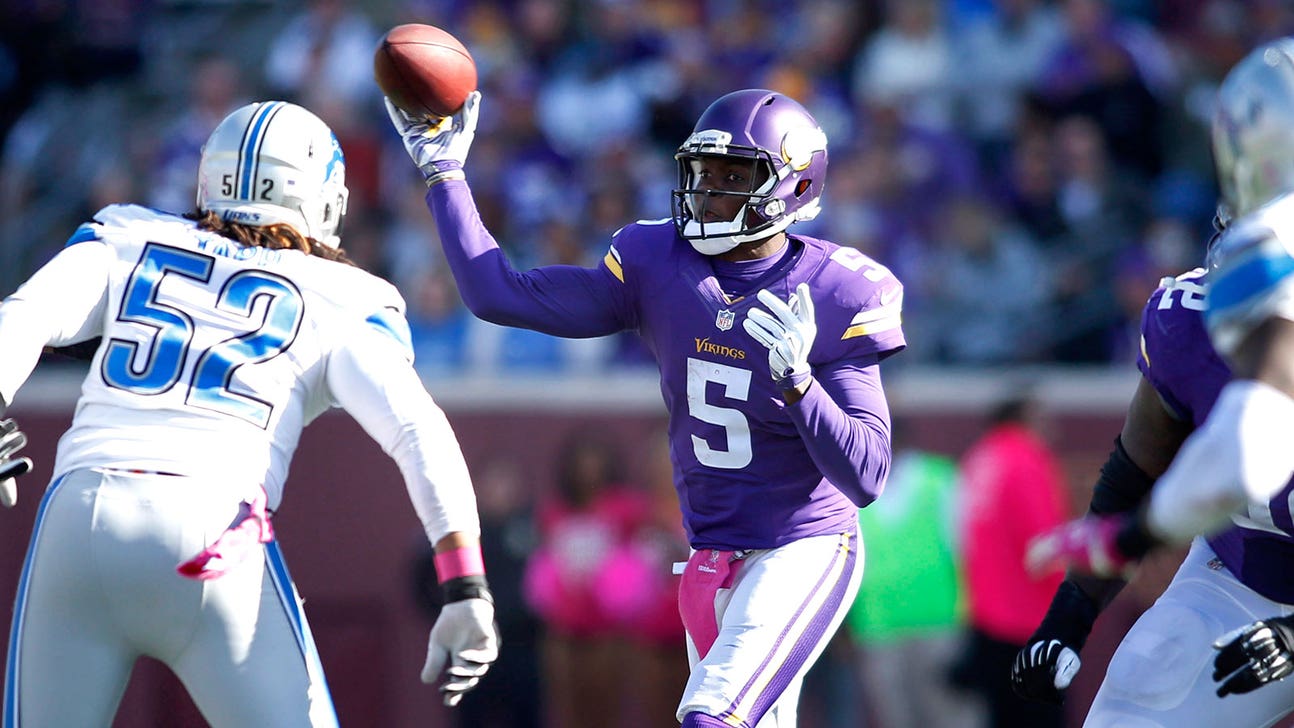 Preview: Vikings aim to cool off Lions
Published
Dec. 13, 2014 1:00 p.m. ET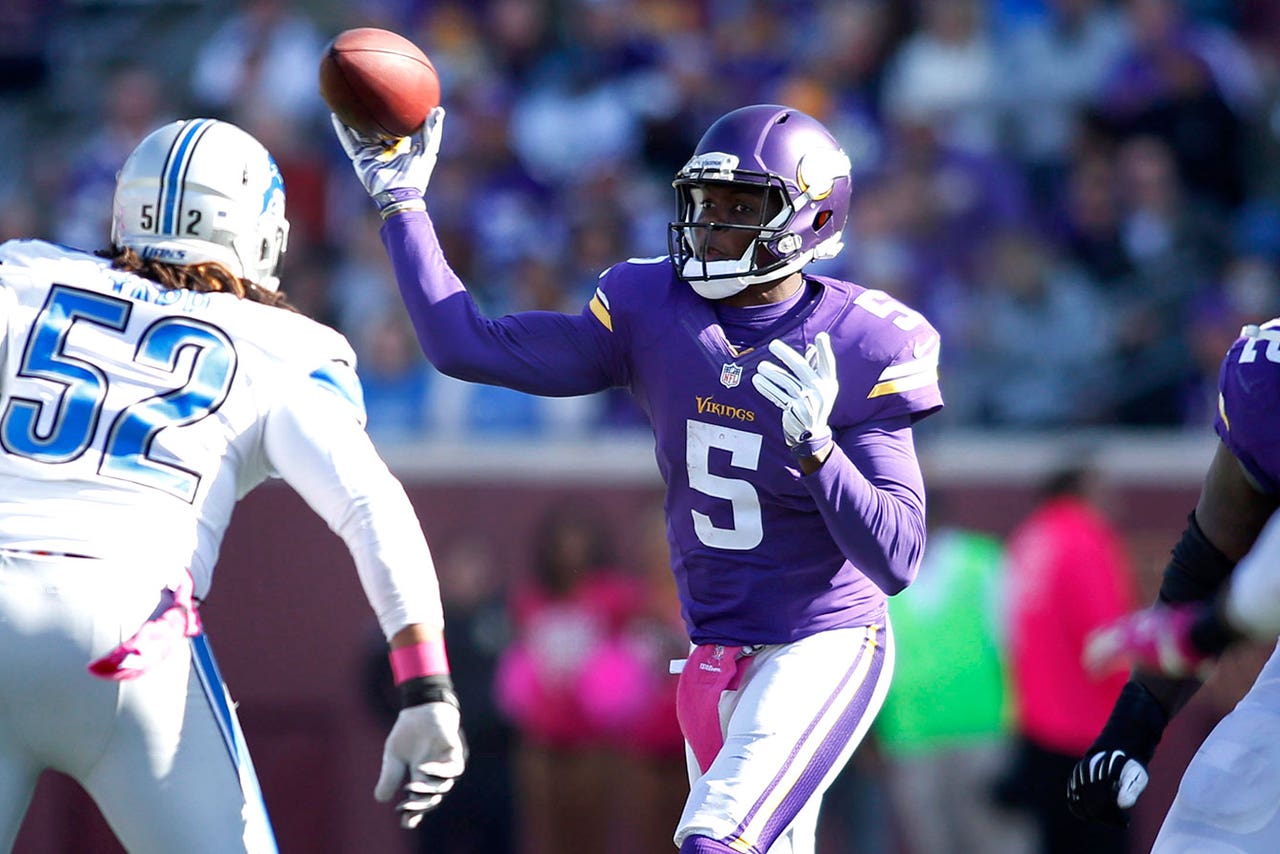 The Detroit Lions have taken a step toward shedding the late-season disappointment label they've earned in recent years. They'll have to avoid a potential letdown Sunday, though, when they host a Minnesota Vikings team that's looking for a third straight win.
Detroit (9-4) improved to 6-1 at home with a 34-17 victory over Tampa Bay last Sunday, its first in December since 2011, which also marked its last playoff appearance. The Lions, who dropped six of their final seven games last season, had lost nine straight in December.
"It's a new day. He said it from the beginning, coach (Jim) Caldwell, put it on Caldwell," center Dominic Raiola told the team's official website. "We keeping doing it every week and it's getting fun around here. The more we just worry about what's going on right now, handle the day, the better off we're going to be."
The Lions, who are 3-0 in the NFC North and trail the first-place Packers by one game, will be expected to finish with at least 11 wins given their remaining schedule.
They've won three of four at home against Minnesota (6-7). The division could be decided in the finale at Green Bay, where they've lost 22 in a row.
Matthew Stafford turned in another strong performance last weekend, going 26 of 34 for 311 yards and three touchdowns for a 133.3 passer rating - the second-highest of his career. Stafford threw for a season-best 390 yards and two TDs in the previous week's win over the Bears.
Stafford had posted a 70.0 passer rating with eight TDs and 12 interceptions during Detroit's nine-game December skid.
"I feel good. I feel confident in what we're doing," Stafford said. "The guys are catching the ball, which is always great."
Those impressive showings came against weak secondaries, however, with Chicago ranking 30th against the pass and Tampa Bay 24th. Minnesota is sixth with opponents averaging 220.8 passing yards, and it held Stafford to 185 yards and a season-low 5.61 per attempt in Detroit's 17-3 road win Oct. 12.
Calvin Johnson has returned to dominance, catching 19 passes for 304 yards and three TDs over the last two games.
"We've definitely found a rhythm. I can't call our future. We're just going to keep on plugging away," Johnson said. "I'm feeling pretty good - the best I've felt in a little while."
Joique Bell has also been a force in Detroit's backfield, totaling 240 scrimmage yards over the last two games while scoring twice in each.
If there's one area Caldwell would like to see his team improve, though, it's playing more disciplined football. Detroit was whistled for nine penalties for a season-high 122 yards against the Buccaneers, and its 7.4 penalties a game are the eighth-most in the NFL.
"I am more interested in winning. But I know one thing: If you have too many (penalties), they lead to problems, they lead to deficiencies, they lead to losses," Caldwell said. "That is an area we have to get straightened away."
The Vikings come off a 30-24 overtime home win over the Jets last Sunday. Teddy Bridgewater found Jarius Wright on an 87-yard screen pass for the second-longest OT touchdown pass in league history.
Bridgewater was 19 of 27 for 309 yards with two TDs, and he owns a 119.0 passer rating over the last two games.
"This franchise is Teddy's. I know that was a good headline for you," coach Mike Zimmer said. "That's what he needs to do. He needs to take it over. This is his team now."
Wright had four receptions for 123 yards while Charles Johnson caught four passes for 103, including a 56-yard TD. Johnson, who was signed off Cleveland's practice squad Sept. 20, is tied for the team lead with 15 receptions in the last four games.
"He's a great route runner. He's a guy who's very patient. He's a guy who's going to continue to work hard," Bridgewater said. "We've seen nothing but flashes from him ever since he's arrived here."
Bridgewater floundered against Detroit in his second career start, going 23 of 37 for 188 yards and three interceptions, including two by linebacker Tahir Whitehead. The Lions are tied for second in the NFL with 17 picks.
Defensive end Everson Griffen has five sacks in his last five games against Detroit and is second in the NFC with 12.
---