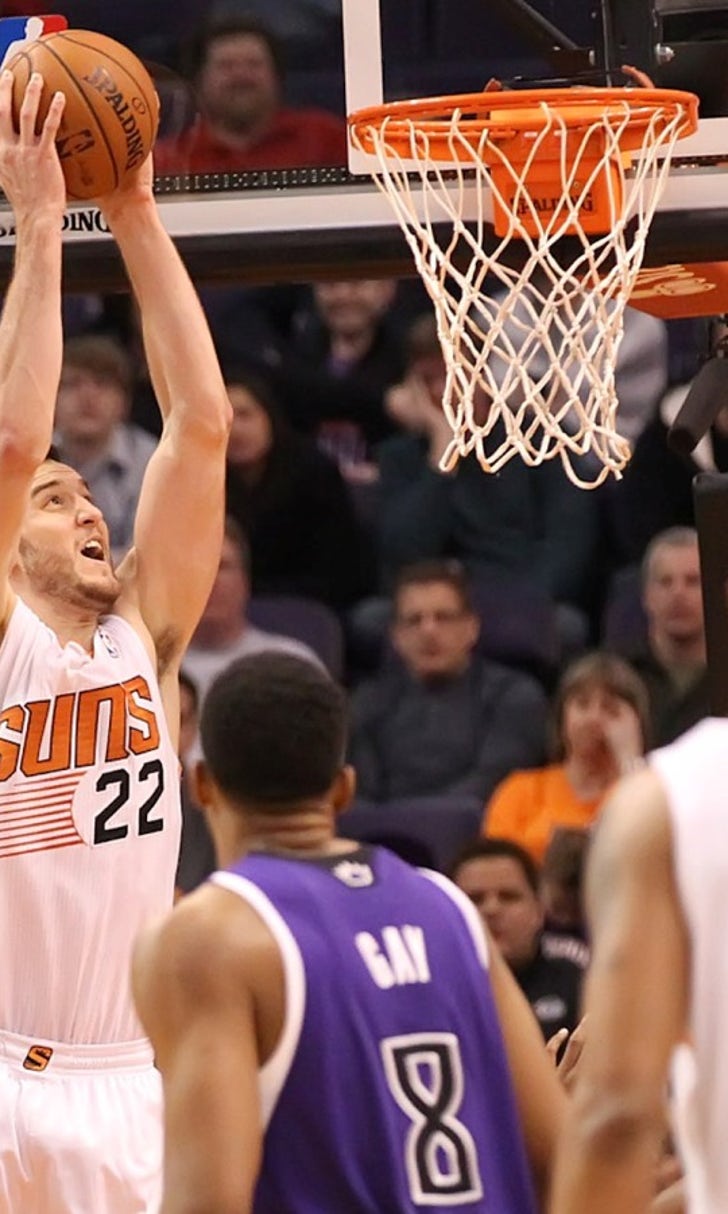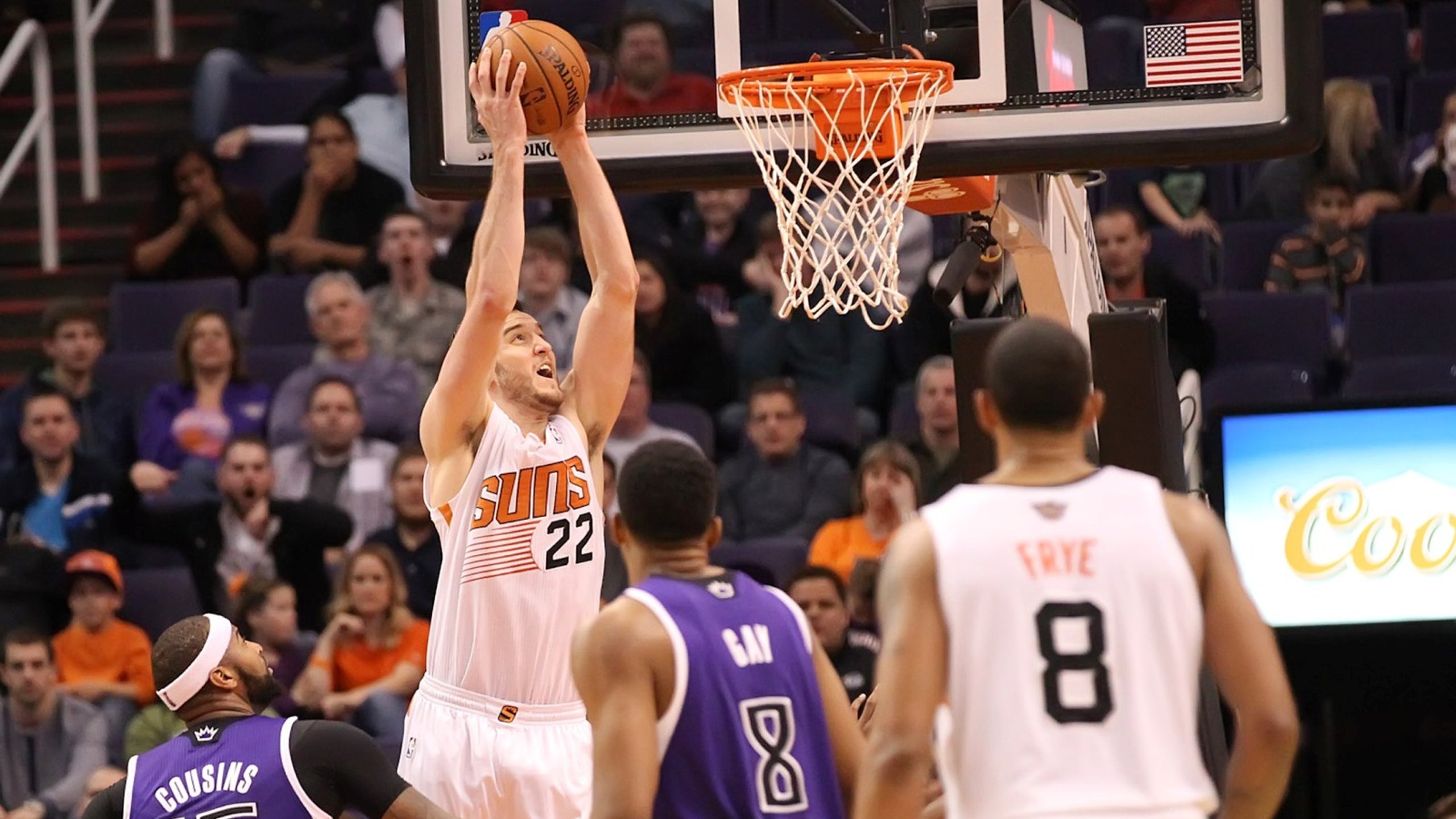 Plumlee's play helps Suns finish Miles ahead of Kings
BY foxsports • December 14, 2013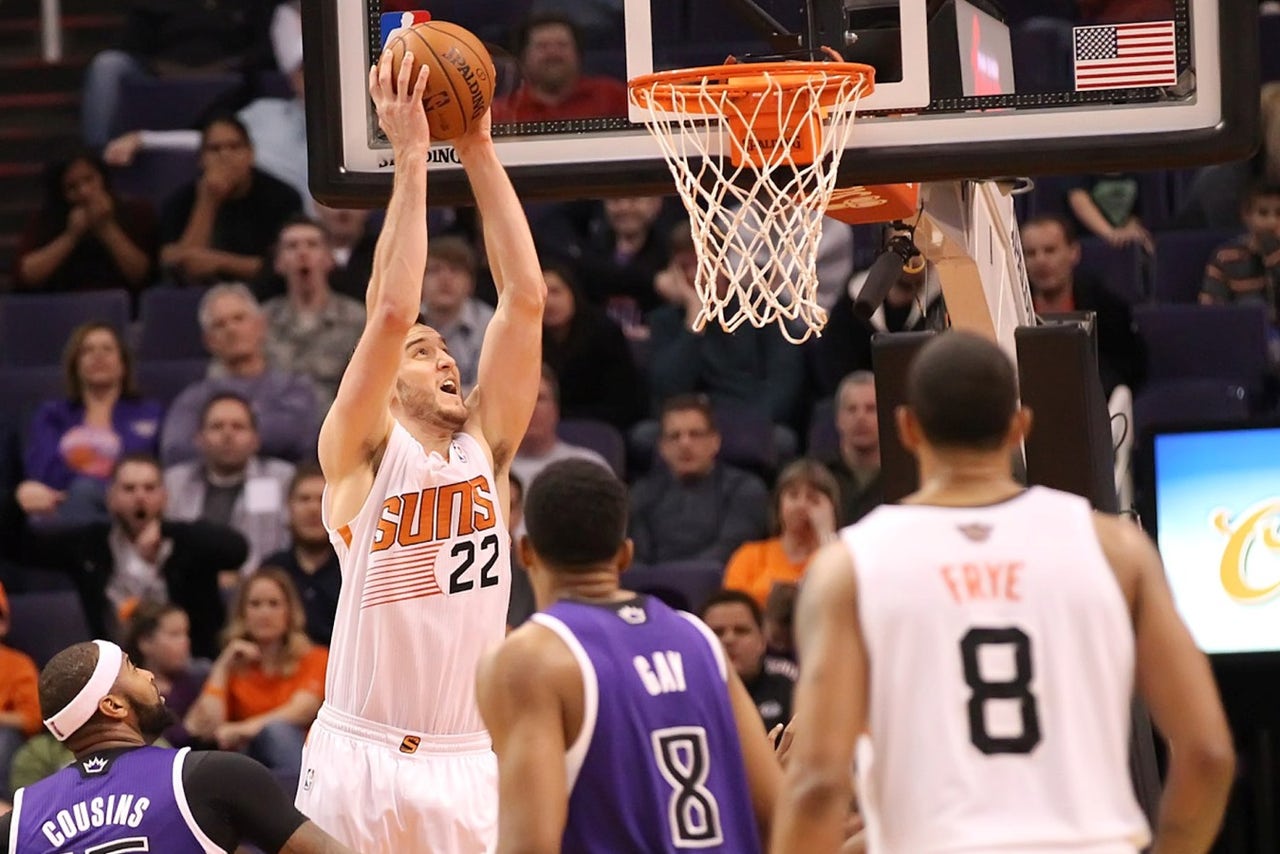 PHOENIX -- Thinking pragmatically, it was only one big play in a game crowded with them.
But the timing -- on both physical and emotional levels -- was impeccable.
"The crowd was kind of quiet," Suns coach Jeff Hornacek said when asked about what certainly seemed like the key event in Friday's 116-107 triumph -- the team's season-high fourth in a row -- over the Sacramento Kings at U.S. Airways Center.
By unexpectedly firing up the present, the 13-9 Suns still hold the seventh seed in the Western Conference.
The Phoenix backcourt of Goran Dragic (29 points) and Eric Bledsoe (a career-high 28) combined to knock in 21 of 30 shots, the star for this particular maneuver was center Miles Plumlee.
With the Suns trailing, 65-63, early in the third quarter, P.J. Tucker made a sloppy pass toward Plumlee that was intercepted by tricky Kings center DeMarcus Cousins.
Cousins skedaddled toward what he thought would become a cheap bucket.
But Plumlee chased down the rumbling Sacramento big man for a momentum-swinging block at the 9:20 mark.
"To Miles' credit, he didn't stand there and complain to the ref," Hornacek said. "I think everybody stepped it up after that."
Stepping up took the form of a 14-4 run orchestrated by the double-point-guard power of Dragic and Bledsoe.
"Dragic had his way with us," Kings coach Michael Malone said. "Bledsoe had his way with us and we couldn't stop the ball, we couldn't stop the 3-point shot and it's just another example of the same old story with our defense."
Dragic, who made 4 of 5 3-point attempts, had 21 points in the opening half. Bledsoe, who also contributed eight assists and five rebounds, took over as a playmaker in the fourth quarter.
"I think that every game is better," Dragic said of his partnership with Bledsoe. "I know what he's going to do. He knows what I'm going to do. We have a good feeling about each other. It is really tough for opponents. Hopefully, we can keep that run. We want five in a row."
With a double-barreled, pick-and-roll attack, the Suns' recent surge had them sitting at sixth in the NBA for offensive efficiency (107.8 points per 100 possessions) going into Friday's game. During the 2012-13 season of offensive pollution, the Suns finished 29th (101.2).
"We're getting better," Hornacek said. "Our half-court execution was not great earlier but, again, as we move forward, we're stressing some of the execution in practice, showing them the little things that -- because they're young -- they forget about."
Some of these details must have slipped the Suns' impressionable minds in Friday's opening quarter, during which they rang up 7 turnovers.
"I tried to explain to them that if you're three feet from where you're supposed to be," Hornacek said, "then it makes the angle of that pass more difficult and more likely to end in a turnover. So fight to get to the spot."
After committing four more miscues in the second quarter, the Suns cleaned things up by going through the entire second half with only five.
"They're doing a much better job of that and, consequently, we're getting better things inside," Hornacek said, "and when we get in the half-court offense, it's not just throw it to one guy. We're setting better screens, we're cutting harder, so all of those things are moving along."
By taking better care of the ball, the Suns were able to squeeze off more shots from beyond the 3-point line, where they -- thanks to Dragic's accuracy -- made half of their 24 attempts. They knocked in 49.4 percent of their shots overall and reached their league-leading, season average of 20 fast-break points.
But despite a heavy dose of snazzy offense, the grit and determination of Plumlee was required to take down the 6-15 Kings.
"I thought, especially in the second half, Miles did a great job of fighting," Hornacek said. "It seemed to me like he went to another level in terms of intensity. That was great."
And so was his recovery of a Tucker air ball from the right corner that led to a Bledsoe pass to a cutting P.J. for a shot-clock-beating layup that pushed the Suns' advantage to 110-101.
Plumlee's stat line, by the way, was 12 points, nine rebounds, four steals and three blocks. He also held Cousins to 5-of-16 shooting, with the help of a wave of conniving double-teams
"Huge plays at the end of the game," Dragic said of his teammate. "Maybe the guys in the league don't know that he can jump, but we know. He did an amazing job on defense, too. Cousins is tough to defend. He's really strong and Miles did a good job."
---