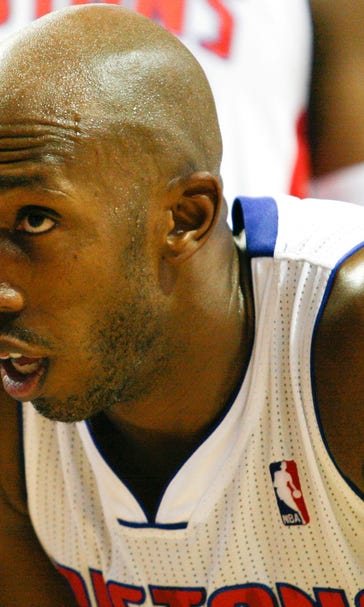 Pistons will not pick up Chauncey Billups' option for 2014-15 season
BY foxsports • June 30, 2014
You really can't go home again, at least in sports.
Chauncey Billups returned to the Pistons a year ago, with plans to regain his job as Detroit's starting point guard and, more importantly, serve as a mentor for a young team.
The first goal didn't last long, as Brandon Jennings was brought in to be the starter, and the second one fell victim to the one thing no athlete can beat -- Father Time.
The 37-year-old Billups played only 19 games, struggling badly on a pair of worn-out knees. "Mr. Big Shot" no longer had a reliable jump shot, and his knees kept him off the floor for long stretches of the season. He saw action in only one of Detroit's last 45 games -- scoring two points in nine minutes of a victory over Brooklyn, and by the end of the season, he was openly musing about possible retirement.
Monday, the Pistons brought that one step closer to reality, announcing that they would not pick up his contract option for the 2014-15 season.
"Chauncey Billups embodies what it means to be a member of the Detroit Pistons," Pistons owner Tom Gores said in a statement. "He will forever be a welcome member of the Pistons family, and I am confident that after his playing days are over he will have a long and bright future in this league." 
Pistons president/coach Stan Van Gundy called the decision "difficult," but the writing was on the wall when the Pistons took point guard Spencer Dinwiddie with their only selection in last week's draft. Ironically, Dinwiddie attended Colorado, just like Billups did, and talked on draft night about his excitement in getting to play alongside "the best player who ever went to my school."
Billups did not make an immediate announcement on his future, although he talked last season about not wanting to suffer through another painful year, as well as his desire to finish his playing career in Detroit.
---