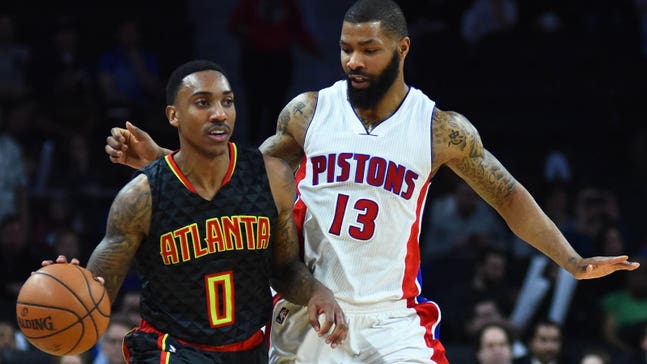 Pistons need better defensive effort against Kings
Updated
Mar. 5, 2020 12:15 a.m. ET

If the Detroit Pistons are to take advantage of a favorable four-game stretch on a lengthy homestand, they'll need to improve their recent defensive play.
The Pistons can start by avoiding a third consecutive defeat Friday (7 p.m. pregame, 7:30 tipoff) against the Sacramento Kings.
Following its worst loss in 22 years, 124-81 at Washington on Monday, Detroit (34-34) could at least look forward to returning home for an extended stay. The Pistons didn't play poorly while opening this nine-game home stretch with Wednesday's 118-114 defeat to Atlanta, but a couple of key lapses in the second half led to their third loss in four games.
Up 11 near the end of the third quarter, the Pistons allowed a 16-2 Hawks run that began with a 3-pointer from center Al Horford. Atlanta used a 10-0 run late in the fourth to erase a one-point Detroit lead.
Detroit played somewhat better defensively, holding the Hawks to 43.8 percent shooting after the previous three opponents shot 51.4 percent. But it allowed Atlanta to go 4 of 7 from beyond the arc in the fourth, and has yielded an average of 117.8 points in four games.
"I can't find any answers," said coach Stan Van Gundy, whose team is fighting for the eighth playoff spot in the Eastern Conference. "We're just not guarding anybody."
Detroit shot 46.4 percent and was much better offensively after equaling its lowest point total of the season Monday.
"We have to come back prepared for Friday and try to get a win there," said forward Andre Drummond, who had 18 rebounds and 18 points after failing to score 10 in two of the previous three contests.
The Pistons seemingly have a good opportunity to get back on track with lottery-bound opponents Sacramento (26-41), Brooklyn, Milwaukee and Orlando in town over a six-day stretch. They are 17-13 against sub-.500 teams.
"They're important," said guard Kentavious Caldwell-Pope, who is averaging 22.3 points in his last four games. "We've got to take the next four games and we've got to take them real serious. We can't play down to our opponent."
Detroit's five-game winning streak against Sacramento ended with a 101-92 road loss Nov. 11. However, the Kings have dropped five in a row at The Palace, and enter this meeting losers in 10 of 12.
After snapping a five-game skid with Tuesday's 106-98 road win over the Los Angeles Lakers, Sacramento took a step back with its 123-108 home loss to New Orleans one night later.
"We lacked that spirit that we had (Tuesday) night," said coach George Karl, whose club allowed the Pelicans to shoot 54.4 percent overall and 12 of 21 from 3-point range. "The game got loose on us."
Still managing to co-exist with Karl, DeMarcus Cousins was held to 20 points on 8-of-21 shooting. Cousins scored 33 and was 4 of 5 from beyond the arc against the Pistons in November, but he's totaled 31 points on 10-of-32 shooting and committed 11 turnovers in the last two at Detroit.
It's uncertain if teammates Rajon Rondo (toe, thumb, shoulder) and Marco Belinelli (ankle) will miss a second straight contest. Guard Ben McLemore (finger) might miss his sixth consecutive game.
---