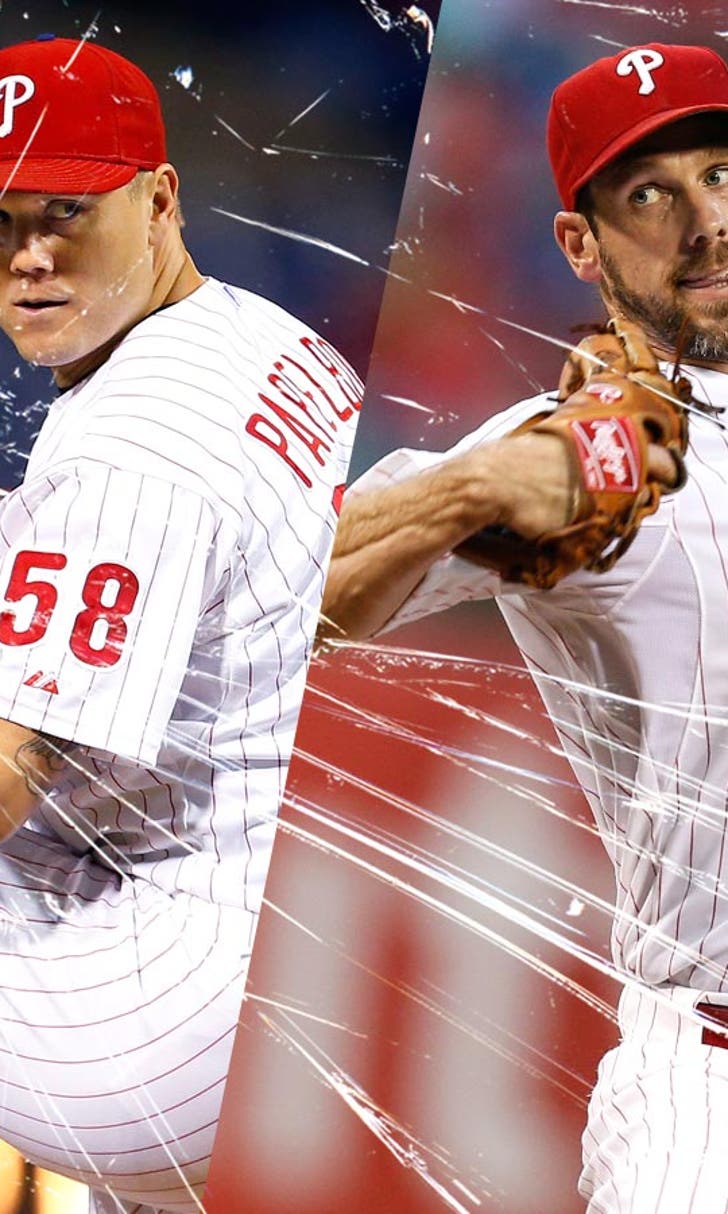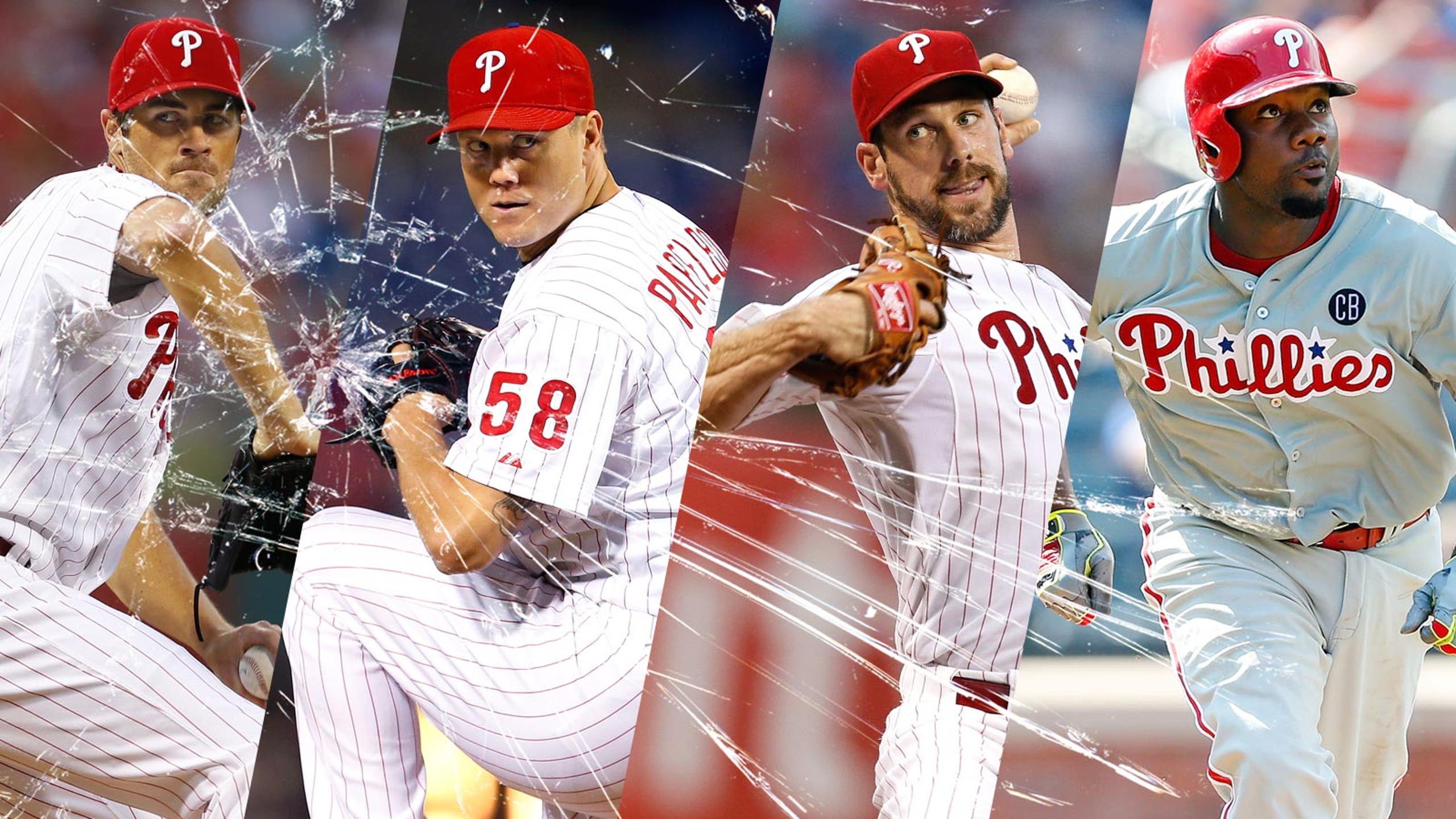 Philadelphia Phillies have four high-priced veterans they wanted to move for prospects. But their failure to trade any of them will make for an even longer season, and very awkward spring training, Ken Rosenthal writes.
BY foxsports • February 10, 2015
Can't wait for the Phillies' spring training.
Day One: Cole Hamels news conference.
"Cole, how surprised are you to be here? Do you still want to be here?"
Day Two: Jonathan Papelbon news conference.
"Pap, how badly do you want to be traded? Will you be content closing for a non-contender?"
Day Three: Cliff Lee news conference.
"So Cliff, how is the elbow? How quickly can you persuade interested teams that you are healthy?"
Day Four: Ryan Howard news conference.
"Ryan, what's it like to still be a Phillie when general manager Ruben Amaro Jr. said the team would be better off without you?"
We're talking awkward — painfully awkward. And unless things change before the Phillies' first workout a week from Thursday, their offseason will look like a major fail.
This was the winter of deal-makers — A.J. Preller, Rick Hahn, Andrew Friedman, Billy Beane, Dan Jennings. Amaro and Phillies president Pat Gillick needed to head that list. But they're not even close to being on it.
Yes, the Phils made seemingly decent trades to get rid of shortstop Jimmy Rollins and outfielder Marlon Byrd. Yes, they have reasons for their inability to move Hamels, Papelbon and Co. But this is a team that had clubhouse issues last season, an environment not "conducive to winning," according to manager Ryne Sandberg.
That environment will not improve this season, given the uncertainty surrounding so many prominent veterans. And good luck to the Phillies persuading their fans to buy tickets for a team that remains stuck in neutral.
Oh, maybe the Phils will send Papelbon to the Brewers in the next week. Maybe they will revive their dormant Hamels talks with the Red Sox. Maybe half of the American League DHs will suffer the same knee injuries, finally creating a market for Howard.
None of those outcomes, however, is likely.
On Tuesday, an American League manager asked, half-incredulous, "Does Hamels really pitch for the Phillies this year?" It's starting to look like the answer will be yes, because another prime opportunity to move the left-hander just passed.
The Padres wanted Hamels. The Padres made an aggressive offer for Hamels. The Padres are one of nine teams that can acquire Hamels without his permission.
So, what happened?
The Padres instead agreed with free-agent right-hander James Shields on a four-year, $75 million contract.
Hamels, 31, is the better pitcher. He also is two years younger. And his remaining contractual obligation — four years, $96 million — is not vastly beyond what the Padres committed to Shields.
The Phillies, though, are adamant about getting one blue-chip prospect in any trade for Hamels, sources say. It is not known precisely how they view the Padres' top three prospects — righty Matt Wisler, catcher Austin Hedges and outfielder Hunter Renfroe. But a source last month said that in the Phillies' view, the Padres might "not have enough."
Such views obviously are subjective, but another source said the Phillies' preference is to trade with the Red Sox, presuming that they could get outfielder Mookie Betts or catcher Blake Swihart to lead the package.
Well, the Red Sox have not made such an offer (whether they should part with Swihart to acquire a long-term ace is, ahem, a topic for another day). So, unless the Sox reverse course, the Phillies soon will need to face the reality that a trade with Boston isn't happening. Heck, they probably should have faced that reality already and cut the best possible deal with the Padres, involving a third team, if necessary. Hamels can block a trade to the Red Sox, further complicating the picture.
The Phillies want a lot from teams interested in Hamels — premium talent, plus a complete escape from his remaining financial obligation. Their inflexibility on paying down Hamels' contract makes little sense — the Phils possess mountains of cash, and by pricing Hamels at Shields' level, they could have demanded a better package from the Padres. The front office's stubbornness, though, appears to go even deeper, whether it's Amaro or Gillick who is actually calling the shots. The Phillies refuse to accept that they might not get exactly what they want.
The Rays didn't love the deal they made with the Tigers for David Price last July 31, believing the left-hander was worth more than left-hander Drew Smyly, infielder Nick Franklin and shortstop Willy Adames. But club officials feared that if they carried Price into the offseason, they would get even less for a pitcher who was headed toward a payday of $19.75 million in his final year of arbitration before free agency. So, the Rays did the best they could, and moved on.
No one is suggesting that the Phillies make a poor trade. But they will risk Hamels suffering an injury and losing value if they carry him into the season. Even if he stays healthy, they will face competition trying to trade him in July. The Reds could entertain offers for righty Johnny Cueto, a potential free agent. Other starting pitchers will become available. And come next offseason, a deep free-agent market will offer an even greater number of alternatives.
The Phillies' plan should have been to trade Hamels this offseason, then Lee at the deadline. Club officials can muse about keeping both, then signing a big free-agent starter next winter to accelerate their rebuilding program. But they still would need offense, and they would be banking on both Hamels and Lee remaining healthy and productive — not a great bet with Lee turning 37 on Aug. 30.
What was the Phillies' apparent goal at the start of the offseason? To trade as many veterans and collect as much young talent as possible. The team is not anywhere close to accomplishing that mission. Get ready for the parade of awkward news conferences.
---
---