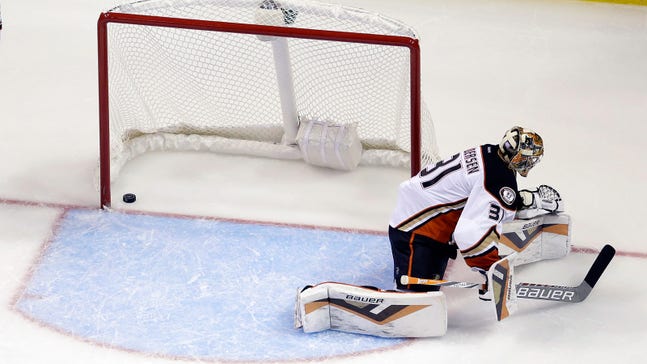 Parayko scores game-winner as Blues edge Ducks 2-1
Published
Oct. 29, 2015 10:44 p.m. ET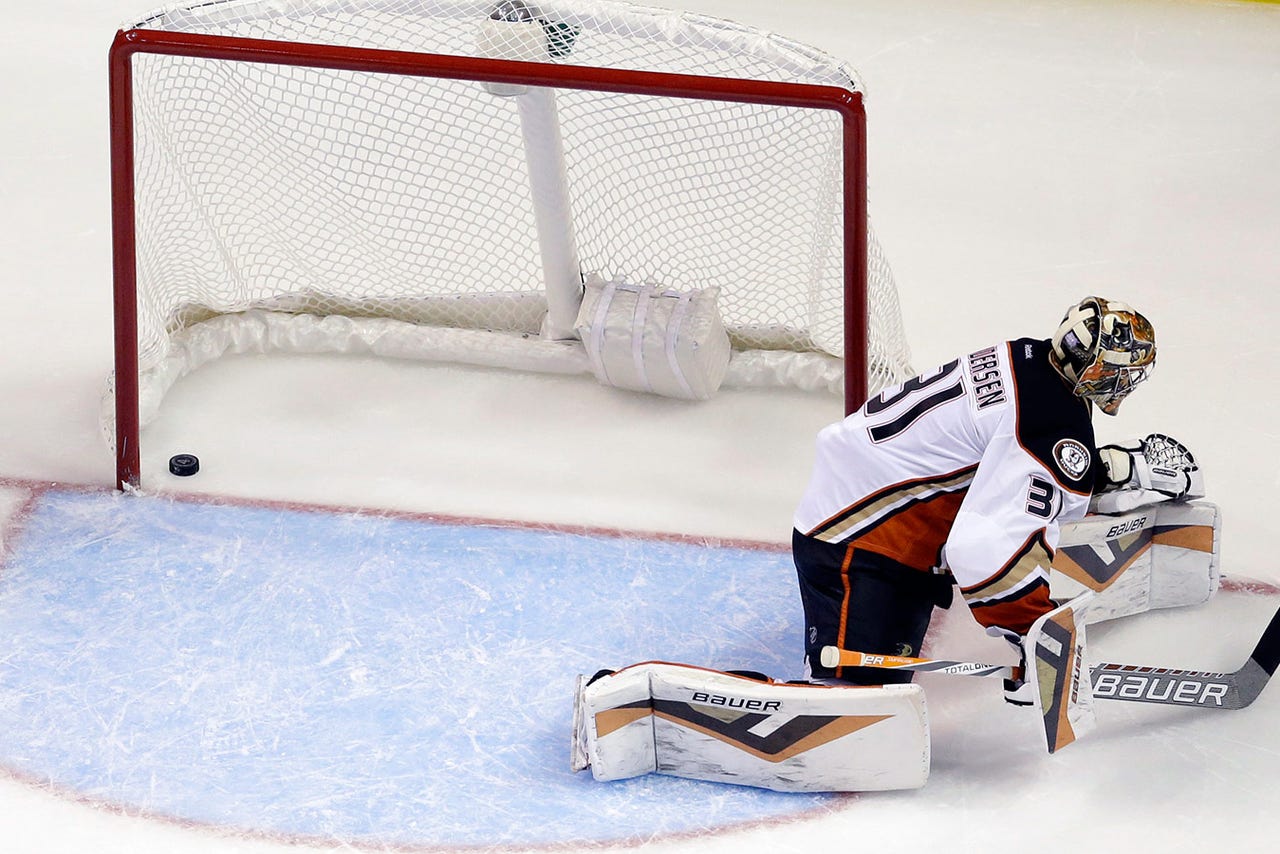 ST. LOUIS -- Rookie defenseman Colton Parayko has been coming up big for the injury-depleted St. Louis Blues so far this season.
Parayko scored the tiebreaking goal midway through the third period to lift the Blues to a 2-1 victory over the Anaheim Ducks on Thursday night.
"He's getting a lot of big points, timely points, timely goals, timely assists, whatever," Blues coach Ken Hitchcock said. "He's having a big impact with us right now."
Vladimir Tarasenko also scored and Jake Allen stopped 22 shots to help the Blues win for the sixth time in the last eight games (6-1-1).
St. Louis is currently without forwards Paul Stastny (broken right foot), Jaden Schwartz (fractured right ankle) and Patrik Berglund (right shoulder) and defenseman Kevin Shattenkirk (lower body).
"Huge two points," Tarasenko said.
Hampus Lindholm scored and Frederik Andersen finished with 31 saves as the Ducks closed out a winless five-game road trip (0-4-1). Anaheim was outscored 15-5 on the trip, including a 4-3 loss at Dallas on Tuesday night.
The Ducks entered the game ranked last in the NHL in scoring (1.0 goals per game) and were without captain Ryan Getzlaf, who missed his second game due to appendicitis.
"We do need a break and we're not getting them right now and that's what usually happens when a dark cloud's over you," Anaheim coach Bruce Boudreau said.
Lindholm gave the Ducks a 1-0 lead at 2:33 of the second period when he was able to poke in a rebound of Cory Perry's shot for a power-play goal, his second of the season.
The Blues tied the score less than three minutes later when Tarasenko scored his sixth of the year on a back and forth, two-man breakaway with Jori Lehtera after a stretch pass from Steve Ott.
"They had a little bit of a mishap and turned over and all of a sudden you see two superstars on the other end and they are playing give and go, and what a heck of a goal," Ott said.
Tarasenko then left the game with four minutes remaining in the period after taking what looked like a high hit as well as a knee-to-knee collision from Shawn Horcoff. He went to the locker room for the remainder of the period but returned for the third.
Parayko scored the go-ahead goal with 9:29 left in the third. Scott Gomez won a faceoff in the offensive zone and then rookie Ty Rattie fed the puck to Parayko, whose shot from near the blue line bounced off the boards and then ricocheted off Andersen's skate and into the net.
The goal was Parayko's fourth of the season, which leads all NHL defensemen.
"Unfortunately, it came right back and hit my skate as I'm trying to seal that post," Andersen said. "I thought we played great again, pretty much the whole game. Especially the first two periods."
Boudreau said Andersen kept the Ducks in the game.
"He can sit there and say it was a bad goal, but Freddy did make about four great saves after that to keep it to 2-1, so he kept us in the game," he said.
NOTES: Parayko recorded 10 shots on goal, setting a new Blues single-game rookie record. The last NHL rookie with 10 shots in a game was Alex Ovechkin in 2006. ... Allen is 3-0 against the Ducks in his career. ... The Blues next host Minnesota on Saturday night. ... The Ducks return home for three straight, beginning Sunday against Nashville.
---
---