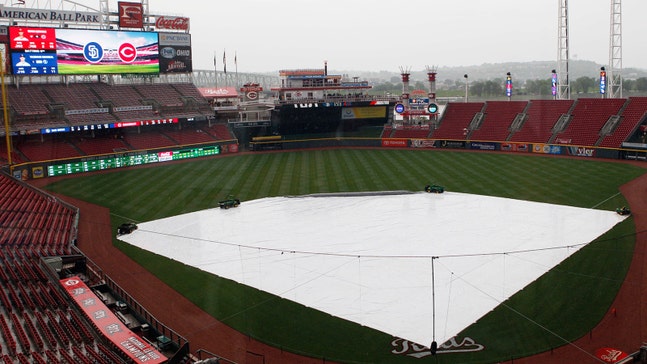 Padres-Reds game postponed due to rain
Published
May. 14, 2014 7:50 p.m. ET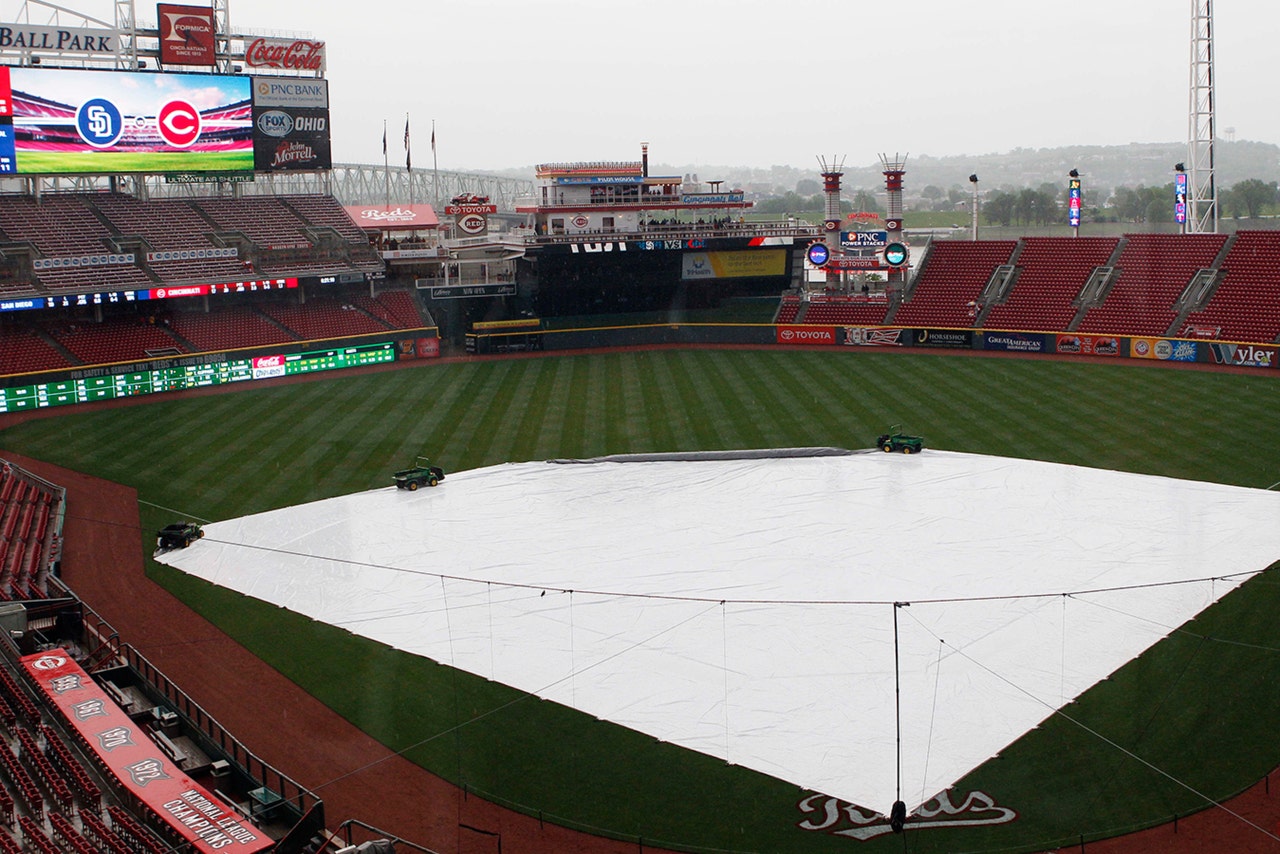 CINCINNATI -- The Reds and Padres will play two on Thursday after the second game of their three-game series was rained out Wednesday night.
The teams will play their regularly scheduled game at 12:35 p.m. and then come back and play the make-up game at 6:10 p.m. Johnny Cueto will pitch for the Reds in the first game against San Diego's Ian Kennedy, while the Padres will send right-hander Tyson Ross in the second game against a yet-to-be determined pitcher for the Reds.
Thursday's first game will be televised by FOX Sports 1. The second game will be televised on Fox Sports Ohio beginning at 6 p.m.
Alfredo Simon was scheduled to pitch on Thursday, but Reds manager Bryan Price said the team is working on getting another starter for the game.
Price did not say who that pitcher would be because transactions have to be finalized but left-hander Jeff Francis from Triple-A Louisville is an obvious choice. Francis is due to pitch for Louisville at Norfolk.
While Price didn't give an exact explanation of his reasoning, pushing Simon back one day to start Friday's opener in Philadelphia would give Simon a fifth day of rest. The Reds have gone with a four-man rotation since Tony Cingrani was placed on the disabled list May 1 with a sore left shoulder.
Cingrani is eligible to come off the disabled list on Friday and is expected to make a start on the upcoming road trip. If Simon pitches Friday, it would push everyone in the rotation back a day. Homer Bailey was originally scheduled to start against the Phillies on Friday. Saturday's starter was yet to be named before Wednesday's rainout.
"If we can't secure a player, or pitcher, then it would be Simon in game two," said Price.
Francis is 4-3 with a 3.33 ERA with Louisville this season. He has pitched in 228 games in the major leagues beginning with Colorado in 2004. He has a career MLB record of 70-78 with a 4.94 ERA. He is not currently on the Reds 40-man roster so the team would need to make room for him there first before he can be added to the game-day roster.
MLB allows teams to add a 26th player to their rosters for doubleheaders scheduled at least 48 hours ahead of games being played. In this case, because the doubleheader is happening in less than 48 hours, the 26-man addition can only happen in the second game.
This is the ninth game postponed by rain at Great American Ball Park since the stadium opened in 2003 and the second this season. It was eighth weather delay at GABP this season totaling 11 hours, 42 minutes. The start of the game was delayed 30 minutes before being called off. The Reds and Cubs were rained out on April 28. That game will be made up as part of a day-night doubleheader on July 8.
This is San Diego's lone trip into Cincinnati this season and finding another day suitable for making up the game would be difficult. The teams have only one coinciding off day the rest of the season. That happens to be July 3, the day after the teams finish a three-game series in San Diego. The Reds are scheduled to fly back to Cincinnati to meet Milwaukee for the first game of a series on July 4.
---