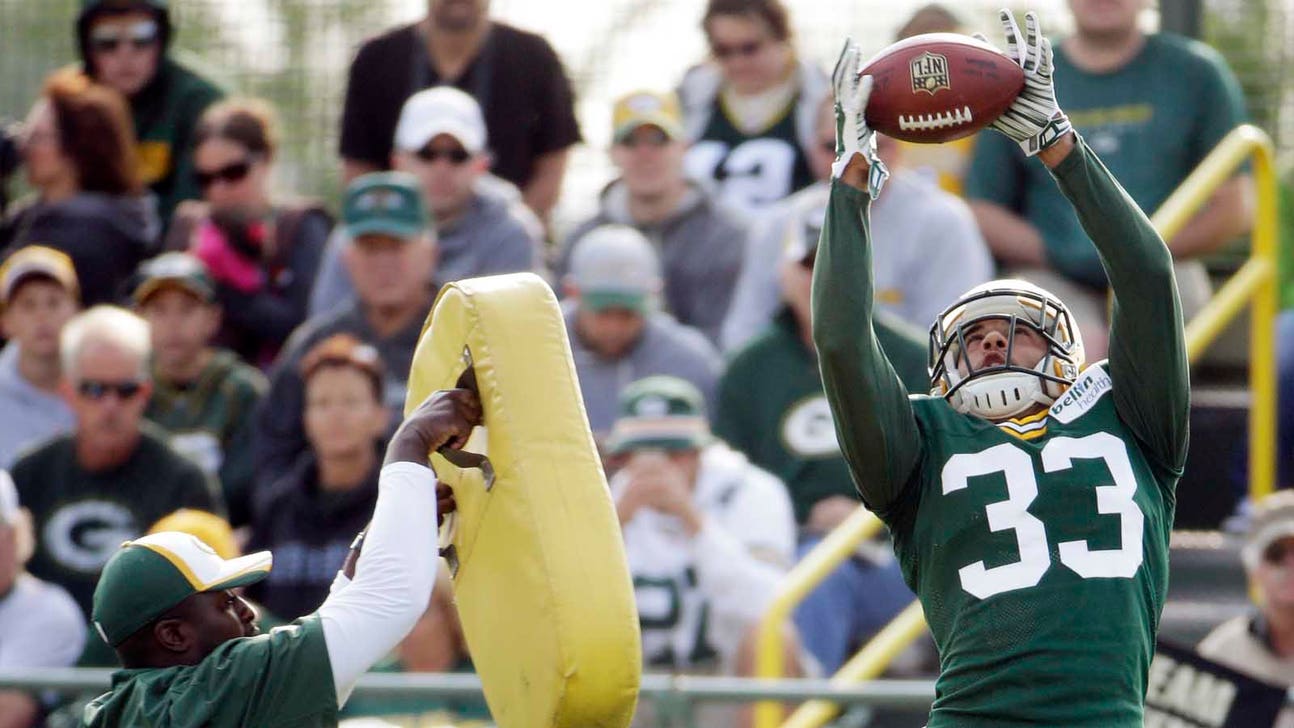 Packers training camp report: Aug. 6
Updated
Mar. 4, 2020 3:15 p.m. ET

Date:
Wednesday, August 6, 2014
Practice Time:
11:45 a.m. (Total: 2 hours, 12 minutes)
Movin' On Up:
WR Jeff Janis / DB Micah Hyde
There were two spectacular plays made in Wednesday's practice. The first came on the hands of rookie wide receiver Jeff Janis, who attempted to make up for lost time by hauling in a one-handed touchdown pass over Sam Shields. The coverage was very good from Shields, but the throw from Scott Tolzien and the catch from Janis were better. Though he missed the first seven training camp practices with shingles, Janis showed the athleticism that got the Packers to draft him in the seventh round.
Later in practice, Micah Hyde skied for an interception in the end zone on a pass from Chase Rettig to Ryan Taylor that otherwise would've been caught for a touchdown. Had it been allowed, Datone Jones likely would've had a sack on the play, but Rettig left the pocket and spotted Taylor before Hyde had other plans.
Honorable Mention: Tight end Andrew Quarless had a great touchdown catch, too, and he believes it came on a pass that was intended to sail out of the back of the end zone. Tolzien had Quarless and Richard Rodgers in the corner of the end zone, but both were being defended closely. When Tolzien tossed it, it wasn't clear who the target was, but Quarless jumped for the catch and fell down backwards with his feet inbounds.
So You Had A Bad Day:
WRs Randall Cobb and Davante Adams
There seemed to be more drops Wednesday than in any of the previous nine practices. For the second time this week, Randall Cobb dropped an easy pass from Aaron Rodgers. As he did in Monday's practice, Cobb left the field and did a long set of pushups.
Second-round pick Davante Adams did his own set of pushups after dropping a pass from Rodgers. That was Adams' second drop of the day. It wasn't all bad for Adams, though, as he had a jumping touchdown catch with Casey Hayward tightly guarding him.
Noted:
- In the team's first full practice with Don Barclay sidelined due to a torn ACL, Derek Sherrod got a lot of work at right tackle. When Sherrod was at his more natural left tackle spot, Aaron Adams was at right tackle.
- Sherrod performed well in the one-on-one pass-rush/blocking drills, winning all three of his battles, including one at right tackle.
- Undrafted rookie outside linebacker Jayrone Elliott continues making plays to get himself noticed. This time it was two "sacks" (remember, no tackling quarterbacks) of Matt Flynn.
- Jarrett Bush had an interception for the second practice in a row. This one happened on a pass from Rettig to Alex Gillett that was broken up on a big hit from Jake Doughty, with the ball finding its way into Bush's hands.
- Ha Ha Clinton-Dix had an interception opportunity when Flynn threw a low pass, and while it wasn't necessarily a drop, the first-round pick had a chance to make a big play and wasn't able to.
- Myles White had an over-the-head touchdown catch from Tolzien that was the longest pass completion of the day.
- Undrafted rookie Mike Pennel got one snap as the nose tackle with the starting defense. B.J. Raji came in for the next play, but that Pennel got a quick look could be an important moment for him.
- Clay Matthews dropped back in coverage and had a chance to intercept Flynn, but it went through his hands. Matthews said it had nothing to do with his twice-operated-on thumb. "Just a missed interception," he said. "It just kind of caught me off-guard. It won't happen on game day."
Sidelined:
* S Morgan Burnett (Oblique Strain -- Consecutive Missed Practices: 2)
* TE Colt Lyerla (Knee -- Consecutive Missed Practices: 3 -- will be out a couple weeks)
* RB Michael Hill (Concussion -- Consecutive Missed Practices: 3)
* S Tanner Miller (Ankle -- Consecutive Missed Practices: 6)
* DL Jerel Worthy (Lower back -- Consecutive Missed Practices: 10)
* DL Letroy Guion (Hamstring -- Consecutive Missed Practices: 10)
* WR Jared Abbrederis (Torn ACL -- Will miss 2014 season)
* OL Don Barclay (Torn ACL -- Will miss 2014 season)
What's Next:
* Saturday, August 9 - Preseason Game No. 1 at Tennessee Titans
* Monday, August 11 - Closed practice (Time TBD)
Follow Paul Imig on Twitter
---