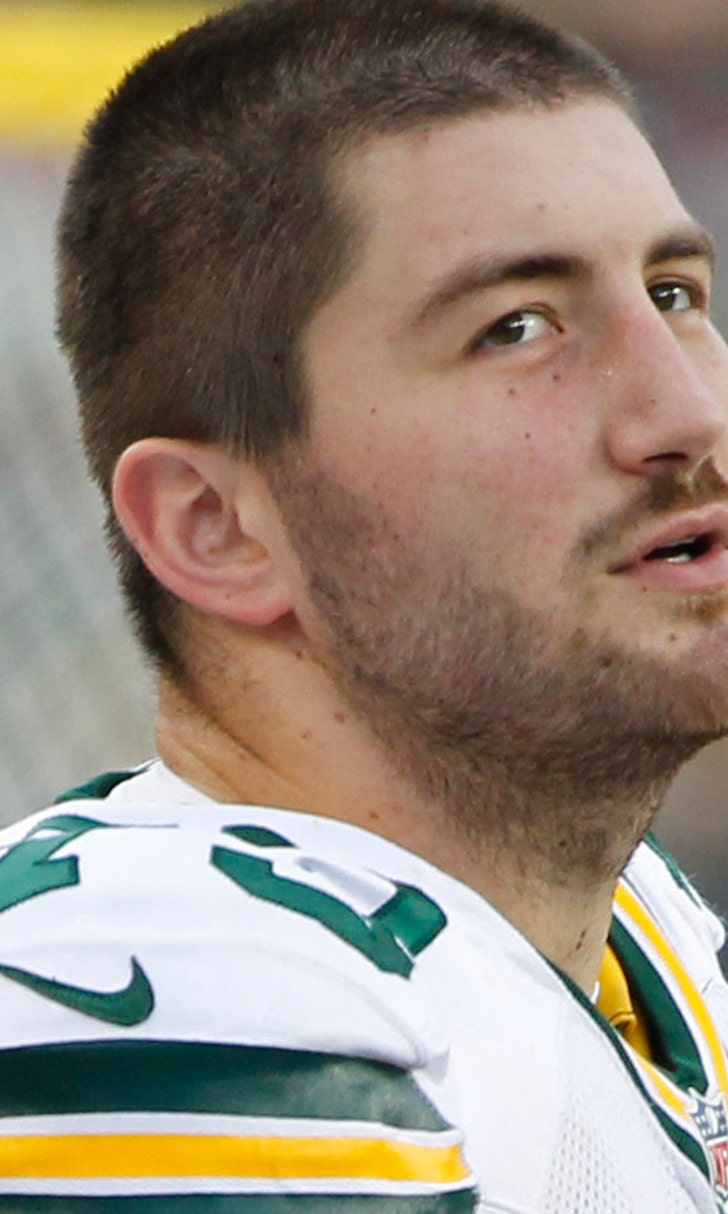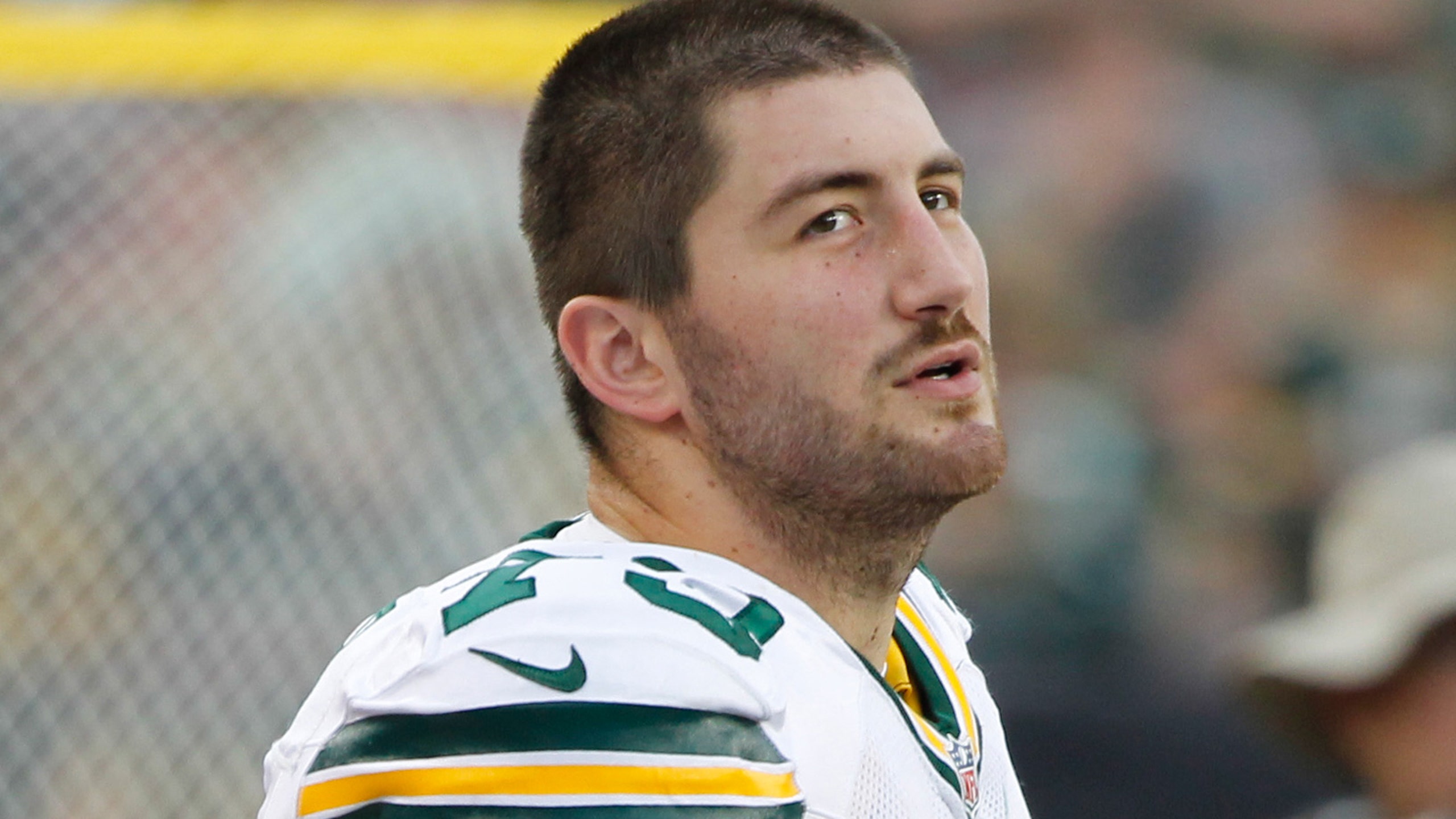 Packers Annual Checkup: JC Tretter
BY foxsports • April 14, 2015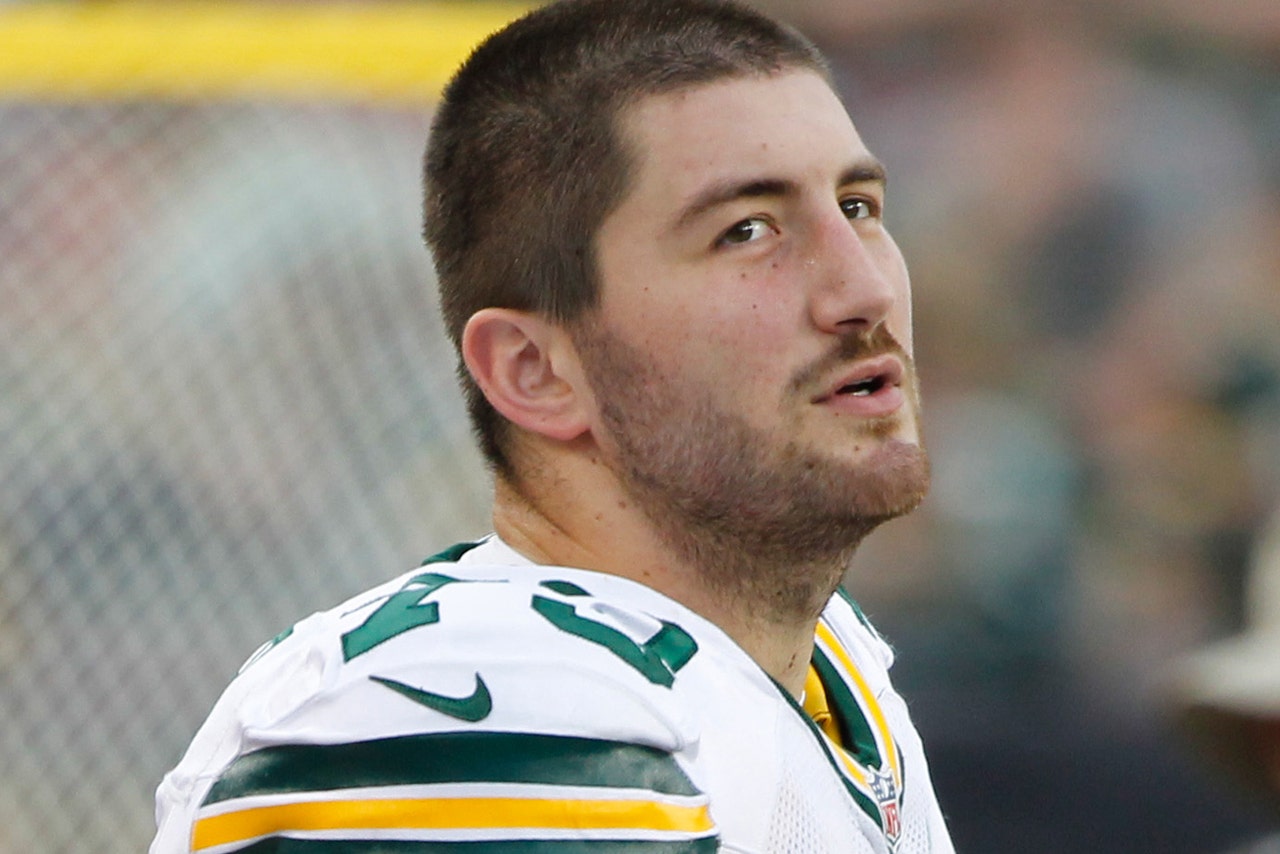 JC Tretter, offensive lineman
FOX Sports Wisconsin's Paul Imig gives an in-depth statistical analysis and film study of every Packers player in his annual offseason checkup. You can find every report here.
Season stats (playoffs included): Eight games, zero starts (60 snaps); one sack allowed, two quarterback hurries allowed, two penalties committed
ProFootballFocus.com season rating: Minus-3.1 (ranked No. 17 out of 24 Packers offensive players)
Best game: Preseason Week 2 at St. Louis (played 24 snaps at center); one QB hurry allowed, zero sacks allowed, zero penalties committed; 1.2 PFF rating
Worst game: Week 15 loss at Buffalo (played 15 snaps at right tackle); one sack allowed, one QB hurry allowed; minus-0.3 PFF rating
Expectations at the start of training camp: Medium
Expectations were . . .  Not met
Looking live: JC Tretter's NFL career got off to a rough start in 2013. He suffered a significant ankle injury in the Packers' very first practice during offseason training activities, and that forced Tretter out of action until late November of that year. Though he finished that season on the active roster, Tretter never played a single in-game snap.
Tretter's career seemed like it was about to go in a much better direction this past season. With Evan Dietrich-Smith leaving in free agency to sign with Tampa Bay, Green Bay had an opening at the starting center position. Tretter was the hand-picked successor. When the Packers drafted Corey Linsley, the plan didn't change with Tretter. He was still the chosen lineman whom the team hoped would be snapping the ball to Aaron Rodgers for the next nine years.
It was the first time Tretter had ever played center. He was a quarterback in high school, a tight end when he first got to college and a tackle/guard when entering the NFL. But Green Bay had plenty of faith that the Cornell graduate could handle the new responsibility.
While it would have been fair to describe it as a training camp battle, it was clear immediately from the first couple practices that it was Tretter's job to lose. He was getting all of the work with the first-team offense while Linsley waited on the sideline to take his turn with the second-string group.
Tretter struggled at times during training camp when going up against a power-player defensive lineman like B.J. Raji. Tretter was recognized in the "So You Had a Bad Day" category of FOXSportsWisconsin.com's Training Camp Report series on Day 3 of practice after getting pushed around badly by Raji during pass rush/block drills.
Tretter's first preseason test came in the stormiest weather conditions possible, and he passed. With rain pouring down, Tretter was clean with his snaps and blocked well in the difficult circumstances.
"I feel extremely comfortable at the center position," Tretter said midway through camp. "It doesn't feel new or different to me anymore. I kind of feel settled in at it. I feel comfortable, so it's nothing you worry about when you get out there."
Unfortunately for Tretter, all of his progress came to a screeching halt when he injured his left knee in the third preseason game.
Upon further review: With that injury, the Packers knew they'd be without Tretter for at least one month. Tretter was out, so Linsley was in.
On Sept. 3, Green Bay placed Tretter on short-term injured reserve, meaning he'd have to sit out the first eight games of the regular season.
Tretter was activated to the roster as scheduled on Nov. 3. But with Linsley playing incredibly well as the starting center, the questions regarding Tretter were right back where they were a year earlier: What position should he play?
Even back on May 10, 2013, McCarthy wouldn't make a decision on Tretter's position. Tretter himself was equally unsure of his role at that time. "All I know is they're going to move me around a little bit and see where I fit best, but I'm just learning all the positions and I'll go from there," Tretter said less than a month after being drafted.
Tretter only played 60 snaps, but his versatility was on display in that short amount of time. He made his NFL debut Week 10 against Chicago, first entering the game at left guard and later moving to left tackle. Tretter played left tackle again at the end of the Week 11 game against Philadelphia. When Bryan Bulaga suffered a concussion Week 15 in Buffalo, Tretter stepped in and played 11 snaps at right tackle.
"I think that's an important quality of mine, being able to move around," Tretter said Nov. 5. "Whatever the team needs, whatever position the team has an opening or has a need, I'm more than willing to fill it."
Overall 2014 grade: C
Status for 2015: Ninety-nine percent chance of being on the active roster. When Tretter returned from the temporary injured reserve list in November 2014, his role could be described as The New Don Barclay. They're both offensive linemen capable of playing any spot. But part of the reason for Tretter being thought of that way was because Barclay was out for the season with a torn ACL. Now, the Packers will have both Tretter and Barclay, and only one of them can be the next man up at every position. Tretter and Barclay should have an interesting training camp battle as the two of them fight to be the top offensive lineman used off the bench. That's a far cry from how Green Bay planned to use Tretter just one year ago. It shows how devastating a major injury can be and why McCarthy always preaches "availability" as one of his two keys in player development. "Nothing at this level is given to you," Tretter said in November 2014. "It's earned. I didn't expect anything to be given. It's about crawling back and just fighting and crawling and doing everything the team needs to help this team win. That's what it's all about. I'm not down or disappointed. There's new opportunities coming and it's about going out and winning on Sundays."
Next: That's all for this year's Packers Annual Checkups. Thanks for reading. If you missed any player's Checkup, go to the archive page and check it out.
Follow Paul Imig on Twitter
---