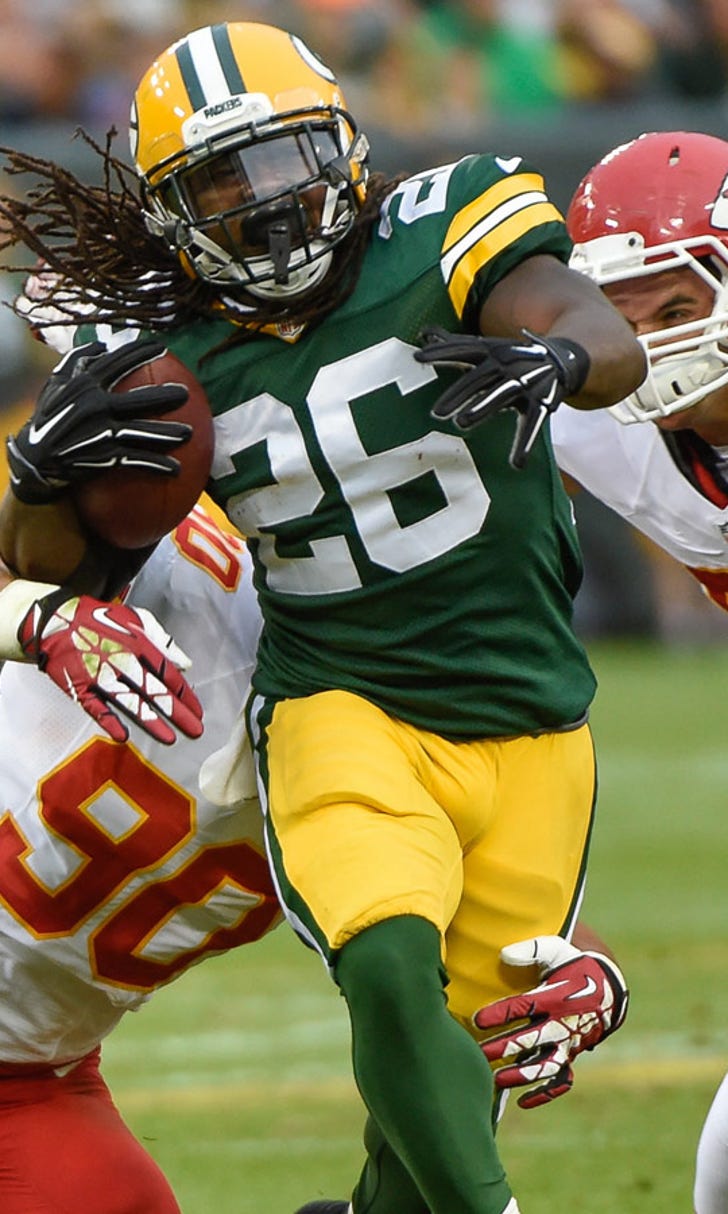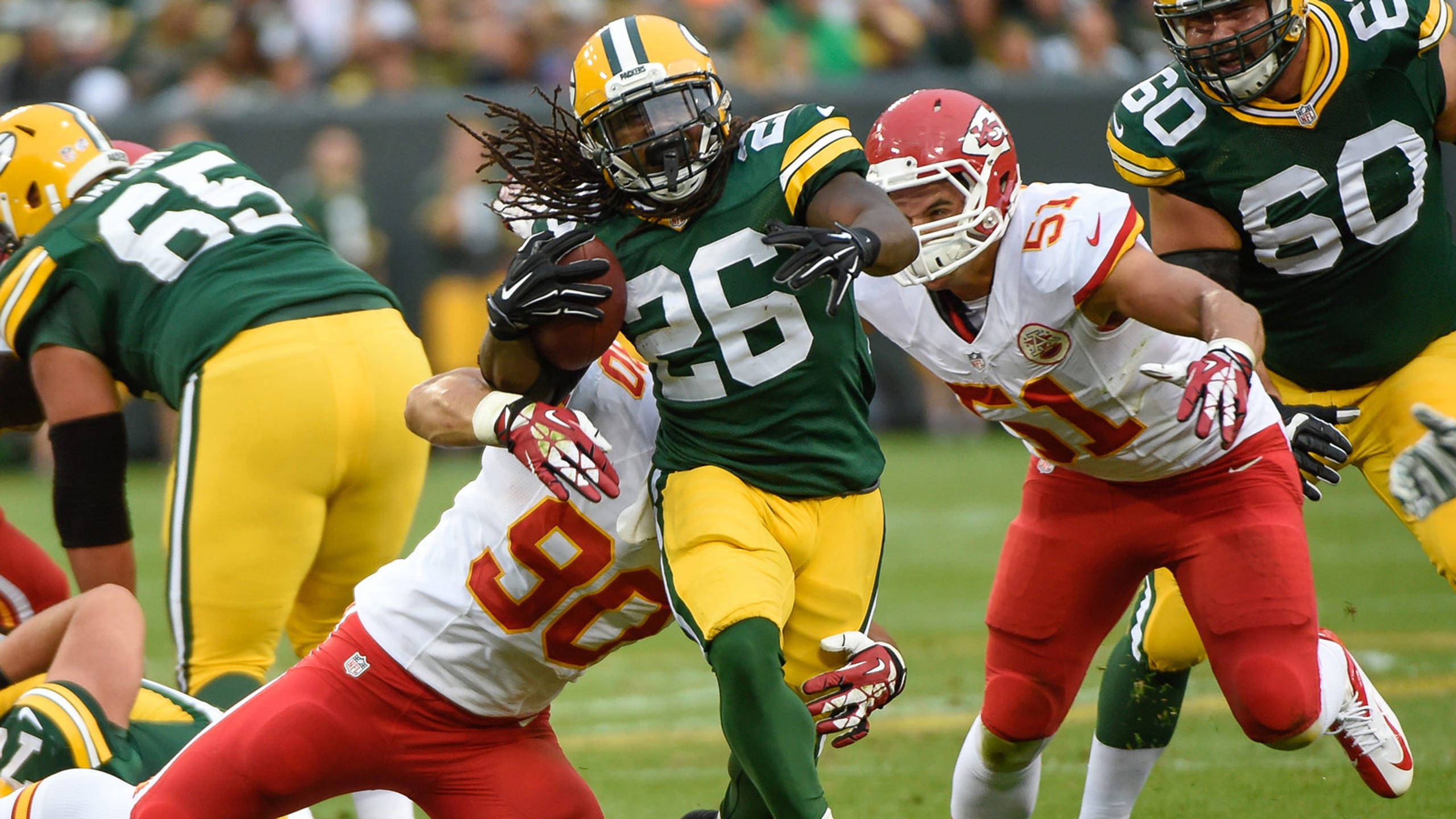 Packers Annual Checkup: DuJuan Harris
BY foxsports • March 4, 2015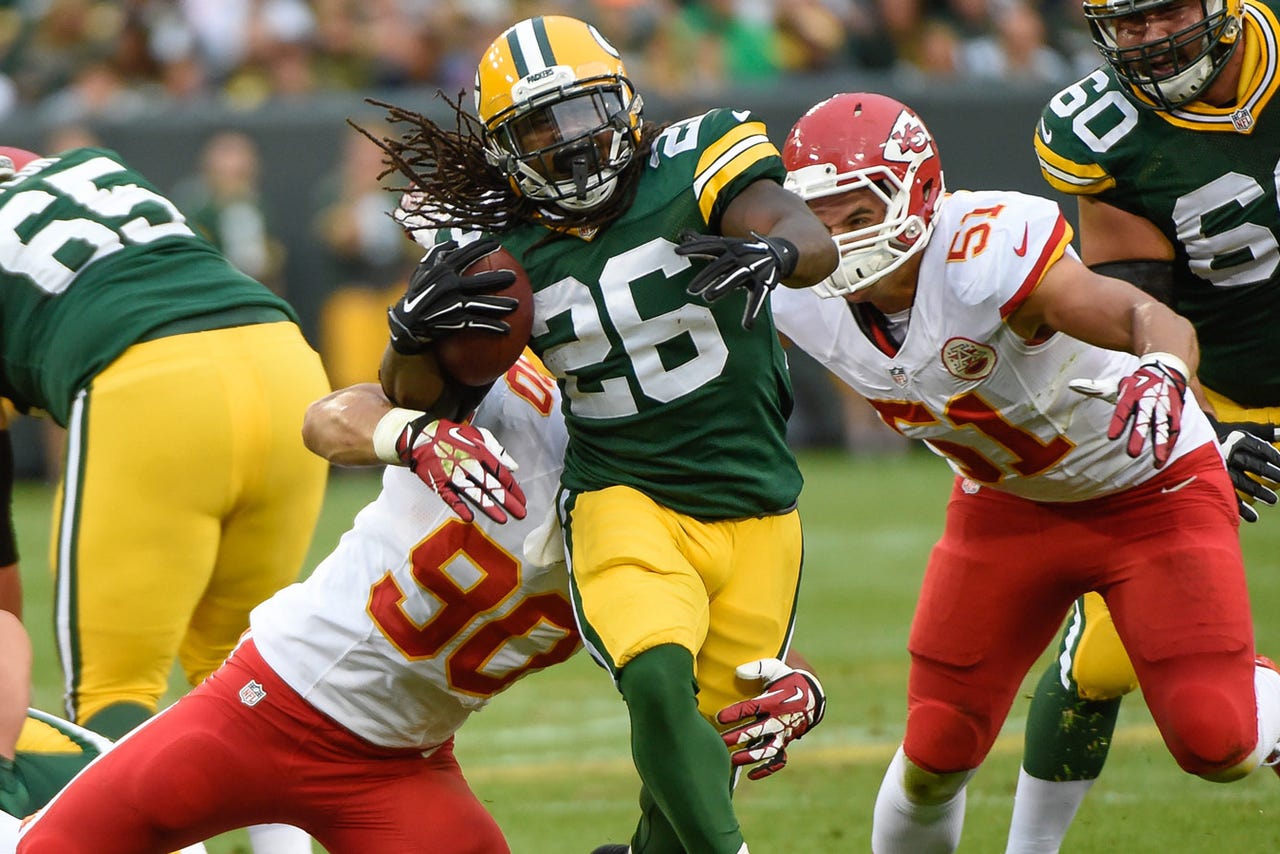 DuJuan Harris, running back/kick return
FOX Sports Wisconsin's Paul Imig gives an in-depth statistical analysis and film study of every Packers player in his annual offseason checkup. You can find every report here.
Season stats (playoffs included): 15 games (51 offensive snaps), 16 carries for 64 yards (4.0 average), zero touchdowns; one catch, 11 yards; 22 kickoff returns for 456 yards (20.7 average), long of 41 yards
ProFootballFocus.com season rating: Minus-1.5 on offense; 0.7 on special teams (ranked No. 26 out of 50 qualified NFL kickoff returners)
Best game: Week 2 win over New York Jets (played eight offensive snaps); one catch for 11 yards; two kickoff returns for 58 yards, including season-best 41-yard return
Worst game: Week 7 win over Carolina (played seven offensive snaps); two carries for minus-one yard; one kickoff return for nine yards
Expectations at the start of the season: Medium
Expectations were ... Not met
Looking live: Think back to training camp heading into the 2013 season. The Packers had just drafted Eddie Lacy in the second round and Johnathan Franklin in the fourth round, in addition to having James Starks on the roster. Yet, it was DuJuan Harris who was declared the starting running back by Mike McCarthy.
"I would classify him as a starter on our football team," McCarthy said of Harris midway through training camp in 2013. "I have that confidence in him."
That was despite Harris beginning training camp on the Physically Unable to Perform list due to a knee injury and missing the first 11 practices. Harris' season would officially soon be over when he suffered a patellar tendon injury to his right knee in the third preseason game.
When Harris reported to training camp in 2014, his role was significantly different than what McCarthy planned for it to be a year earlier. Lacy was the reigning offensive rookie of the year and Starks had been re-signed to a two-year contract. That left Harris competing for the No. 2 or 3 spot in a crowded backfield.
On Day 1 of training camp practice, Harris was one of four players to take kickoff returns, along with Kevin Dorsey, Chris Harper and Michael Hill. When Green Bay began sending out its entire first-team kickoff return group, Harris was always the one fielding the return.
"I think DuJuan's has had a consistent camp (on kickoff returns)," McCarthy said midway through training camp. "(But) we need to probably try a couple more guys on the kickoff."
Jeff Janis, Micah Hyde and LaDarius Perkins were soon added to the kickoff return competition. Still, by Day 15 of practice, it was Harris getting all the reps with the starting kick return group.
It was noted in the FOXSportsWisconsin.com Training Camp Report series on the final day of practice that "pending a very late change, it appears Green Bay will have Harris as its kick returner to begin the regular season. Harris continues to be joined by Janis and Dorsey on kick return, but those two never go before him."
Upon further review: Harris was a small part of McCarthy's offensive game plan early in the regular season, getting snaps in each of the first three games -- albeit it was a total of just 21 offensive snaps. It's a tiny sample size, but in Harris' four carries and one reception through Week 3 he didn't do anything to prove to McCarthy that he was more deserving than Starks to be the top backup running back.
Offensively, Harris became an almost exclusively garbage-time-only player. He appeared on offense in only six of the final 15 games (playoffs included), playing 30 snaps from October through the end of the postseason.
It was as the kick returner where Harris had an opportunity to make himself valuable to the Packers during the 2014 season. However, he was unable to accomplish that.
Harris' 20.7 yards per kick return was the second-worst mark in the NFL. Despite that, then-special teams coordinator Shawn Slocum stuck with Harris almost to the end. Harris made several questionable decision to bring balls out of the end zone and was tackled before the 20-yard line far too often. But Slocum defended Harris on multiple occasions, saying the bigger problem was with the blocking in front.
When it came time for crucial, end-of-season games, though, Green Bay showed how it truly felt about Harris as its kick returner. In the regular-season finale against Detroit with a bye on the line, as well as in both playoff games, Harris was put on the gameday inactive list despite being healthy. Instead of Harris, the Packers used Hyde and Randall Cobb on kick returns in those games.
Overall 2014 grade: D
Status for 2015: Twenty percent chance of being on the Packers' active roster to begin the 2015 regular season. Harris is an exclusive-rights free agent this offseason. He has that status by having an expired contract but without having three full years in the NFL. Green Bay has the right to offer him a contract for 2015 at the league-minimum salary before Harris can pursue other options. It's difficult to see where Harris fits into the Packers plans going forward. He's obviously not the answer at kickoff return and he's not going to rise above No. 3 on the running back depth chart without injuries to Lacy and Starks. Knowing what Green Bay does about Harris, it'd probably be a better investment to bring in a rookie to compete for snaps. For Harris, it's about what could have been. Without the knee injury in 2013, is Harris still the starter today like McCarthy envisioned? Is Lacy waiting on the bench and getting minimal opportunities? The reality for Harris is that he's likely to be part of the roster turnover before next season officially begins.
Next: Cornerback Casey Hayward
Follow Paul Imig on Twitter
---