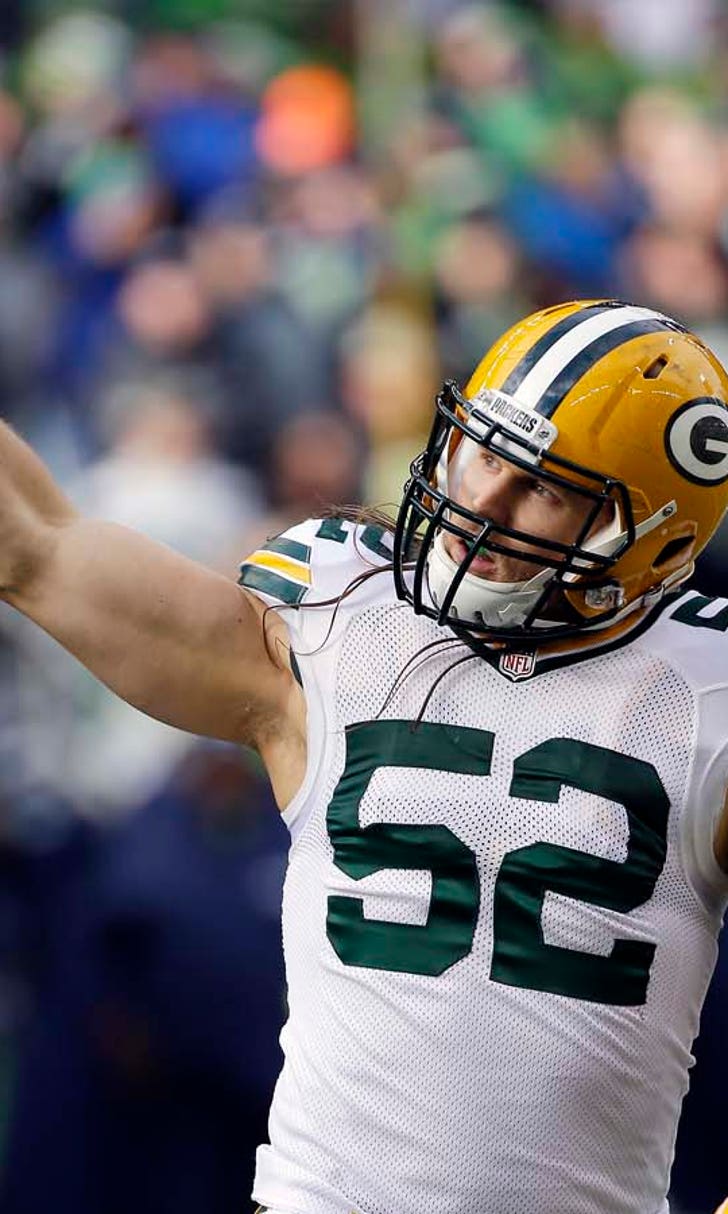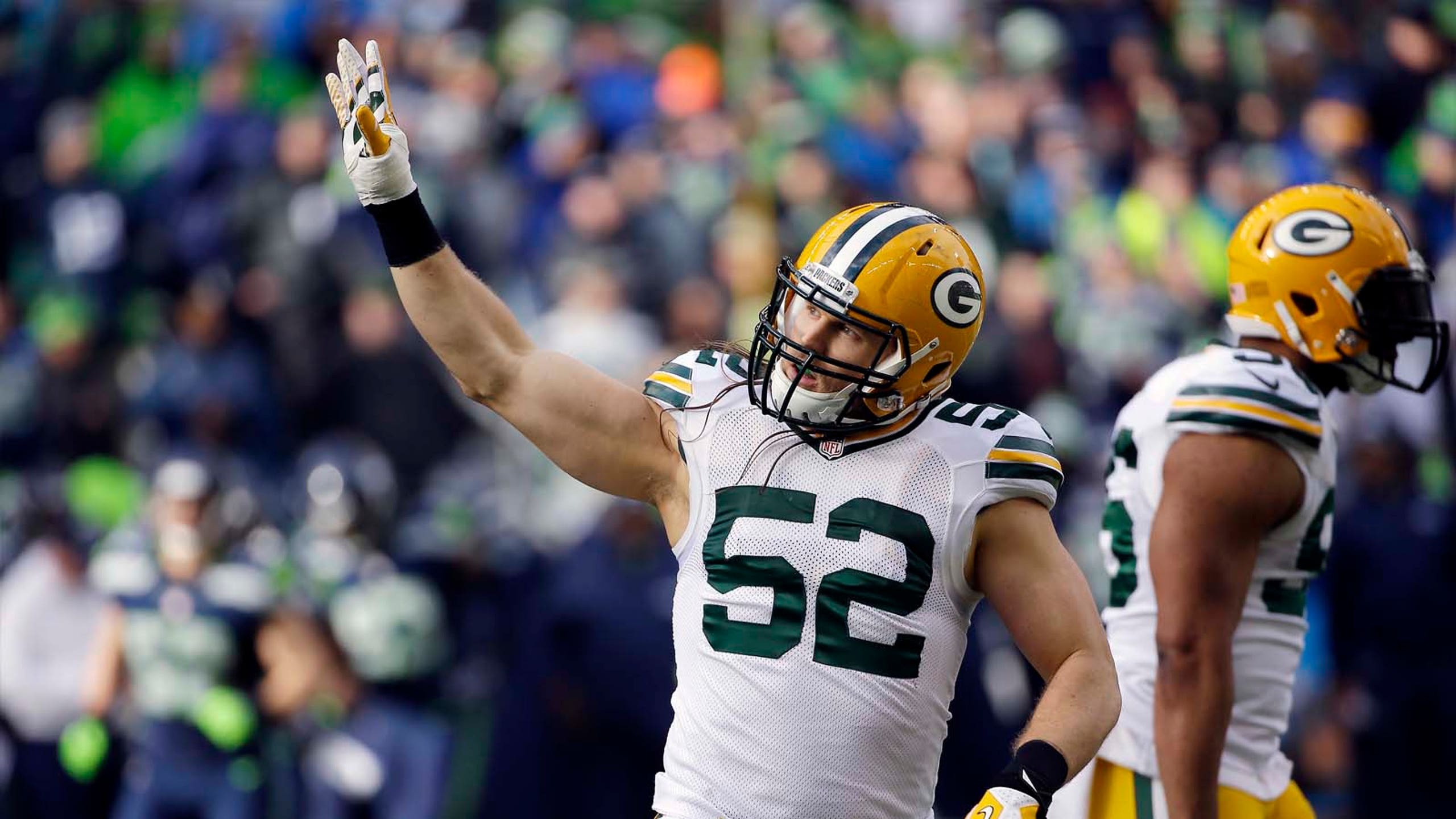 Packers Annual Checkup: Clay Matthews
BY foxsports • March 20, 2015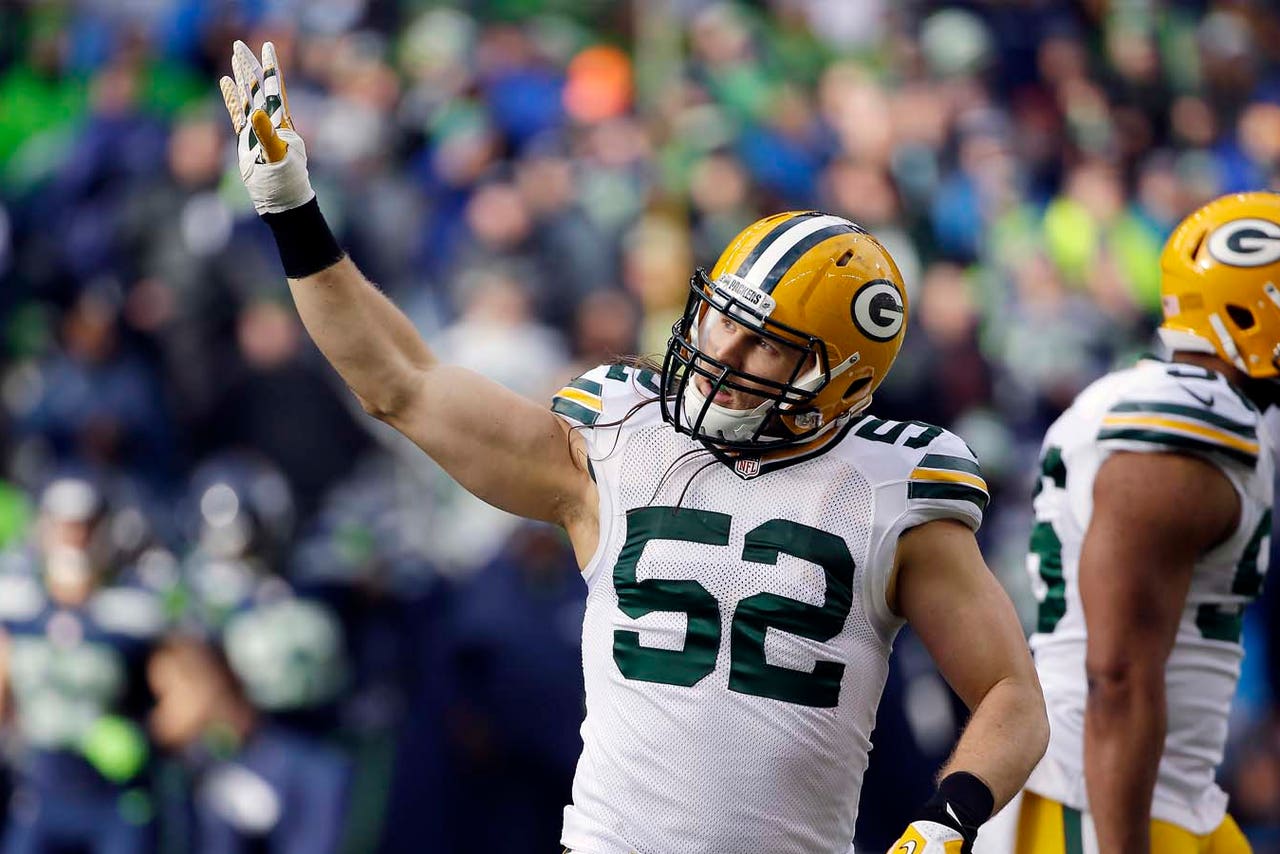 Clay Matthews, linebacker
FOX Sports Wisconsin's Paul Imig gives an in-depth statistical analysis and film study of every Packers player in his annual offseason checkup. You can find every report here.
Season stats (playoffs included): 18 games, 18 starts (1,029 snaps; 82.8 percent of total defensive snaps), 71 tackles, seven missed tackles, 12 sacks, 31 quarterback hurries, one interception, two forced fumbles, nine passes defensed, 37 stops (tackles that resulted in offensive failure); targeted 26 times in coverage, allowing 21 receptions for 217 yards and zero touchdowns
ProFootballFocus.com season rating: 2.2 (ranked No. 5 out of 24 Packers defensive players; ranked No. 27 out of 46 among NFL outside linebackers in a 3-4 defense)
Best game: Week 16 win at Tampa Bay (played 45 of 49 snaps); six tackles, 2.5 sacks, zero missed tackles, one batted pass; was in pass coverage for six snaps, targeted two times for one catch and four yards; 3.4 PFF rating
Worst game: NFC Championship Game loss at Seattle (played 56 of 73 snaps); six tackles, two missed tackles, one sack, two QB hurries; targeted four times in coverage, allowing three catches for 47 yards; minus-3.9 PFF rating
Expectations at the start of training camp: High
Expectations were . . .  Exceeded
Looking live: As the Packers' second-highest-paid player (and top-paid player on defense) at an average of $13.2 million per year, Clay Matthews is always going to enter a new season with high expectations. That was true again in 2014, even as Matthews was trying to bounce back from having been unavailable for nine games in the previous two seasons due to injuries.
Matthews was ranked at No. 3 on FOXSportsWisconsin.com's pre-training camp "Most Important Packers of 2014" series. I wrote at the time that Matthews belonged at that spot on the list because "he remains one of the NFL's elite pass-rushers. The difference between him playing 11 healthy games (like he did in 2013) and 16 healthy games would certainly have an impact in the win-loss column. Matthews is the Packers' best defensive player and has had opposing offenses game-planning to stop him for years. If Matthews has a dominant 2014 season, it makes the rest of the team better. No other Green Bay defensive player can have as much of an effect on outcomes as Matthews can."
The last part of that really ended up being true during the 2014 season.
One important aspect for Matthews throughout training camp was how he was going to respond after having his right thumb operated on twice the previous season. It was noted on the first day of practice that Matthews had his right thumb protected, but his fingers were free. On Day 10 of practice, he dropped back in coverage and had a chance to intercept Matt Flynn, but it went right through Matthews' hands. It was apparently not a thumb-related drop. "Just a missed interception," Matthews said later that day. "It just kind of caught me off-guard. It won't happen on game day."
Matthews appeared in the first three preseason games, playing a total of 54 snaps.
Upon further review: By Matthews' high standards, he got off to a slow start in the regular season. With one sack through six games, Matthews wasn't putting up the type of numbers that made him a four-time Pro Bowl selection, a one-time first-team All-Pro and a one-time second-team All-Pro. Mike McCarthy and Dom Capers weren't alarmed by it, though. In fact, they weren't disappointed whatsoever by Matthews' early-season performances.
"I'm very comfortable with the way Clay's playing," McCarthy said on Oct. 15. "His grades are consistent. Production doesn't always reflect the performance as far as the way we grade them."
Added Capers: "Clay's been playing good football. He'll still have those two or three plays a game that he really affects the game. I don't get too caught up in (the stats), because I think sometimes they come and they come all at once."
That same mid-October day, Matthews said something that would become prophetic. He said, "Of course I'd love to have all the numbers that I've had in the past, and I think they will come throughout these next 10 games. I think at the end of the season it'll just be one of those deals."
Those numbers did come, but not in the way that even Matthews could have predicted.
Following the Packers' Week 9 bye, McCarthy made the unexpected move to shift Matthews to inside linebacker -- which had become by far Green Bay's weakest position. For the Week 10 game against Chicago, 75 percent of Matthews' snaps came at inside linebacker. And all Matthews did was record a career-high 11 tackles along with one sack. But McCarthy stated the day after that game, "Clay Matthews is not an inside linebacker. He's a football player."
Despite his brother Casey Matthews telling Philadelphia reporters Clay didn't like the position switch, that was not the official story. But it also didn't mean that Clay Matthews preferred playing inside linebacker. "In a perfect world, I'd love to line up outside 100 percent of the time, get sacks," Matthews said on Nov. 13.
A week later, Matthews added another new position to his repertoire: lining up outside of the outside linebacker.
It was that type of season for Matthews, whose versatility was on full display. The added responsibilities also helped turn around the Packers' run defense, with Matthews often getting a lot of the credit from teammates and coaches for the improvement in that area.
Overall 2014 grade: A-minus
Status for 2015: One-hundred percent chance of being on the active roster to begin next season. The expectation is that Matthews will be back to his normal outside linebacker position in 2015. Playing inside linebacker was a move of necessity, but it was intended as a temporary move. However, with Green Bay's deep outside linebacker group remaining intact and its inside linebacker group only losing pieces to this point in the offseason, perhaps necessity could once again be the reason Matthews continues to work inside. If it's the Packers' goal to have their best 11 players on the field defensively as often as possible, it would be logical to think there's a better chance of that happening if Matthews is at inside linebacker. But there's still time for Ted Thompson to draft an inside linebacker or two, so the roster will look different on the first day of training camp than it does today.
Next: Outside linebacker Mike Neal
Follow Paul Imig on Twitter
---