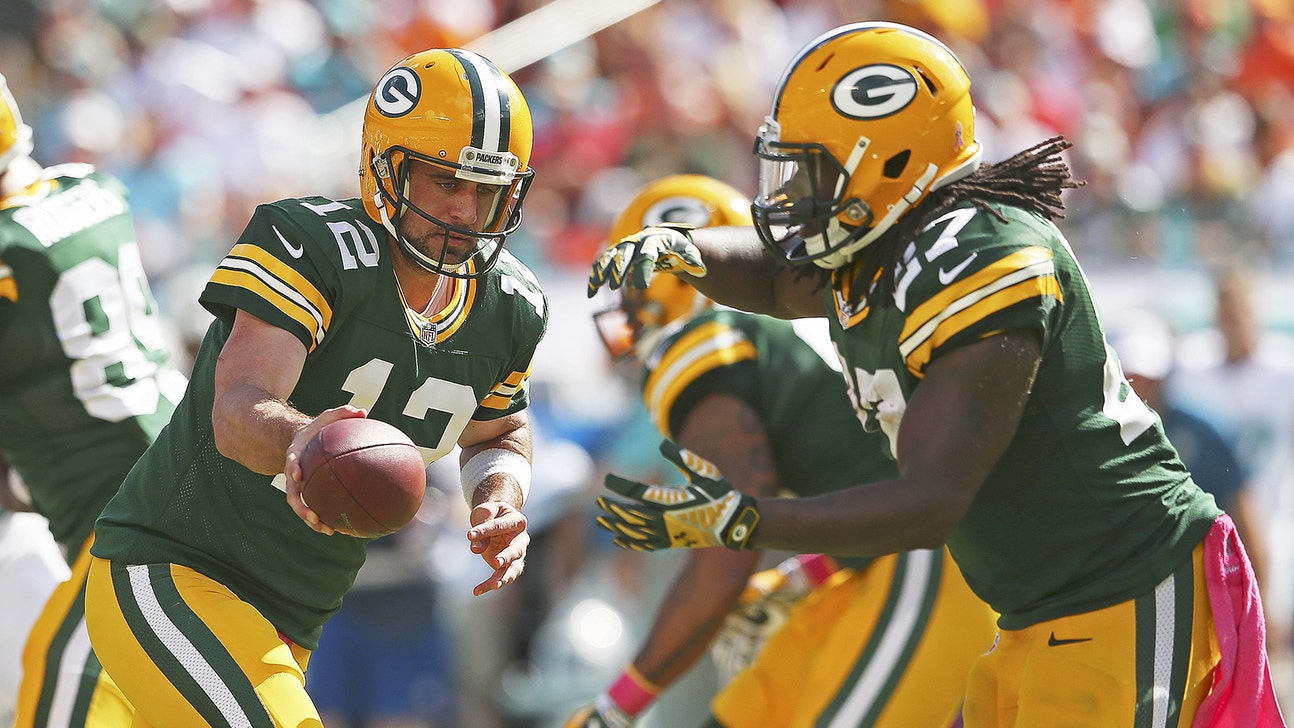 Packers' 3 reasons for optimism, 3 reasons for pessimism
Published
Oct. 31, 2014 11:00 a.m. ET

3 Reasons to be Optimistic about the Packers at the midpoint of the season
1. An MVP-caliber season from Aaron Rodgers
For a four-game stretch from Weeks 4-7, Aaron Rodgers played the quarterback position as well as anyone could. He threw 13 touchdown passes, no interceptions and had an average passer rating of 136.0. Rodgers also led the Packers to four consecutive wins, two of which were blowouts from the opening kickoff (vs. Minnesota, vs. Carolina), one which became a blowout after halftime (at Chicago) and one that gave him an elusive fourth-quarter comeback victory (at Miami).
Rodgers isn't worried about the left hamstring injury he suffered Week 8 at New Orleans. Considering he stayed in that game and even ran in for a touchdown after that, not to mention having a full week off with the bye, Rodgers should be at full health by the time Green Bay hosts the Bears on Nov. 9.
If the award was handed out at the midway point of the season, Rodgers would be among the top 5 candidates to be named the NFL's Most Valuable Player. Competing against Peyton Manning, Philip Rivers, DeMarco Murray and perhaps even J.J. Watt, Rodgers has as good a case as any. Even with Rodgers' sub-par performance against the Saints, he's still second in the league in passer rating. His stretch of 19 consecutive touchdowns without an interception will be remembered fondly at the end of the season. Rodgers should also be at least partially excused for his two Week 8 interceptions because they occurred after his injury when he was playing hobbled.
Rodgers can't be expected to always be great, but when he is, it usually leads to Packers wins. He even makes Green Bay's defense better, because it's when the Packers begin to take big leads that the defense has played its best football. If Rodgers plays the second half of the season like he did the first half, Green Bay will be tough to beat.
2. The receiver duo of Jordy Nelson and Randall Cobb
Rodgers can't do it all himself. He needs a couple receivers getting open, and Jordy Nelson and Randall Cobb have done just that this season.
Nelson is fifth in the NFL in receiving yards (737), which is very good, but he was even higher on that list before having a season-low 25 yards in New Orleans. Cobb leads all wide receivers with nine touchdown catches, tied for the league lead with two tight ends (Antonio Gates, Julius Thomas). Cobb is two touchdowns ahead of the second-place receiver in touchdowns, Pittsburgh's Antonio Brown.
Cobb has been consistently getting in the end zone all season, but it's been his receiving yards over the past month that's taken some pressure off Nelson. Through three games, Cobb had only 126 total receiving yards. During that time, Nelson had 351 receiving yards and was being targeted at a rate that couldn't possibly continue successfully. Since then, Cobb has done more than just catch touchdowns. He had 113 receiving yards in Chicago, 121 against Carolina and 126 at New Orleans. Cobb's skill set has allowed him to contribute in tight spaces near the goal line and has him operating at a very high level in the open field by picking up yards after catch.
Davante Adams has done more through eight games than what could have been realistically expected from a 21-year-old rookie, but he's had growing pains and will continue to have them. Between that and Jarrett Boykin not having nearly the season that the Packers hoped and expected, Green Bay can still feel very good about where it's at when Nelson and Cobb are the top two targets running routes.
3. Eddie Lacy finding himself, improving
From an overall summary perspective of Eddie Lacy's first eight games this season, it's been more downs than ups. Lacy had no more than 3.3 yards per carry in any of the first four games, and it started to become a situation where James Starks was more than just Option B of the one-two punch. Since then, however, with the exception of Week 6 at Miami, Lacy has been even better than he was a year ago when playing his way to the NFL's Offensive Rookie of the Year award.
Lacy first broke out of his slump against Minnesota, rushing for 105 yards on only 13 carries (8.1 average) with two touchdowns. He was running over the Vikings' second level of defenders and even de-helmeted safety Robert Blanton in a play that showed just how powerful of a runner Lacy can be. Simply looking at Lacy's yards (63) against Carolina doesn't nearly do it justice. He broke so many Panthers tackles that Green Bay's coaching staff could only estimate the number of them as being "in the teens." Most recently, the Packers truly discovered why Lacy was calling himself "Moss" (as in Randy Moss) in training camp. Lacy had eight catches for 123 receiving yards in New Orleans and demonstrated an ability that every future Green Bay opponent will have to prepare for accordingly.
If there had been a first-quarter review of this season, it wouldn't have been positive for Lacy. But there is now plenty of proof eight games into 2014 that Lacy can not only repeat his level of success from his rookie season, he can surpass it. And he's still improving.
3 reasons to be pessimistic about the Packers at the midpoint of the season
1. Worst run defense in the NFL
Ranking last in the NFL in any category should certainly be concerning for a team. That's where the Packers find themselves in rushing defense.
Green Bay was last in the league for a couple weeks, climbed up to No. 31 before the game in New Orleans, then fell hard back down to No. 32. The 153.5 rushing yards allowed per game this season is not only the most in the NFL, it's nearly 10 yards per game worse than the team ranked second-to-last (St. Louis Rams at 144.7). In terms of yards per carry, the Packers are slightly better, ranking 29th. But whether it's No. 29 or No. 32, it's clearly a significant issue as Green Bay prepares for the second half of the season. The rating system at ProFootballFocus doesn't shed positive light, either, rating the Packers as the third-worst run defense in the league.
Losing B.J. Raji for the entire season was a big blow. Raji was playing very well in training camp and seemed reenergized being back at the nose tackle position. That meant turning veteran free-agent acquisition Letroy Guion from a backup into a starter. Guion was out for nearly the entirety of training camp with a hamstring injury, and it was clear that all the missed time hurt his performance in the first four games. Guion has been playing better of late, but having him and Raji would have been a much better scenario for Green Bay.
Perhaps the biggest issue with the Packers' struggles stopping the run has been at the linebacker positions. Green Bay has been searching for answers at inside linebacker, with Brad Jones now a backup and Sam Barrington getting two consecutive starts. A.J. Hawk hasn't performed well enough in that area, but none of the inside linebackers are getting much help from the outside starters, Clay Matthews and Julius Peppers. Containing the edge has been a problem quite often for Matthews and Peppers, with the Packers actually seeing a slight uptick against the run when Nick Perry and Mike Neal are in. ProFootballFocus rates four of Green Bay's five worst run stoppers (all in the negative red column) as linebackers: Hawk, Jones, Matthews, Peppers.
The Packers aren't facing any of the NFL's top rushing offenses in the second half of the season, but if New Orleans' Mark Ingram (who only had one 100-yard rushing game in his first three-plus seasons) can rush for 172 yards on 24 carries, it's more on Green Bay's defense than it is based on who it's playing against.
2. Not enough production from tight ends
In less than five games during the 2013 season, Jermichael Finley had 25 catches for 300 yards before his season-ending (and, at the moment, career-ending) neck injury. After eight games in the 2014 season, the Packers' leading receiver at tight end is Andrew Quarless with 15 catches for 135 yards. That's a significant difference.
There's also a big difference in how an opposing defense game-planned for Finley compared to how they have to for Quarless. Finley was well known as a down-the-middle threat and a receiver that had to be accounted for. Quarless has had his moments (none bigger, of course, than his game-winning touchdown in Miami), but he's not the type of receiver that requires much specific attention. Quarless will make a few plays, but he won't change the dynamic of a game like Finley could.
It's impossible to say what the first half of the regular season would have looked like at tight end had it not been for Brandon Bostick's leg injury in the preseason. Bostick was supposed to be the new Jermichael Finley -- the receiver threat at tight end who would give Rodgers an added option to target. Instead, even once Bostick returned to full health, he's been a third-string tight end and nothing more than a special teams contributor. Perhaps Green Bay unleashes Bostick at some point, but so far he's played just 20 total snaps on offense, and they've almost all come in garbage time.
The Packers are still bringing rookie Richard Rodgers along. But with just seven catches so far, it's fairly obvious that the Rodgers-to-Rodgers connection won't be feared in 2014.
3. Staring up at the Detroit Lions in NFC North
In the end, nothing will be more important than the standings. And right now, Green Bay (5-3) is second in the division behind the Detroit Lions (6-2). Making matters worse for the Packers is the head-to-head Week 3 loss in Detroit. It's not a fluke 6-2 Lions team, either. They have one of the best defenses in the NFL, ranking second in rushing yards allowed and fifth in passing yards allowed. Detroit had no problem stopping Green Bay's offense in a 19-7 victory. The Packers need to make sure they're within reach of the Lions when the two teams meet again in Week 17, this time at Lambeau Field.
If Green Bay is unable to win the NFC North for a fourth consecutive season, getting into the playoffs via wild card won't be easy. If the postseason began now, the Packers would be the last team in and ranked sixth. In this scenario, Green Bay would travel to Dallas and face the 6-2 Cowboys on the road.
With the Arizona Cardinals atop the NFC West by two games over both Seattle and San Francisco, that means the Seahawks and 49ers will be battling for wild card spots. Currently, neither Seattle nor San Francisco (both 4-3) would be in the playoffs. That means the Packers would be getting chased for their spot by two of the better on-paper teams in the conference. Plus, New Orleans (3-4) could get on a roll now and has a head-to-head win over Green Bay.
The Packers will have a few relatively easy games with the 2-6 Falcons, 3-5 Vikings and the 1-6 Buccaneers, but they also have the 5-2 Eagles, 6-2 Patriots, 5-3 Bills and the aforementioned season-ender with the Lions. Plus, who knows what Bears team is going to show up at Lambeau Field in Week 10.
No team with postseason aspirations like Green Bay has wants to be looking up in the division standings. A 10-6 record likely won't win the NFC North, and it might not get a team any better than the last wild card spot. The Packers going better than 5-3 in the second half of the season would require a sweep of the below-.500 teams and splitting with the four good teams. That's not an easy task.
Follow Paul Imig on Twitter
---