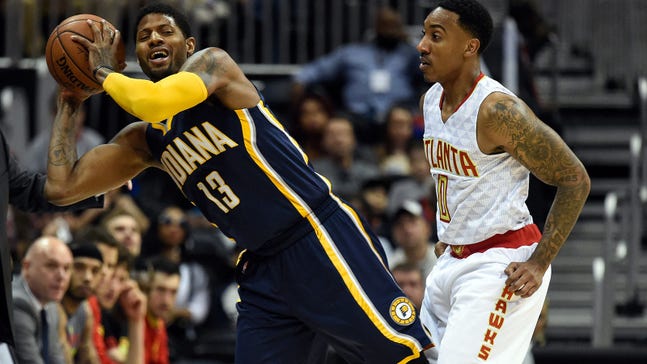 Pacers suffer worst loss of season, 104-75 to Hawks
Published
Mar. 13, 2016 8:33 p.m. EDT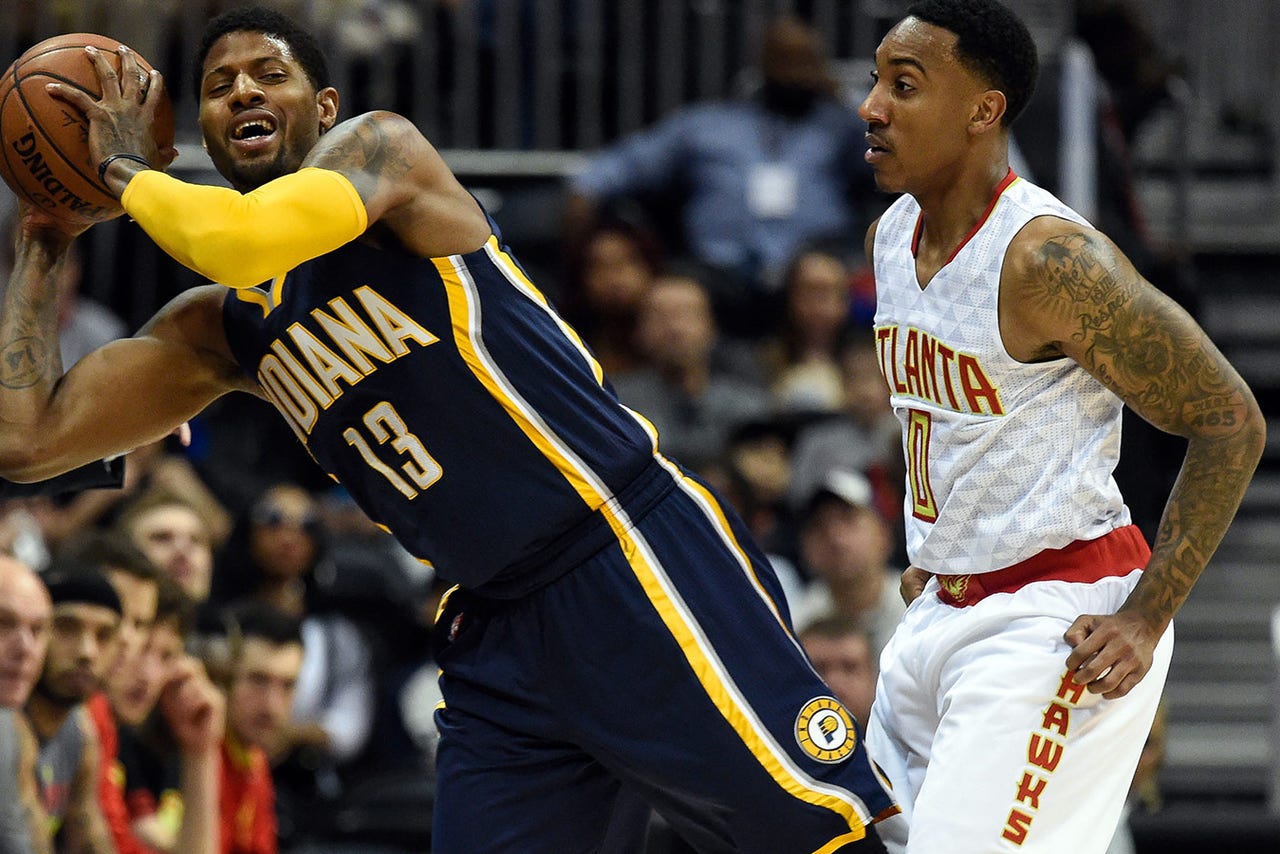 ATLANTA -- Atlanta Hawks coach Mike Budenholzer figured the Indiana Pacers might have a tough time winning two road games on consecutive nights.
He was right about that, but Budenholzer was surprised that his team held Pacers stars Paul George and Monta Ellis to a combined 17 points in a 104-75 victory Sunday night.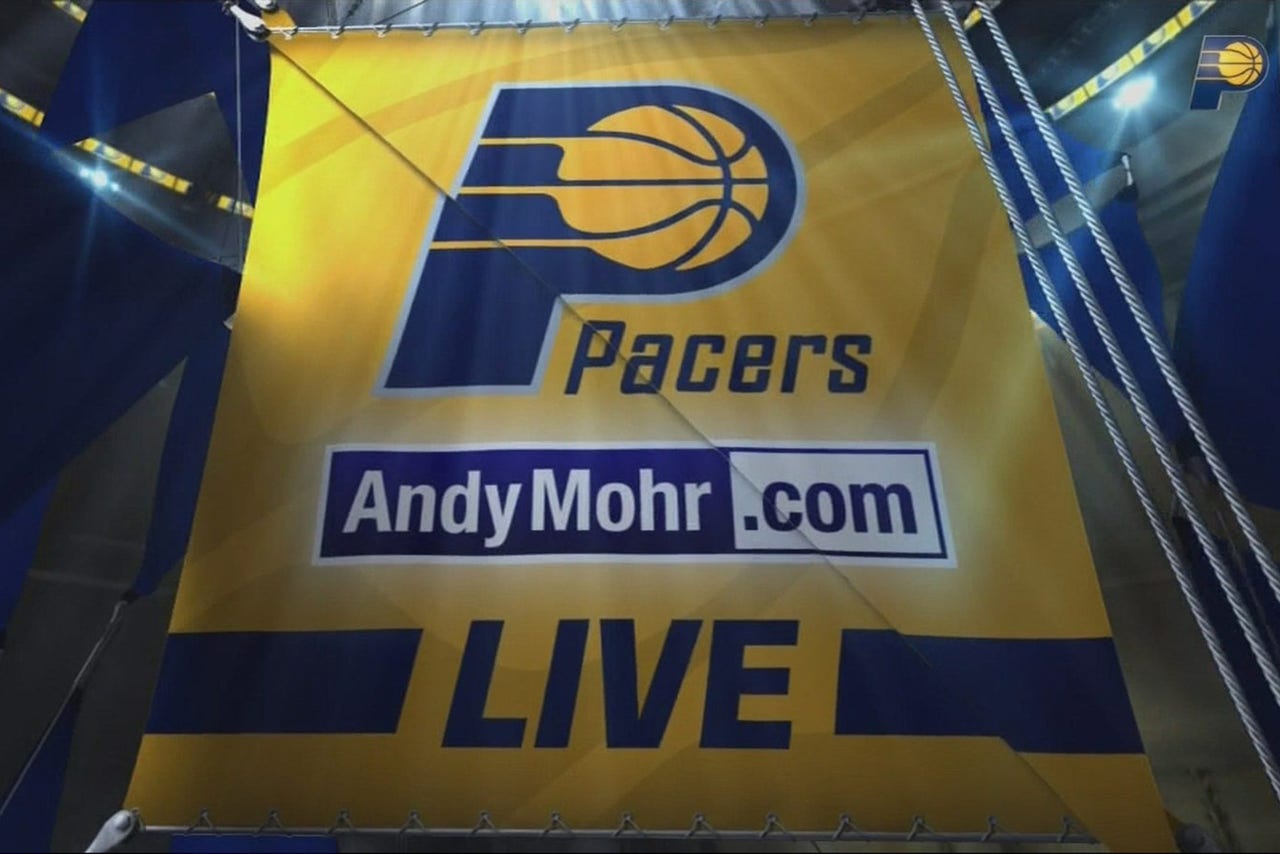 Watch the Pacers Live pregame and postgame shows before and after every Indiana Pacers game on FOX Sports Indiana.
"Tonight I felt like we caught a little bit of a break," Budenholzer said. "The defense was good, and I want to give the defense credit, but those are two great players that are hard to control."
Al Horford and Paul Millsap each scored 18 points, Kyle Korver added 14 and the Hawks used a blistering third quarter to rout the Pacers. Indiana's 75 points were a season low for the team and for an Atlanta opponent.
The Pacers had won three straight but dropped 2 1/2 games behind Atlanta for the sixth Eastern Conference playoff spot. They fell apart after trimming the lead to eight early in the third.
"It's been the toughest challenge for us is matching up with these spread teams, and a spread team got the best of us tonight," George said. "They turned the switch. They took it to another level."
The Hawks went on a 20-0 run and finished the third with seven 3s, the last coming by reserve forward Kris Humphries to make it a 34-point lead. Atlanta, which was coming off a Saturday night win over Memphis, has won five of its last six.
Indiana rookie Myles Turner, who scored a team-high 19 points, was the only starter for either team to play in the fourth.
George, a starting forward in the NBA All-Star Game, finished with just seven points for the Pacers, almost 19 below his team-leading average, on 3-for-15 shooting. He insisted the Pacers' back-to-back road games weren't a deciding factor.
They won by seven at Dallas on Saturday.
"I don't think effort was the reason, or energy," he said. "We played early, so it wasn't like we got in late or were tired. We had enough time to get ready for this game."
The Hawks led by 16 early in the second on Korver's 3, and Ellis' layup cut the lead to six, but Indiana never got closer. Turner and Ellis were the only Pacers to score in double figures.
Atlanta went 15 for 30 beyond the arc. The Pacers went 5 for 24.
"They beat us the first two times, so we knew it was important for us to come out with that kind of energy," Horford said. "We're a much better team than we were a month ago (when the Hawks beat Indiana by six points). I'm satisfied with what we were able to do tonight."
TIP-INS
Pacers: The scoring drought in the third lasted over 5 minutes. .. G George Hill, questionable before the game with a sore toe, scored five points and missed all four 3-point attempts.... G Ty Lawson missed his fourth straight game with a sprained left foot. ... Ellis played with a sore left knee.
Hawks: Have won 18 of 20 regular-season home games in the series. ... Budenholzer took a timeout early in the third after a 17-point lead shrank to 10. Budenholzer yelled repeatedly at Kent Bazemore after Ellis was left unguarded for a 3 in front of Atlanta's bench. Bazemore stayed in the game after the timeout and finished with eight points. ... F Thabo Sefolosha scored 12 points. ... Atlanta has a matched a season high in moving nine games over .500.
UP NEXT
Pacers: Host Boston on Tuesday night.
---
---