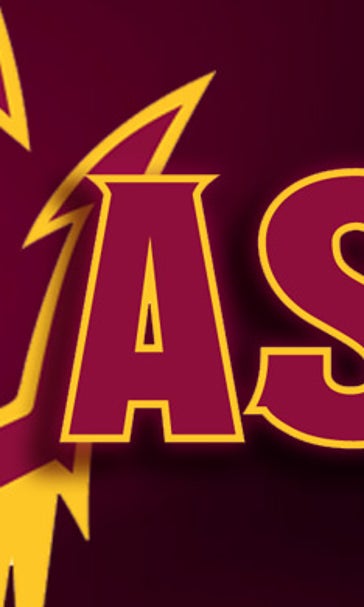 Oregon shuts out ASU in softball
April 10, 2015

EUGENE, Ore. – Janelle Lindvall hit a grand slam and the No. 2 Oregon Ducks used a five-run fifth-inning to pull away from the No. 19 Arizona State Sun Devils for a 7-0 victory in the first game of a scheduled three-game series in Eugene, Ore. 
The Sun Devils (27-13, 5-4 Pac-12) managed just two hits -- doubles by Nikki Girard and Chelsea Gonzales -- as Cheridan Hawkins (17-3) pitched yet another gem for the Ducks (33-5, 11-3 Pac-12).
Breanna Macha (12-7) was solid for four innings for ASU, holding the potent Duck offense to just one run on two hits through four and keeping ASU within striking distance.
Things came apart for the freshman in the bottom of the fifth, however, as Oregon loaded the bases with two hits and a walk with just one out to bring up Lindvall.
The junior took strike one inside and then did her best Vladimir Guerrero impersonation as she lifted a low, outside ball into the bleachers in left field for the grand slam and a commanding 5-0 lead.
Koral Costa added a solo shot to make it 6-0 and Danica Mercado singled after that to chase Macha in favor of Alexis Cooper. Cooper got out of the inning, but ASU couldn't pick away in the sixth despite getting a leadoff runner in Girard on her double.
Gwen Svekis hit a solo shot in the bottom of the sixth to make it 7-0.
Hawkins finished by giving up just two hits with six strikeouts and no walks, hitting one batter. Macha gave up six runs on seven hits in 4.1 innings, with two strikeouts and five walks.
The series resumes Saturday at 5:30 p.m.
---