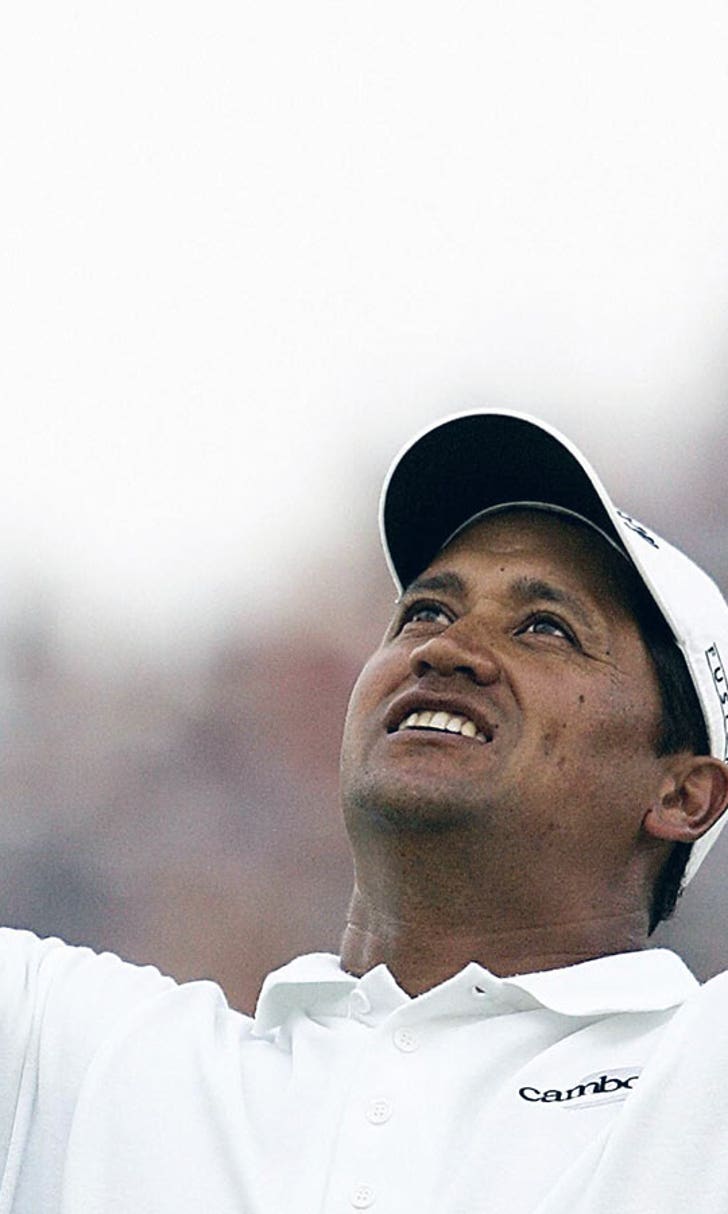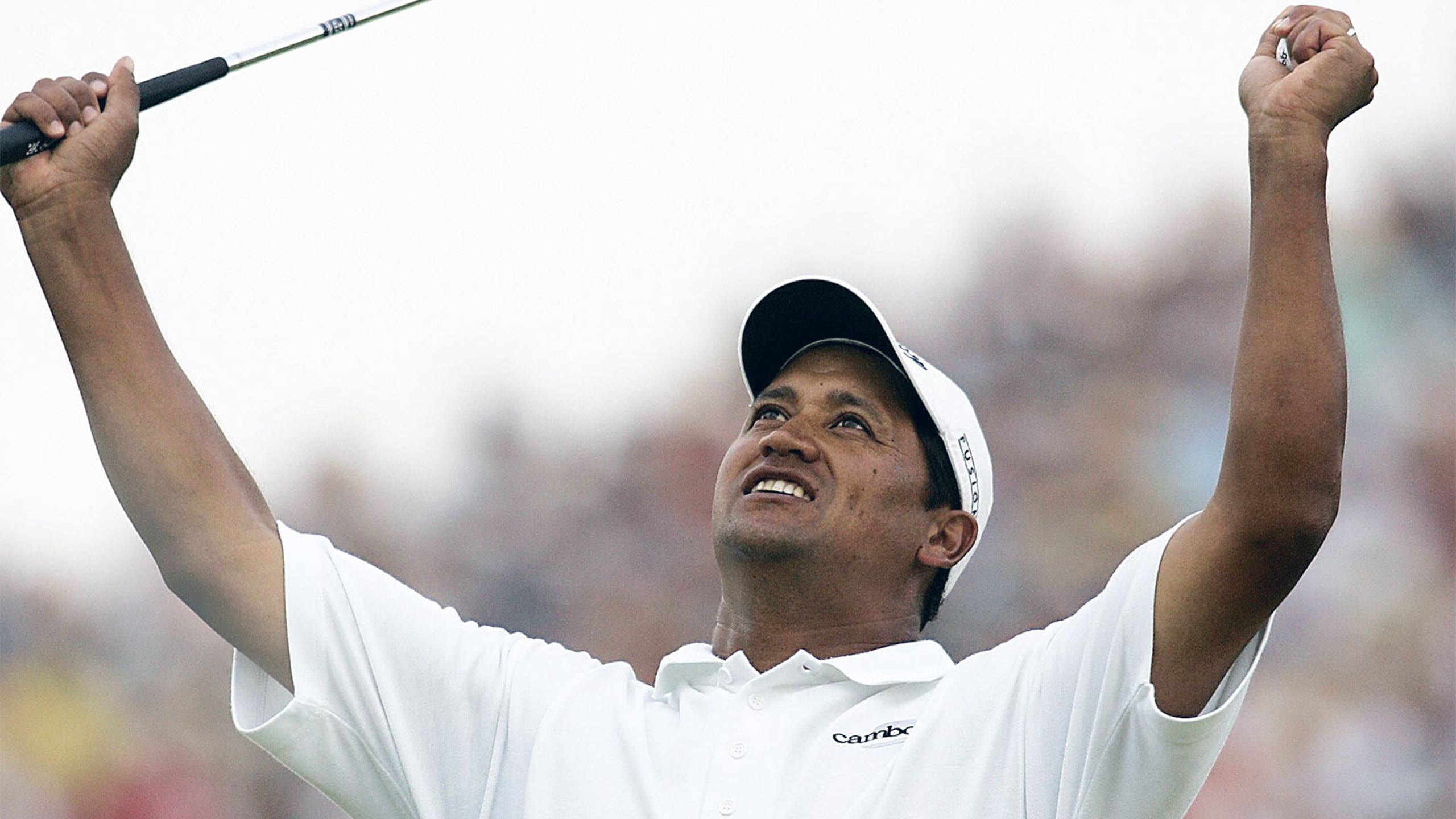 One & Done: Michael Campbell relishes U.S. Open triumph a decade later
BY Sam Gardner • June 15, 2015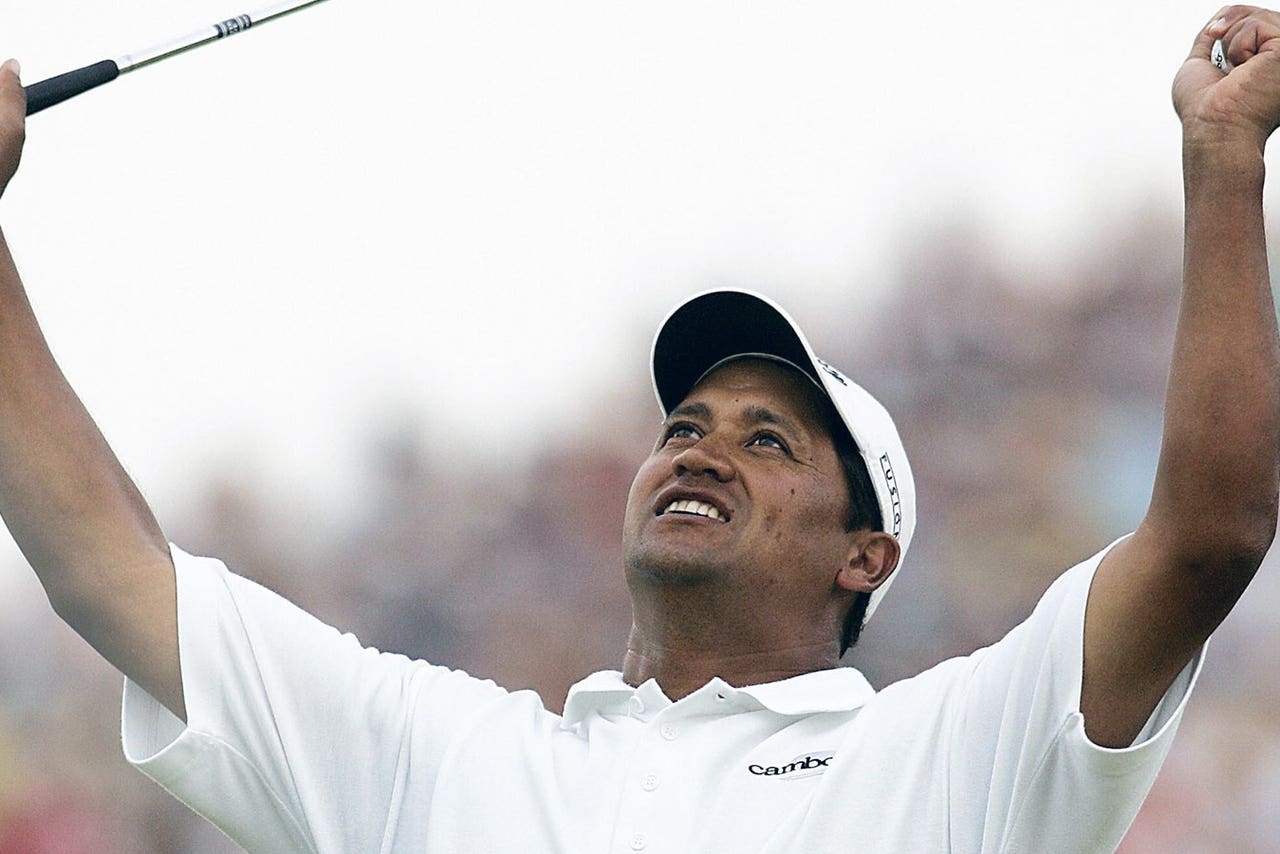 In the world of sports, athletes often dedicate their entire lives to reaching the pinnacle of their profession, but for many, life at the top can be short-lived. Sometimes all a player gets to experience at the highest level is one minute on the court, one trip to the plate, one shot on goal or one checkered flag, but more often than not, that fleeting moment in the spotlight is a story all its own. This is One and Done, a FOX Sports series profiling athletes, their paths to success and the stories behind some of sports' most ephemeral brushes with glory.
Growing up in New Zealand, Michael Campbell dreamed of someday playing for the All Blacks, in part because virtually every young boy on the rugby-crazy island in the Pacific aspires to one day play for the world's best team.
By the time Campbell was 10, he realized he had neither the size nor the skill to one day play a sport like rugby at an elite level, so he focused his efforts on golf. And it's a good thing he did, because 10 years ago this week, Campbell became one of the most unlikely major winners in golf history when he held off a surging Tiger Woods in the final round of the 2005 U.S. Open -- a tournament Campbell came within one putt of not playing in.
"I believe in fate, and it was just one of those things where everything lined up," Campbell, 46, said of the two-shot victory -- his only career PGA Tour win -- in a phone interview from his house in Malaga, Spain, earlier this month. "It was one of those things that sort of makes you realize that it takes more than skill and hard work to win a major. There's a bit of luck as well."
A European Tour veteran whose previous claims to PGA Tour fame came in a tie for third at the 1995 Open Championship (a tournament he led after 54 holes) and a runner-up finish at Bay Hill in 2002, Campbell had no intentions of trying to go through sectional qualifying to get into the 2005 U.S. Open at Pinehurst. 
After finishing in a tie for 12th at the 2000 U.S. Open at Pebble Beach -- five shots out of second place but an incredible 20 behind the winner, Woods -- Campbell missed the cut in four consecutive tries at golf's second major and figured it wasn't worth the money, time or effort to travel across the world to try to play his way into the field.
However, in 2005, the USGA implemented overseas U.S. Open qualifying for the first time and as fate would have it, the lone international sectional qualifier was held at Walton Heath Golf Club in England -- a half-hour from Campbell's house near London -- so Campbell knew he had no excuses not to give it a shot. (The following year, the USGA added a sectional qualifier in Japan, as well.)
At Walton Heath, Campbell was one of 53 players vying for nine spots in the U.S. Open field, and his bid for a place in the tournament ultimately came down to the 36th and final hole. Both Campbell and his playing partner, Steve Webster, were tied at 8-under going into the final hole, and after hitting their respective drives, both players pitched similar shots into the 18th green. 
Fortunately for Campbell, his landed a few inches closer to the cup.
"We're both at the same score -- another twist to the tale, another piece of the jigsaw puzzle -- playing the last hole, and we both hit it to the same spot, but he was 10 feet away and I was nine feet away," Campbell said. "I actually had to move my marker because I was on Steve's line. 
"So when he hit his putt, he missed and I watched, obviously, and learned from his putt. Then I sunk mine for birdie to make the top nine (as part of a five-way tie at 5-under) and he missed the cut. It was just one of those things where all of your planets are aligned, all your ducks are in a row, however you call it, and it's amazing how those things unfold."
Still, simply making the U.S. Open field was no guarantee at all that Campbell would do anything of consequence once he got there. 
Campbell had watched Payne Stewart's historic duel with Phil Mickelson in the 1999 U.S. Open at Pinehurst's No. 2 course, but that was all he knew about the track he'd be competing on. He'd never played the course before arriving in North Carolina the weekend before the tournament, so he tempered his expectations accordingly.
"I thought to myself that top 25 would be good, top 10 would be fantastic," Campbell said. "But to win it? I didn't expect that.
"Monday, Tuesday and Wednesday I played three practice rounds, though, and from that I thought even par was probably going to win. The course is so tough with the tight fairways, and the greens there are what they are, so I knew if I could hang around par, I'd have a chance."
A first-round 71 left Campbell four shots off the lead after Olin Browne and Rocco Mediate set the pace with respective 3-under 67s. Then a second-round 69 left Campbell exactly where he'd hoped to be, at even par heading into the weekend. However, another 71 on Saturday dropped Campbell four shots back of leader Retief Goosen, the 2001 and 2004 U.S. Open champion, and seemingly out of contention -- at least in his own mind.
"Retief and I are very good friends, and the night before the final round, we had lunch together in the player's lounge," Campbell said. "I just thought I was playing for second or third and figured that top five would be fantastic. He's a two-time U.S. Open winner, he was playing fantastic golf, and I conceded that he was going to be the winner. 
"So we had lunch and I kind of said to him, 'Keep it going, mate. Well-played so far,' but then all of a sudden, after five or six holes (on Sunday) he was leaking oil bigtime and I was making birdies and pars and things changed completely."
After making par on his first hole, Goosen double-bogeyed the second and bogeyed the third to drop into a tie with Campbell, who birdied No. 1 to move to even, then parred his next six holes. By that time, both Browne and Jason Gore, who each entered the final round a shot ahead of Campbell and three back of Goosen, had dropped to 3-over. After another Goosen bogey on No. 5, it was Campbell, playing in the second-to-last group, who suddenly found himself atop the leaderboard.
From that point on, Goosen, Browne and Gore all went into a collective tailspin, shooting Sunday scores of 81, 80 and 84, respectively, to leave them well off the pace. More importantly, their collapses left Campbell -- 10 years after giving away the British Open to John Daly -- once again clinging to an unexpected lead in a major, but Campbell was hardly comforted by the situation.
"I'm not a psychologist, but the game of golf is all about inches, and if you're slightly off, mentally or physically, it's going to grab you by the balls and just twist it," Campbell said. "Obviously, Retief and Jason and Olin and everyone were off, and the two players who came through it were me and Tiger, because Tiger is always going to be there. 
"He'd just won Augusta three months before, and he was the No. 1 player in the world," Campbell added of Woods, who began the final round at 3-over before bogeys on the first two holes dropped him to 5-over. "He was the player to beat, and no one gave me the chance."
After bogeying No. 8 and making par on No. 9, Campbell made the turn at 1-over, while Woods, playing two groups ahead, birdied 10 and 11 to move within a shot of the lead at 2-over. Campbell responded with birdies of his own on the 10th and 12th holes to put him at 1-under, giving him a three-shot lead with six holes to play, as Tiger stepped to the tee at No. 15.
"I was the absolute underdog, which, to me, was a wonderful thing because it gave me more motivation to actually win," Campbell said. "To have the opportunity to go into the last nine holes of a major championship, in the U.S. Open, and to go face-to-face, shot-by-shot with the best player in the world was pretty cool. So I saw it as an opportunity, not as a threat at all. I knew it was a wonderful opportunity for me to shine as a golfer because I knew I deserved that win."
On 15, Tiger once again made birdie to move within two shots of Campbell, who went on to hold firm with pars on the 13th, 14th and 15th holes.
"It's fantastic to see the No. 1 player in the world, in full swing, hunting you down at a major championship, so if you fend him off and do well enough to win, that's more satisfying, I think, as a player," said Campbell, who admits he kept his nerves in check by telling himself that the cheers he heard for Woods were actually for him. 
"I didn't see it as a daunting task. I saw it as a challenge and an opportunity, so it was a wonderful thing to see Tiger do his thing and have it not be good enough."
Back-to-back bogeys from Woods on 16 and 17 gave Campbell a little bit of breathing room, but a Campbell bogey on 16 combined with a Woods birdie on 18 left Campbell's lead at two shots with two holes to play. Campbell wasn't about to start celebrating, however -- not after a 20-foot birdie putt on the par-3 17th (a hole he'd birdied from the bunker on Saturday) gave Campbell a three-shot lead with one hole to play.
"No, no, no, not at all," Campbell said. "The thing about the U.S. Open is that you can make double or triple easily on those last few holes. If your mind wanders, it can be really devastating. To maintain that focus, that absolute focus on what you want to do, it's hard. Mentally, it's very, very, very tough. So you can't start thinking you've won it when you've got holes left to play. The USGA typically sets up the course where it's very, very tough so you've got to be on edge all the time."
After missing the fairway with his tee shot on 18, Campbell, not looking to replicate Jean van de Velde's meltdown on the 72nd hole of the 1999 British Open, played a safe shot back into the fairway. From there -- exactly 77 yards out, the same distance as Stewart's approach shot on 18 when he won at Pinehurst in '99 -- Campbell hit a half-wedge to within a couple feet of the cup and could finally breathe a sigh of relief.
Knowing that a three-putt or better would win, Campbell calmed his nerves, then after missing the first try, he tapped in for the win at even par -- exactly what he sought to shoot from the beginning. And as he took in the moment, Campbell pulled his hat down over his eyes and cried before burying his face into the shoulder of caddy Michael Waite and, eventually, tossing his ball into the crowd. 
Then, before leaving the green, Campbell shared an embrace with Woods' caddie, Steve Williams, a fellow New Zealander and perhaps one of the only men at Pinehurst that day who could appreciate how much the win meant.
"We do excel in other sports and we sometimes punch above our weight, but golf isn't such a big sport in New Zealand, at all," Campbell said, noting that Lydia Ko, currently the No. 2 women's golfer in the world, is also a New Zealand native.
"So when someone excels in golf -- our first major winner was Bob Charles, in '63, when he won the Open -- it's a huge impact. Because golf wasn't played much, really. It's maybe the ninth- or tenth-most-played sport in New Zealand, so for someone like to win a major championship tournament, it was a big deal. It had a huge impact on the country."
Campbell, who nearly retired from golf due to recurrent wrist injuries in the late 1990s, says he didn't fully appreciate his win until several weeks after he sank that final putt.
"It was a whirlwind of stuff going on for two or three weeks, and you don't have time to think about it, really," Campbell said. "Everything happens so fast, so quickly, but probably a month later, I sat down and looked at the trophy, and that's when it hit me. 
"I thought about all the previous champions," he continued. "I'll always be a part of U.S. Open history, and to be listed with all of those players -- all of the amazing, incredible players who played this game -- I'm one of them now, and I'll always be. To me, that was a wonderful, incredible feeling, something I'll never forget."
Unfortunately, winning an event of the U.S. Open's magnitude comes with a new set of expectations from fans and other golfers alike, and that pressure wound up getting the best of Campbell. 
Campbell rode the momentum of his U.S. Open win to a tie for fifth in the at the Open Championship at St. Andrews, a tournament won by Woods. He then overcame a 3-over first round at the PGA Championship to finish in a tie for fifth, three shots behind the winner, Mickelson. That September, Campbell won the European Tour's HSBC World Match Play Championship -- he'd won six other times on the European Tour between 1999 and 2003 -- but that would be his final professional win of any kind.
"I think the thing that people don't realize is that every week isn't the same," Campbell said. "So it was very hard for me to have those expectations, and they were the biggest thing for me to overcome. (The 2005 U.S. Open) was one of those weeks where it all fell into place. There were all these factors that come into it, and people don't realize that. People think that you just play golf and win or play golf and lose.
"Ask all the top golfers in the world, and they'll tell you it's all about momentum, all about confidence, and the whole year 2005 for me was definitely momentum after the U.S. Open," he added. "But momentum sometimes dries up, and I relaxed a little bit more, I spent more time doing charity stuff, less time practicing, going to the gym, playing less golf. 
"So I don't blame anybody. I take full responsibility for my schedule and my actions, and I just basically took my foot off the accelerator and put it on the brake because I thought it was time to enjoy life, and I did."
In 2006, Campbell played in 10 PGA Tour events, making the cut in five, but failed to make the cut at three of the four majors he entered, including a 12-over showing in his championship defense at the U.S. Open at Winged Foot. From there, he focused more on playing overseas, making the occasional run at a win -- in 2007 he tied for second in the New Zealand Open and tied for fourth at the British Masters, and in 2008, he had four top-10 finishes in his last six European tournaments -- but in 2009, he made just three cuts and only got worse from there. 
After three years without a single top-10 finish at any level, Campbell made a brief resurgence in 2012, finishing third in the Portugal Masters and in a tie for eighth at the Hong Kong Open, but that comeback, too, was short-lived. Additionally, Campbell's only PGA Tour starts from 2011 through 2013 came in the U.S. Open. He missed the cut all three times, then withdrew from last year's event, back at Pinehurst, a month before the tournament.
By the end of 2014, Campbell was ranked 1,394th in the world, and last month, Campbell officially retired from golf, with the 2005 U.S. Open the only PGA Tour victory to his name. Still, Campbell says he has no regrets about his career and how it played out after his unlikely major win.
"I don't really care about other people's opinions, to be honest," said Campbell, who runs a golf academy in Malaga. "The most important thing is that I know I lived a dream and had an amazing career, and that's what matters. Everyone's allowed to have their own opinion, but I feel very fulfilled.
"When I was 10 years old, I would pretend to hole putts to win a major, and I accomplished that dream," Campbell said. "That's the bottom line, and not many people can say that in their lives. Maybe one percent of people can say they've fulfilled a lifelong dream, and I have completely, so what's written about me -- I don't really care about that. And what's been said about me in the past, good or bad, I don't really care. 
"The most important thing is that, in my heart, I know I achieved an incredible thing, and that's all I need."
PREVIOUS ONE & DONES
May 5: Mario Andretti
May 12: Dean Morton
May 19: Ross Browner
May 26: Dave Salvian
June 2: Mine That Bird
June 9: Kerwin Bell
You can follow Sam Gardner on Twitter or email him at samgardnerfox@gmail.com.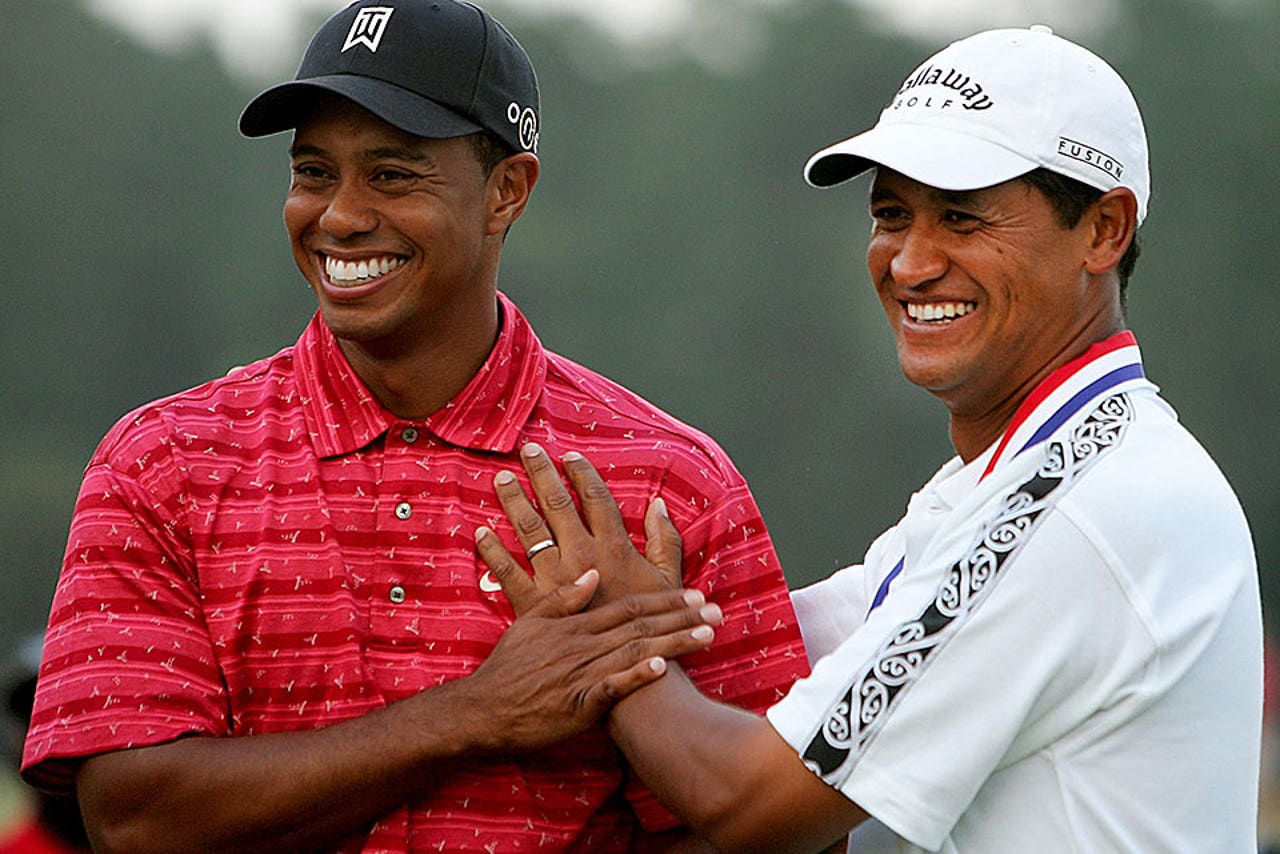 Tiger Woods congratulates Michael Campbell after the 2005 U.S. Open at Pinehurst.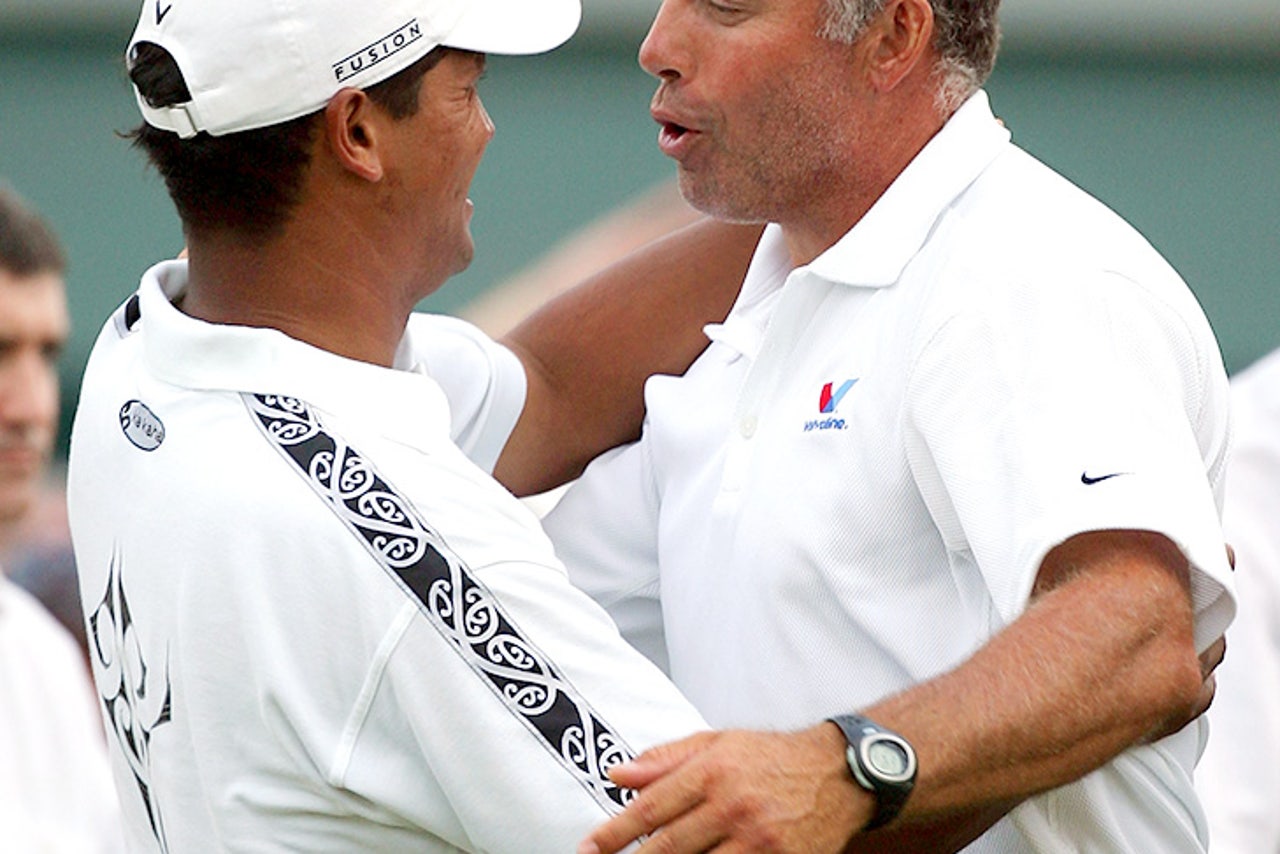 Michael Campbell celebrates his two-stroke victory with fellow New Zealander Steve Williams, who caddied for Tiger Woods at the 2005 U.S. Open.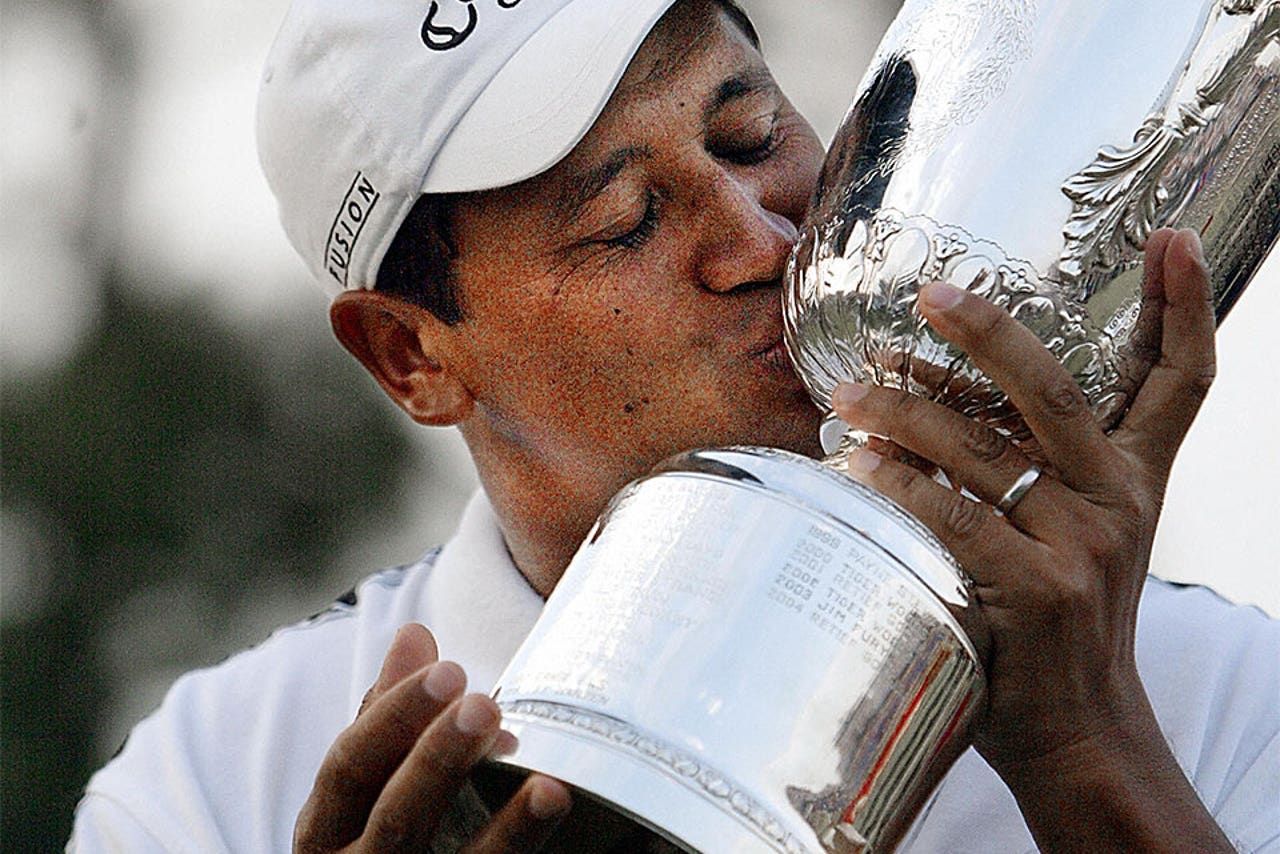 Michael Campbell and his 2005 U.S. Open trophy.
---